Happy New Years to Everybody!!! I hope that 2018 brings everyone plenty of success and happiness.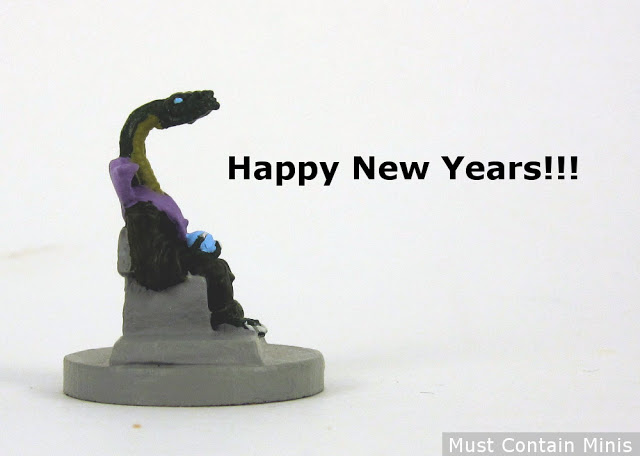 Happy New Years from Must Contain Minis! Above is a picture of a snake man that I base-coated for Frostgrave Ghost Archipelago. This figure is by RAFM. He is one of the four miniatures that come in their Call of Cthulhu Serpent Men Pack.
Lately, I have been extremely busy and my focus has not been on Miniature Gaming as much as I would like. That is life. Even so, I have still post to this site two to three times a week and plan to continue with that frequency.
Hopefully things will settle down and I will be able to get back into gaming and painting with more consistency. Painting is especially important to me as I was not able to finish all the miniatures that I wanted to in 2017.
2018
2018 is a new year and I plan to get an Air-Brush to help speed along my painting. Hopefully, new techniques will also help improve the look of my completed miniatures.
Aside from an airbrush, I also hope to buy a few items to help with my painting. Those items include something along the lines of a Citadel Painting Handle (I have heard good things about that one) and a commercial wet palette to replace my homemade wet palette. New brushes are always good too.  🙂
The miniature above is just base painted. It will start to look better once I give him a wash and highlighting treatment.
As far as games for next year (2018), I am really looking forward to covering Blood & Plunder, Flint & Feather, Frostgrave, Bolt Action and, of course, plenty of new games too!
Last year, one of our goals was to cover more board games with miniatures in them. We completed that goal and will continue to cover more board games in the year to come.
Below is a list of Board Games with Minis that we looked at this past year…


We also took a look at a couple of board games that did not contain minis. Those two games were…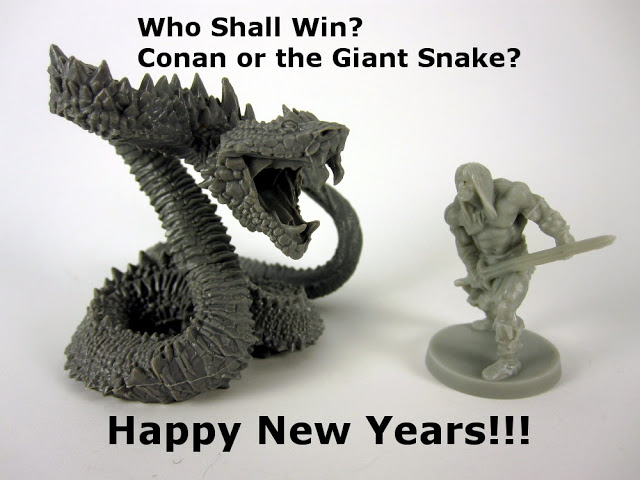 Above is the Cover Picture from Last Year's New Years Post. Looks like I enjoy Conan and Serpent themes for New Years. Strange.   🙂
Overall, I have been very happy with the development of this website over the past year.
Next year, we plan to take a look at some more gamesGames that I would absolutely love to take a look at include Gangs of Rome, Test of Honour, Fall Out, Oathmark, cool board games with Miniatures and many more games that are yet to be announced.
If you have any games that you would love to see on Must Contain Minis, please get in touch with us at [email protected]. We absolutely love miniatures games of all sorts as well as board games (with minis) and any products also related to the hobby.
If you enjoy the site, be sure to continue to come back on a regular basis. Perhaps you can even book mark this site to visit regularly. There are plenty of more posts to come on a variety of topics.
Until next time, Happy Gaming Everyone!!!
Help Support Must Contain Minis
 
If you have a product that you would like us to review or write about on Must Contain Minis, please get in touch with us at [email protected]. 
For the rest of you, please remember that Must Contain Minis has Sales Affiliate Relationships with Amazon, RPGNow, DriveThruRPG, and the Wargame Vault. If you visit one of the sites from the links above and make a purchase, a portion of the sales goes to supporting Must Contain Minis at no extra cost to you.