In this post, Must Contain Minis reviews the Tundras and Wastelands TerraTiles set by RAINN Studios.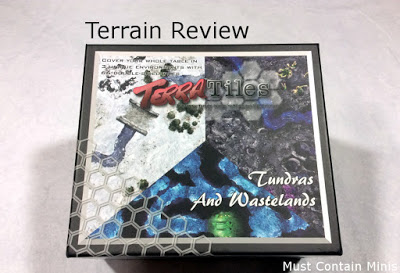 TerraTiles: Tundras and Wastelands boxed set by RAINN Studios.
RAINN Studios sent Must Contain Minis this product for review purposes. For those that don't know, TerraTiles are 9″ hexagonal cardboard tiles that can be laid out to form the basis of a gaming table for Role Playing Games and Miniature Games.
The Tundras and Wastelands set comes with tiles to make three different environments. The back of the box shows all the tiles that come in the set.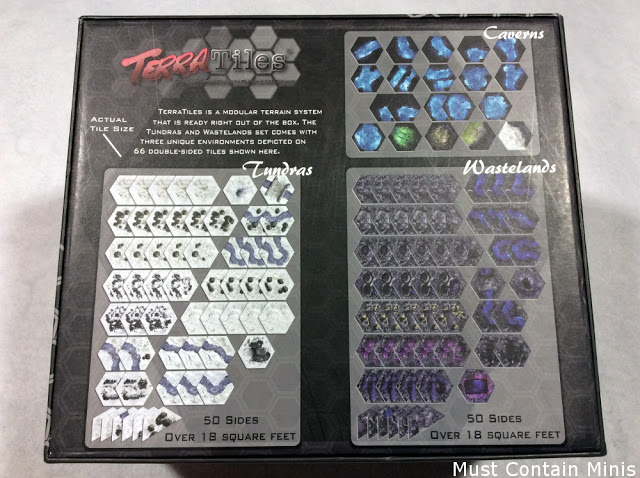 The back of the box shows all of the tiles that come in the product.
Some of my readers will recognize these tiles because I have used them in some of my posts. They were featured in two of my Runewars Battle Reports as well on my social media channels. Below are pictures of three table setups and links to any related Battle Reports.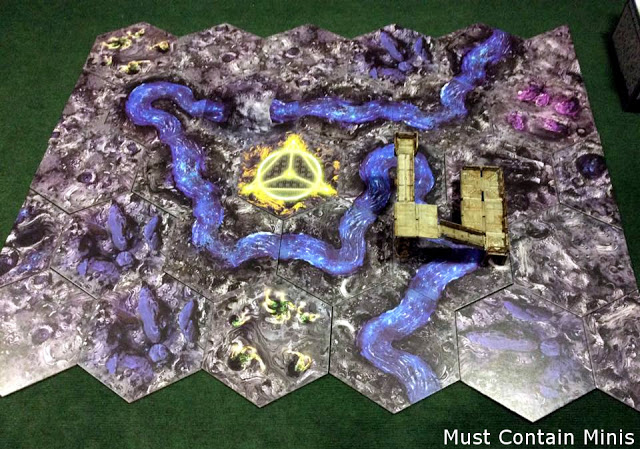 A quick set up for Rogue Stars before placing scatter terrain
Of the images above, I want to point out the last two. Using the tiles out of the box, I am able to create multiple setups. I can rotate, move and place the tiles however I wish. Being able to alter the tiles on the fly is one of the key advantages TerraTiles has over its competitors. One can create many different table setups using just one box of tiles.
Not only can one re-arrange and alter the setup on the fly, but check out the picture below…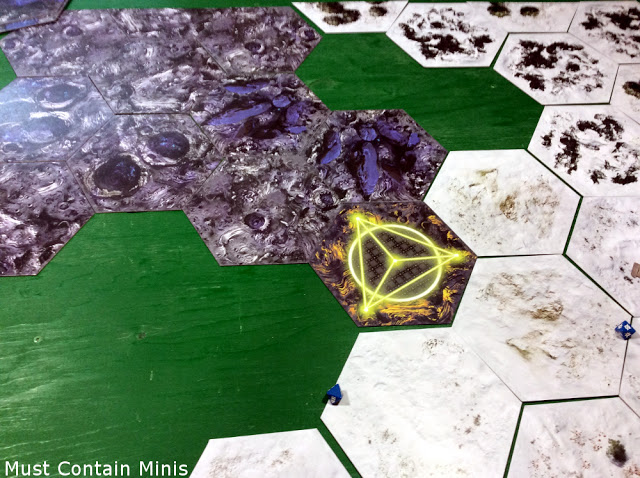 The tiles are double sided so when I wanted to switch from a snowfield to a wasteland, all I had to do was start flipping tiles and re-arrange them.
The tiles are double sided, so when my opponent and I wanted a different backdrop in Runewars, all we had to do was start flipping over the tiles and re-arrange them to our liking. That is pretty slick. 🙂
Aside from the tundra and wasteland tiles, this product also comes with ice caverns. The ice cavern tiles are not as plentiful as the other tiles. There are only 20 in the box. That said, the pictures below are a setup that I did as a mock-up for a possible game of Dungeons & Dragons, Pathfinder, or Frostgrave using just 12 of those cavern tiles (along with some tundra tiles).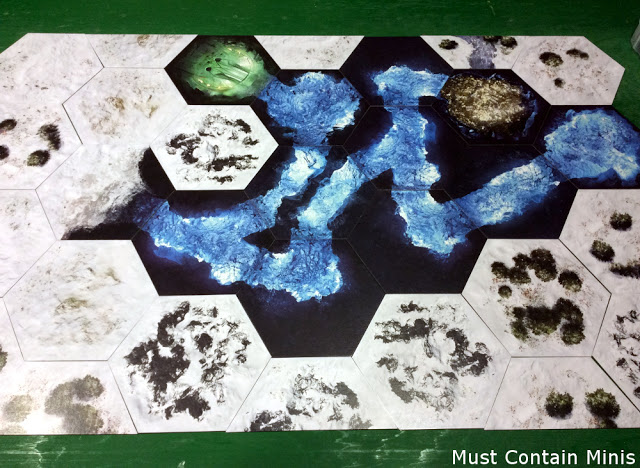 A table setup for an RPG or Frostgrave.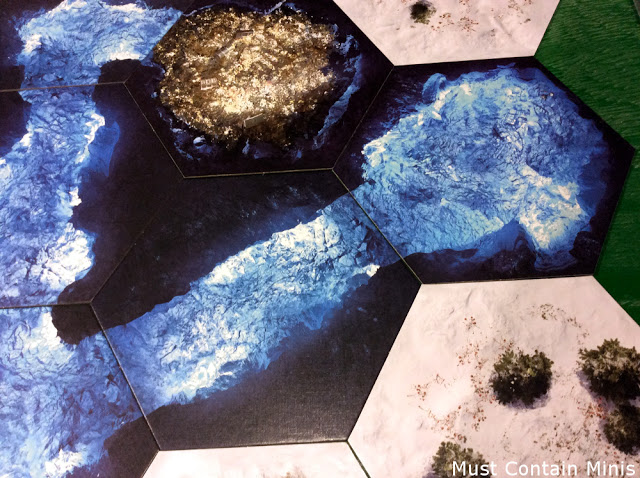 A closer look at the end chambers. One is a dead-end and the other a treasure room.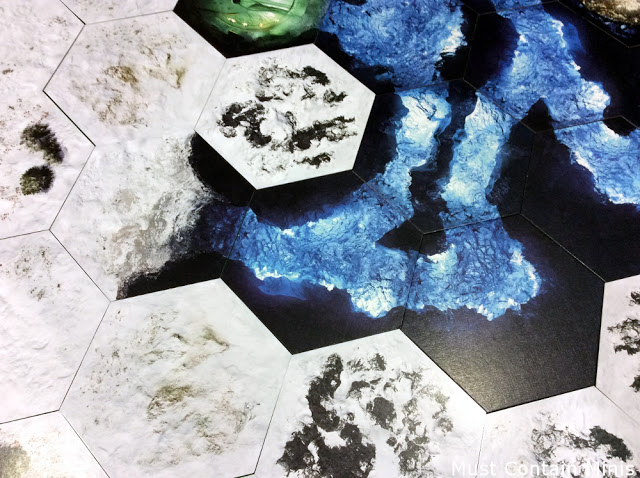 A closer look at how the cave tiles connect to the tundra tiles. Very nice!
The details on the tiles are very nice. below is a close up of the treasure room.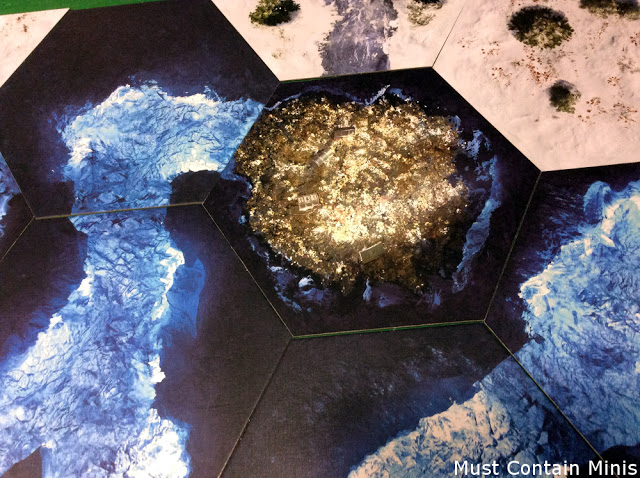 Zoom in on the picture to check out the detail work. They are nice.
While the details are nice, the real fun is when using the tiles with miniatures.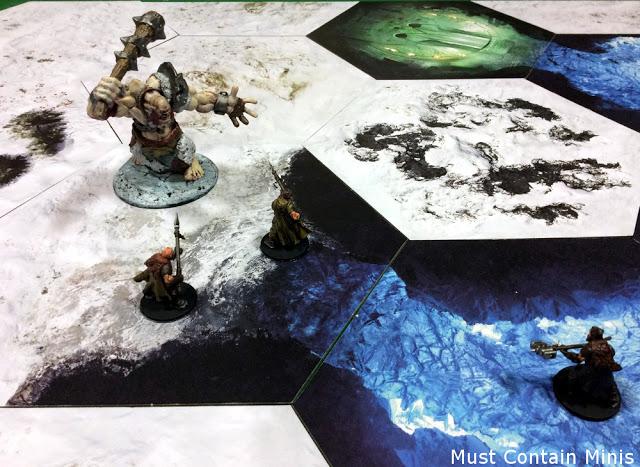 Here two spearmen guard the cave entrance from an Ogre…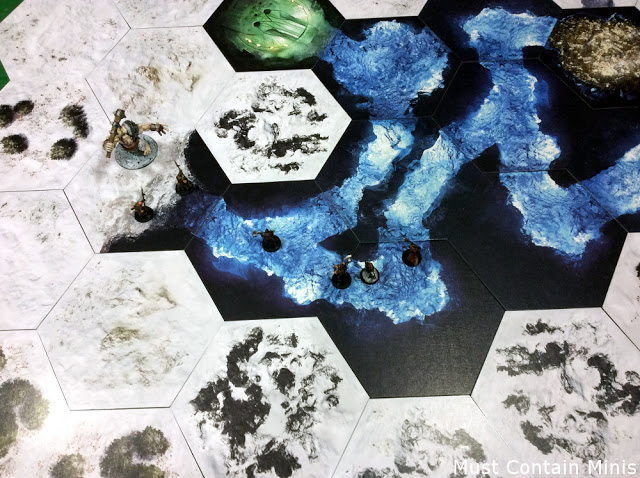 So that the party can capture the treasure.
The tiles look good and work well on their own. If you can, I recommend using 3D scenery in addition to the TerraTiles. That makes them really pop!!!
A couple of quick final notes that I would like to make about the tiles is that even though they are of a high quality matte finish, my camera caught a little glare at high angles and that RAINN Studios has distribution partners in Canada, the EU and Australia and is based out of the United States. This means that customers from Canada, the EU and Australia can save on the shipping and duty charges. Very nice!
Summary
RAINN Studios has put together a very nice and versatile product that I really enjoy. The key advantage this product holds, in my mind, is that it can be re-arranged in whatever way the user wants. This means that customers are not stuck with just one layout. TerraTiles are also very good price-wise compared to their competitors and the tiles themselves are of a very good quality.
Some of the disadvantages include that the box itself is a little heavy (especially if comparing it to a light fabric mat), there is a small glare at certain angles with a camera, and it takes a little longer to set up than just rolling out a battle mat. Some people also take issue that the product is made out of cardboard. For me, that is a nonissue. The cardboard itself is thick and of a high quality.
For the glare issue, I found the glare much less of a problem with these tiles than with many of the board games that I photograph. I also did not notice the glare in person.
I believe that this product is just right for someone that does most of their gaming at home and either doesn't have a lot of scenery or space to store terrain. They would also be right for people that want to be able to custom configure their battlefields on a product that looks really nice.
Until next time, Happy Gaming Everyone!!!
Discloser: RAINN Studios provided Must Contain Minis with a review copy of this product. 

[amazon_link asins='B078SXJZ3B,B0743ZJ3VL,B00UP4KESE,B0002TV2NS,B0015IQO2O' template='ProductCarousel' store='mustcontainmi-20′ marketplace='US' link_id='c6a1a947-b7bf-11e8-a545-db7c910287ee']