Ever heard of a Sickle Gyro-Cav? I hadn't either.
In this post, I review the Sickle Gyro-Cav for the Enlightened Faction of Wild West Exodus. Throughout you will see pictures of the mini being built, some scale comparison images and some pictures of the sprues. There is even a video review of this product here too.
The Video Review of the Sickle Gyro-Cav
Let's start with the video review and then move into the written version. If the video below does not work, use this link here.
The Written Review of the Sickle Gyro-Cav
As you can see from the earlier picture, the Sickle Gyro-Cav comes in an appealing looking box. Here is the back.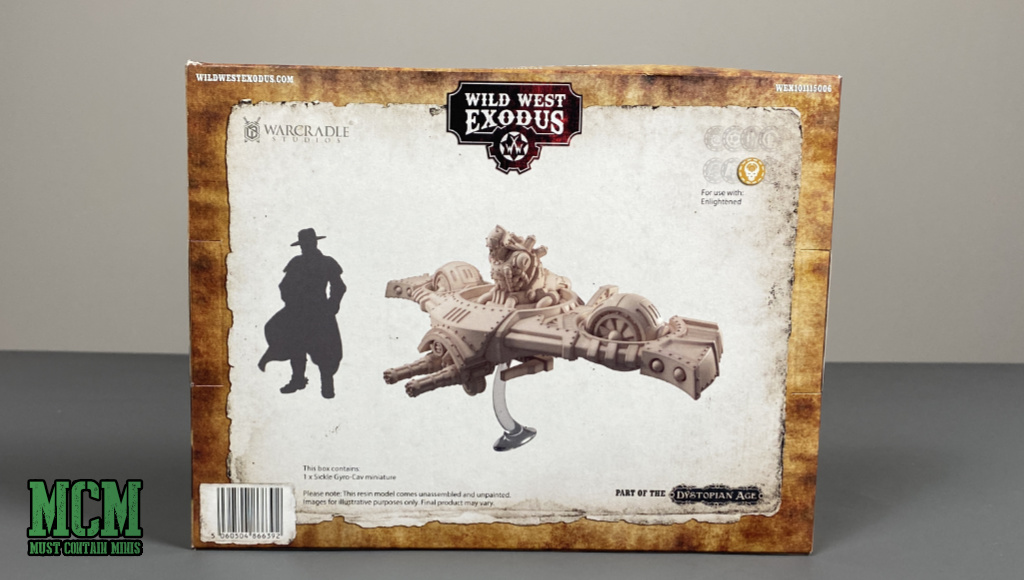 The Box Contents
Inside are a number of resin sprues.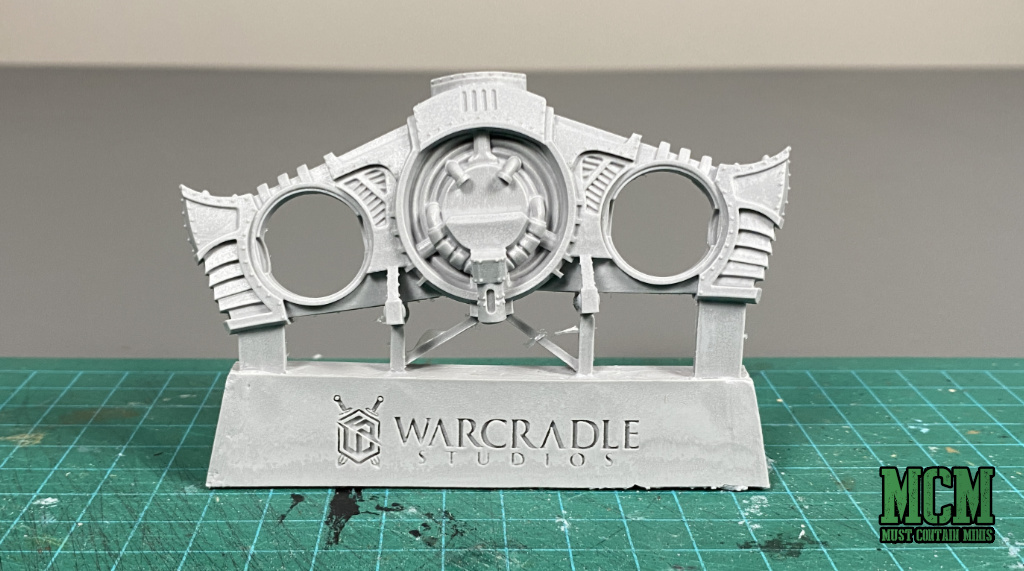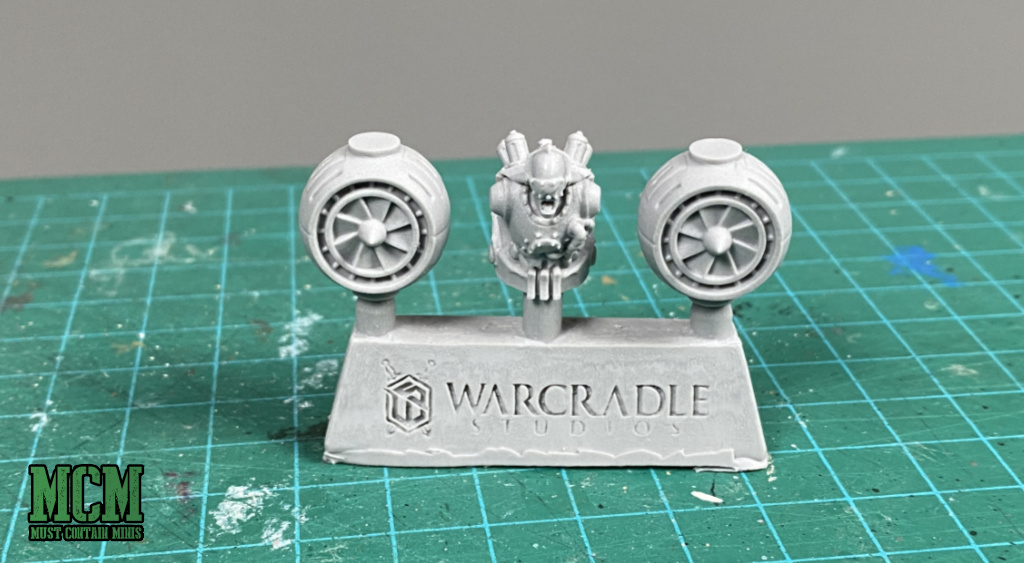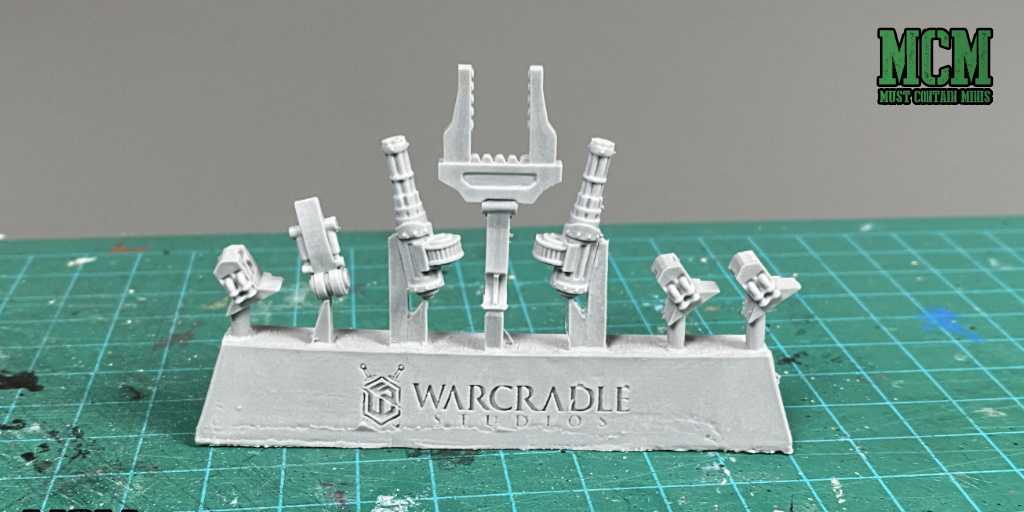 Building the Model
I clipped out all of the parts and began assembly.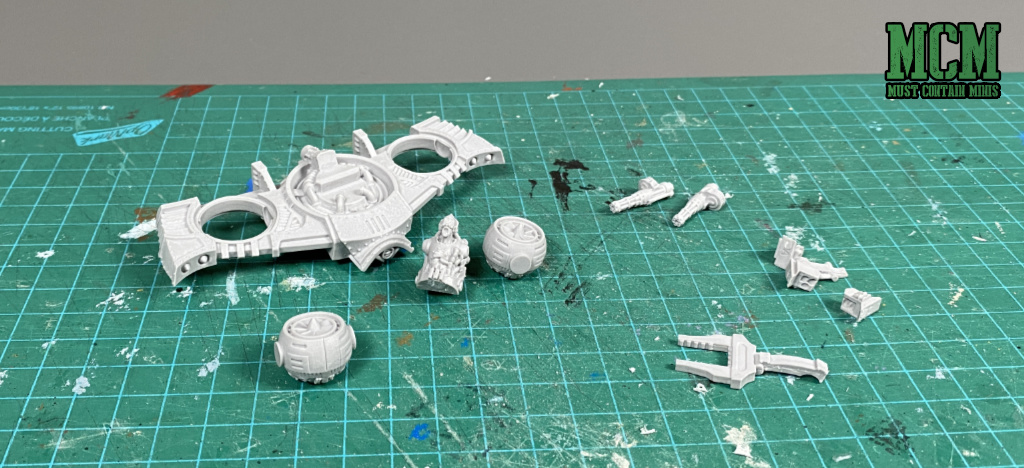 Assembly was straight forward, but I did consult the Wild West Exodus Website to see how to attach the claw. Mine I attached differently then they did, but it all worked out.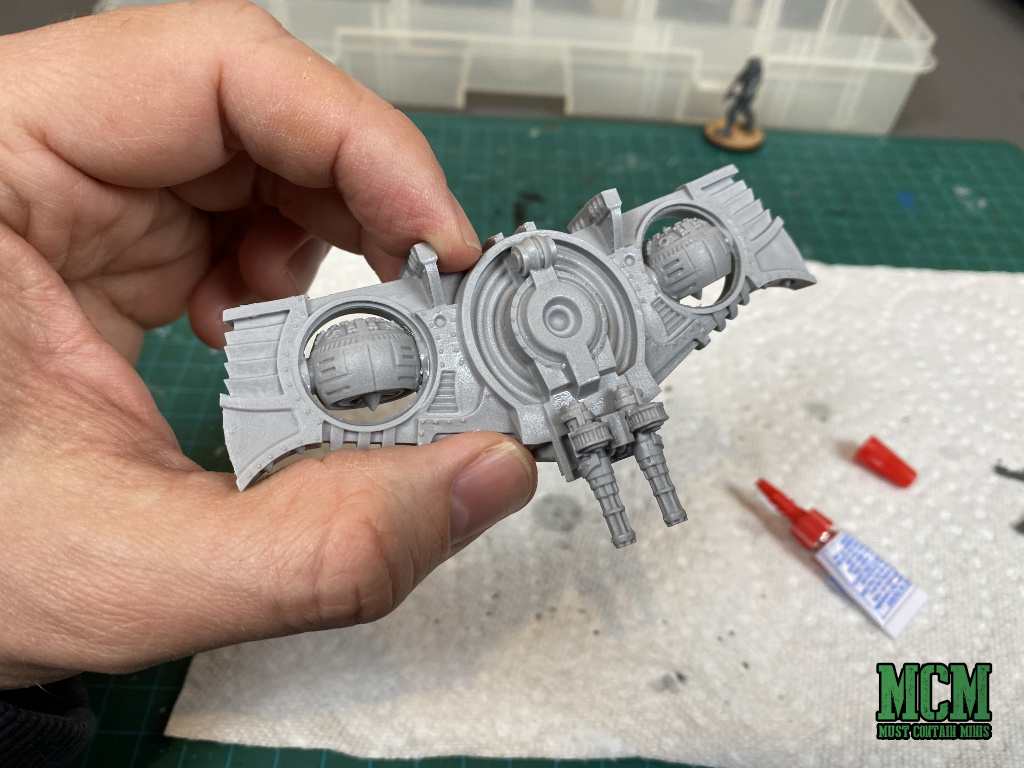 As a note, I had to use a lot of glue to get the turbines to stay in place and I had some difficulties with the guns and their holder being attached backwards. At the time of my build, the online instructions had that piece going on the model in the wrong direction.
No big deal, I split the pieces apart and redid them the correct way.
The Finished Model
Below are pictures of the model once I constructed it.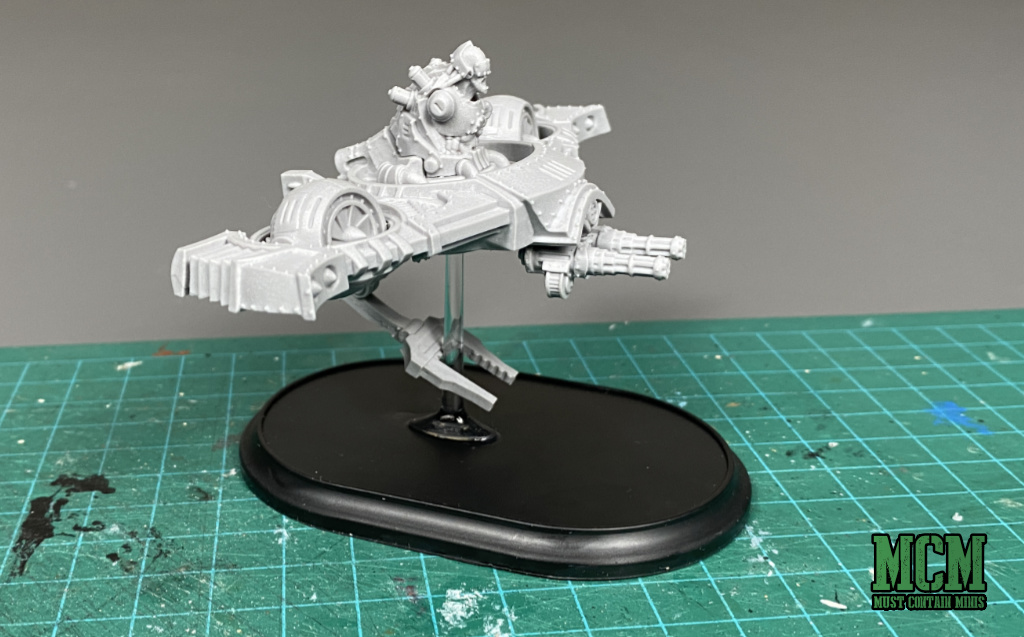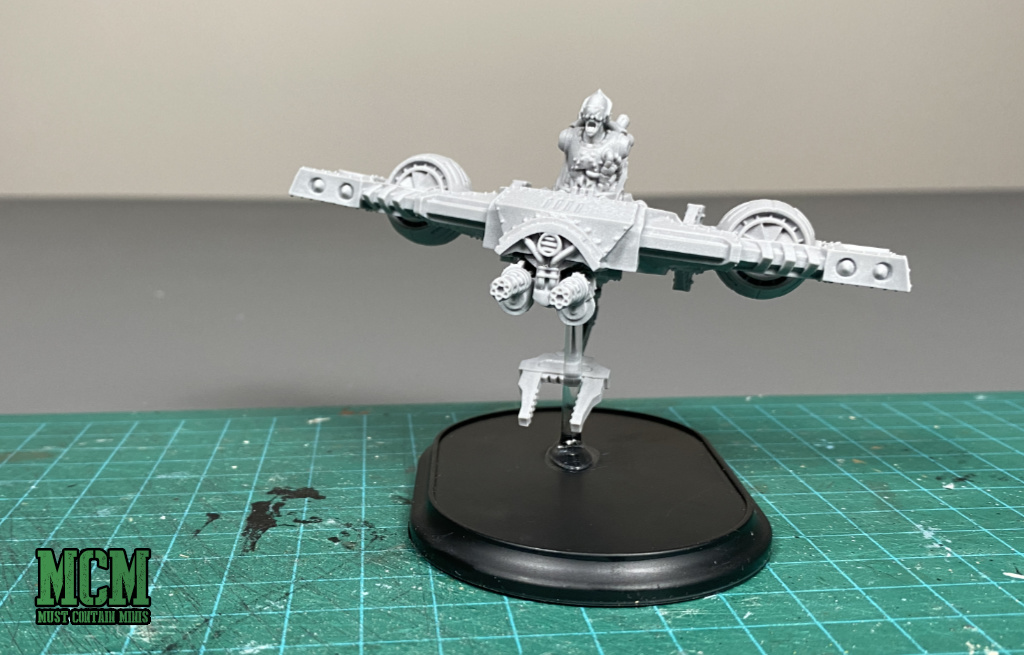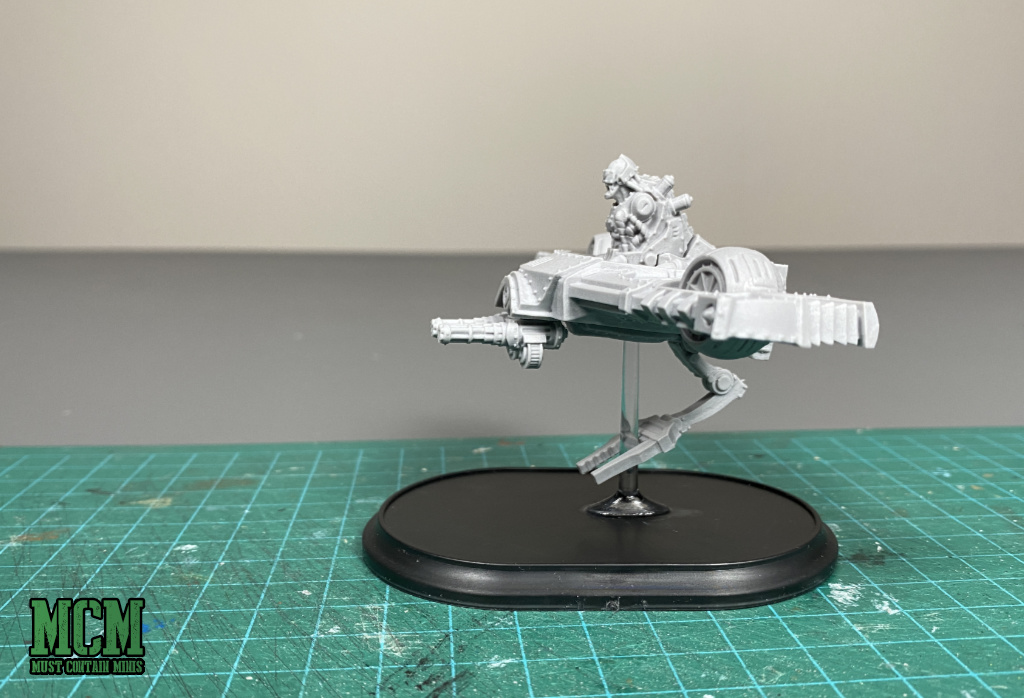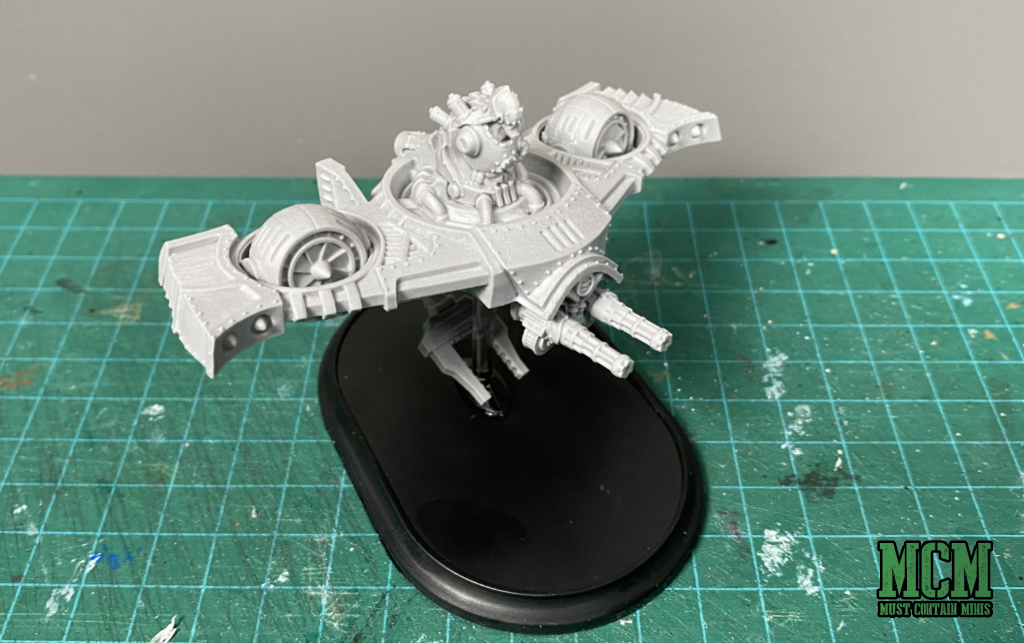 Overall, it is certainly a very interesting miniature.
Scale Comparison Images of the Sickle Gyro-Cav for Wild West Exodus
Let me share with you a few Scale Comparison Images of the Sickle Gyro-Cav for Wild West Exodus.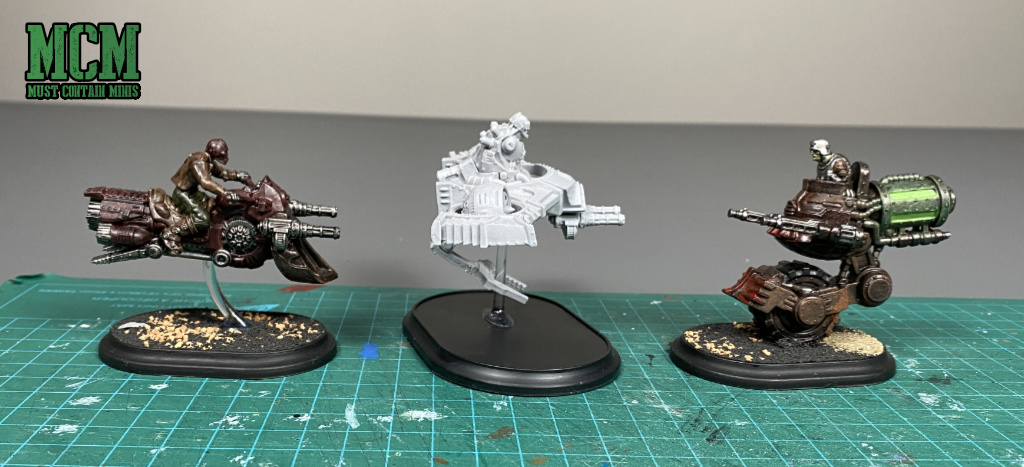 And for those of you who don't know the scale of Wild West Exodus, here is the miniature compared to a GW Primaris Space Marine.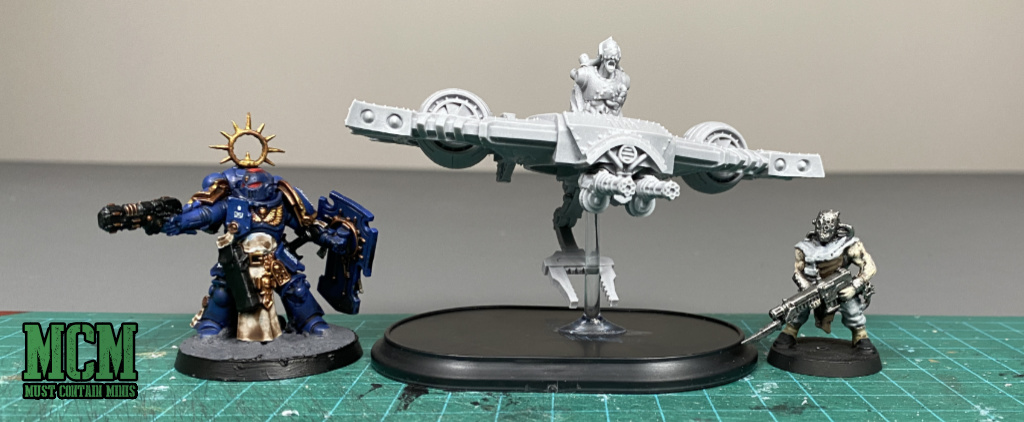 Where Can I Buy This Mini?
If you want to get your hands on this model, check your favourite online retailer or friendly local gaming store.
Failing that, there is always Wayland Games to find Wild West Exodus products [Affiliate Link]. They in fact own the company that makes this model. On top of that, if you buy from them using the links on this site, a small portion of the purchase price goes to Must Contain Minis at no extra cost to you. It is a way to get yourself something nice while supporting this site.
For the Sickle Gyro-Cav model specifically, use this link here [Affiliate Link].
Wrapping it up…
I must say that I enjoyed building this model by Warcradle Studios. Special thanks goes out to OnTableTop for sending me this miniature. They happen to by owned by Wayland Games [Affiliate Link] who also own Warcradle Studios.
Hopefully you enjoyed this review as much as I enjoyed building it.
Until next time, Happy Gaming Everyone!!!