Check out this prize that someone out there can win!!! Simply Awesome!!!
Update… The Contest is now over, but feel free to read more about it.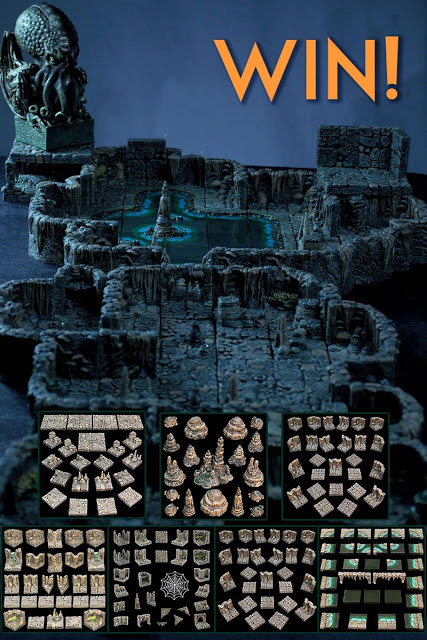 This is the grand-prize for joining the Journey to the Tree of Sorrows' newsletter. Picture from Infinite Black's Twitter Page.
This grand-prize is from the folks behind a new gaming story ("arc") called Journey to the Tree of Sorrows. Heath Robinson and David LaRocca are the people behind this "story arc" and plan to develop Board Games, Stories and even an RPG all drawing from an HP Lovecraft inspired world. They call this setting the Journey to the Tree of Sorrows.
To enter their contest, all one has to do is sign up for their newsletter. This will enter you into the lowest tier where you could win a set of HP Lovecraft inspired pins.
After that, there are three other prize tiers (different prizes) that you can work yourself into.
If you enter and can get some of your friends to enter with a special link, then you are entered into a larger draw that includes both the pins and a Cthulhu Idol. The next tier, enters you into a draw for the above package plus a box of TerraTiles: Tundras and Wastelands. Finally, if enough people join off of your link, you get entered into a draw for the grand prize worth $500. The Grand Prize draw includes all of the above plus a Dwarven Forge Hand Painted Dungeon. Wow!
In the interest of full disclosure, the links within this article help my chances towards those draws as I too have entered the contest.
That said, I know Heath from some of his earlier projects and he continues to impress me. On this site, we have Reviews of multiple sets of TerraTiles along with some posts about Incantris. Heath was a part of putting together both of those product lines. I am really looking forward to seeing what he and David LaRocca have in store for us in the Journey to the Tree of Sorrows.
Don't forget to enter the contest, for a chance to win a prize. All one has to do is sign up for their newsletter!
Until next time, Happy Gaming Everyone!!!