Today's post is a quick showcase of the French Boucaniers that I painted up for Blood & Plunder by Firelock Games. Special thanks goes out to the guys at Firelock games for sending these miniatures for Review Purposes.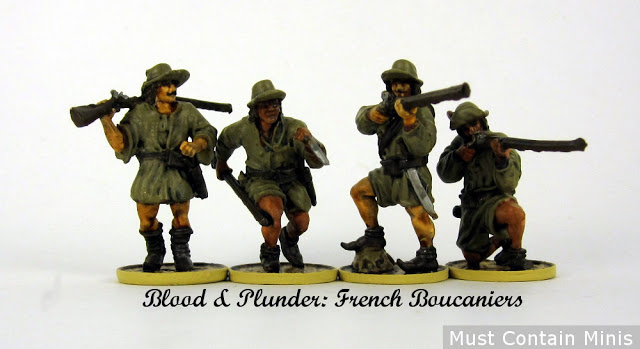 French Boucaniers for Blood & Plunder by Firelock Games.
I will admit, right off the top that I am not going for a competition level paint job on these figures. I generally go for tabletop quality and am trying to paint these guys up quickly for the Table Top Commanders Forum Winter Warmer Challenge. For that challenge, I pledged to paint up my 25 French Blood & Plunder miniatures by the end of December.
In the hands of a true professional, the miniatures look amazing!!! See below for a picture of how they look on Firelock Games' website. More article below the picture.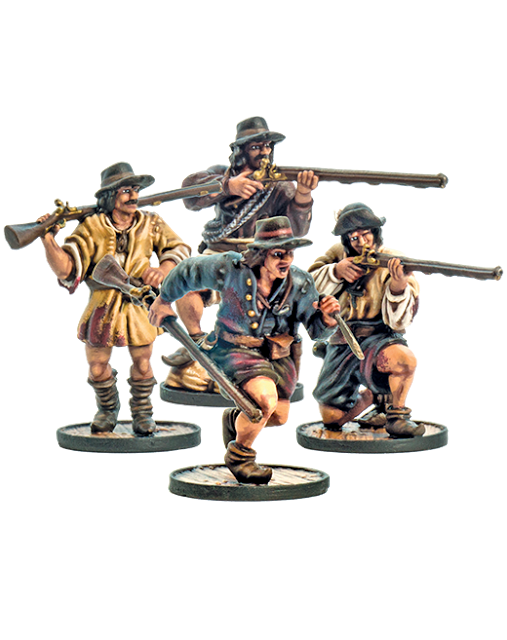 Image from Firelock Games' Webstore. The figures here look absolutely amazing!
The figures above look absolutely amazing. Mine look okay too, but not to the level that the guys from Firelock Games achieved.
My figures are a little darker, but I was going for a dirty look. I figured that my Boucaniers have been hunting in the woods so I went for a grimier look. Like the Captain that I painted, I wanted to paint the miniatures up in three colours. Unfortunately, I could not get the paints for these figures down to three either. Instead, I used 5 colours and 2 washes (followed by an extremely quick dry brush of the original colours).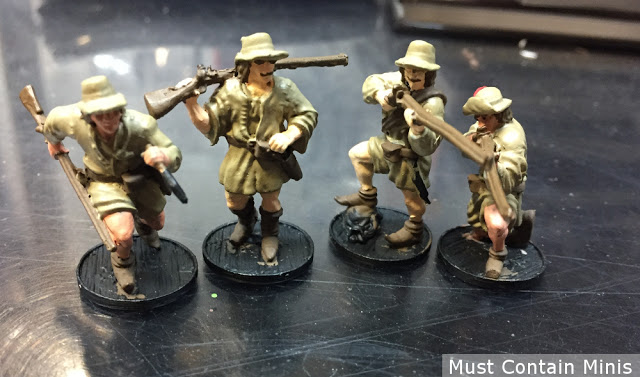 Each miniature ended up with five colours. On the group, I used two different skin tones as I wanted some of them to be more tanned than the others. I used two browns (one for wood, one for leather), a German Camo Beige for the clothing, skin tone, and a tanned yellow for the base. Not counted, but also used on the models is a touch of chainmail for the metal bits and red for a feather.    🙂
The Picture above is from when I was at my
favourite FLGS
that also has a Painting Bar!
After I finished these models off at home, I made a small discovery. The discovery is that I need to change my transport method for Miniatures as I chipped a little bit of the paint.
To transport them, I rolled them up in Paper towel and tossed them in a freezer bag. This works with my lighter miniatures but with these all metal figures, it did not work so well. You may notice some of the paint chips as we zoom in closer on the specific miniatures.
I didn't notice until I completed the miniatures and took these pictures.  🙁

Another shot of my French Boucaniers.
Now let's take a closer look.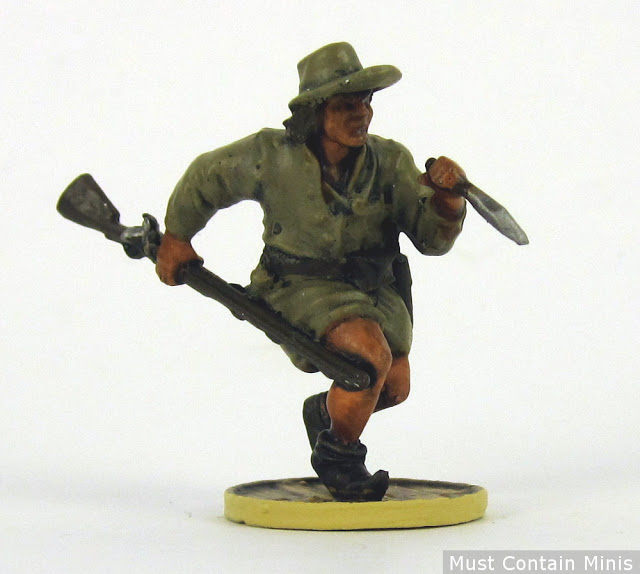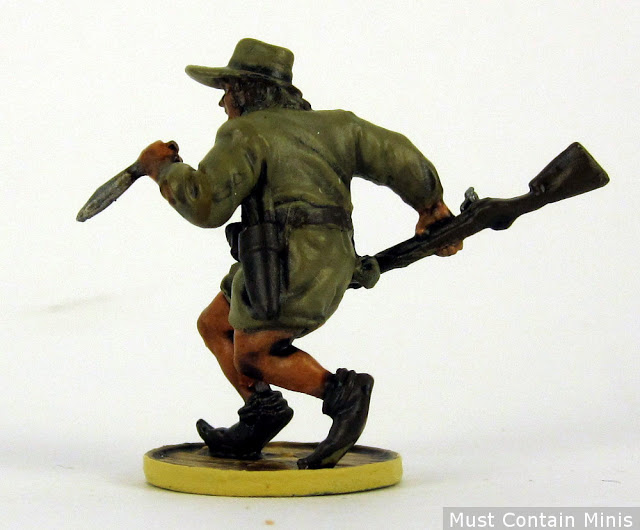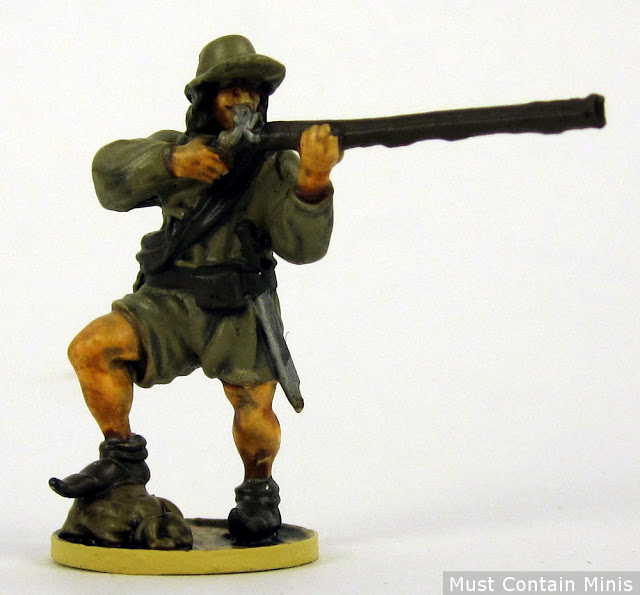 This one is one of my favourites of the set.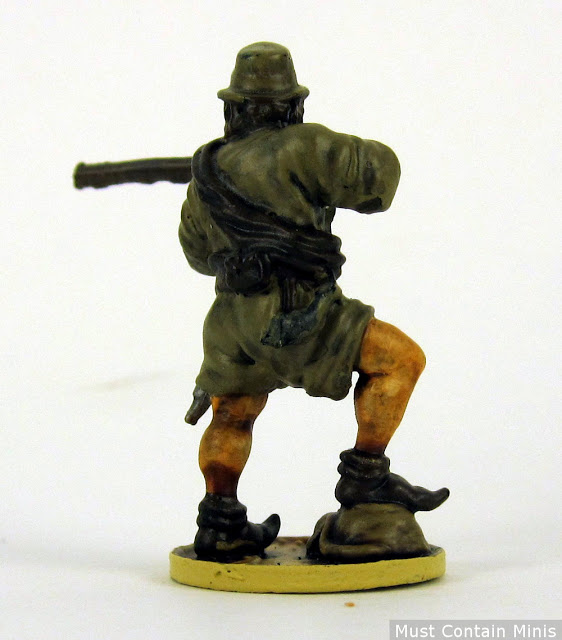 A very sharp looking mini without too much work to paint up.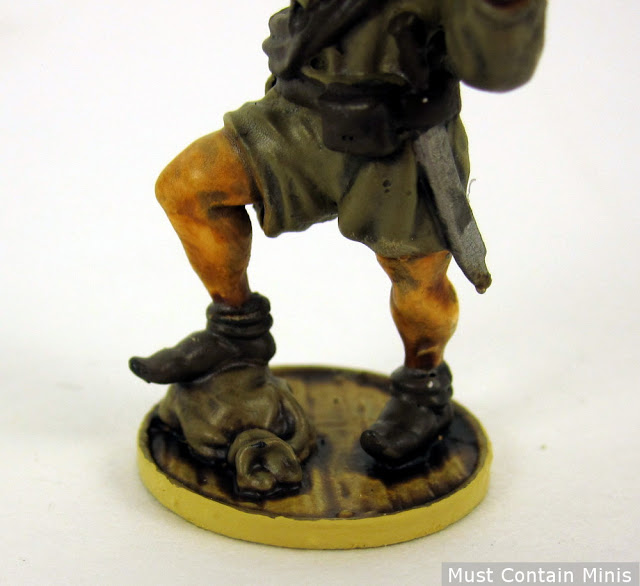 I really like that they made a small canvas treasure bag for under his foot.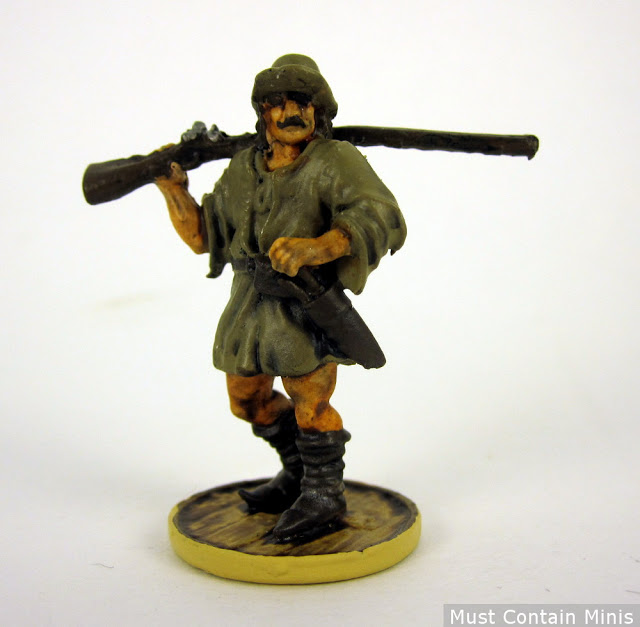 This is my second favourite of the set.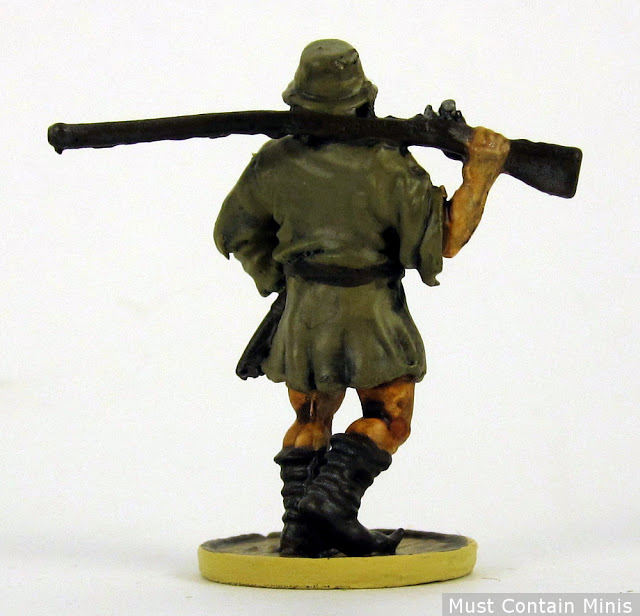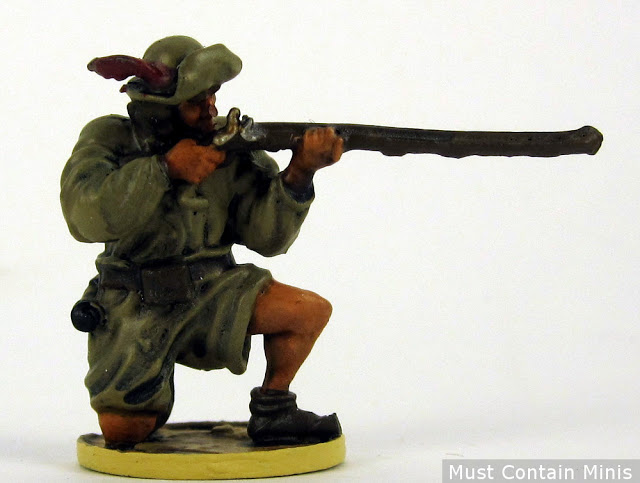 The red I used for the feather. I also did not count the red towards the "used colours" total.  🙂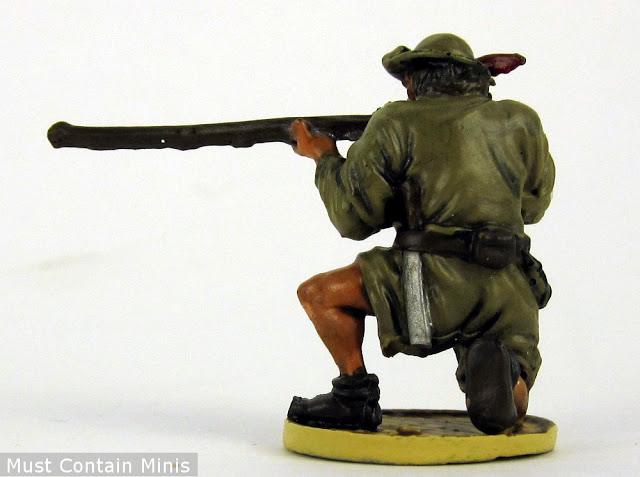 Notice the toe on this one. I made a mistake with it. I did not realize that they had long shoes when I got the pack and trimmed the foot off thinking it was flashing. If you get this model, the long shoes are not flash from the model making process. It is supposed to be there.  Who knew?   🙂
For a quick paint job, they turned out okay. It is too bad that the paint chips are visible, but from a tables' length, those chips disappear. Again, I am going to have to figure out a better way to transport these minis and probably hit them with a seal of varnish too.
If you get these miniatures, keep in mind that the shoes are supposed to be long. I cut off one of the shoe tips on a miniature because I didn't realize that they had long shoes (I thought it was flashing).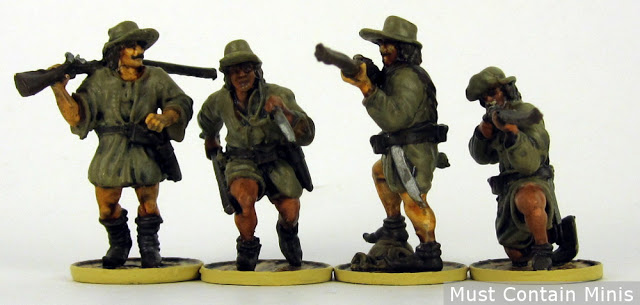 From a Table's length, these minis look pretty good.
Overall, these are some nice minis. It adds a bit of a challenge that they have mustaches to paint on the figures, but they come out fairly nice. I am really looking forward to getting these on the tabletop.
Until next time, Happy Gaming Everyone!!!
Disclosure: These miniatures were part of a starter sent to Must Contain Minis for Blood & Plunder by Firelock Games.




Help Support Must Contain Minis
Are you interested in the Blood & Plunder Ruleset? The Wargame Vault has a PDF copy of the rules for $14.99. That is less than half the price of the physical Rulebook. If you want to know more about the rulebook, check out my earlier Review of the Blood & Plunder Rulebook. 


We have a sales affiliate relationship with the Wargame Vault and DriveThruRPG. If you purchase something from those stores and use the links from this site to get there, 5% of the sales price goes to Must Contain Minis. 

For those that don't know, the Wargame Vault carries plenty of PDF rulesets for miniatures games as well as printable terrain. Many of their products are also covered by DriveThruRPG. DriveThruRPG focuses more on Role Playing Games. 


If you know of someone, or are someone, with a product that you would like to see on Must Contain Minis, please be in touch with us at [email protected].