Here is a product that my readers have seen in many of my Battle Reports. Quite a while ago, Cigar Box Battle sent me two Battle Mats for Review on Must Contain Minis. It has taken a long time for me to write a review about these mats because I wanted to compile pictures of these mats being used with multiple games.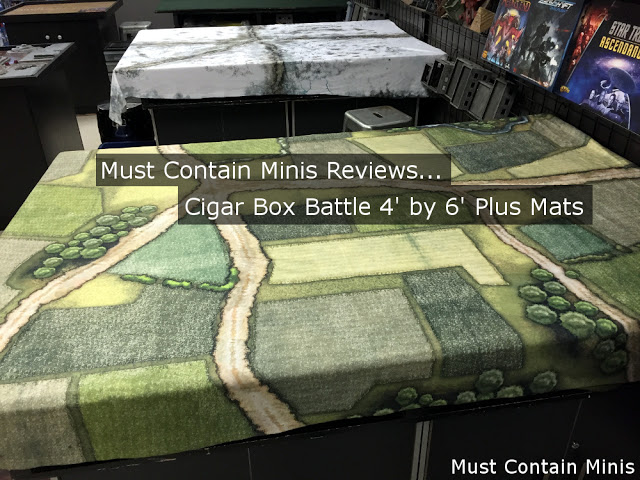 A Review of Cigar Box Battle Mats. The two sent to me were both of the 4′ by 6′ Plus size. One is their Frozen Ruins Mat and the other is their Europe 1 Mat.
So what do I think about these mats? I ABSOLUTELY LOVE THEM!!! I think they are incredible and everywhere I take them they get great reactions from the gamers near by. On my first outing with them, I had players using the Frozen Ruins Mat for an Air Wars Game over Northern Korea (homebrewed rules) and the Europe Mat for a game of Longstreet.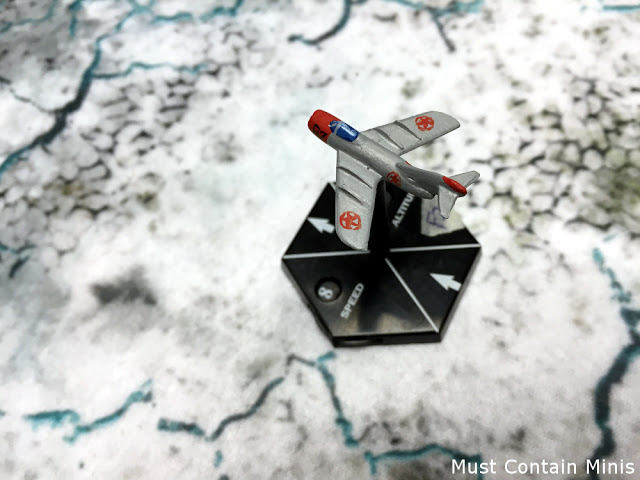 A MIG over Korea.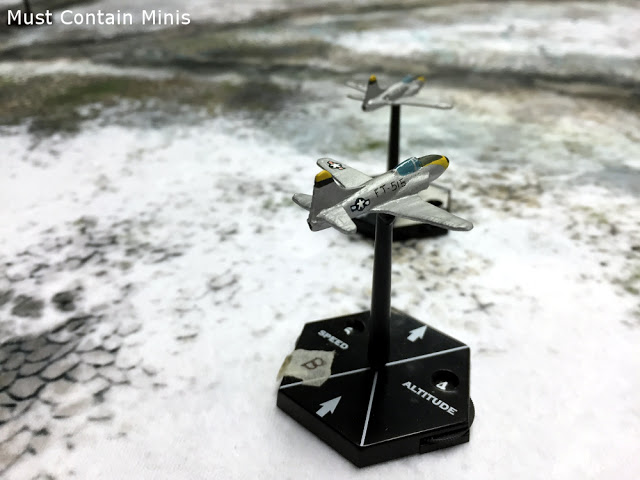 Some American Jets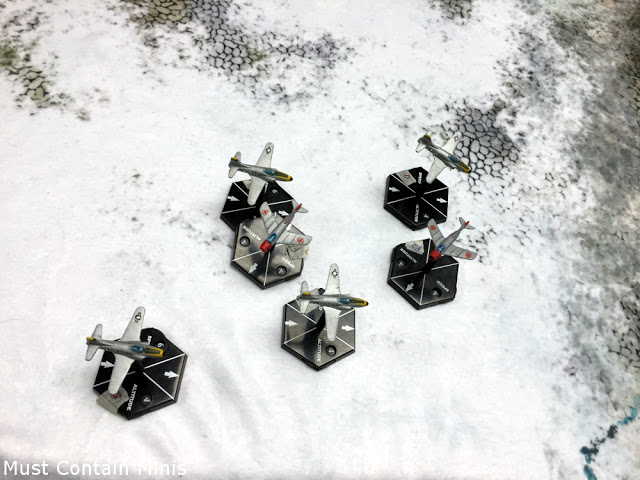 Planes engaged in a Homebrew Dog Fight game.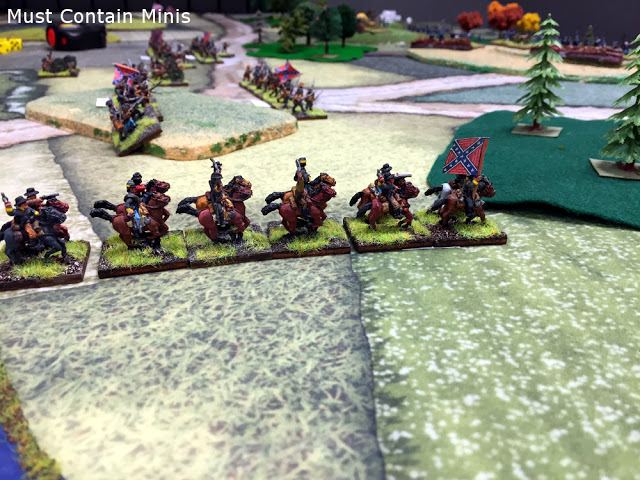 Some Cavalry moving around the battlefield.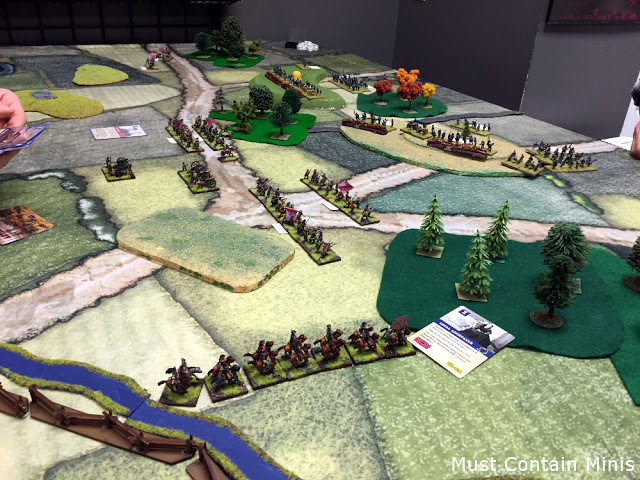 A longer shot of the table.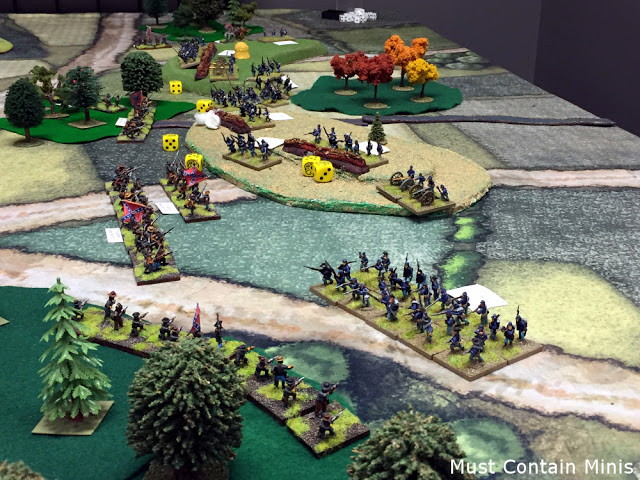 The Battle Ensues.
In the Longstreet game, the players took the traditional approach of placing terrain on the mat. That is all well and good and how most people are used to using gaming mats, but these mats have a distinct advantage over other mats. The advantage is that one can place terrain under the mat and the mat will take the form of that piece. This makes for a really nice and subtle way to make hills on the battlefield.
Because Cigar Box Battle Mats are made of a high quality and durable fleece material, the mats will drape perfectly over whatever hill terrain you place under it. Check out the experiment below that I conducted in my workshop. When looking at these five pictures, please excuse the lighting as I was using my work lamp rather than my usual photography lights.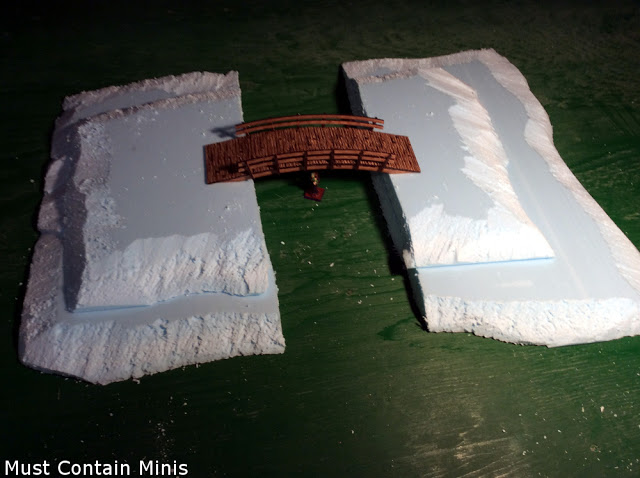 To start, I carved two layers of hills out of foam with a breadknife. I then cut the hills in half to create a cliff / crevice and joined them with an MDF bridge.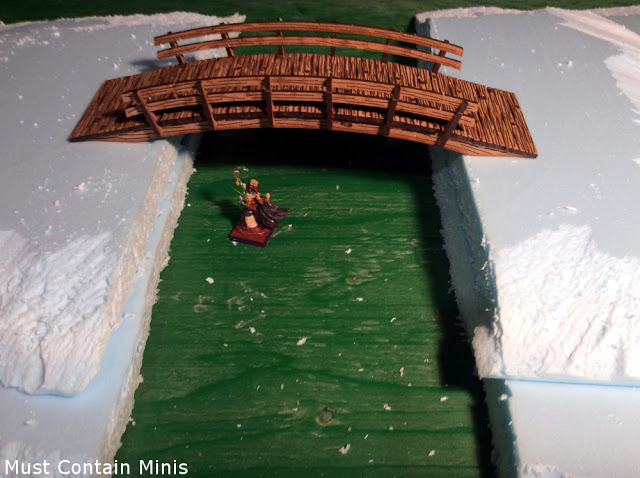 Being two levels high, the foam hills would easily allow a miniature to travel under the bridge.
It didn't take too long to make these hills and normally one would paint and flock them. Instead, I just put a Cigar Box Battle Mat directly on top of them. Check this out!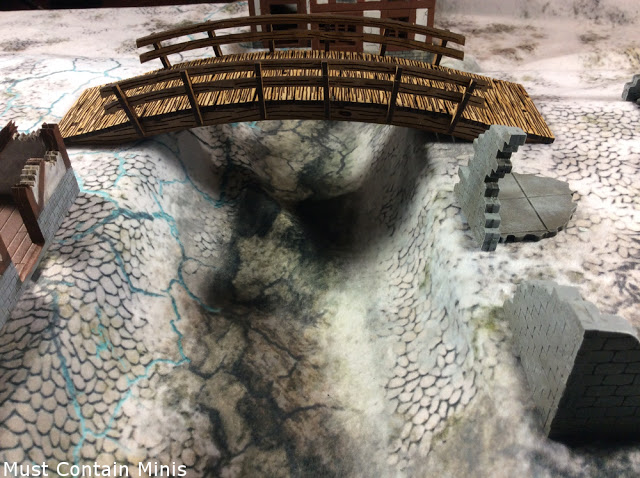 A picture of the Bridge crossing the cliffs. I actually lined up the darkest road on the mat so it would fit directly between the cliffs. It creates a really cool effect.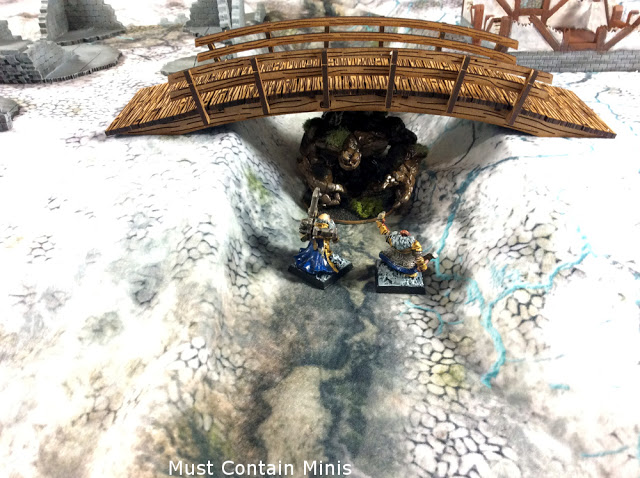 Here I over exposed the Bridge a little to show that that large Earth Golem can easily fit under it using the two layers of foam.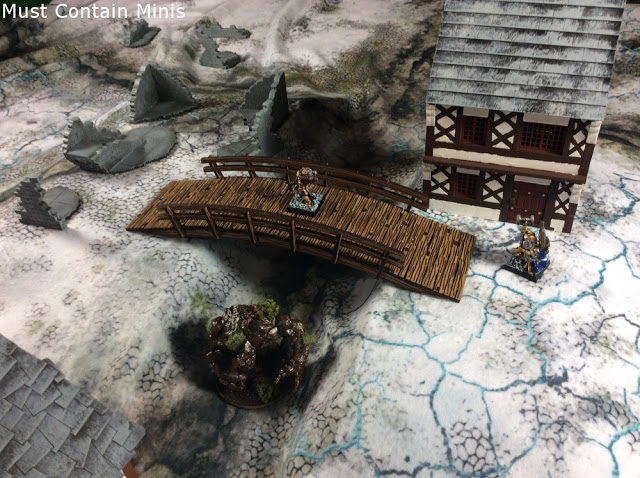 Another proof-of-concept picture of the Earth Golem travelling down the crevice while two Dwarfs are safely on the top layer. One thing to not about the scenery when using it this way is that the hills almost become "seamless," but make a big difference at tabletop level. It might not "pop out" the same way as placing hills directly on the mat, but I actually prefer this method of placing the hills under the mat.
My dedicated readers will recognize some of these next four photos from earlier Battle Reports, but I wanted to share them again to show off how the mats form to the hills under them.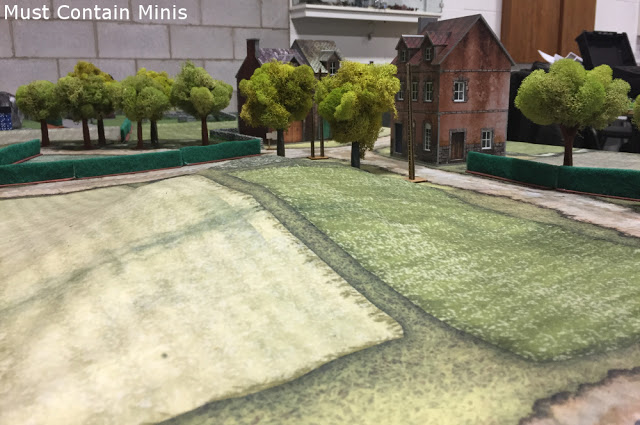 The hill blends very nicely into the terrain this way. It is very subtle.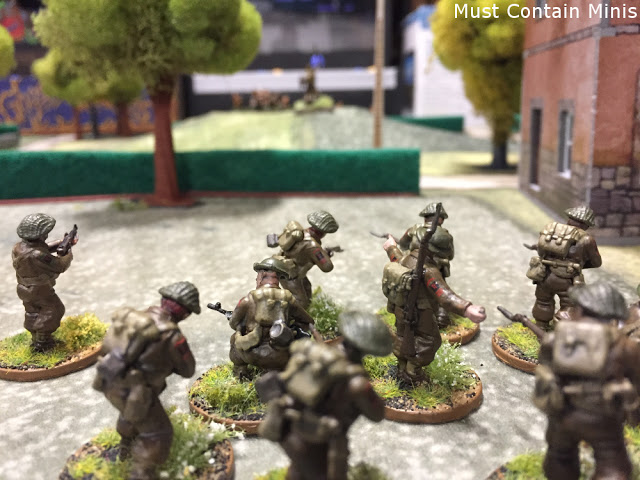 But from the Model's Eye perspective, it makes a huge difference.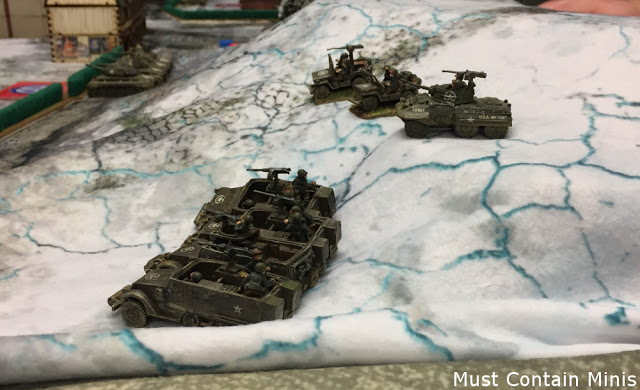 Here we have some Flames of War Models on multiple levels of a hill.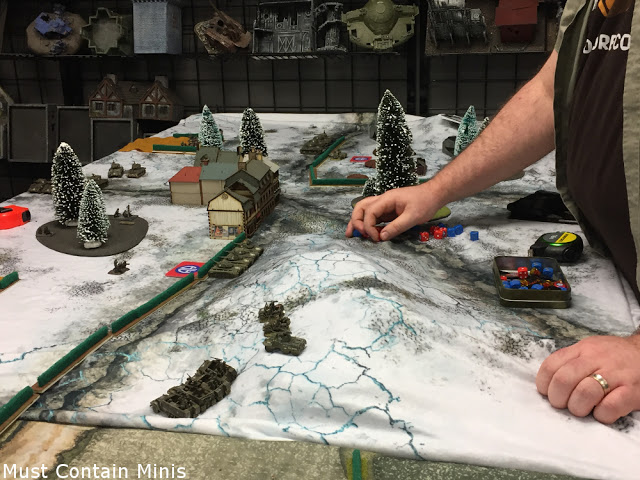 A look at the hill from a further distance. At its peak, this hill is almost the height of the house roof-tops.
Below are some pictures of the winter mat being used at Hotlead for the two games of Frostgrave that I hosted. I was very pleased with how my table looked.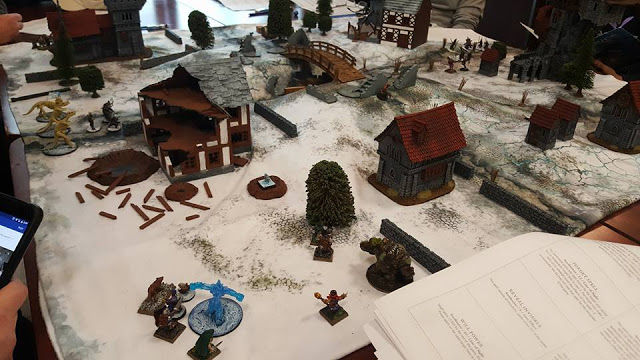 This picture was sent to me by Randall Carder. It shows a nice overview of the afternoon's table. I have posted the picture here with his permission.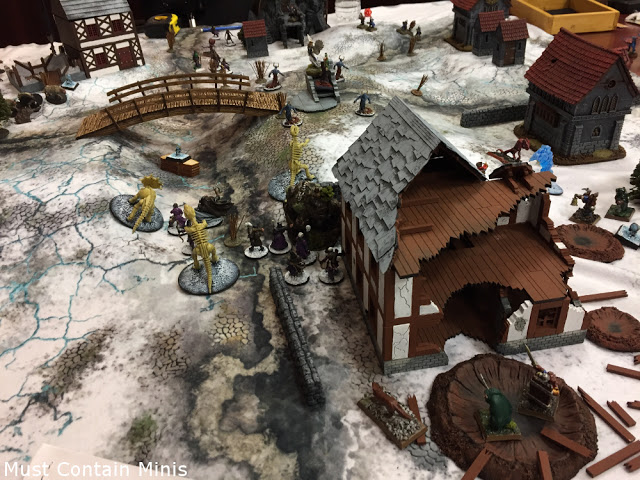 I changed the Terrain ever so slightly for the evening's table. Below is a picture of the second game in action.
These mats look great. When Cigar Box Battle got in touch with me, they allowed me to choose out two mats to review. I choose two of the 4′ by 6′ Plus mats with the intention to fold them down if I wanted to play something like Frostrgrave. Folding them down works (and causes some interesting terrain effects), but having a 3′ by 3′ would certainly be easier for smaller games. In the two pictures above, I intended to fold the game space down to a 4′ by 4′ area, but because I didn't count the "Plus" size of the mat when folding it, the table ended up being closer to 5′ by 5′.
Speaking of folding down, these mats fold down and can be easily be transported in a messenger bag or backpack. Many of the mats that I have seen by other companies need to be rolled and transported in a tube. Not so with Cigar Box Battle Mats.
To summarize, these mats are easy to transport, look great and can form to terrain pieces placed beneath them. As always, I like to provide a bit of criticism about the products I review. My only real criticism about these mats is price. At their normal price of $69 (American), these mats are fairly competitive. I could not fault them for that price, but on top of the $69 are other costs that push this product from a competitively priced gaming accessory to a premium priced product.
Canadian customers need to add $30 (American) for shipping and I got dinged with a Customs charge. With today's exchange rate, that means that Canadians are looking at roughly $140 to $150 Canadian for a single mat. If you buy two, Cigar Box Battle gives you a break on shipping and charges just $40 American for the two of them.
The shipping price might have a few people thinking twice about the value of this product. That said, I did see a company at a local convention selling these mats for less than the combined cost I just calculated. For my friends across the sea, North Star Military Figures also sells Cigar Box Battle Mats. Also, if you know of a FLGS or other company that might want to sell these mats, Cigar Box Battle does wholesale orders too (that information is on their FAQ page).
As an added note, if you live in the United States, the "value level" that I would assign to this product would likely be better as you would not have to worry about Customs fees and domestic shipping rates should be less.
My take on Cigar Box Battle is that their mats are absolutely awesome, but due to the added costs of shipping and customs – I would place their products into the premium category of the miniatures market. If you can afford the mats, buy them! You won't be disappointed. If the price is a little steep for you, there are other options on the market.
I hope that everyone enjoyed this Review.
Until next time, Happy Gaming Everyone!!!