In this post, I quickly review the Obann The Punished Miniature by WizKids. This miniature is part of their Critical Role line of miniatures and it happens to come pre-painted.
Wizkids is a company that I have been familiar with for years. I like buying their miniatures for various games including Frostgrave. I have a number of posts about their figures and most of them are about their unpainted variety of figures. These posts include reviews of their Pathfinder Children, a cost effective Unicorn that I painted, and a look at their Ballista Miniatures that I tossed in my undead army. If you search WizKids on this site, you will find more posts than that here.
Today, I am taking my first look at their recent pre-painted miniatures. This time, their Obann the Punished Miniature. WizKids made this mini with the partnered company Critical Role.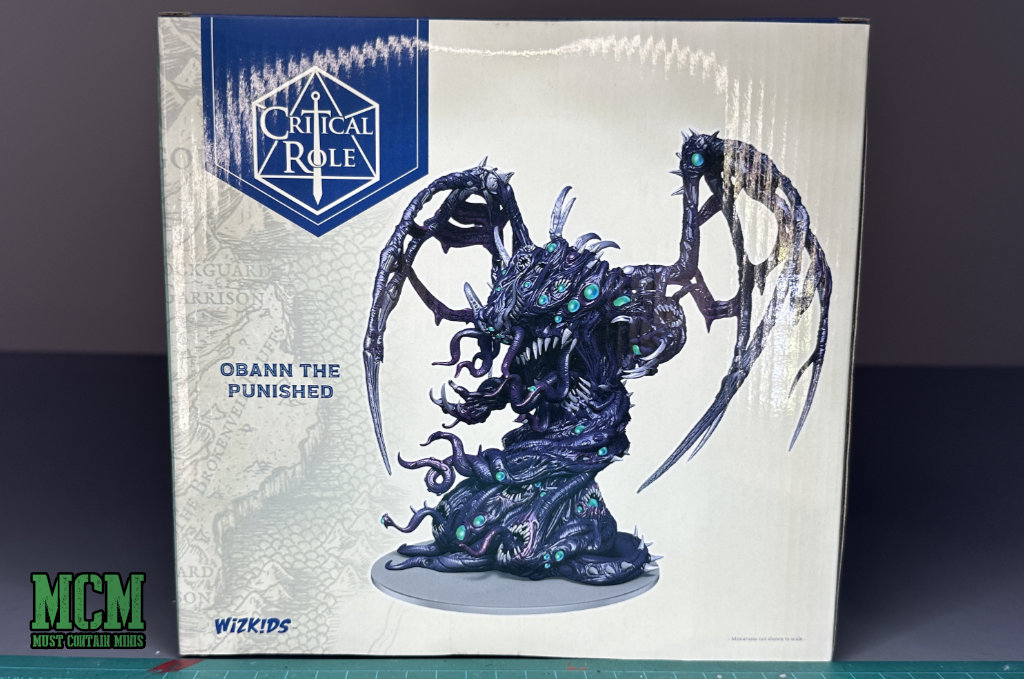 Obann The Punished Review – What is in the box
You can see the contents of the Obann the Punished Miniature right through the front of the package. It is this one large miniature.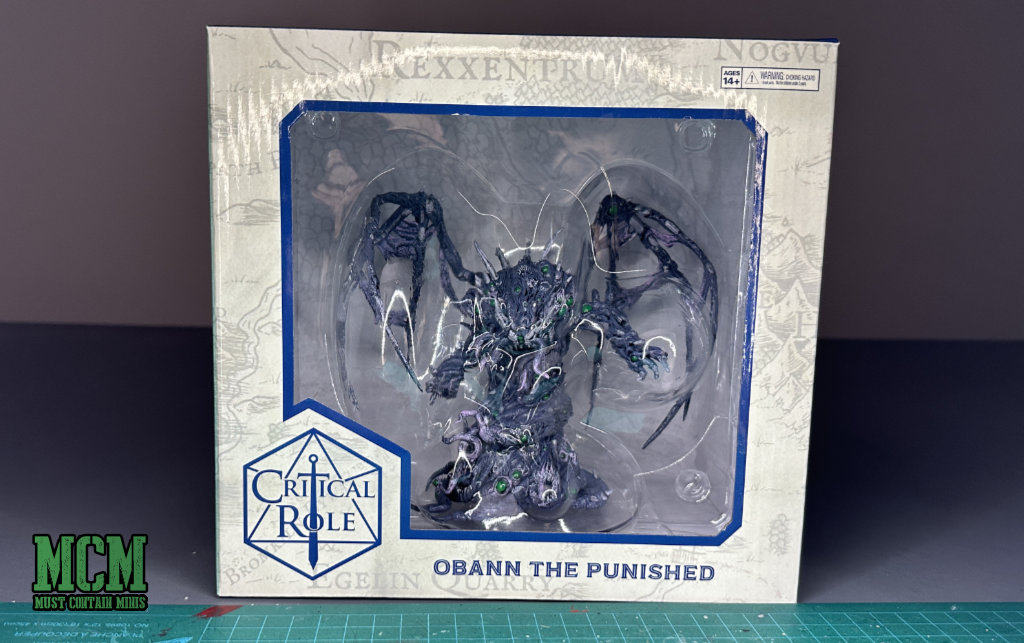 That miniature comes pre-painted and is very well protected. Take a look at how they sandwiched it between form fitting plastic within the package.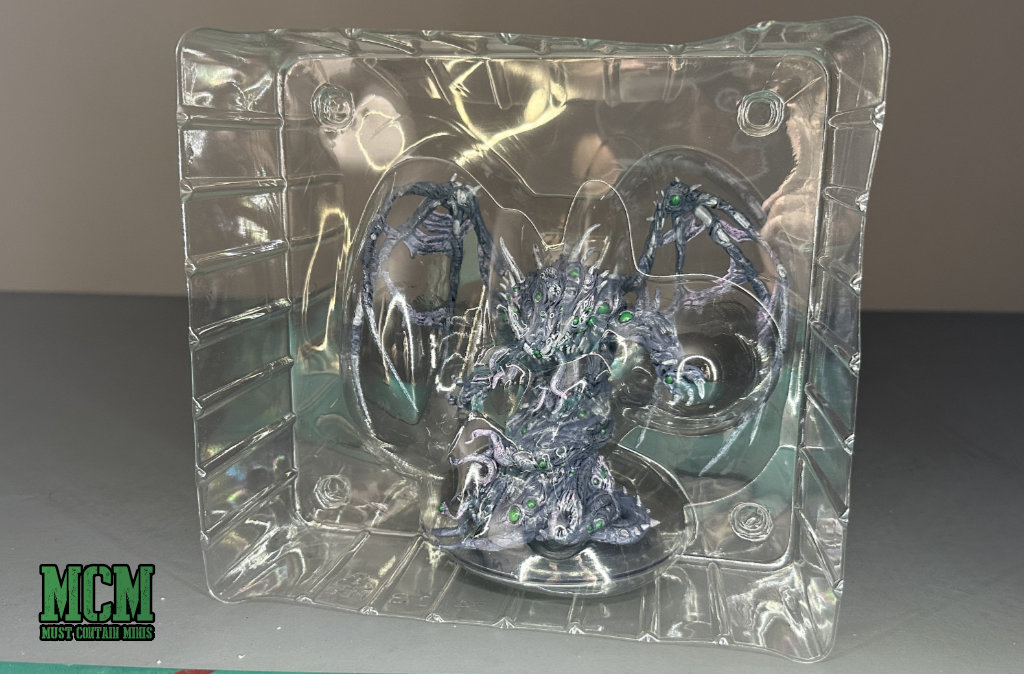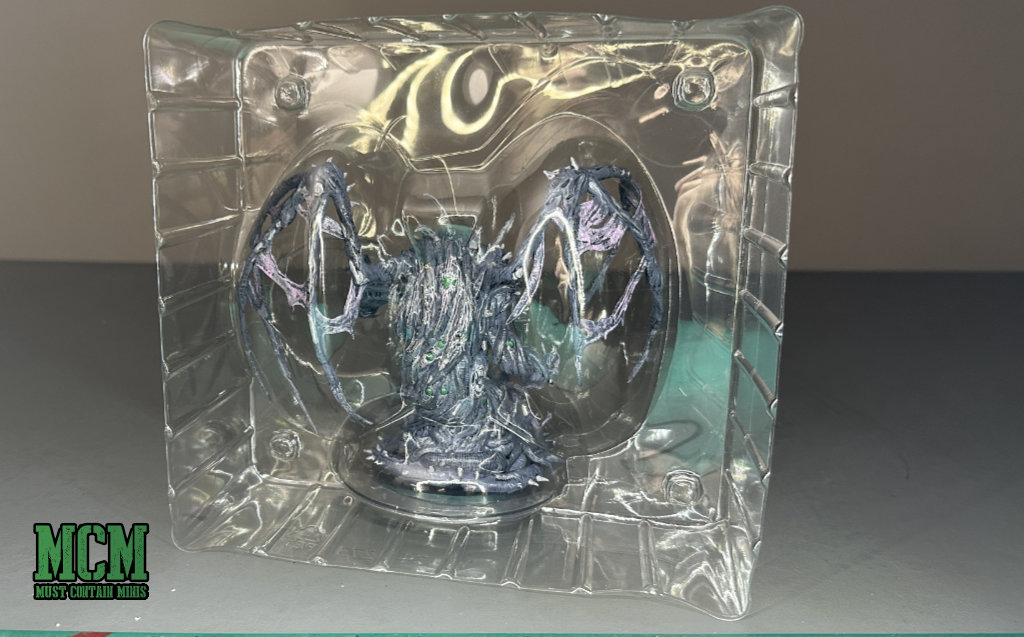 With all that plastic, there is no worry about the miniature being damaged in transport. The two pieces are held together with those four punch ins (one on each corner) and two pieces of tape on the top and bottom of the plastic shell.
Taking Obann The Punished Outside of the Packaging
Once you get this figure out of the package, it looks pretty good. I have to say it is kind of nice that I don't have to paint this figure.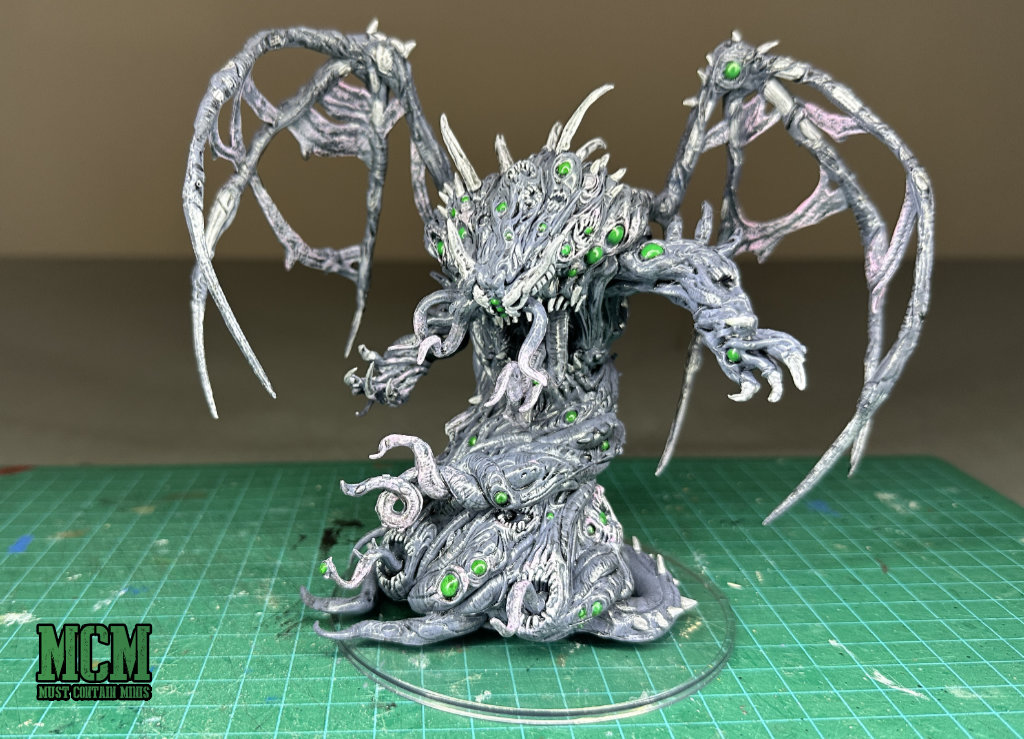 There is a lot going on here and I think this miniature giant would do well in any Cthulhu type game.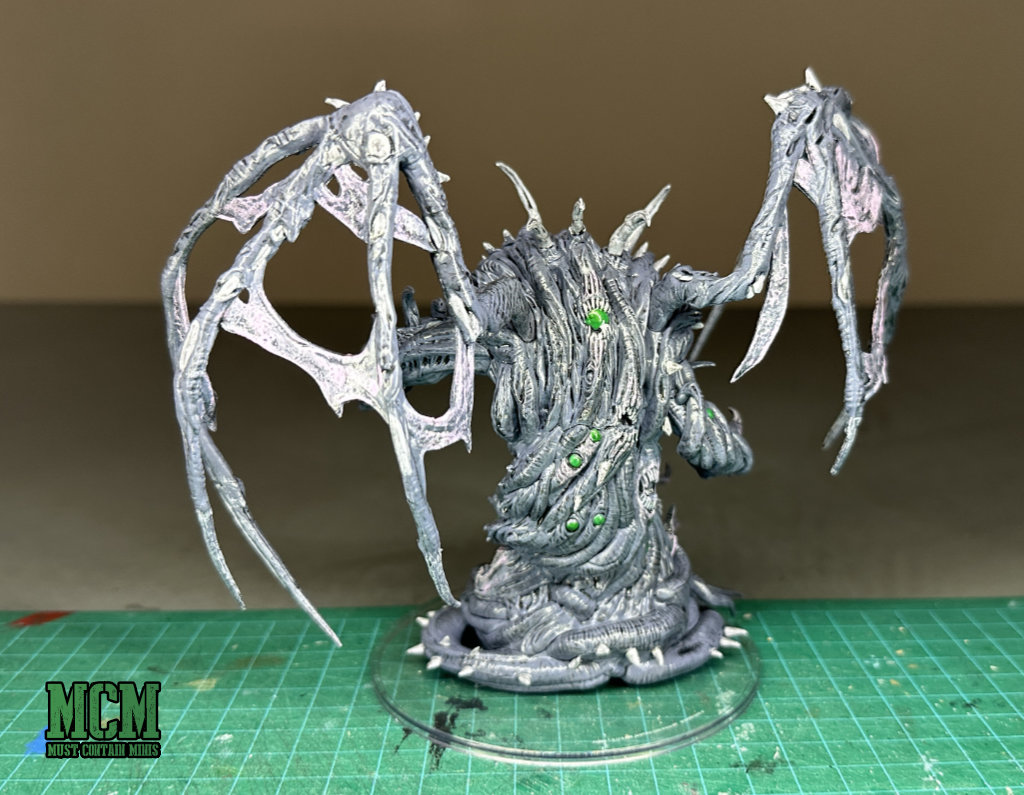 There are tons of eyes and random sets of teeth all over this miniature. It is actually horrific.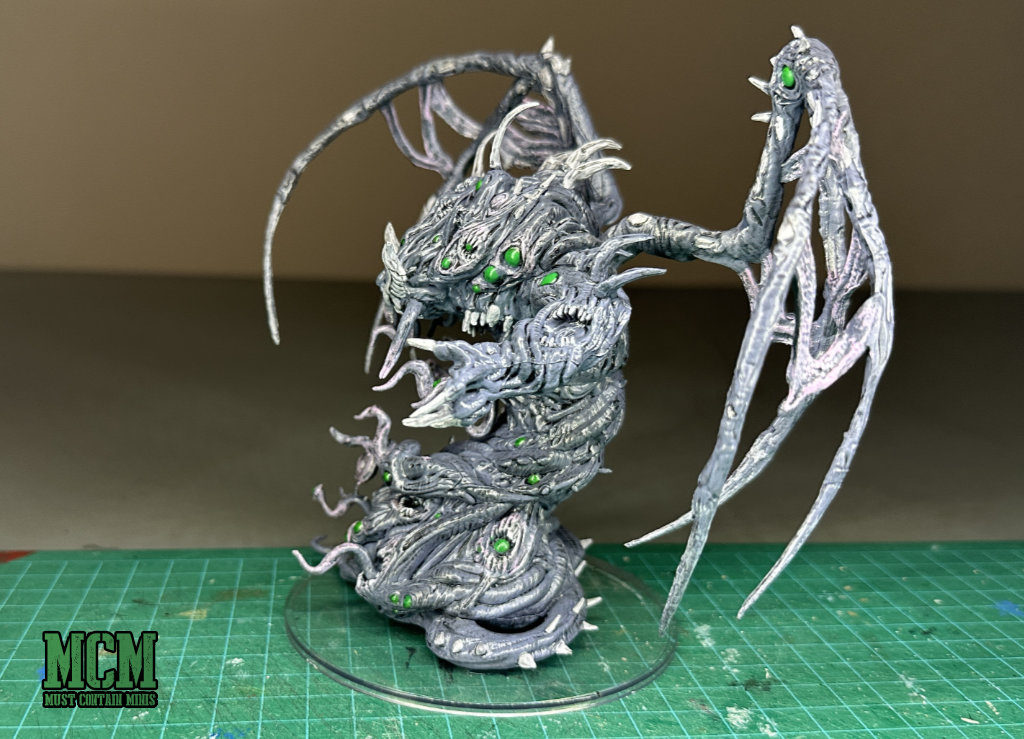 The description for this figure on WizKids' product page is as such.
Obann the Punished rises, a mass of tentacles, teeth and eyes, cursed now with a punished form from the Chained Oblivion. Willing or not, when one serves a Betrayer God, they should make sure they succeed or face their wrath. Standing nearly 6 inches tall this imposing horror is a great foe for any adventuring party. A reminder of the consequences of failure.

Quote from WizKids' Online Store – Product Page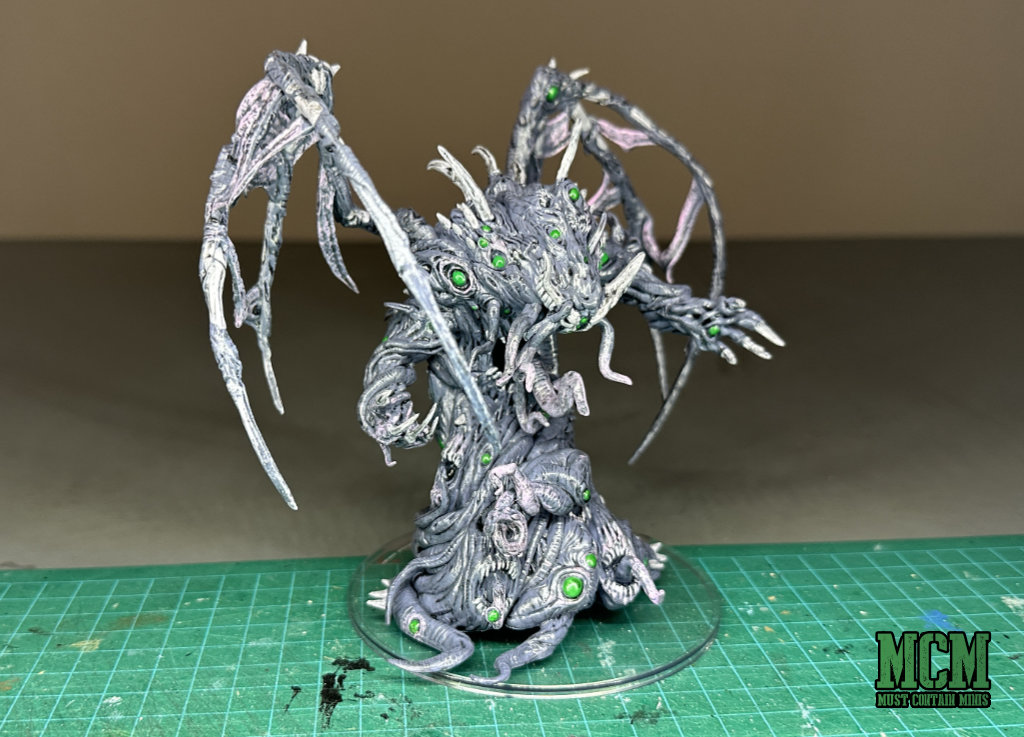 Even the back of this creature has eyes.
Scale Comparison of Giants
The description that WizKids wrote up about this Critical Role miniature state that it is nearly six inches tall. For a miniature, that is pretty big, but how big exactly?
Below is a scale comparison image of Obann the Punished versus other miniatures.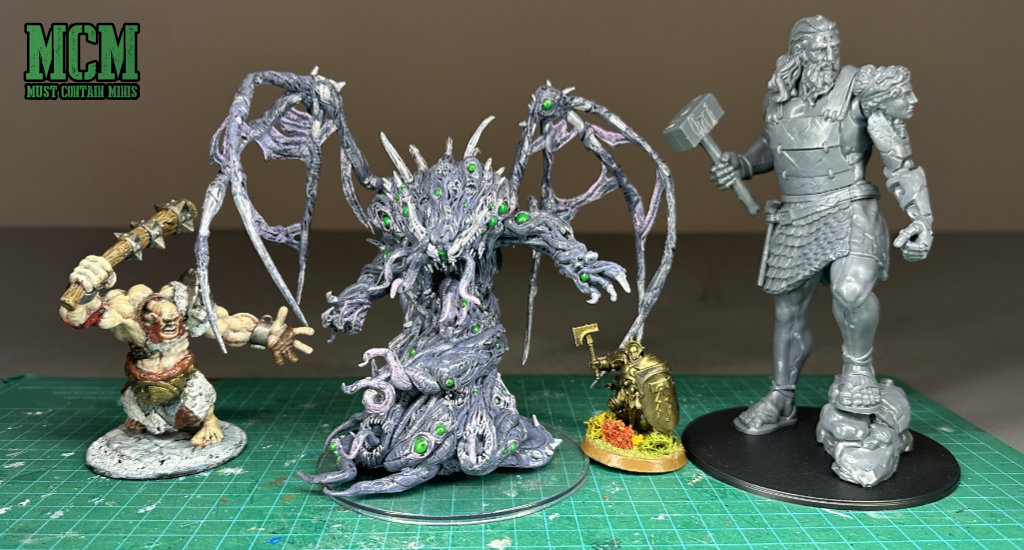 The Hill Giant on the left is by Reaper Miniatures. Next to it we have Obann. To the right of Obann is a Stormcast Eternal. Finally, we have the Promethean Giant for Conquest on the far right.
This miniature is straight up large and requires no painting at all. That's nice.
Who is This Miniature For?
This miniature would be best for two audiences. Those who like Role Playing Games and are looking for a big monster for their PCs to fight. The other for those who play miniature agnostic games where you can use whatever miniatures you want. That makes it great for people who play Osprey Miniatures Games and other rule sets too.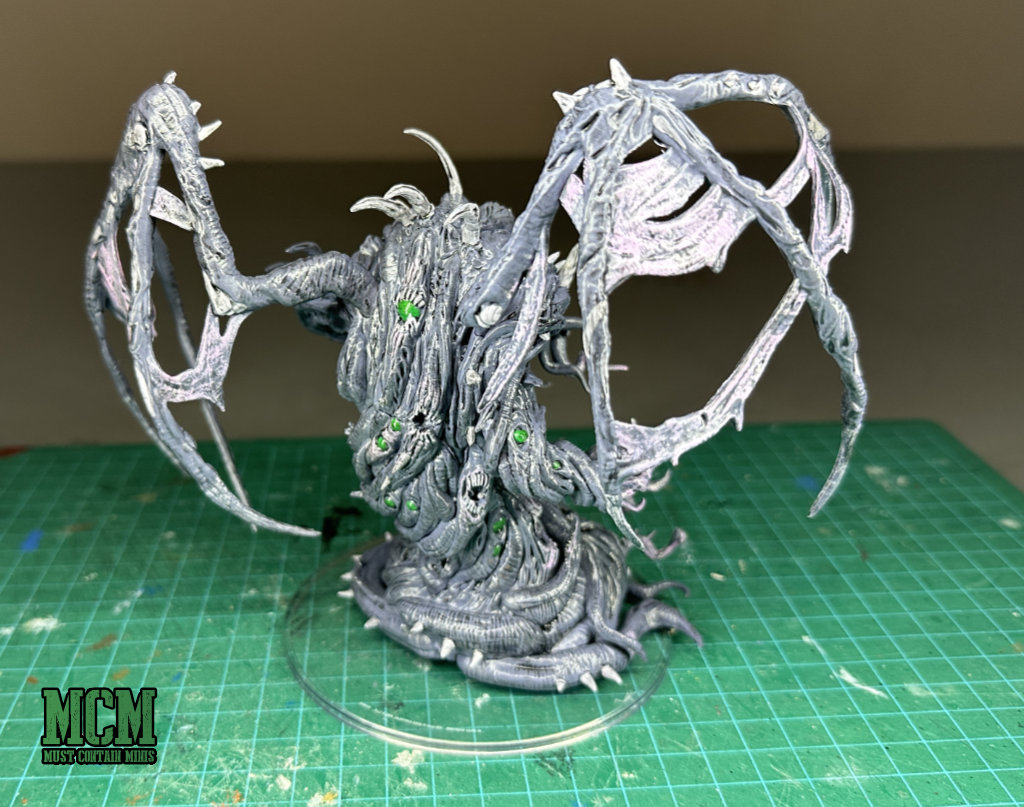 I think this miniature might work well as a pre-painted proxy model for any of you playing miniatures at friends places or in club settings that allow proxy models.
Some painters would likely want to see more detail on this figure. If you want, you could improve on the existing paint job with some dry-brushing or shading, but it is good enough for me.
Wrapping it up…
This miniature by WizKids is my first recent pre-painted miniature by WizKids that I have opened.
I've bought some pre-painted minis in the past from random D&D booster boxes, but I did not find them to this quality. That was also a number of years ago. This miniature looks really good right out the box. No extra work needed.
On top of Obann the Punished, I have an upcoming review of a pre-painted Death Giant by WizKids. I was blown away when I opened that and I think you will be too once I get that review up.
Depending on your perspective, you may find this miniature expensive. Admittedly, it does come at a higher price point then some other miniatures. If you are looking for a lower price, there are other options. In fact, WizKids has an unpainted line of figures at a price hard to beat. I find those miniatures very competitive versus other brands.
That said, pre-painted miniatures seem to be mostly done by WizKids at this time and it is nice to not have to paint up a large miniature for the tabletop.
You can check the price out on their webstore, but your friendly local gaming store or favourite online retailer may have it too. For those of you in the UK, Wayland Games [Affiliate Link] has a couple of these miniatures left in stock too.
Until next time, Happy Gaming Everyone!!!
Note: Special Thanks goes out to WizKids for sending me this miniature for review purposes.