In this post, I review the Landing Craft by Sarissa Precision for Bolt Action. This boat is also sold by Warlord Games for their 28mm WW2 miniatures game – Bolt Action – and I happened to buy mine through Crucible Crush. If you are interested in ordering from Crucible Crush, they have a lot of offerings on their webstore and they can order this piece in if they don't currently have it in stock.
Like my LCVP (Landing Craft, Vehicle, Personnel) I bought this boat for my Bolt Action Army. The idea is to make it so I can re-enact the Normandy Landings.
Sarissa Precision Quality
Now, I built a lot of MDF terrain and boat kits lately. I have to say that I am very happy with the quality of the Sarissa Precision materials. At first, I thought that the MDF boards were a little thin and the cards a little flimsy, but when I compare them to some other companies, they are pretty good. The MDF is strong for its size and snaps apart less easily than some of their competitors. The use of card stock, I am still mixed about, but it is amazing what they can do with it.
This Landing Craft kit is an all MDF model – there is no card stock in this one. They make their very similar LCM 3 (Landing Craft Mechanized) model out of both MDF and card stock.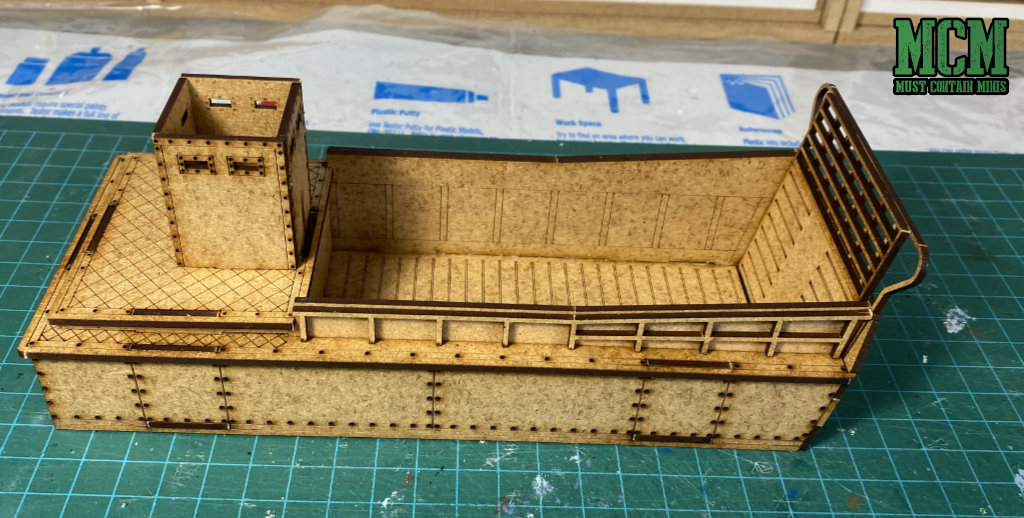 The Landing Craft in Bolt Action
Like the LCVP of my previous Landing Craft review, I turned to page 190 of the Bolt Action: Campaign: D-Day: Overlord book to see what the boat counts as in Bolt Action. This one would count as a LCM (Landing Craft Mechanized). Basically, it is like a slow moving tank that can only move in water. It would be equivalent to a lightly armoured open topped tank with two machine guns. The player can choose to upgrade those MMGs to HMGs if they wish.
This vehicle can carry one armoured vehicle, two soft skin vehicles or 100 soldiers. You could carry an entire platoon in this beast if you wished!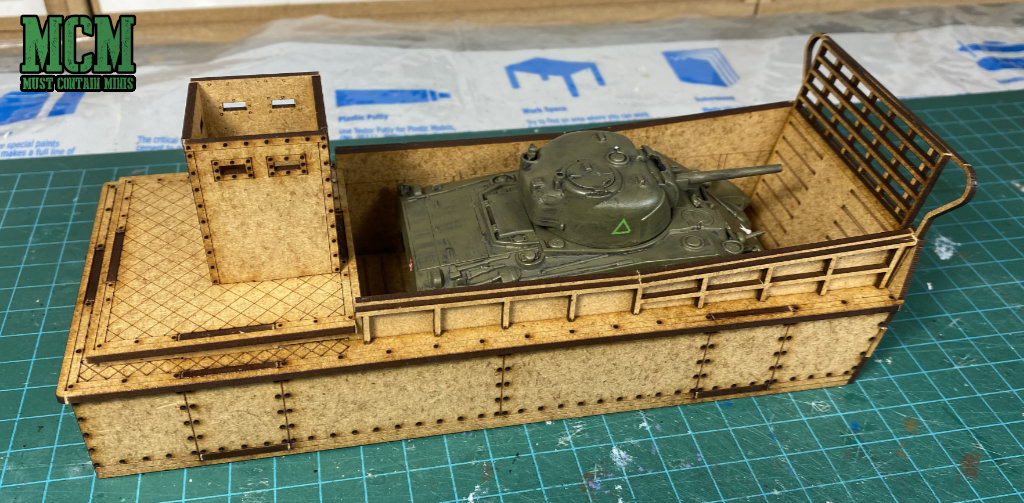 Building the Landing Craft
This MDF model kit came nicely packaged with directions on board.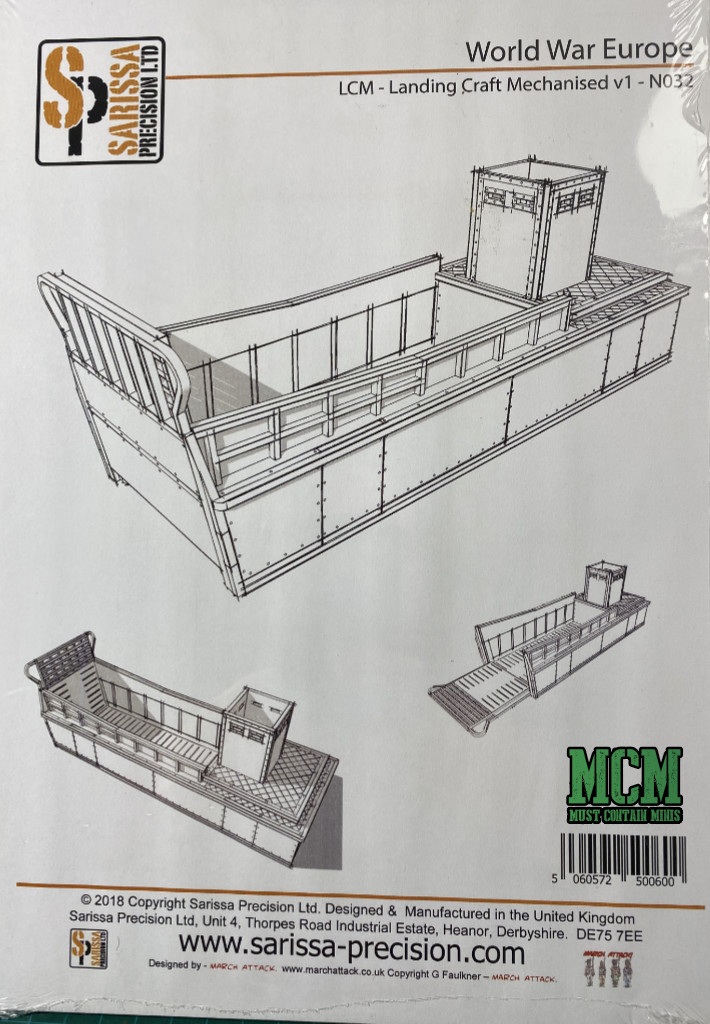 Even though the package came with directions, I decided to build the kit without them. That was a mistake.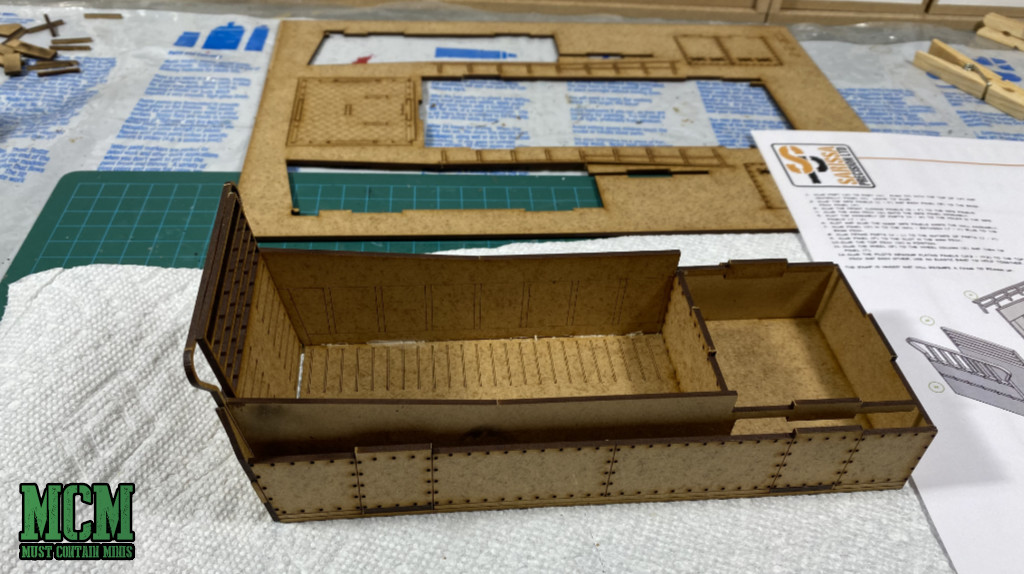 Realizing that I made a mistake, I pulled apart the glued on pieces and snapped a small section of the model. It took some force to do that, and I was able to fix the damage fairly easily with glue.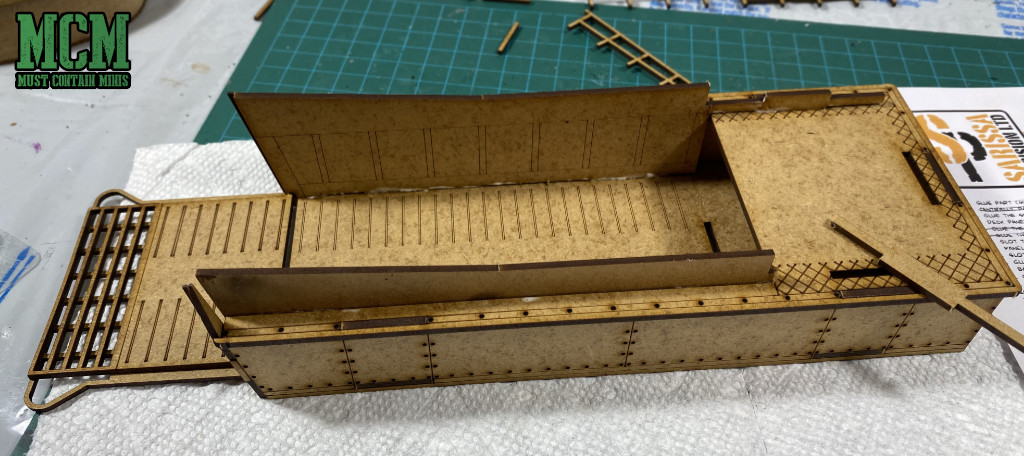 Building this Sarissa Precision Landing Craft seemed pretty straightforward, but follow the directions to avoid my mistake. Speaking of directions, I found it odd how they labelled the pieces.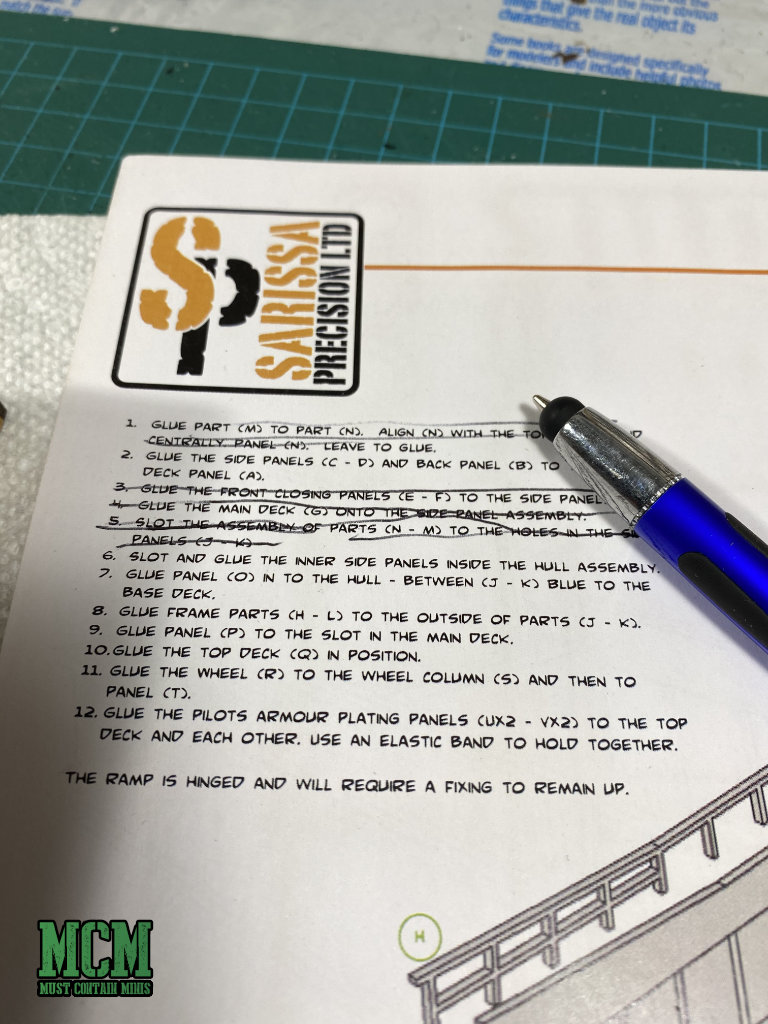 After all that, I ended up with a nicely completed model.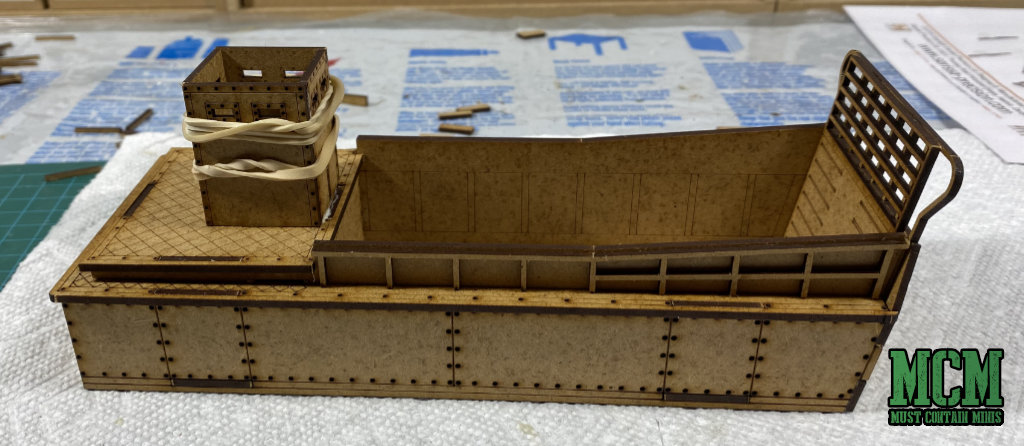 More Pictures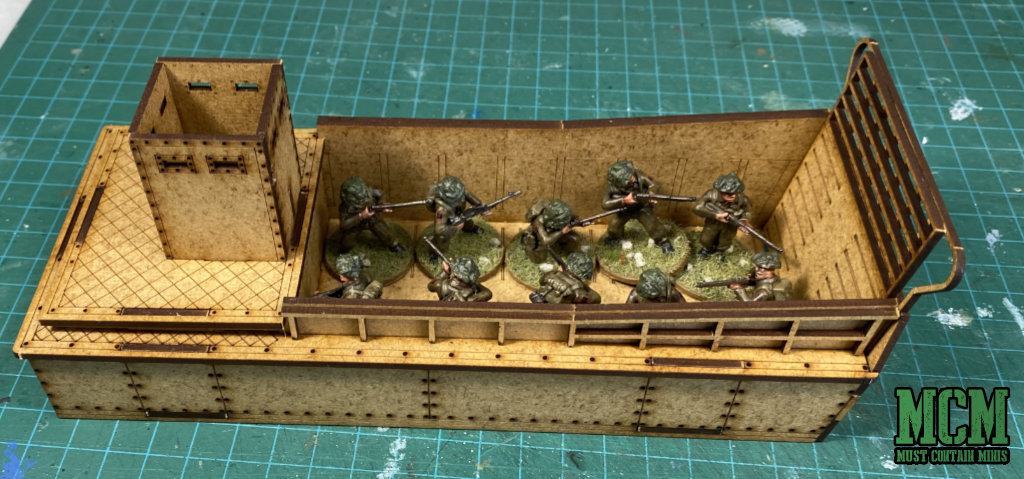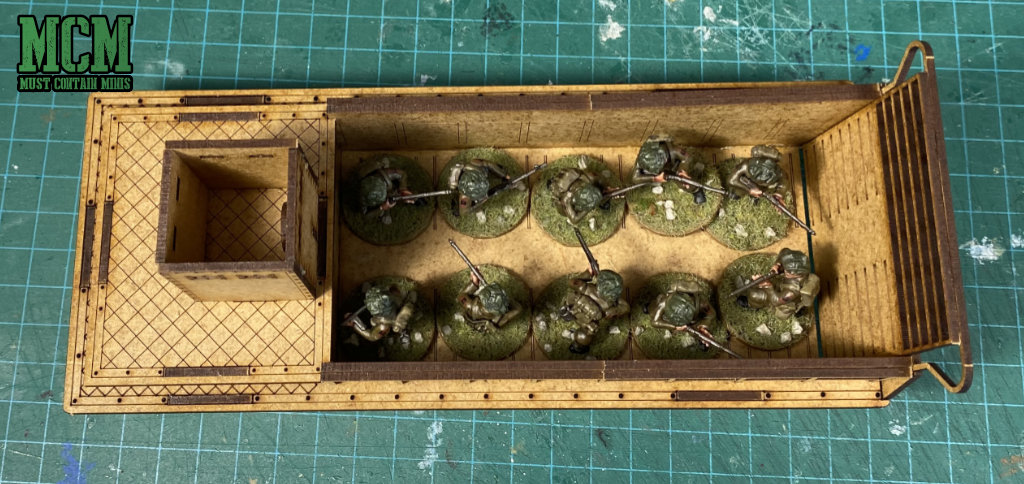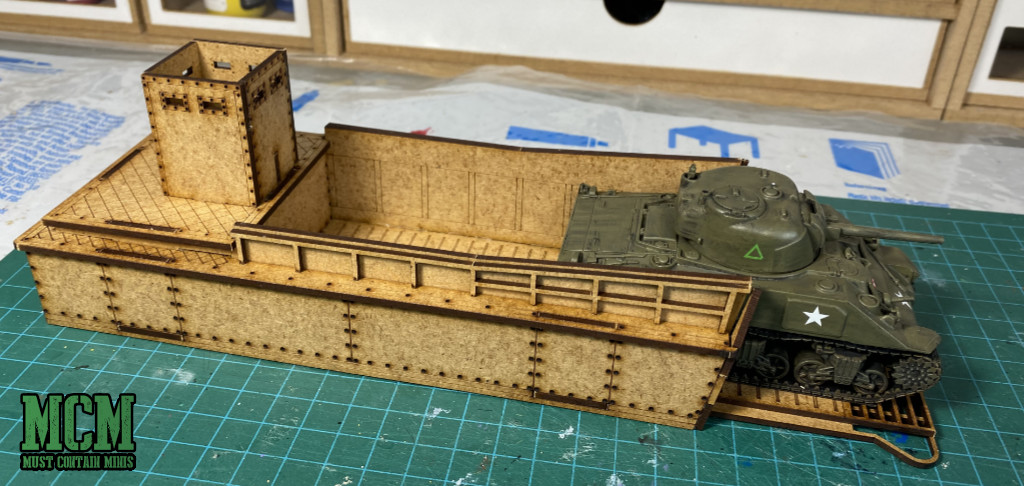 Wrapping it up…
Thank you for joining me in this review of a Landing Craft by Sarissa Precision. The model looks great and I am looking forward to getting it on the tabletop. If you want a landing craft for Bolt Action capable of carrying 100 soldiers, a tank or two soft skin vehicles, than this kit is for you. It is lightly armoured and might have a little more staying power than a LCVP (Landing Craft, Vehicle, Personnel).
I found this Landing Craft a very affordable purchase and enjoyed putting the model together. Before painting it, I have a few more MDF kits that I want to build first. I plan to paint them all at the same time.
Until next time, Happy Gaming Everyone!!!