About a Month ago, I took a good look at Fireforge Games Living Dead Peasants. I liked those miniatures a lot and wanted to continue building an undead army. My next build from the miniatures sent to me by Fireforge Games was of their Living Dead Knights. Today's post is a review of the Living Dead Knights by Fireforge Games.
Viewer discretion is advised. This post features pictures of unpainted miniatures. That said, the pictures will give you a good idea of what to expect if you buy this model kit. 
This article also contains pictures of the Sprues and scale comparison pictures too.
So, what is in the box? Let's take a closer look at those miniatures in my Living Dead Knights Review.
What Comes in the Box?
As I stated in my last review, Fireforge Games calls their "Undead" faction the "Living Dead." Their Living Dead Knights are basically mounted Skeleton Warriors. They look pretty good. Take a look at the back of the box to see how they look painted.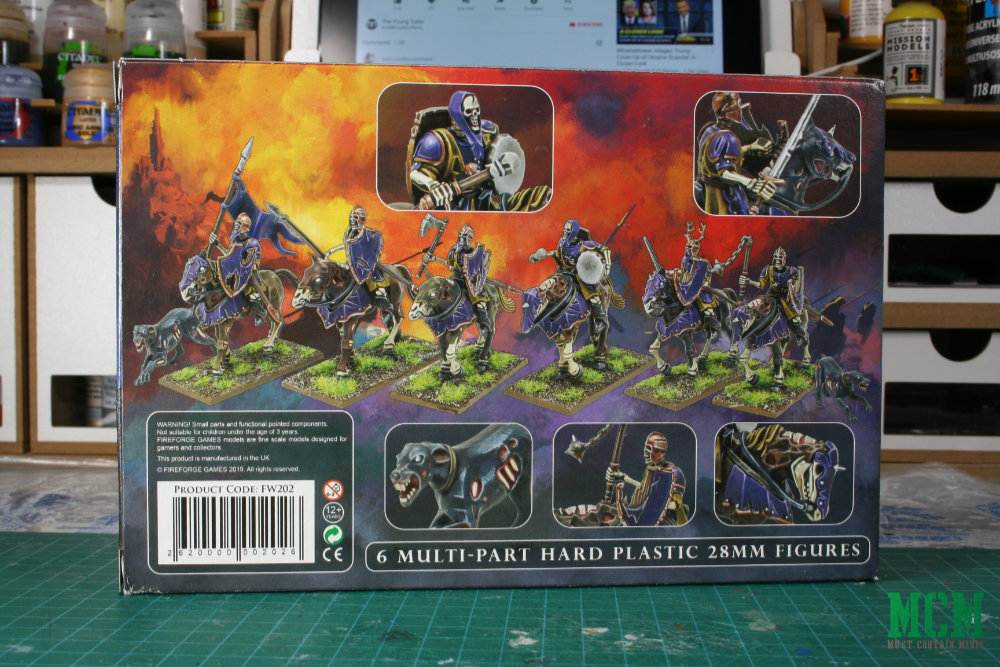 The box says that it comes with "6 multi-part hard plastic 28mm figures." It actually comes with 8. Fireforge Games packed the box with six mounted warriors and two Zombie Dogs on top of that. They also sent more than enough bases to go with the kit. Below is a picture of the models I built with this boxed set.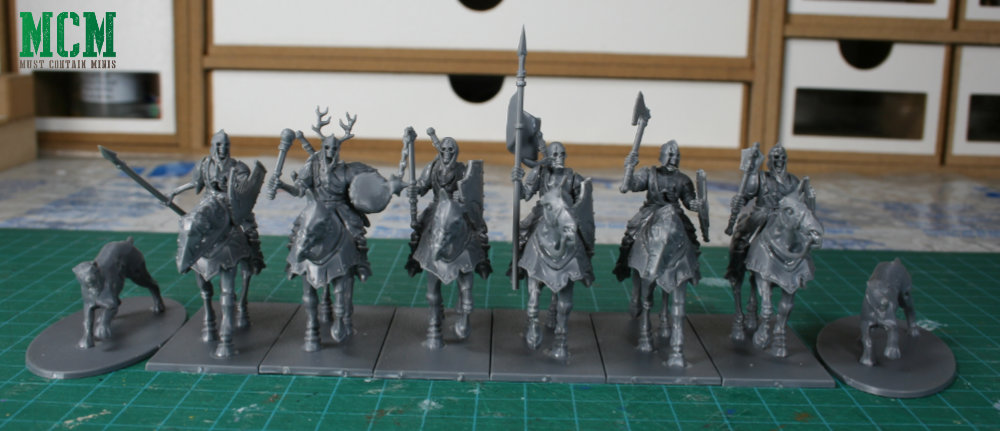 These miniatures came on two separate sprues. Let's take a closer look at those sprues.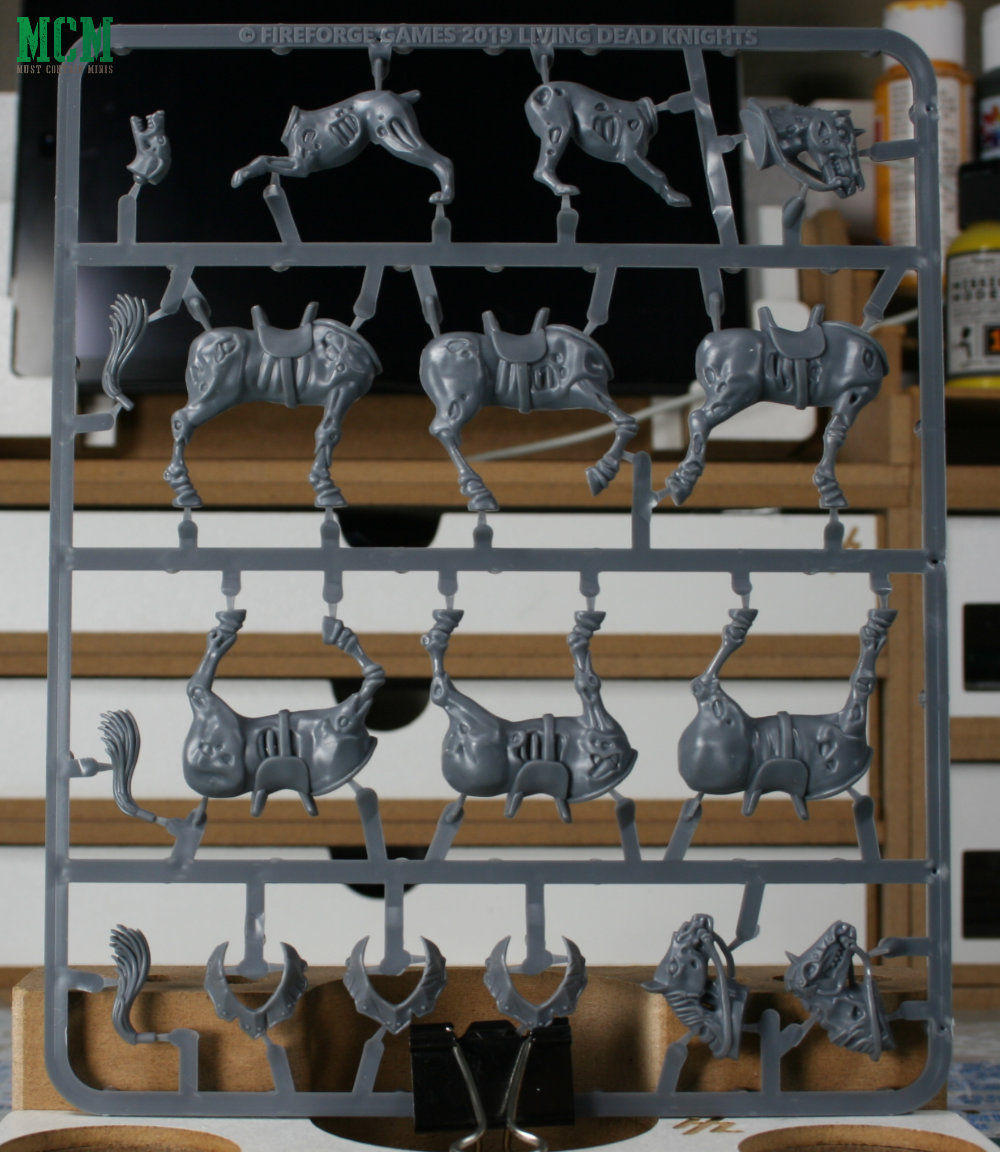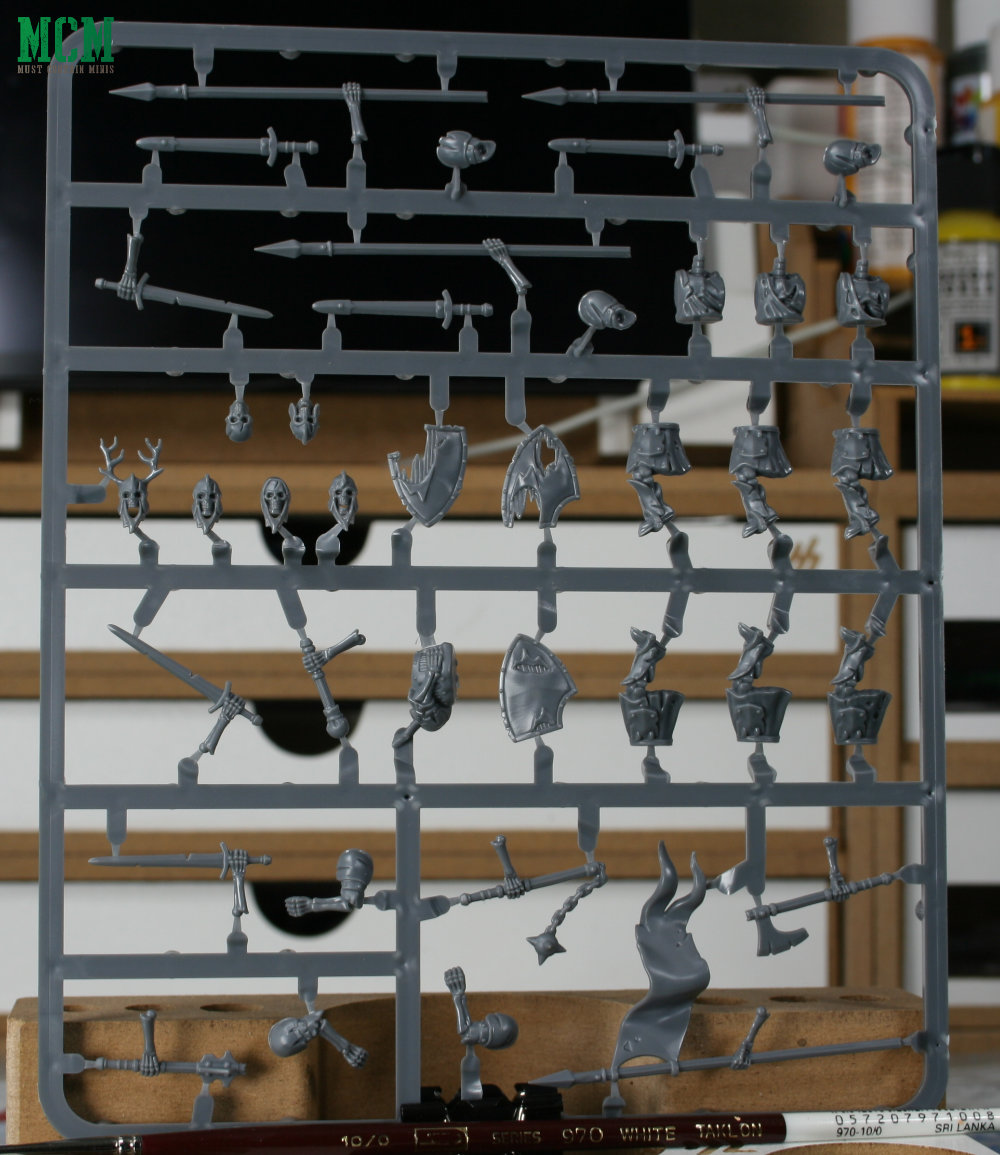 Of course, no miniatures would be complete without their bases. Fireforge Games ships both Oval and Rectangle Bases for these miniatures.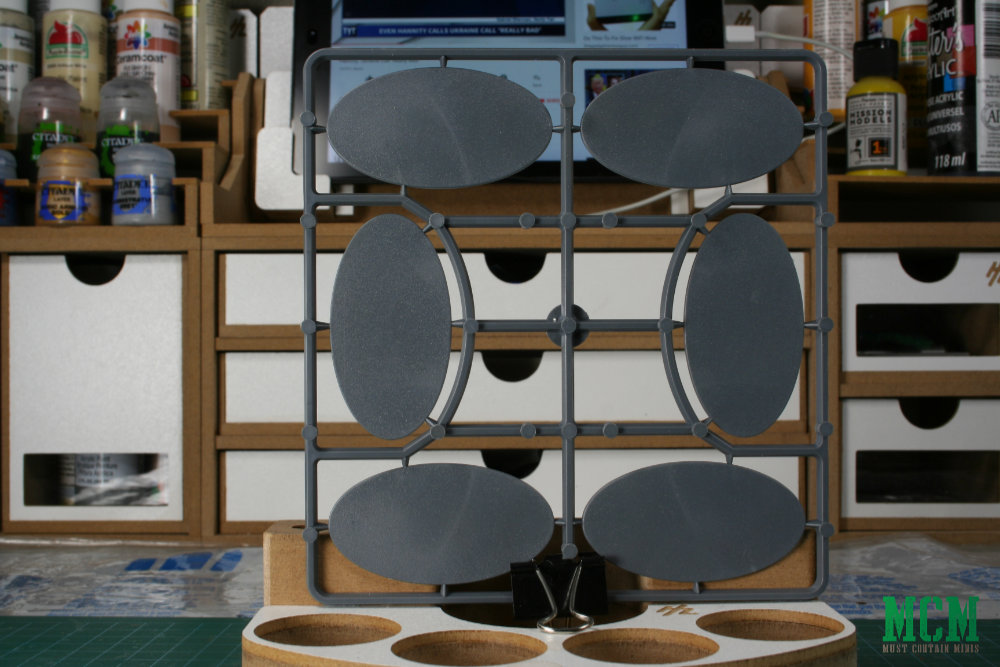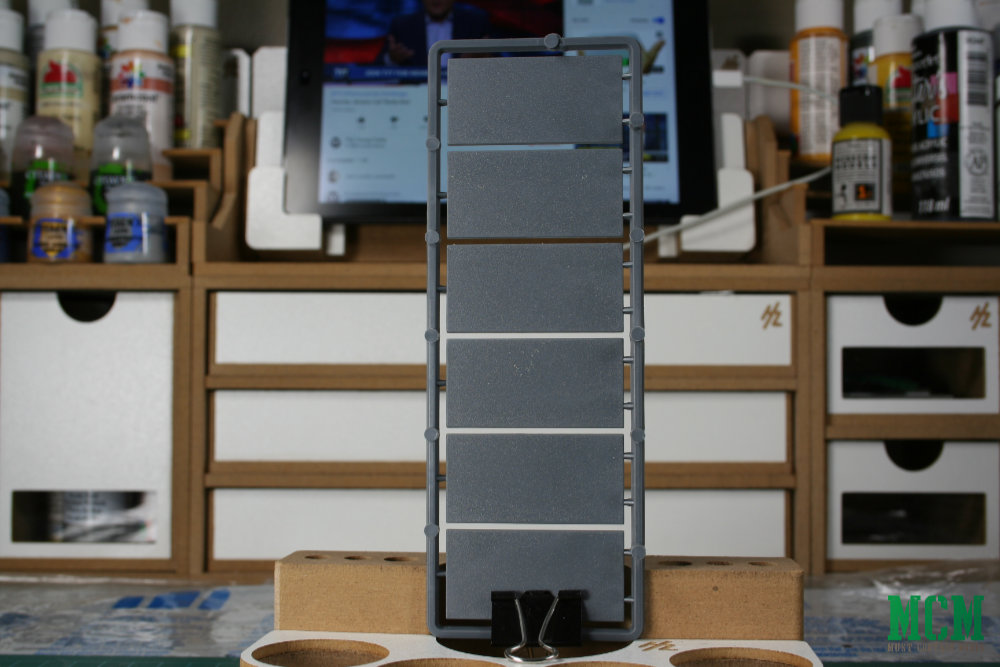 With my build, I decided to build the unit on the rectangle bases and used two of the oval bases for the zombie dogs that came with the kit.
A Closer Look at the Miniatures
I like the way the miniatures turned out. Take a look for yourself and see what you think.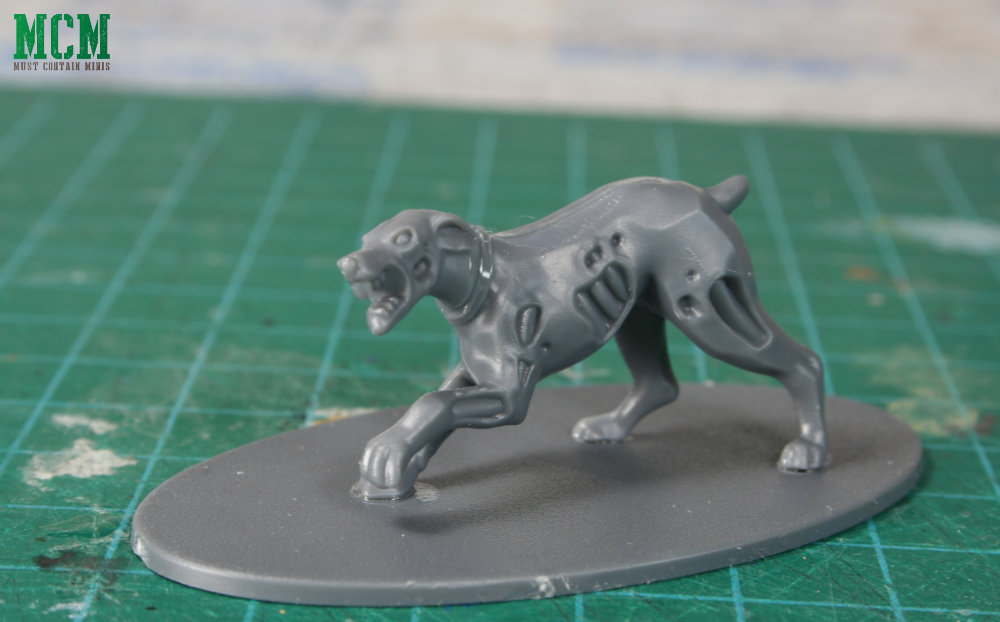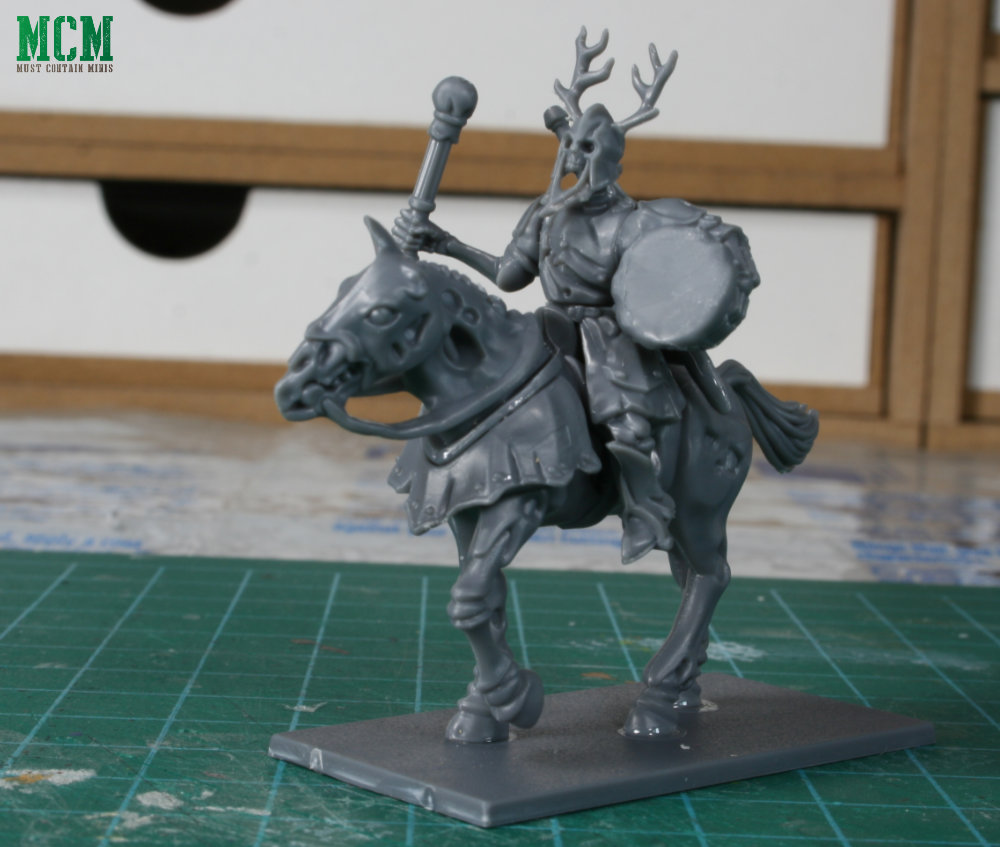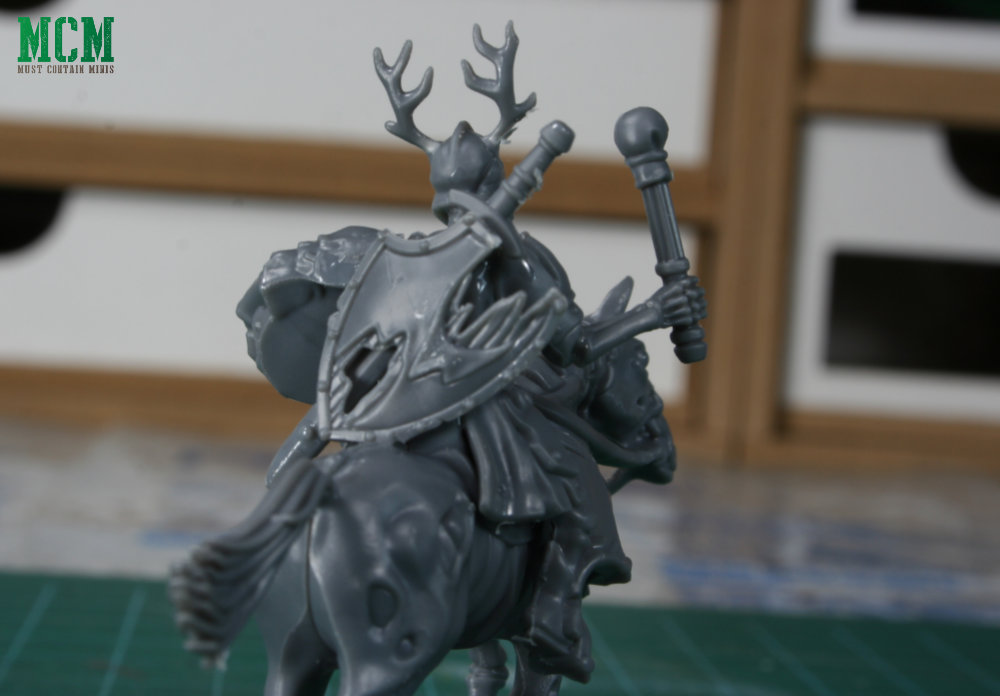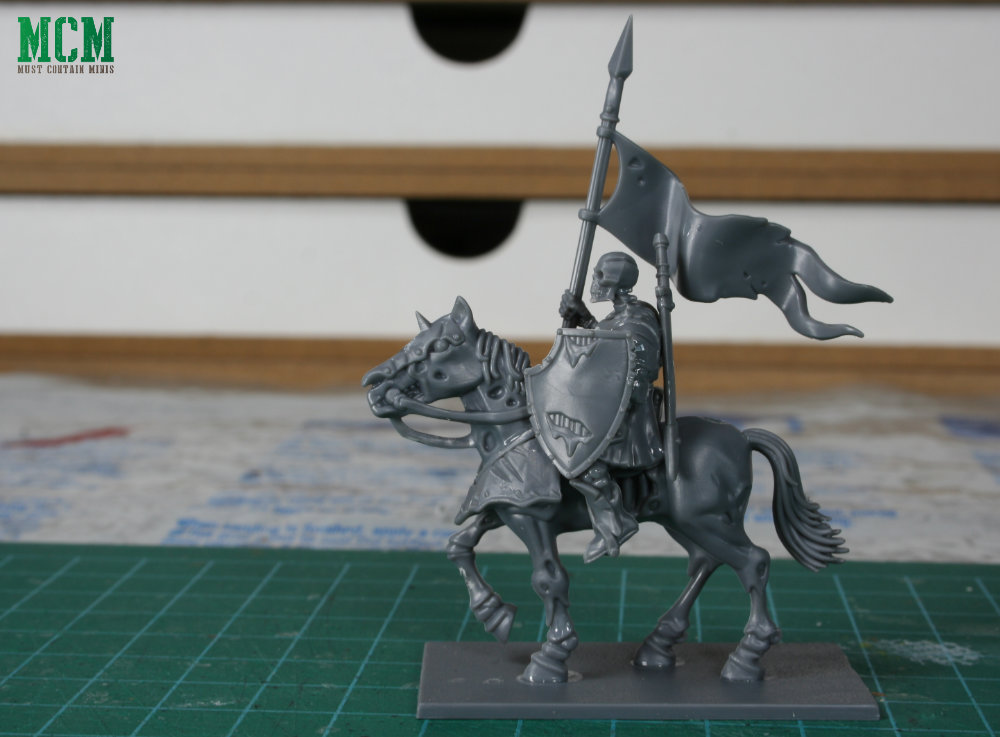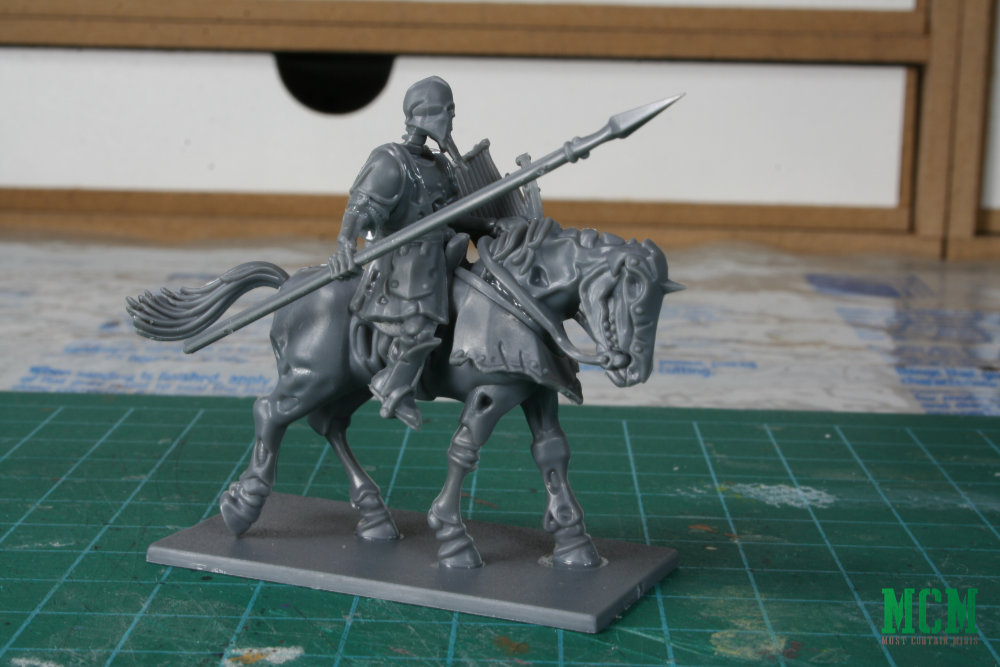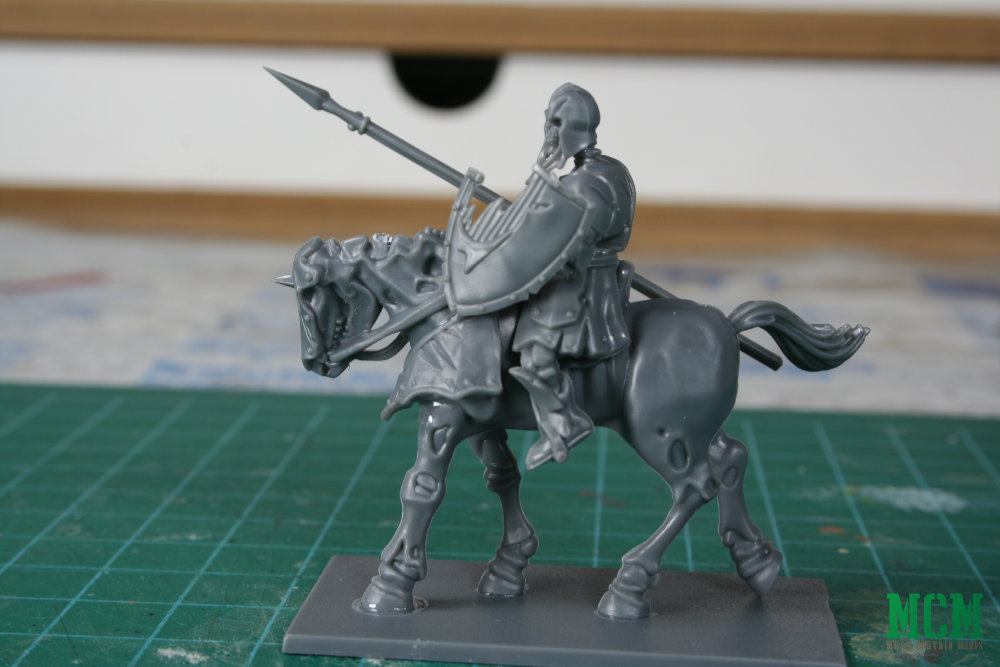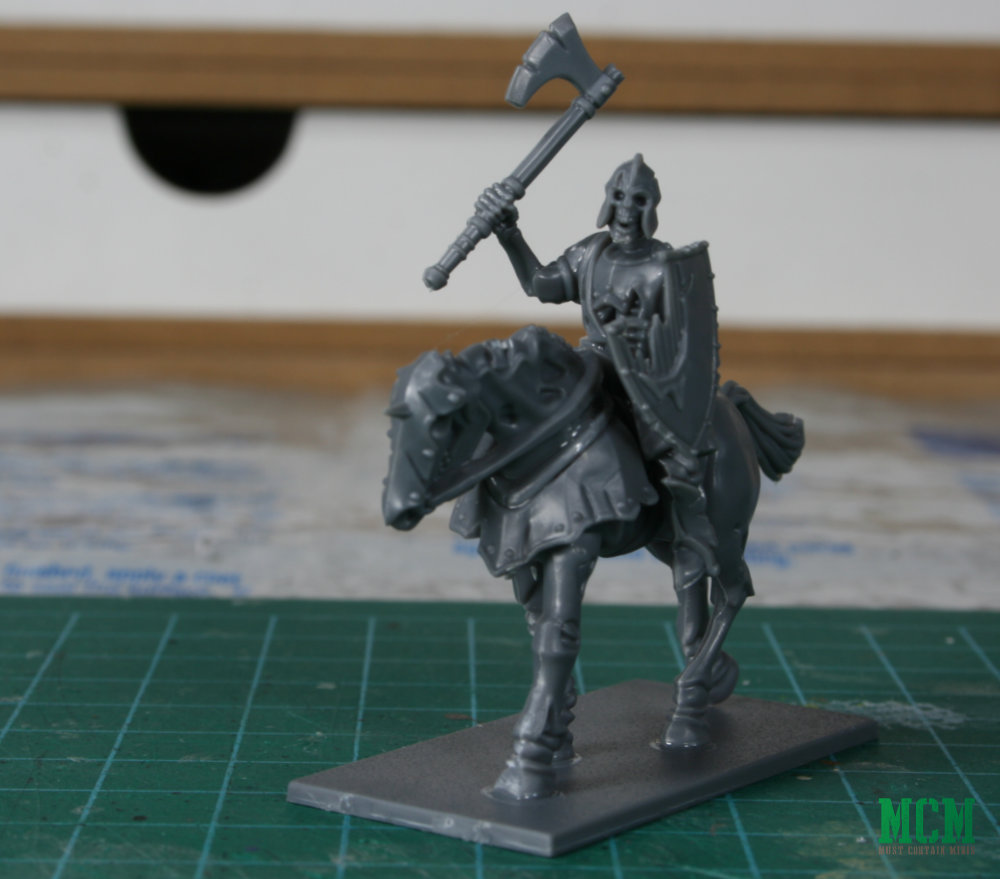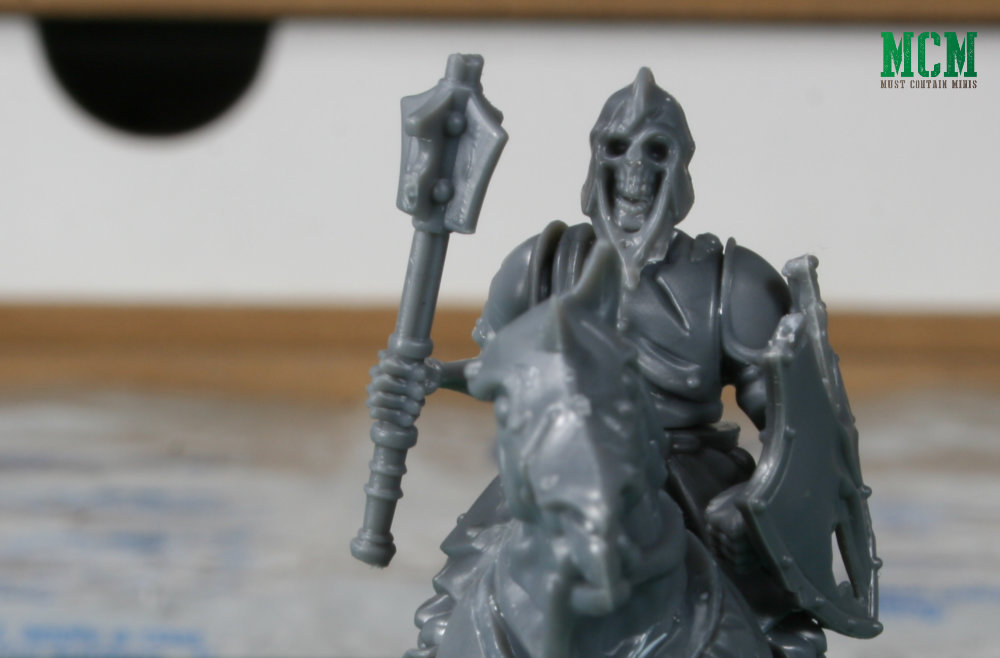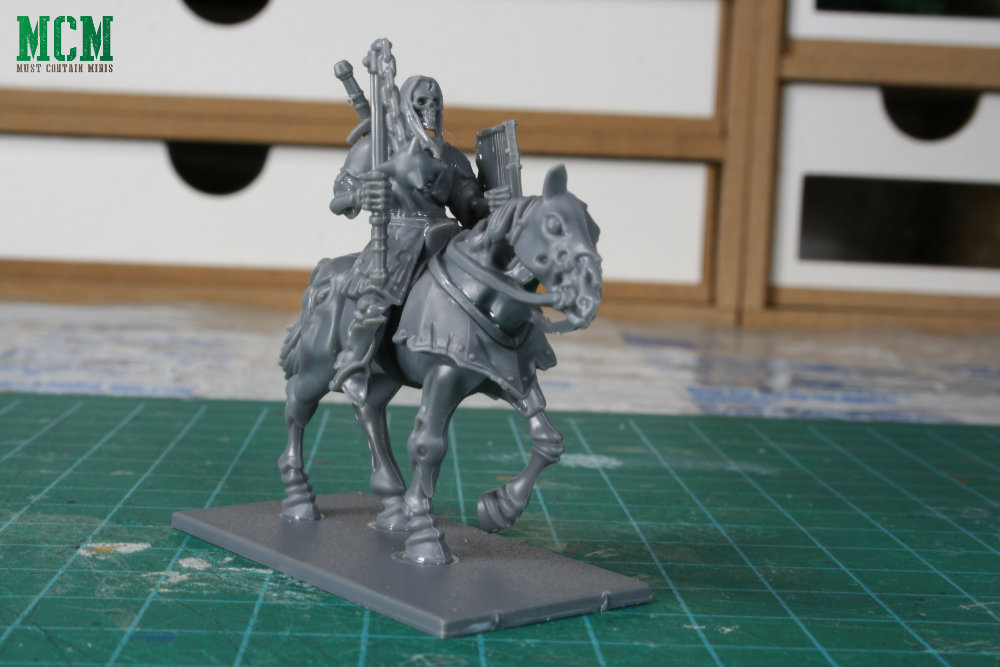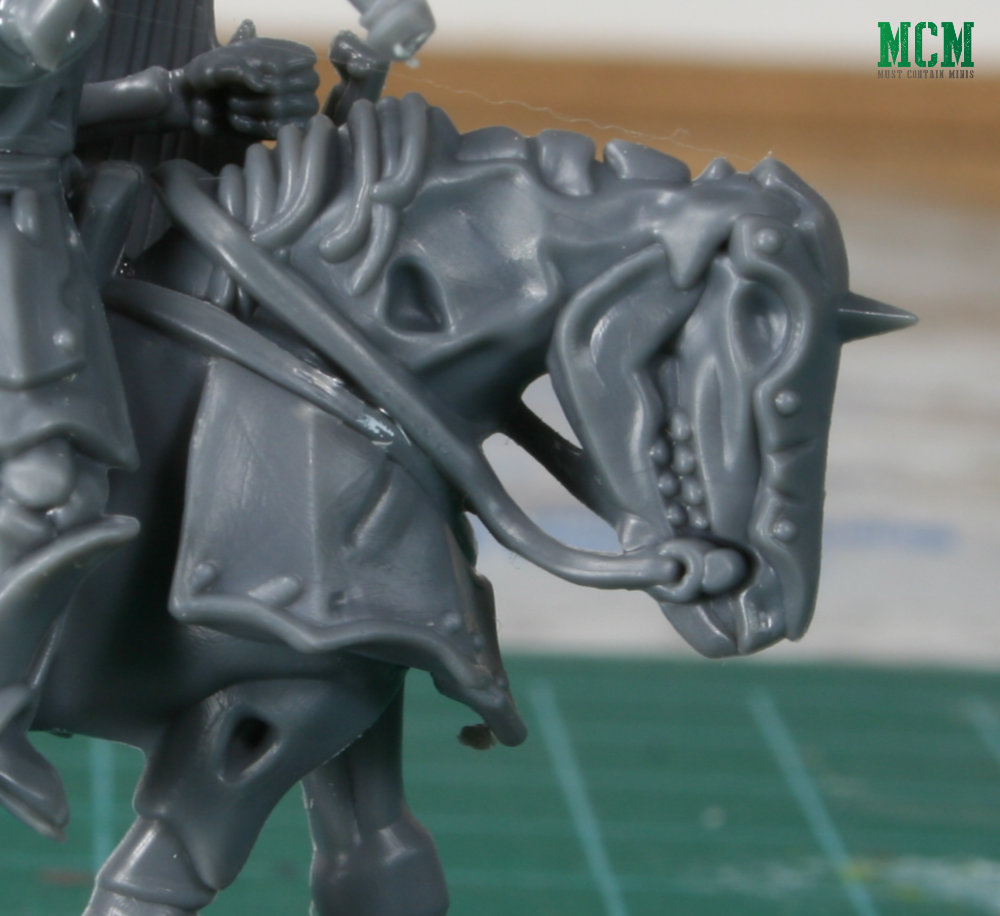 Scale Comparison
When possible, I like to show the scale of the miniatures. There is no exception in this Living Dead Knights Review. The reason I like to do this is first to give a sense of the scale and design of the model, and secondly to aid those that game in multiple systems. If you are into games where you can use whatever minis you want, then these pictures may certainly help you decide whether the miniatures fit your collection.
Now, let's check out the size of these miniatures.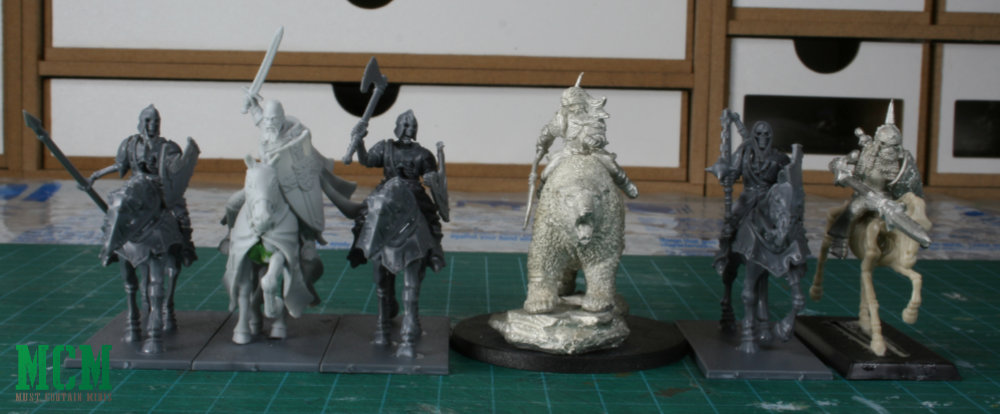 And a small selection of the models from the side…

Hopefully these images above give you some context for the size of the models. For those wondering, the selection of minis in this scale comparison is based on the minis that I own. Unfortunately, I don't have a big selection of mounted warriors at this time.
Wrapping it up…
Overall, I like these Living Dead Knights for Forgotten World by Fireforge Games. Special thanks goes out to Fireforge Games for sending me these models for review.
How about you? What do you think of these models?
Until next time, Happy Gaming Everyone!!!