Looking for some Alternative Command and Heavy Support Weapons Teams to represent Imperial Guards in games like Warhammer 40K?
Wargames Atlantic has some excellent models that you can use as proxy Imperial Guards or use in other sci-fi games. In this post, I review the Les Grognards Command and Heavy Support miniatures box set by Wargames Atlantic.
Like all the products by Wargames Atlantic, these are quality 28mm miniatures at a very affordable price. When it comes to value, these guys are the kings. If you need proof, I have two links at the end of the article where you can check the price on the miniatures.
Back to this boxed set. It gives you enough components to make 6 weapons teams comprised of 12 figures and six mounted weapons. You can opt to build command miniatures with this kit instead of weapons teams.
In this review, I will show you what is on the sprues, share some built miniatures and show you a scale comparison image. At the end of the post, there will be a YouTube version of this review for those who would rather watch than read.
If you have time, perhaps you could view both and help me out on YouTube by liking and watching my videos as well as subscribing to the channel.
Before going further, I would like to thank Wargames Atlantic for sending me these miniatures for review. Now, let's get into it.
Unboxing Les Grognards Command and Heavy Support Miniatures
Personally, I really like the box art on this miniatures kit.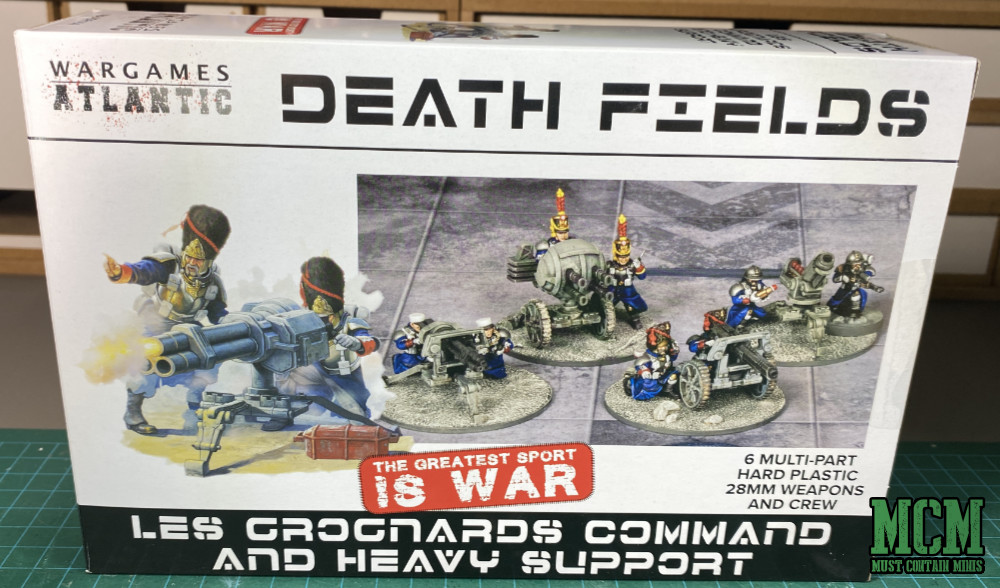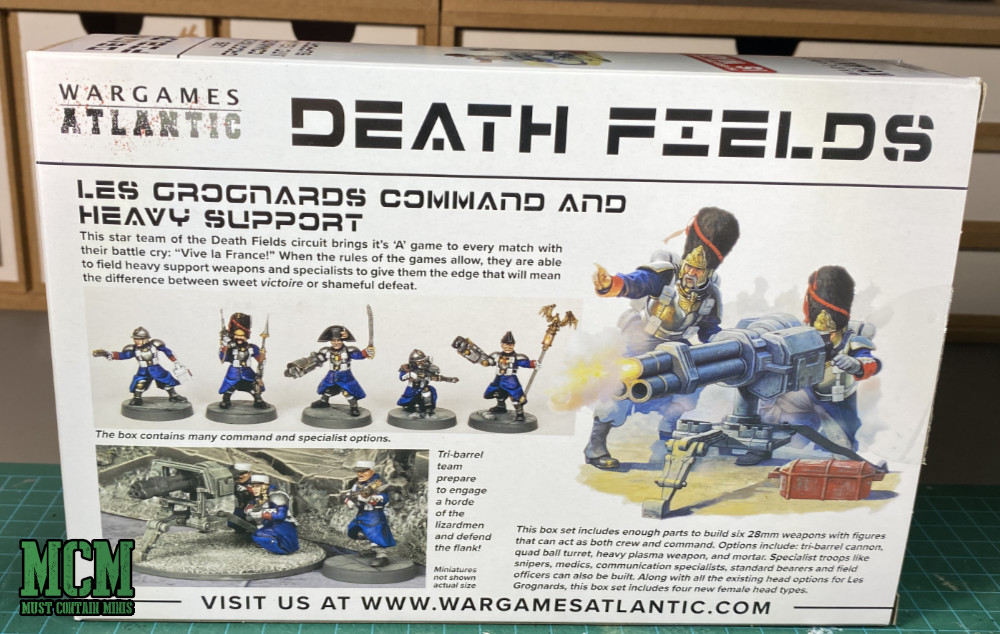 This box does not contain any directions or bases. That said, I found the construction of these miniatures very straight forward.
Let me show you what comes in the box.
Sprues of the Les Grognards Command and Heavy Support Boxed Set
These sci-fi miniatures are stylized after historic French soldiers. This set gives you command options that you can use on any of your Grognards soldiers. It also gives you four types of heavy weapons. These weapons include the following options… A Tri-Barrelled Cannon, a Quad Ball Turret, a Heavy Plasma Weapon and a Mortar. You get enough weapon parts to build three of any weapon set in this box.
Here are the Sprues of the Command and Heavy Support Boxed Set.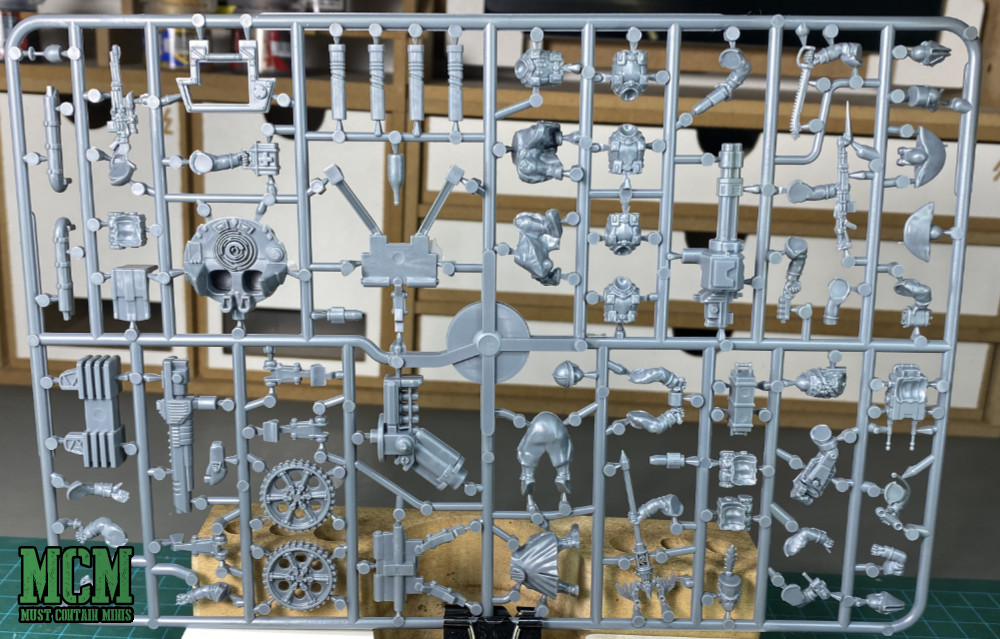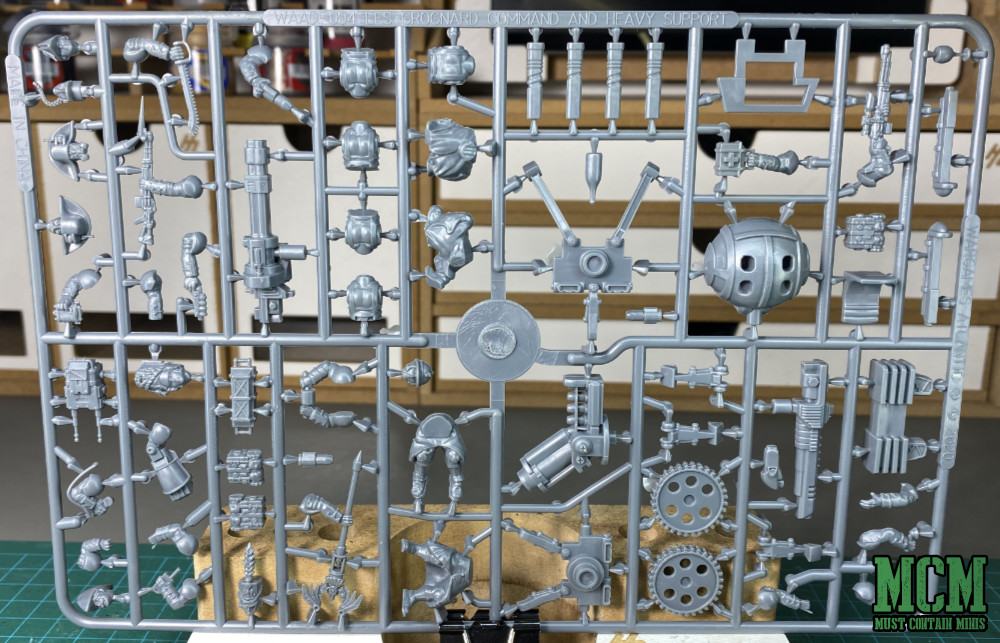 You get three of these frames in the box set.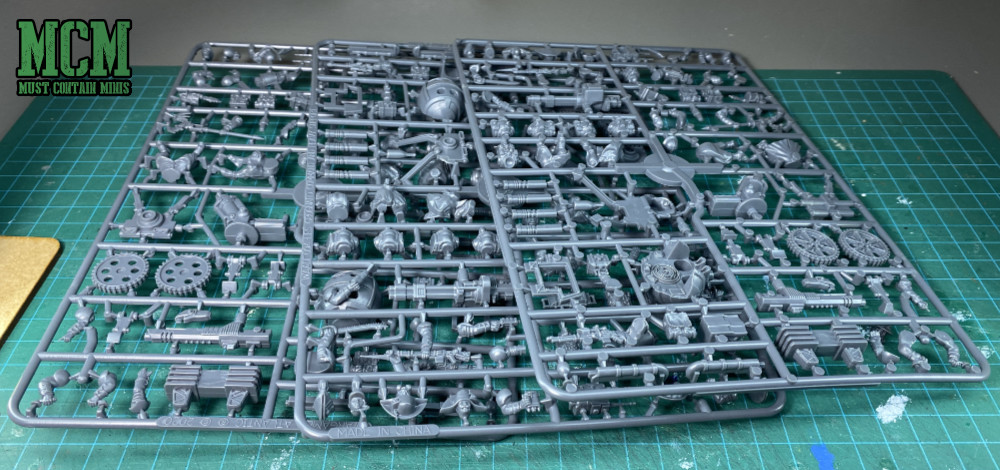 You also get two sprues of heads. These are the same heads as what comes in the standard infantry Les Grognards boxed set. There are also alternative heads on the actual command sprue above.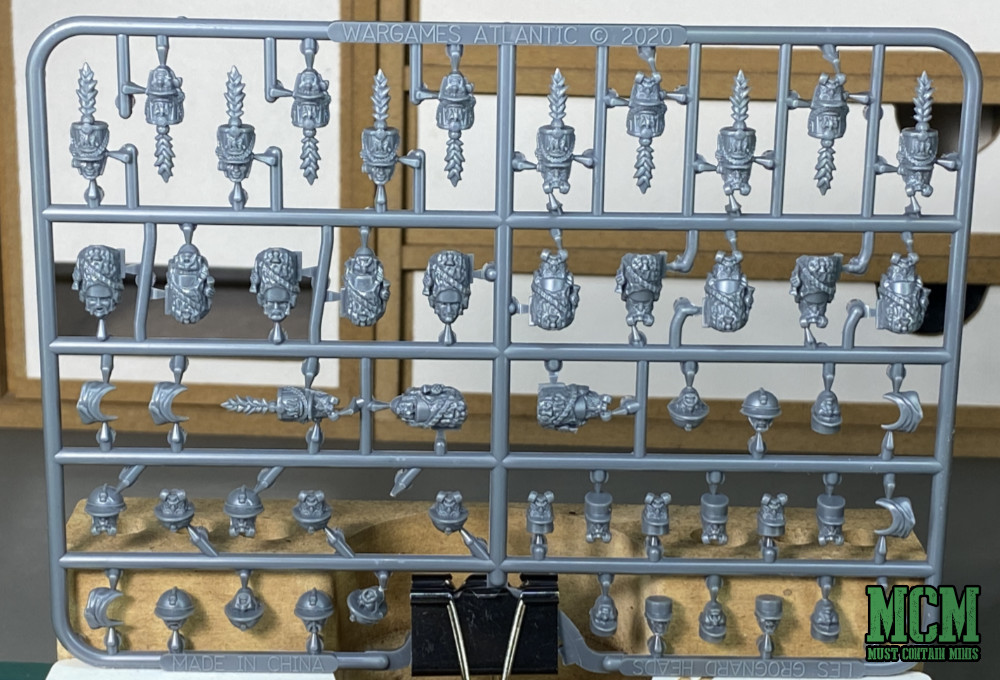 Using these, you can make a good variety of specialist soldiers and Heavy Weapons Teams.
Here is what I built with this kit.
My Les Grognards Command and Heavy Support Weapons Teams
Personally, I found these miniatures very straight forward to build even without directions.
I made three mortar teams, a tri-barreled cannon, a quad ball turret, a heavy plasma weapon and a commander. Because this set comes with just 12 bodies, I raided my Les Grognards Infantry set for an extra body. Wargames Atlantic designed the parts to be compatible.
The Commander
I built this guy with a Power Fist and Standard. We can assume he has a gun hidden in his uniform. He will make a fine proxy Lord Commissar.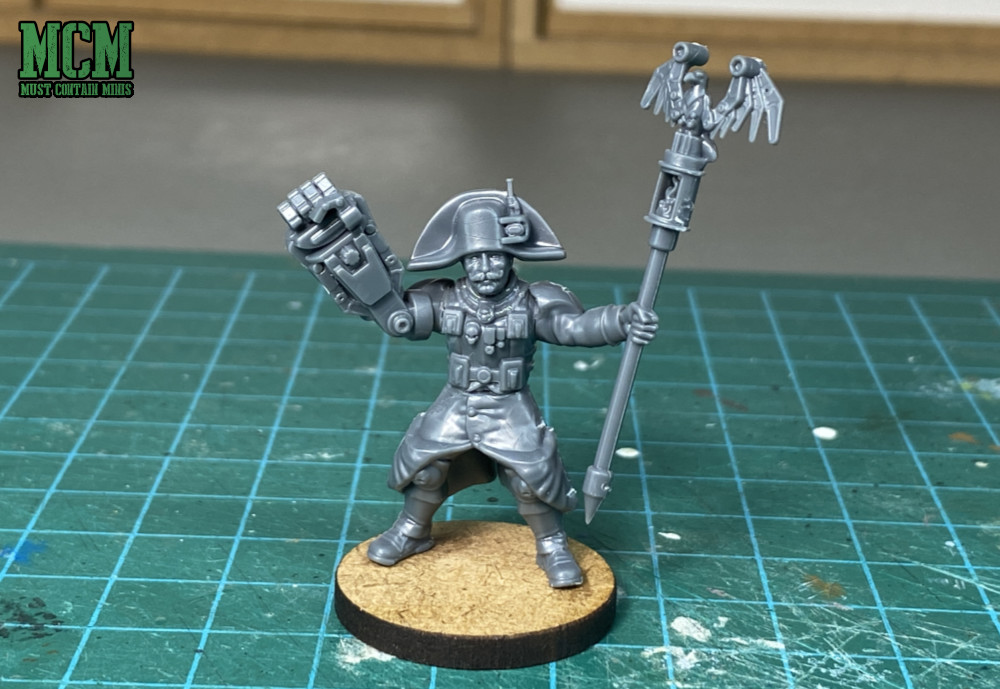 The Mortar Teams
Check out these weapons teams! I love them!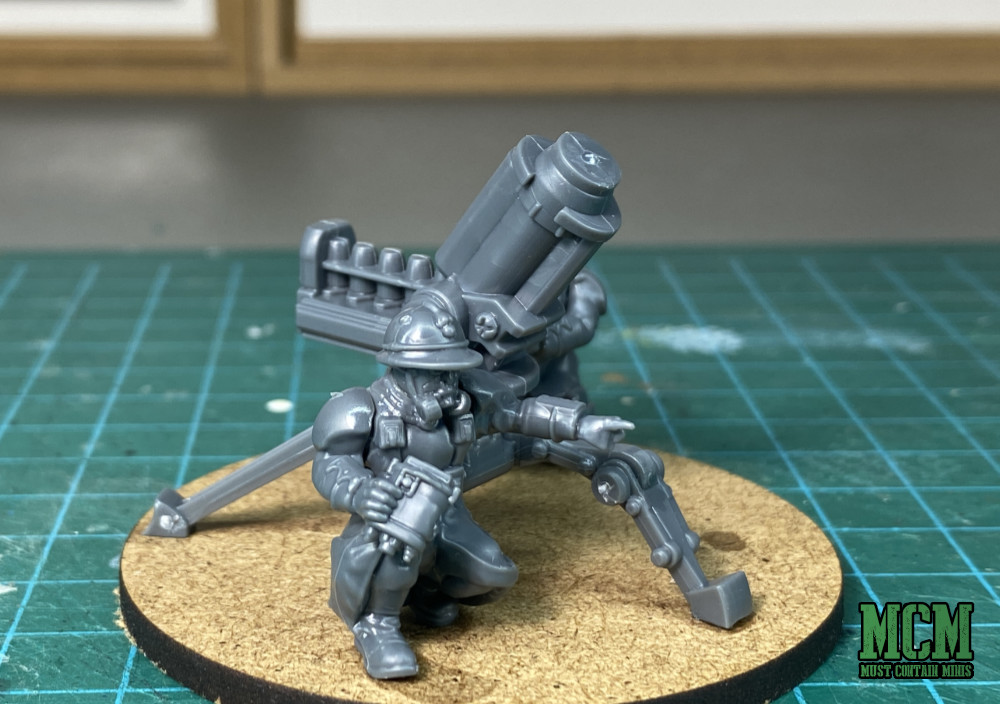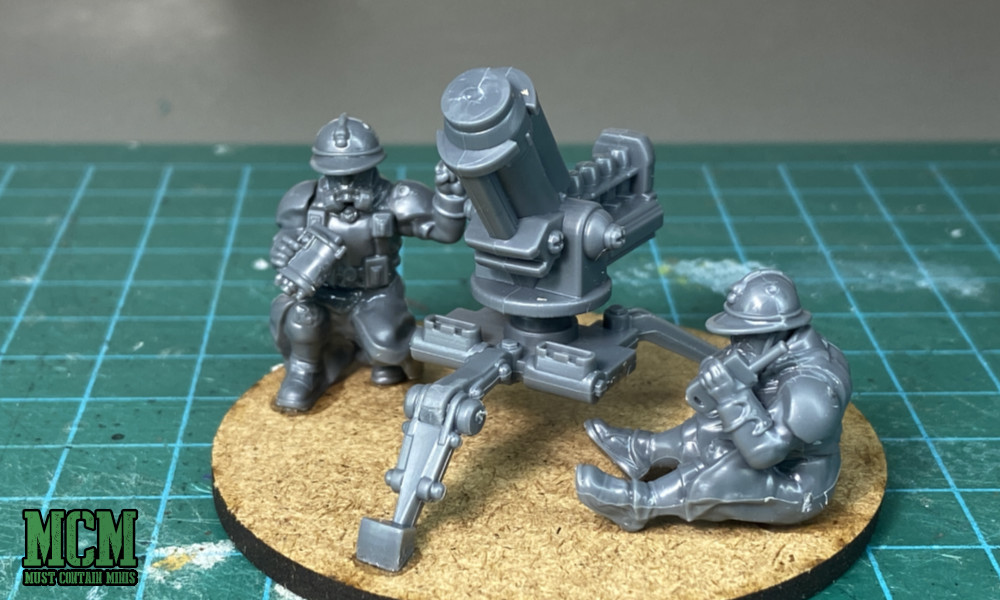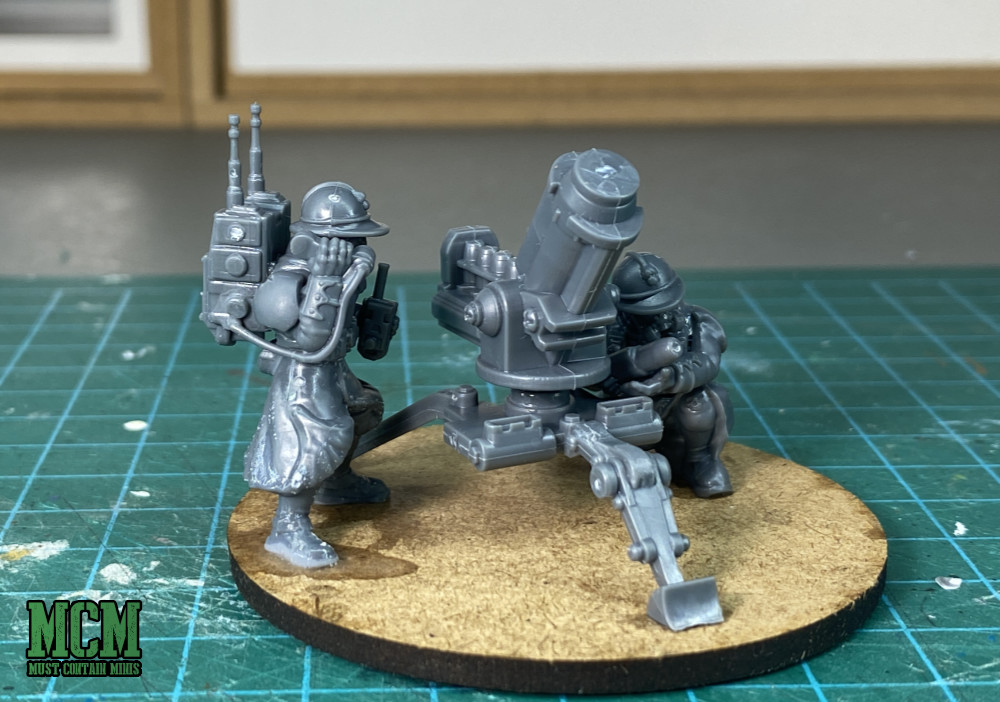 While I mounted all three of my mortars on tripods, you could mount them on carriages. I mounted the one below on a carriage temporarily for demonstration purposes.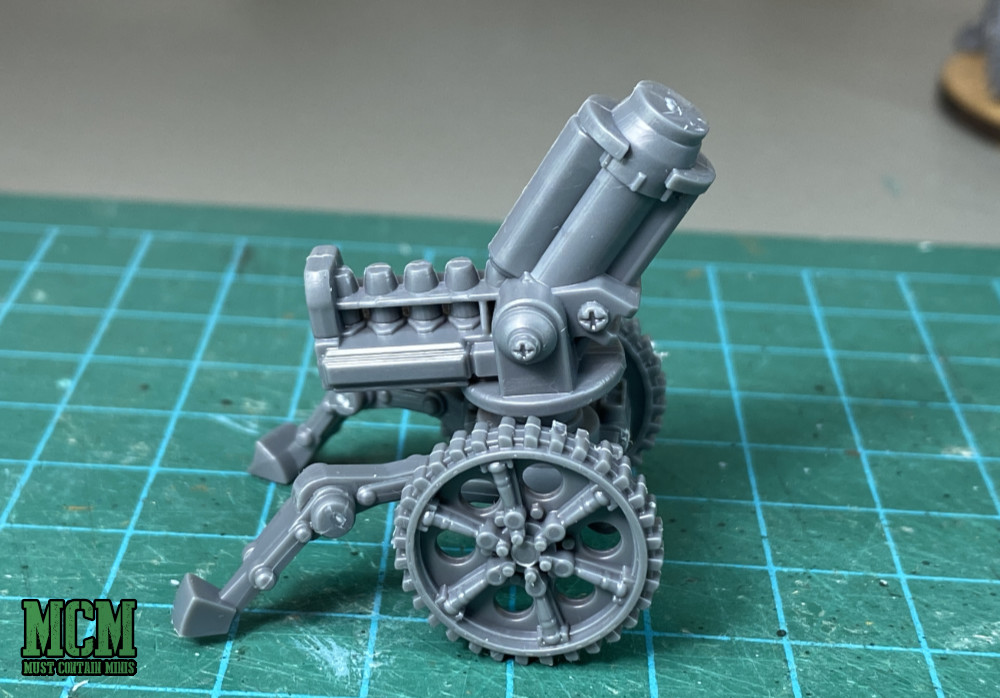 The Tri-Barreled Canon
Wargames Atlantic calls this gun their Tri-barreled Canon. Really, it looks like an autocannon proxy to me.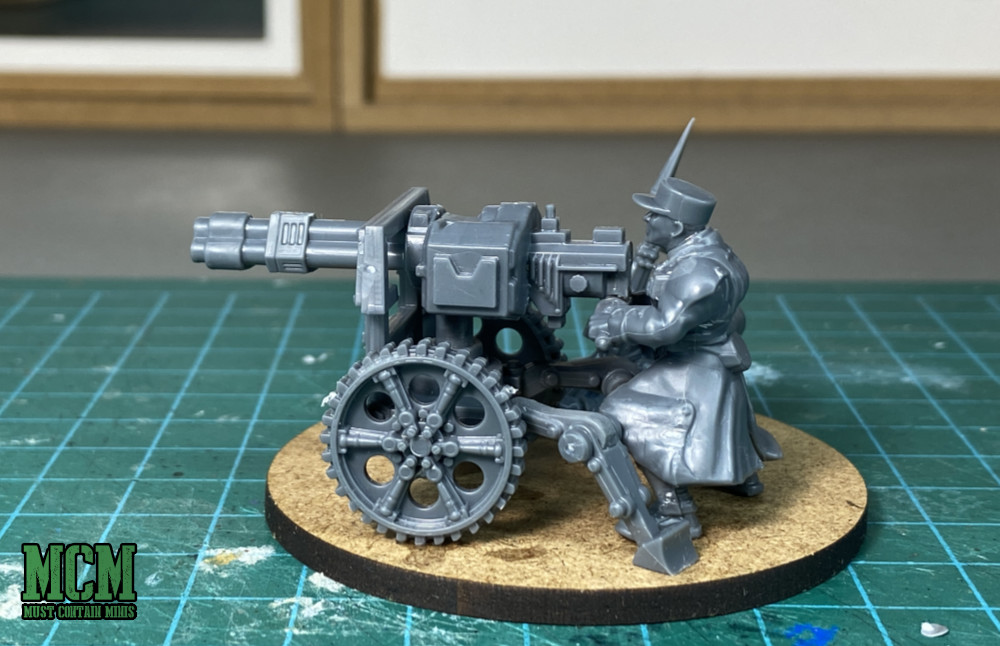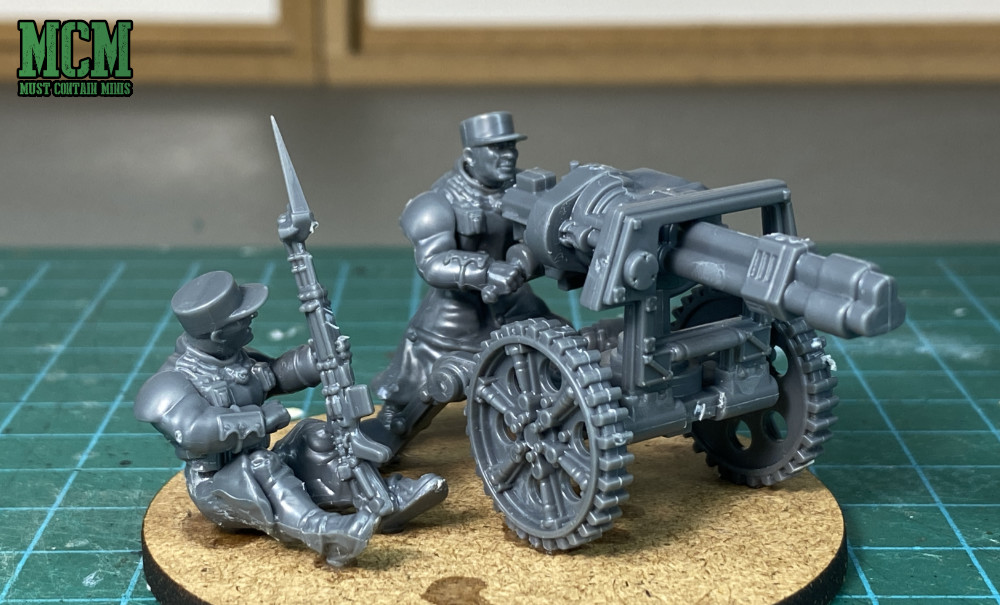 The Plasma Weapon
This Plasma Weapon looks like a proxy Lascannon to me.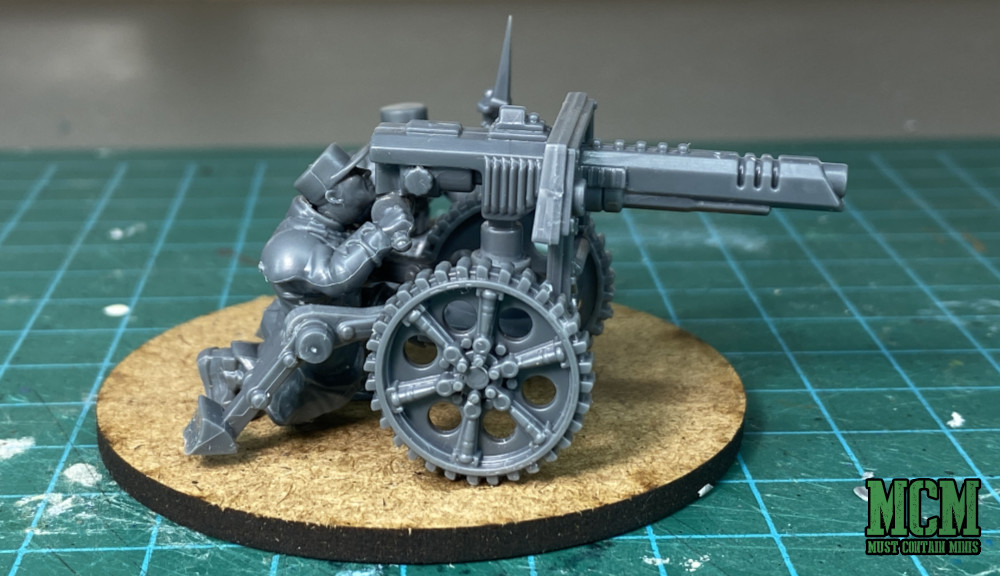 The Quad Ball Turret
This weapon is the most unique in the whole kit. If you modify it to aim into the air or mount it on the back of a truck, I think it would make a fabulous anti-air weapon. As designed though, I think this is your rapid fire weapon of the kit. You could use it as a proxy heavy bolter team.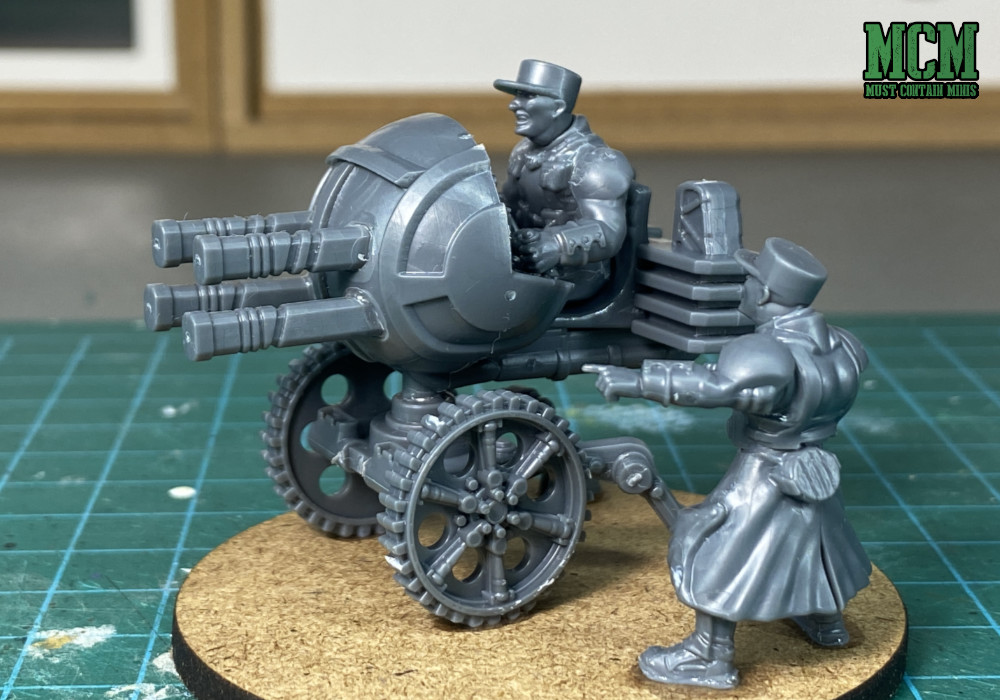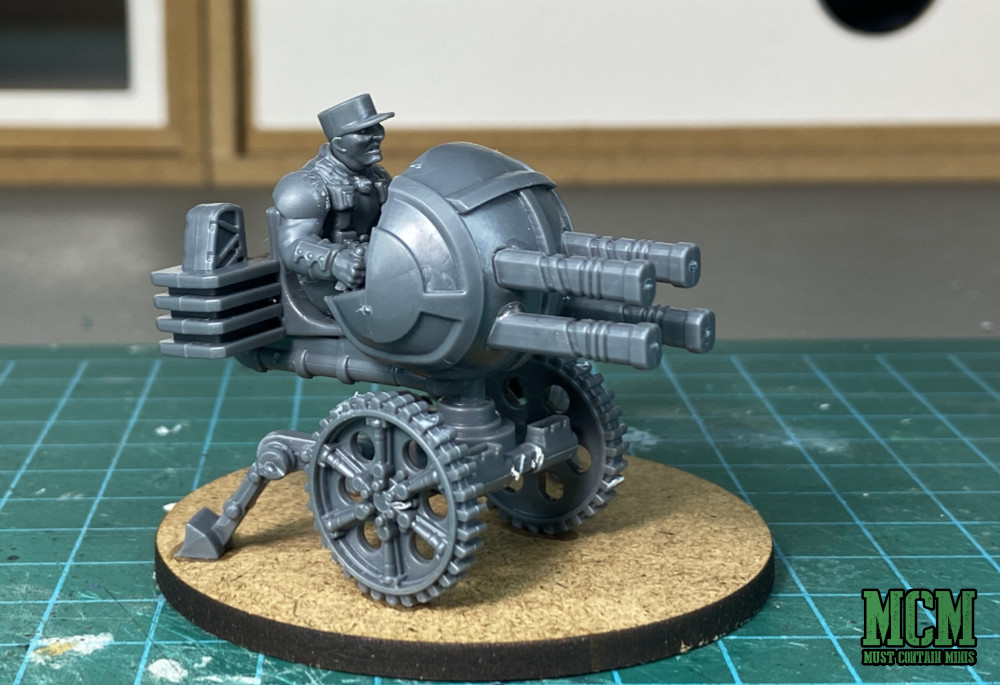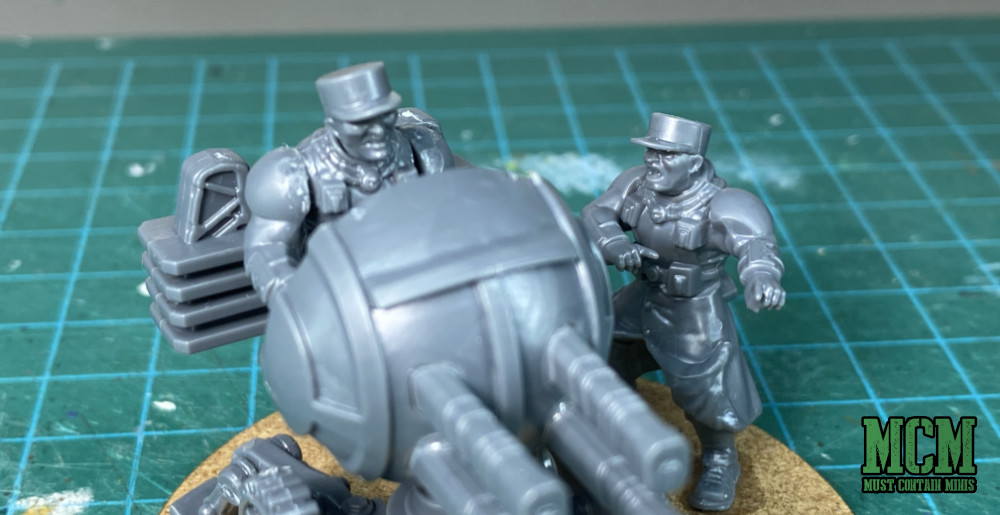 Overall, it is a very neat miniature. Now, let me show you how they measure up to another brand's miniatures.
Scale Comparison Wargames Atlantic Heavy Weapons Teams vs. GW

The Video Review of Les Grognards Command and Heavy Support Boxed Set
If you want to take an even deeper dive into these miniatures, I have a video review below. If the video does not work on this site, the link to it is here.
Related Links
For more about these miniatures, below is a list of related links.
Wrapping it up…
Thank you for joining me in this review of Les Grognards Command and Heavy Support miniatures boxed set by Wargames Atlantic. These miniatures have a unique look and feel all their own. Historically themed after French armies of the past, these miniatures would work great as a 28mm proxy Imperial Guard army for Warhammer 40,000.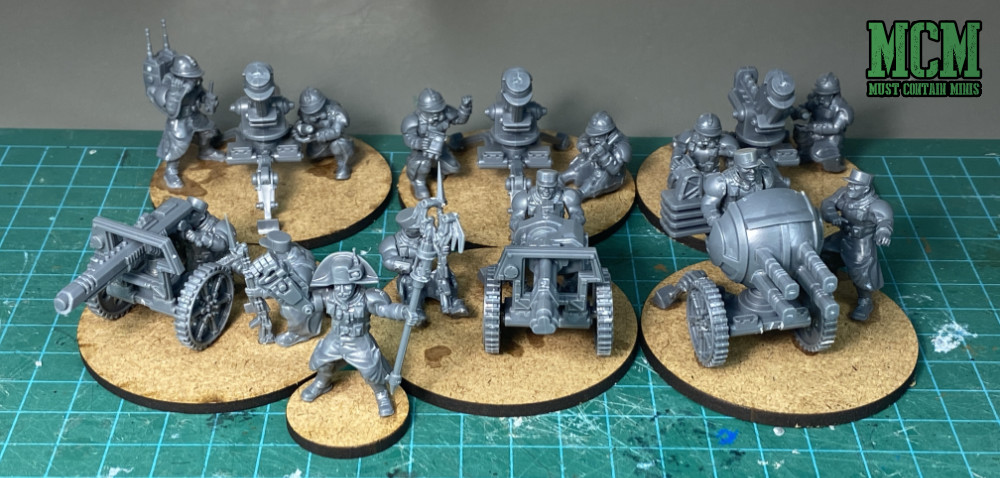 You could also use them for other 28mm Sci-Fi games as well. Personally, I like the miniatures and between this box and the standard infantry box set for the Les Grognards and I have a patrol detachment worth roughly 300 to 350 points.
If you are looking for value, look into Wargames Atlantic.
Until next time, Happy Gaming Everyone!!!