One of the things that I absolutely love doing is going to conventions. There I can try out new games and check out awesome tables. The most recent one that I went to was Broadsword 4 in Hamilton, Ontario (August 26, 2017). This post is my report of that convention.
There were many games at the event. The prettiest by far was Blood & Plunder. There is just something about 28mm tall ships on a 6′ by 4′ seaboard that is so appealing. Plus, look at those gorgeous ships and miniatures!!!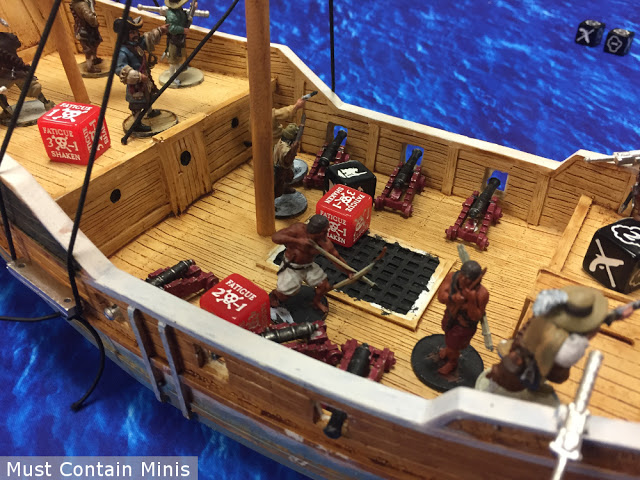 A close up shot of a very fatigued crew.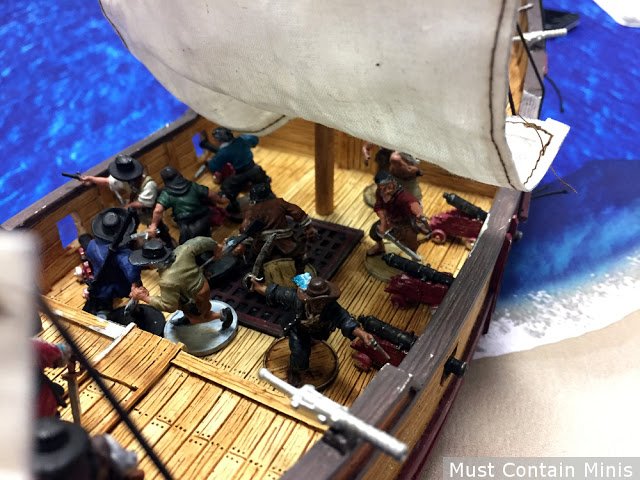 The other crew was faring much better yet was not in as good of a position.
The guys putting on this game did a fantastic job painting.
I didn't participate in this game, I caught the very end of the battle and boy was it interesting!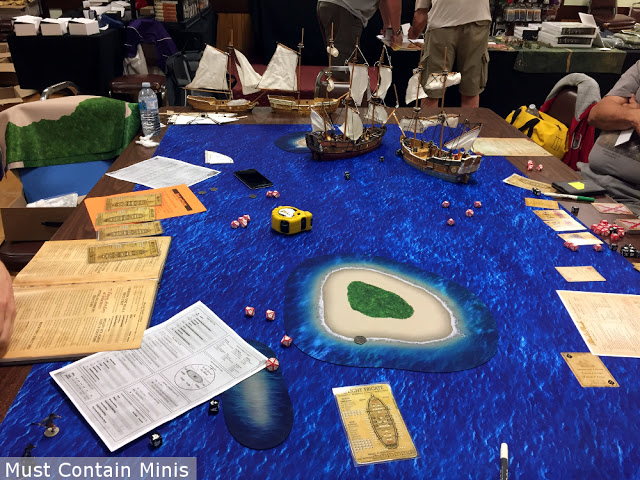 Here we can see the two ships from earlier locked in battle.
The darker ship appears to be in the superior position, but check this out! In a last act of desperation, the lighter coloured ship rammed the darker one into an island.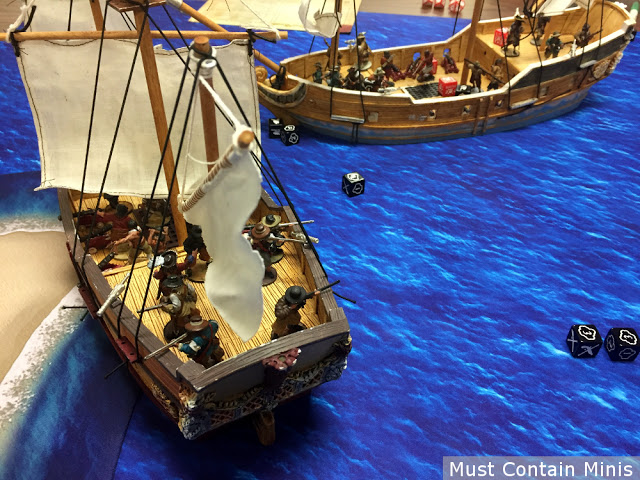 In a last act of desperation, the lighter ship rammed the darker one into an island.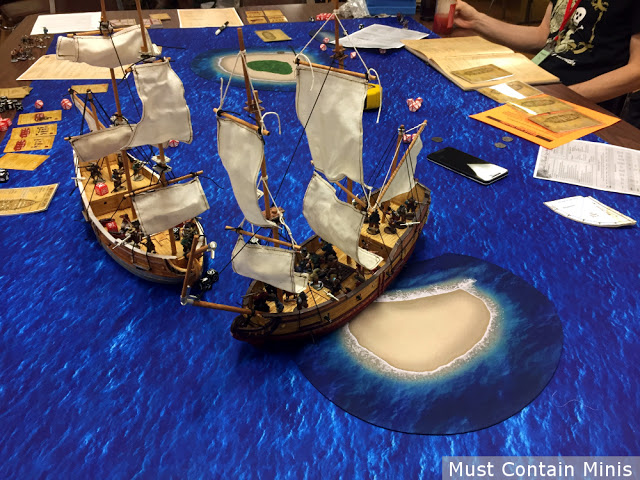 Stuck aground, the closer ship is done.
I am not 100% certain, but I think this is where the game ended. The superior ship stuck on an island with the other ship sailing away.
Aside from Blood & Plunder, there were plenty of other games played at this event. A small sampling of those tables is below.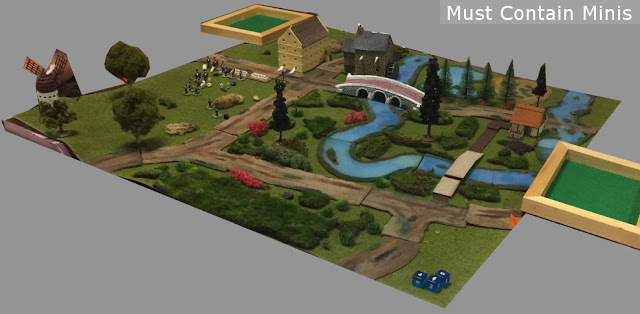 This great looking table is set for the game Song of Drums and Shakos. The scenario was set late in the Peninsular War, circa 1813, French vs. British.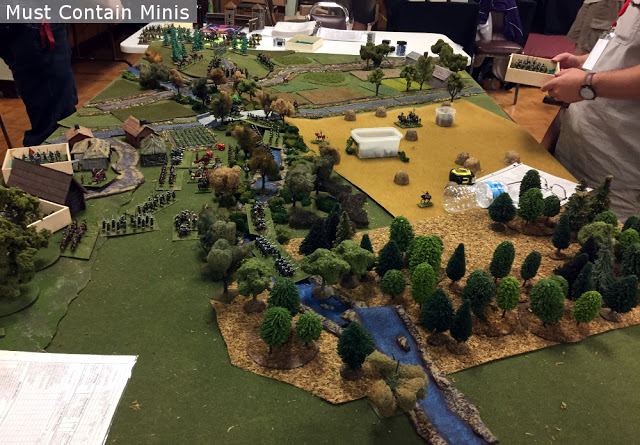 Yet another fantastic looking historical gaming table.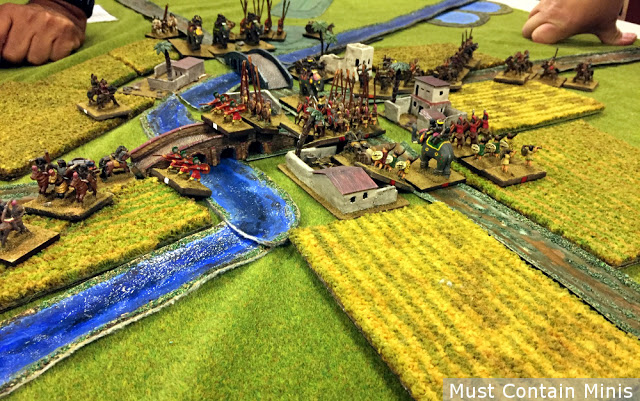 DBA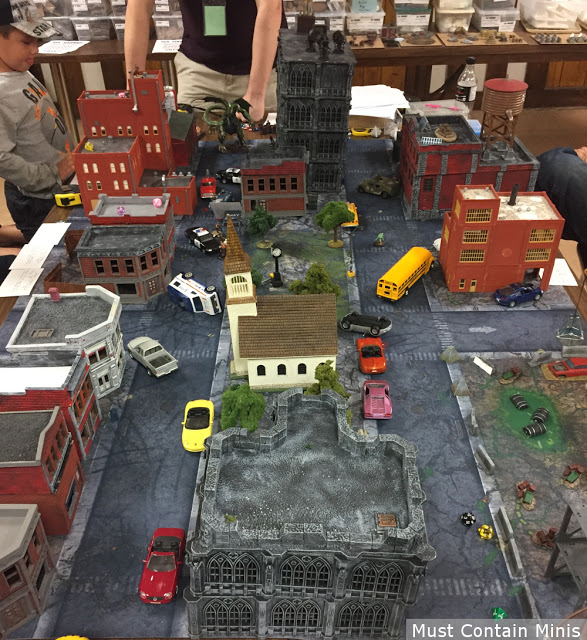 A game from the guys at Six Squared Studios. Those guys always run fantastic games. Here they have a modern Cthulhu themed game. If I remember right, it might have involved superheroes too.
At this event, I played The Others, by CMON, Conan, by Monolith, and I ran my own game of Frostgrave, by Osprey Games. My friends Dave and Randall also ran a fantastic game of Bolt Action. The links above will take you to the associated Battle Reports.
In addition to the games, two vendors attended the event. Six Squared Studios and Crucible Crush both had booths. One of the many games Crucible Crush was selling, was Flint and Feather.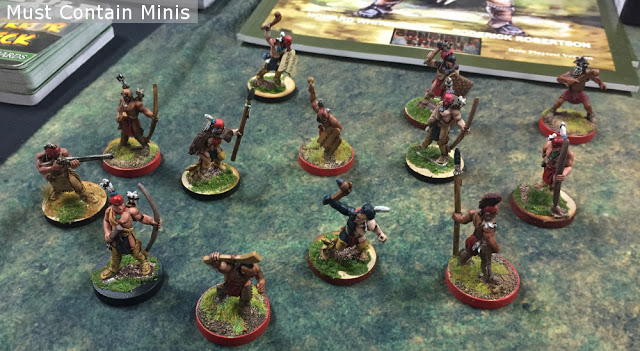 A quick shot of the Flint and Feather display at Broadsword 4.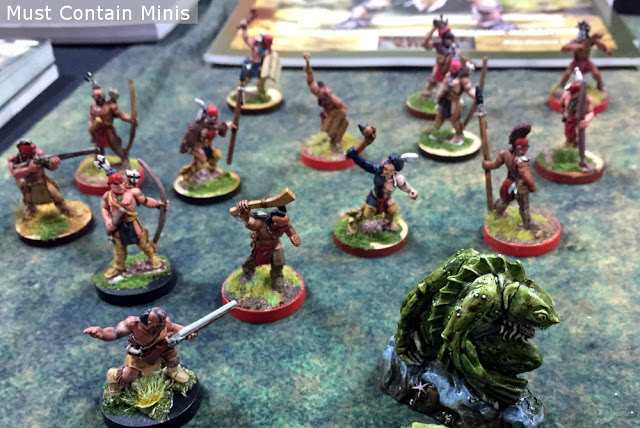 Wait a minute. What is that I see on the right? Is that a Cthulhu based miniature? I think that is an oversized Deep One.  🙂
Crucible Crush was also promoting their Cthulhu and World War 2 lines.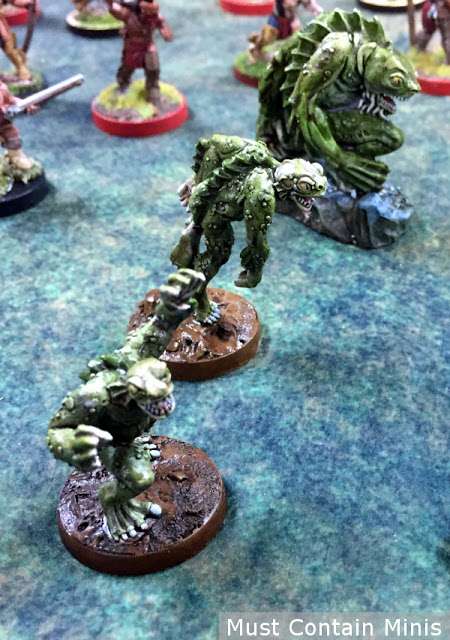 It is an oversized Deep One. Crucible Crush was also promoting their Deep Ones Miniatures and their WW2 Miniatures. Love those figures.  🙂
Just like the last events, I had a great time at Broad Sword 4 and would recommend the event to anyone. Feel free to check out my previous posts about Broadsword 2 and Broadsword 3.
For those local to Ontario (Canada), or a short drive from it, there are two October gaming conventions that might be of interest to you. The first is Council Fires in Brantford (October 20 and 21) and the other is Skycon in Kitchener (October 28 and 29).
Check out my Convention Report of Council Fires 2017 to see what last year's event was like.
Skycon is a general gaming event with many tournaments and events going on. It is brand new this year.
I hope that everyone enjoyed this Convention Report.
Until next time, Happy Gaming Everyone!!!