Years ago, I had a very large PDF collection of RPGs and Paper Terrain that I purchased through RPGNow. I have since lost those files due to changes of email addresses and hard drives, but find myself looking at PDF sites again. This time, though, I am looking at their offerings through the eyes of a Wargamer.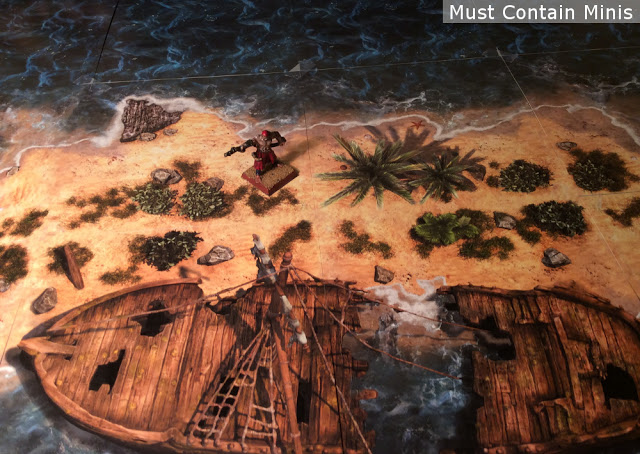 A lone pirate scout explores a nearby shipwreck.
As I looked through the online catalogues of these traditionally PDF stores (DriveThruRPG and the Wargame Vault mostly), I was surprised that they sell more than just PDFs. At this point, I will inform my reader that I have an affiliate sales relationship with the companies mentioned above.
In this post, we take a quick look at three products available through DriveThruRPG that are not PDFs. One product is a set of printed cards / tiles that can be used as terrain in miniatures games and the other two items are 3D printed scenery files.
Looking at the picture above, I am quite sure my readers can take a guess at where I am going with the first product. Yes, that is an island with a shipwreck and I think these terrain (map) tiles will work out well for Blood & Plunder or Frostgrave: Ghost Archipelago.
In the interest of Full Disclosure, the products in this article were supplied to Must Contain Minis by Black Scrolls Games and by Fat Dragon Games and not by DriveThruRPG. That said, if you like what you see and purchase the products after using one of the links on this site, a portion of the sales will go to supporting Must Contain Minis (at no extra cost to you).
Black Scrolls Games – Printed Tropical Islands Review
The first product that we are looking at is actually a bundle of Printed Cards that can be used as a Battle Mat for wargames (or map tiles for your favourite RPG, if you play RPGs). The Tiles are 6″ by 6″ and the printed product comes with enough tiles to easily create a 3′ by 3′ gaming table.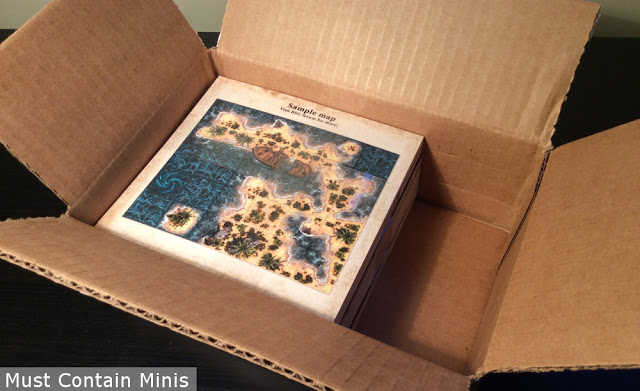 DriveThruRPG actually printed these cards out for me and sent them to my home address. They arrived well packed in this box with lots of protective paper and no damage to the products.
Below is a picture of the full shipment. In addition to the Tropical Island Tiles that I will be reviewing here, Black Scrolls Games also sent me a couple packs of their Trenches. I plan to review the Trenches in the future and use them for Bolt Action.

Above is a picture of my shipment from Black Scrolls Games. Here we have their Tropical Islands Set (without grids), their Trenches Set, and their Trenches Expansion (found on the same page as their Trenches Set).
For this post, we will be looking only at the Tropical Islands but without grids. These map tiles are printed on a card like material like what you would expect to find as a player aid or card in a printed board game.
UpDate: The default version of the product has grids. I specifically asked the producer to print the product without grids (for Wargamers). If you want this same grid-less version, you need to use the special link at DriveThruRPG.
If you buy the PDF version, you can turn the grids off and on as you wish.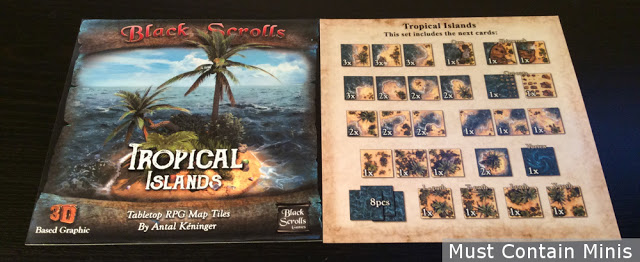 A look at the cover and back card of the Tropical Islands set.
The Tropical Islands set comes with 48 Tiles and 2 Cut Out Cards. To set up a 3′ by 3′ table, one needs to use 36 tiles. That means that you will have tiles to spare if you are doing a 3′ by 3′ table. Below is a small set up of the product for demonstration purposes. The miniatures on the table are 32mm and mostly made by either RAFM or Reaper Miniatures.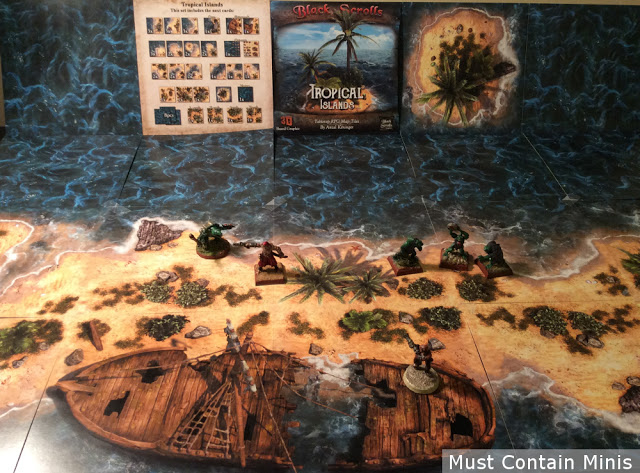 A small collection of tiles set up for demonstration purposes. Those are 32mm miniatures on the Island.
When building your island, you hold the tiles together with scotch tape. The tape goes on fine and peeled off without causing damage. I am not sure if the same would be true if you bought the pdf file and printed it off of your own printer. The materials used by DriveThruRPG seems resilient to tearing from light tape use.
Below is a picture of the 2.5′ by 1′ island that I created to test the product. The details on the tiles are much nicer than this picture conveys.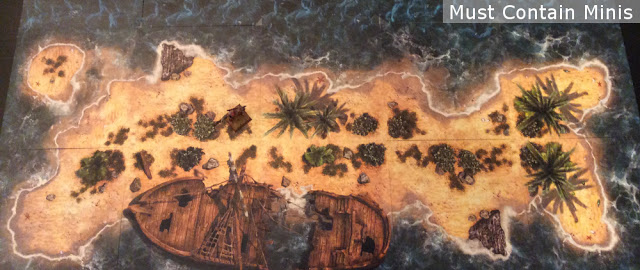 A picture of a 2.5′ by 1′ Island that I made using 10 of the Black Scrolls Games Map Tiles. Sadly, this picture doesn't do justice for the tiles, but I wanted to show what the tiles look like put together.
When you get in close on the product, the details show through nice and crisp.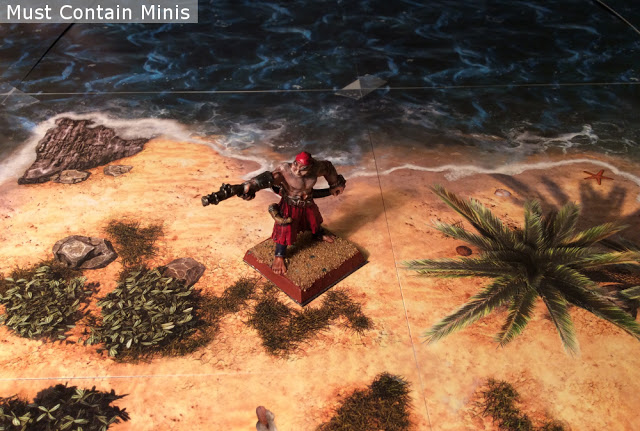 Check out the details on these pieces. Looks nice and crisp to me. I like them. 🙂
Another shot to show the details on the tiles. I have found that if you play on a 2D board, you forget overtime that the pieces are not 3D. If you can add 3D buildings and pieces on top of the tiles though, the level of emersion is even better.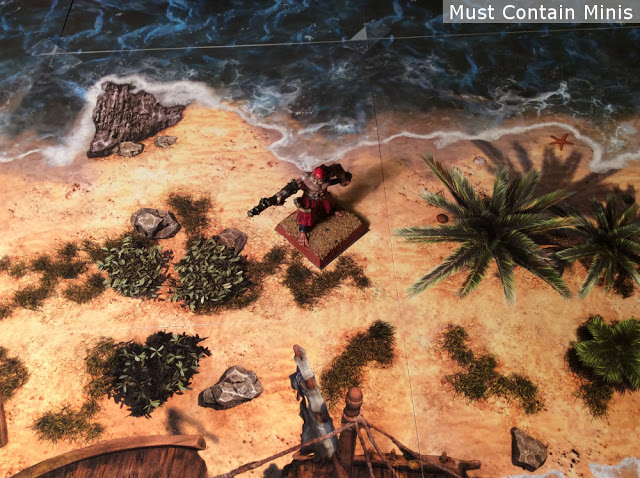 Another overhead shot showing some of the details on the tiles. Looks very nice on the tabletop.
Now let's look at the board with more figures.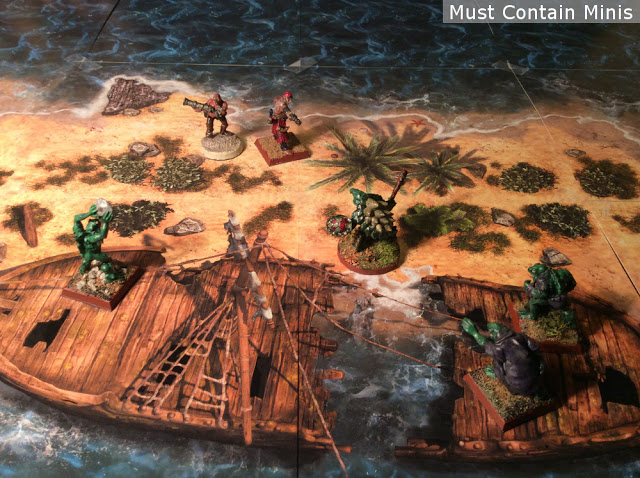 Here two pirates face off against three Deep Ones and a Spike Shell Warrior. The odds don't look well for our treasure hunters.  🙂
On the reverse side of every tile is a night shading of the same image. This way, you can easily set up your table as either a nighttime or daytime environment. For testing purposes, I built my table as a 2.5′ by 2′ board and had plenty of tiles left over. Below you can see the stack of tiles that I had left to expand the field if I wished.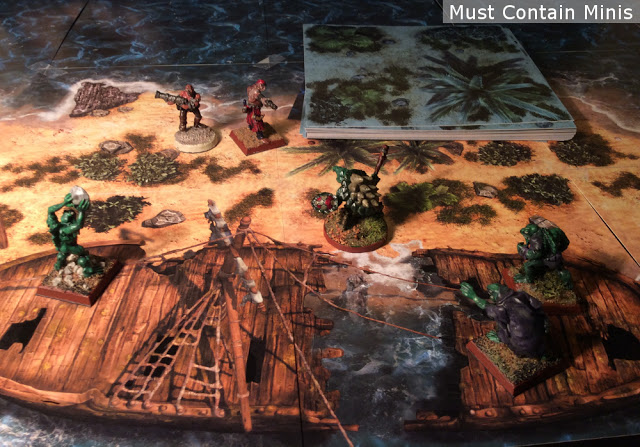 The left over tiles are piled up. On the reverse side of each tile is a night time shading of the same image.
One of the key advantages that tile terrain has over something like a neoprene or fabric mat is that you can change it quickly on the fly. In the picture below, I decided that I wanted to have a small island where there was once water. All I have to do for this is switch out the ocean tile to a different one. So easy!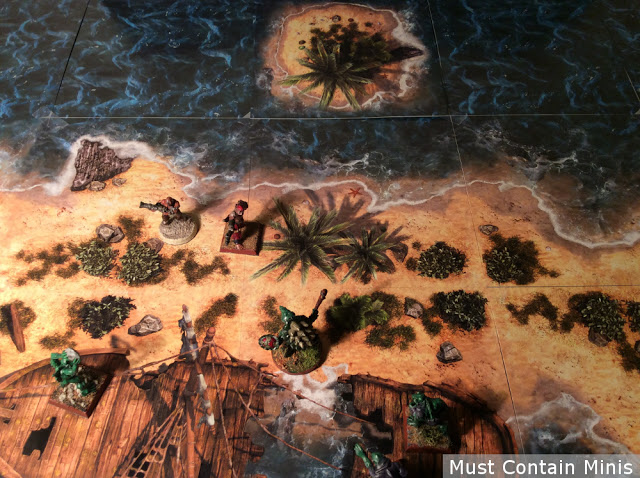 Switching up the layout of a gaming board is as easy as changing a few tiles.
Below is a picture of the Deep Ones that I moved to the smaller island. Truth be told, I just like these miniatures and wanted an excuse to add a superfluous picture of them.  🙂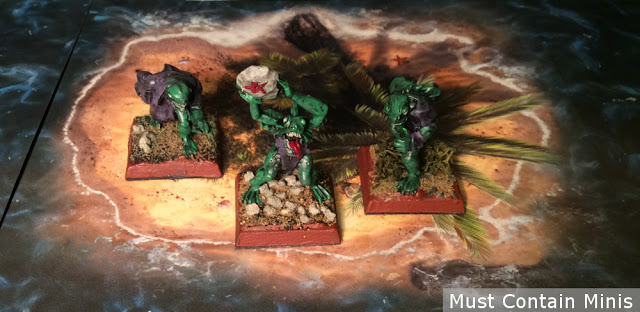 Some deep ones on a very small island.
I believe that this product will work equally as well for both 28mm and 32mm games.
This product runs approximately $25 (US) for the printed cards, $8 (US) for the digital file or both for the sale price of $27.50 (US). Black Scrolls Games sent me only the printed cards. For those interested, you can download a free tuck box for these map tiles.
Advantages of paper tile terrain include its storage size, modularity (for flexible set ups) and price. Disadvantages include set up time, that it is a lighter material and that you have to tape the tiles together.
Overall, I like these tiles and think they will make their way into a few of my Battle Reports.
Fat Dragon Games Spotlight – 3D Printed Terrain
Fat Dragon Games was kind enough to send Must Contain Minis the digital files to 3D print their Ultimate Village Collection. I gave that download to our site-contributor Dave, who owns a 3D printer. He was very excited to receive the files and immediately started printing off a test piece from the Village Furnishings set.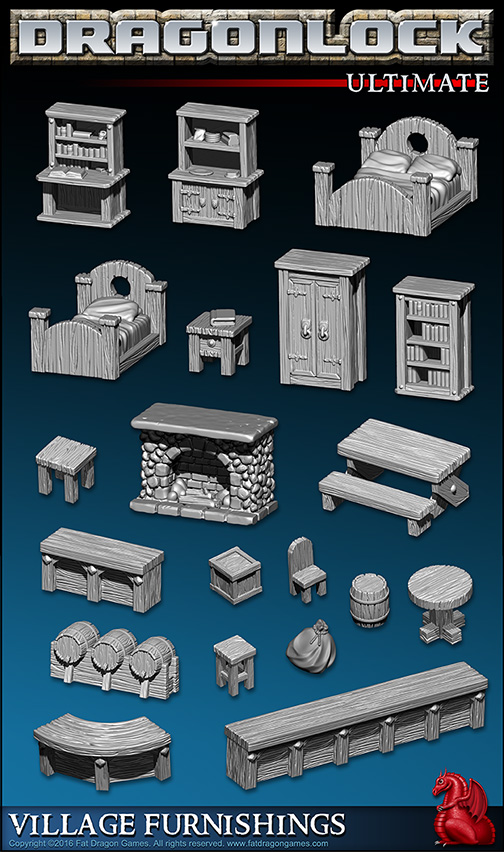 Above is the Village Furnishings Collection from Fat Dragon Games. It runs approximately $15 (US).
Dave started by printing off the bookshelf and was impressed with the quality. All of the photographs from this point on in the article were taken by Dave.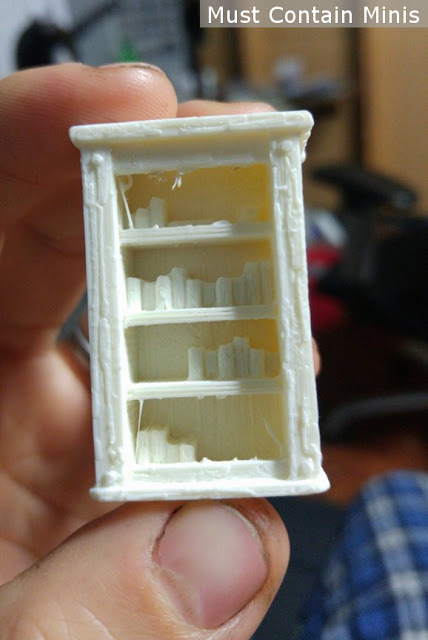 There are a few small pieces that Dave has to clean off (which is normal for his printer), but the books in that case look pretty cool.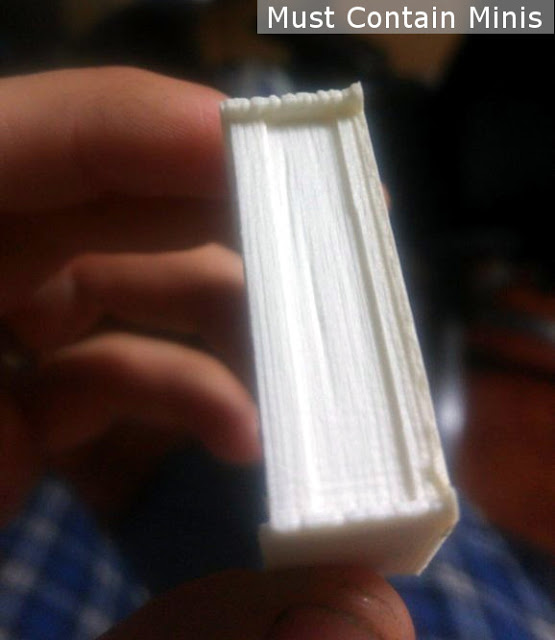 Dave wanted to point out to me the quality of the print and did so by showing off the grain in the wood.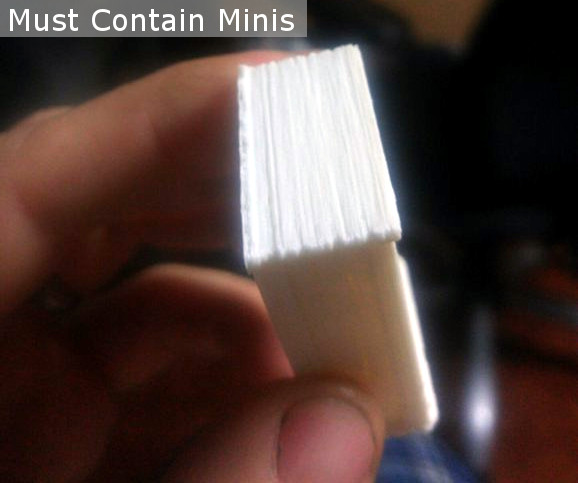 Another shot of the wood grains on the book shelf. This is going to look nice on the table when it is painted!
For his next test piece, Dave jumped forward and tried a different file set. This time, he used the Village Market Collection.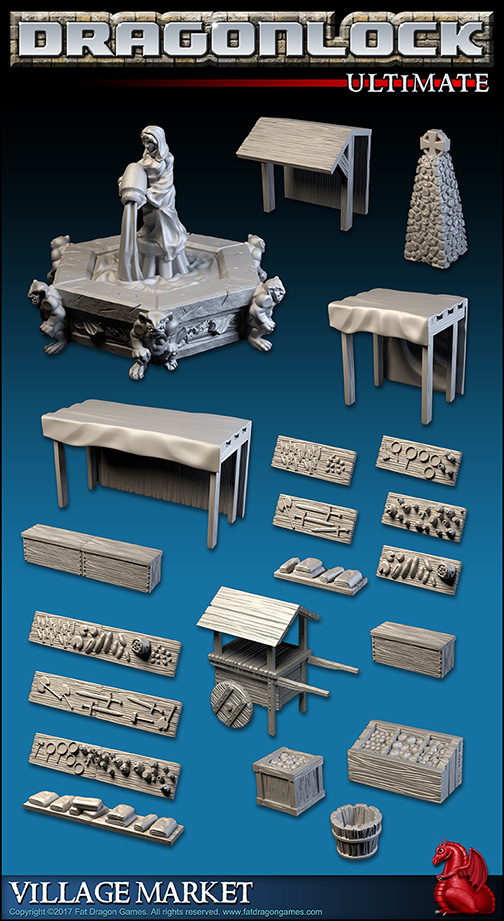 Above is the Village Market Collection from Fat Dragon Games. It runs for roughly $16 (US) but is currently on sale for roughly $12 (US).
From this set, Dave printed off the fountain.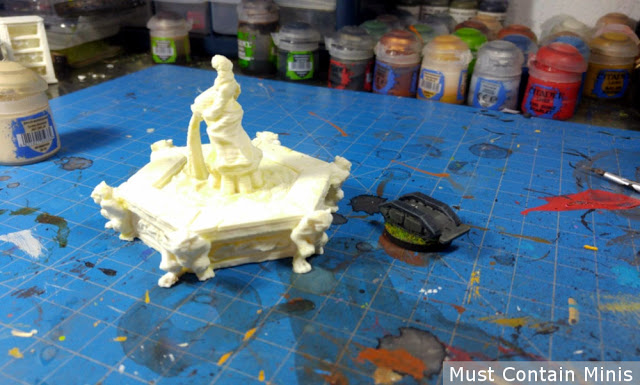 Here the fountain is set beside a 28mm Bolt Action Goliath Tracked Mine for comparison purposes.
Dave then started to paint the model. Can't wait to see it when it is all finished.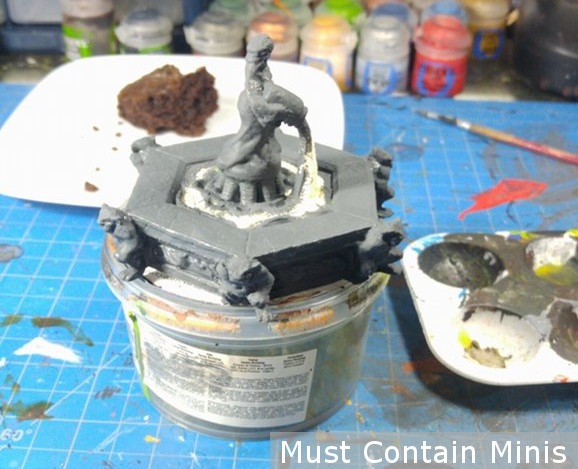 Dave liked this model so much, he already started painting it. Can't wait to see the final product!!!
Overall, Dave is really enjoying the 3D files from Fat Dragon Games. Hopefully he can get enough together soon for a proper review. One of his observations so far is that the files take a long time to print on his 3D printer. He says he can make it print faster, but he likes these files best in the high-quality print mode. He also stated that the files themselves are very detailed and pointed to the wood in the bookcase as evidence of this quality.
Until next time, Happy Gaming Everyone!!!
Article Written by Jacob Stauttener
Pictures by Jacob Stauttener and Dave Lamers
3D Printing by Dave Lamers



Disclosures…
The Tropical Island Map Tiles were sent to Must Contain Minis by Black Scrolls Games for Review Purposes (along with their printed Trenches set). 
Fat Dragon Games provided Must Contain Minis with the ".stl" files of their entire Village Collection. Here we tested off two sets of a number of their products.
Must Contain Minis has a Sales Affiliate Relationship with RPGNow, DriveThruRPG, and the Wargame Vault. This article includes multiple affiliate links. If you visit them from one of the above sites with a link through this page and make a purchase, a portion of the sales goes to supporting Must Contain Minis at no extra cost to you.