Showing off interesting companies and products is one of the objectives of Must Contain Minis. In today's post, we are doing just that.
Today, we are taking a look at the Cities of Black Scrolls Kickstarter by Black Scrolls Games. For those that don't know, Black Scrolls Games is a company that creates 2D Map Tiles for RPGs and Miniatures games as well as 3D-Printer Miniatures for those with 3D-Printers. Their map tiles can be connected together to create appealing gaming tables (similar in concept to a gaming mat).
All of the pictures in this post are from Black Scrolls Games' Kickstarter Page.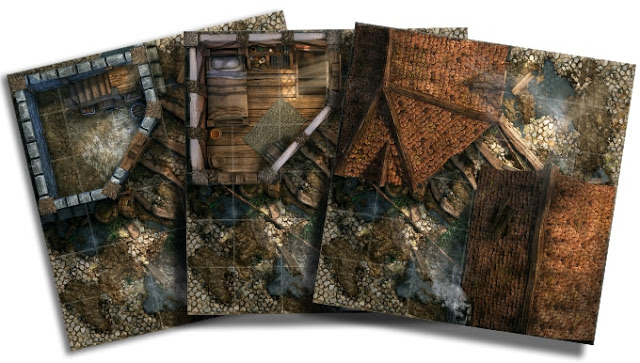 A three level tile set which includes house basement, main floor and roof for the same building. Using these tiles together can add a "fog of war" aspect to your Role Playing and Miniatures Games. It is also a cool way to game across multiple levels of a building when storage space might be limited. Picture from Black Scrolls Games Kickstarter Page.
The map-tiles that Black Scrolls Games creates are 6″ by 6″ and are meant to be taped together to form a larger gaming surface. You can purchase these tile sets as either pre-printed cards, or as digital files that you print off yourself. Personally, I like the pre-printed versions.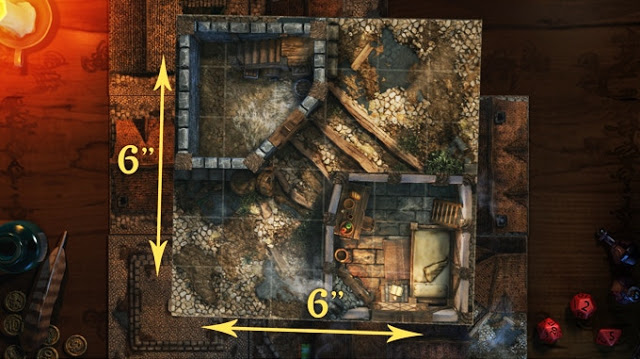 These gaming tiles are 6″ by 6″.

To put them together, you tape them together in the corners. The printed cards hold up very well to tape.
A while ago, I received the Tropical Islands printed tile set and the Trenches printed tile set for review purposes. I liked them so much that I wrote a quick review of the Tropical Islands tiles the very week that they arrived. Usually there is a longer lead time between when I receive the product and when a review actually goes up. I plan to review the Trench tiles sometime over the next three weeks.
The biggest strength of these tiles is that they are very flexible. You can use them for Role Playing Games and Miniatures Games alike, and can change the layout of your table on the fly. The reason I reached out to Black Scrolls Games originally is because I saw the potential of the Tropical Islands set with the games Frostgrave: Ghost Archipelago and Blood & Plunder. You can get all of these products at a discount through this Kickstarter if you wish.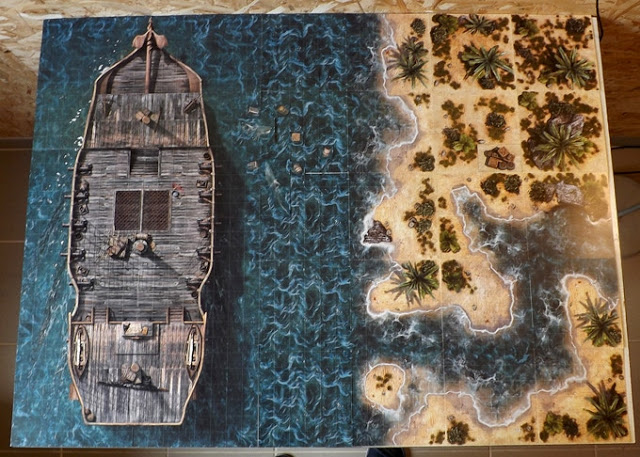 Some great gaming tiles available at a discount if you bundle them into this Kickstarter. The island and sea tiles and ship are available separately through DriveThruRPG.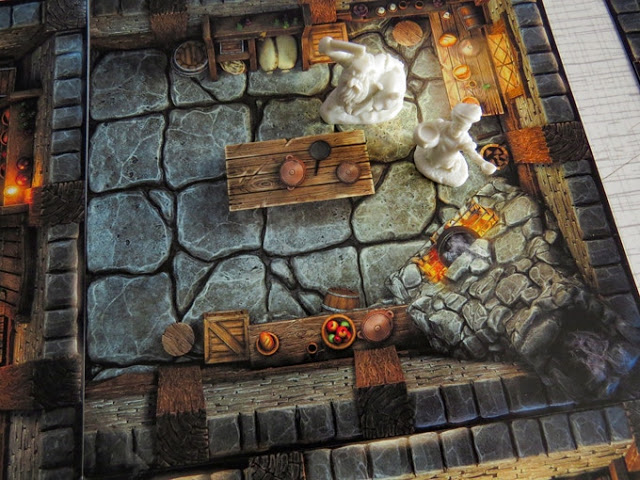 This is a Modular Inn tile with some Reaper Miniatures on it.
These tiles and more can be bundled with the current Kickstarter campaign. That said, the real reason for the campaign is to fund the new tile sets below.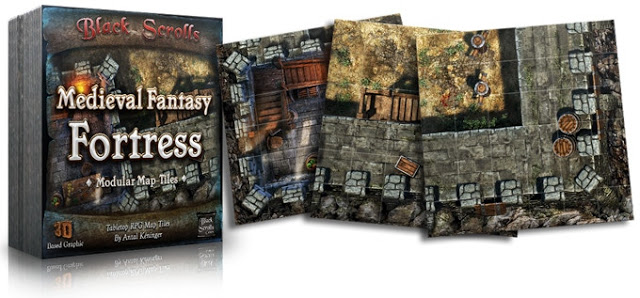 The Fortress (at $8 for the digital copy) is the base pledge for this Kickstarter Campaign.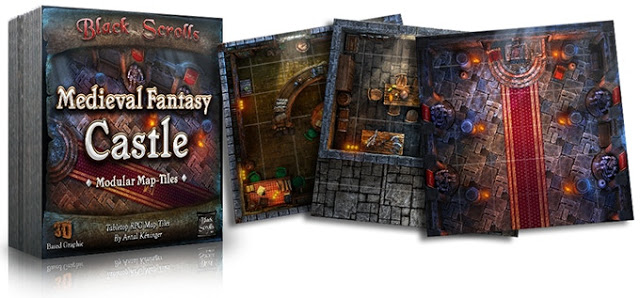 The next step up adds in these digital tiles at total cost of $17.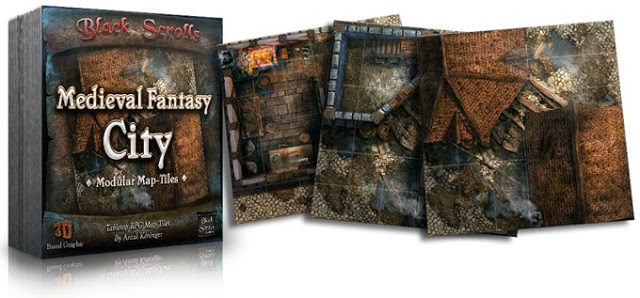 The next tier adds this set of digital tiles. The total cost on this pledge is $25.

From there, you can upgrade and start adding in physical products and/or bundling in some older collections. For $77, you can get all three of the above sets as printed products.

If I go in on this one, that is the level that I would likely be looking towards.
If you buy the printed version of the product, you get the night time graphics on the opposite side of the tiles. Perfect for any Dungeon Master wanting to differentiate between day and night in their stories.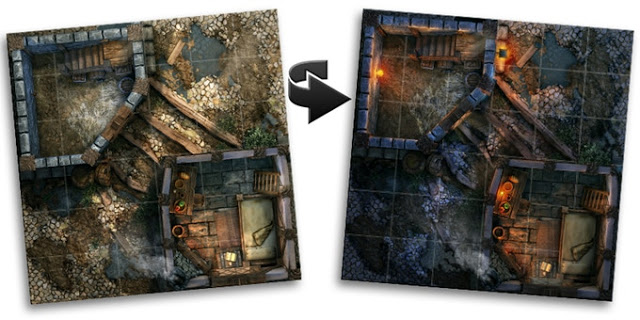 The printed tiles flip over from Day Light to Night Time.
You can also get these tiles in either gridded or ungridded versions. The PDF comes with both options while you will get a chance to choose if you buy the printed product. My preference is without grids.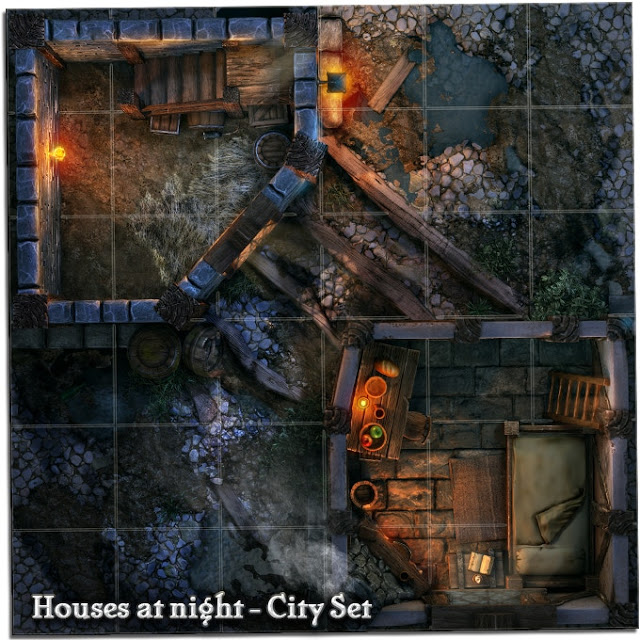 A house at night on the new tiles with grids.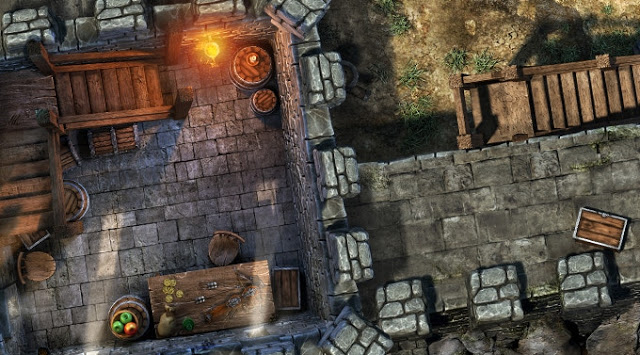 A Fortress Wall without grids.
Make sure that you check out this exciting Kickstarter. It was funded in just three-hours and is now several times funded.
Special thanks goes out to Black Scrolls Games for sending me two sets of their older printed tile sets. They are very cool and I see a lot of potential with them in my games. We also want to thank Black Scrolls Games for allowing us to use their images in this post.
Until next time, Happy Gaming Everyone!!!
Disclosures… 

Black Scrolls Games sent Must Contain Minis printed copies of the Trenches and the Tropical Islands tile set for review purposes. The quality on those tiles is quite good and the quality of the card stock that they will be printing the Kickstarter on is supposed to be even better.

This post contains several links to DriveThruRPG. We have a sales affiliate relationship with the Wargame Vault and DriveThruRPG. If you purchase something from those stores and use the links from this site, 5% of the sales price goes to supporting Must Contain Minis (at no extra cost for you).