Yesterday was the first day of North Star Military Figures' Nickstarter for Frostgrave: Ghost Archipelago.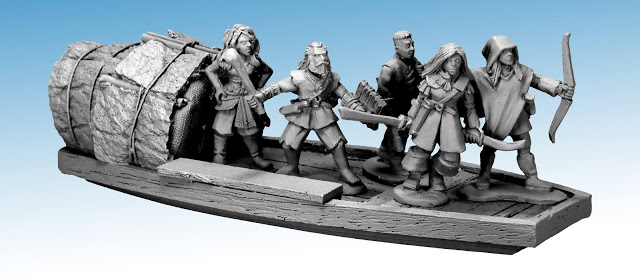 An image from North Star's Facebook page of a small boat crewed by Frostgrave: Ghost Archipelago Characters. Image used with permission from North Star Military Figures.
Being a big fan of the original Frostgrave, Frostgrave: Ghost Archipelago is a game that I want to see do well. Osprey Publishing was generous enough to send Must Contain Minis an early preview copy of the rules so I have a pretty good idea of what people will receive with the base level pledge in this current Nickstarter.
Flipping through the book, I can tell my readers that this game is basically Frostgrave 2.0. Joseph McCullough obviously considered the input of the gaming community and made improvements to an already excellent system. For more about my thoughts on the original Frostgrave, visit my Review of the Original Rulebook.
In Ghost Archipelago, the setting changes from the frozen ruins of a magical city to the lost islands that suddenly appear and vanish. On these islands are magical talismans and other treasures to spur our warbands into action.
One of the images that has captured the imaginations of many since news of this book came out is that of warbands parading around on ships. Joseph has spoken much about this topic to steer peoples expectations into the correct direction for the system. In this book, ships function like bases in the original Frostgrave. They provide "out of game" benefits to the warband and work as an abstract concept in explaining how characters get around from island to island.
While large ships are not in the game, boats are!!!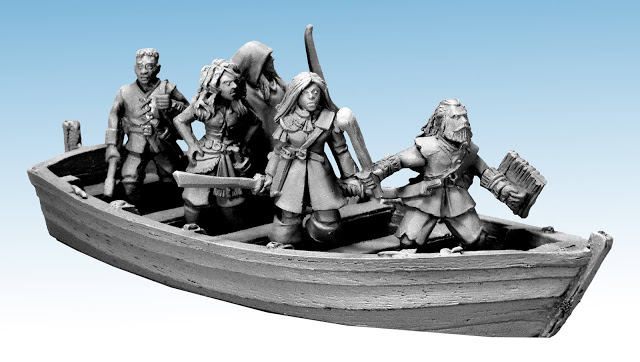 Forstgrave: Ghost Archipelago Characters on yet another boat. Image used with permission from North Star Military Figures.

These boats have their own rules that look like they will be a lot of fun to play. Being that boats are not the primary focus of the game, one can expect that the rules for them are not as complex as those in Blood & Plunder.
When I scanned the missions, only one of them appears to use boats. That said, I could see players adapting other missions to include boats if they so wish. The one mission that does include them allows for up to three per side. For those wondering, boats can carry a total of six figures. That means that if you want to carry your full warband in on boats, you need at least two of them.

Not bad at all. I really want to get myself some of those boats for some amphibious games! 🙂
In terms of their special rules, there are rules for movement, for fighting on board a boat and for boarding boats.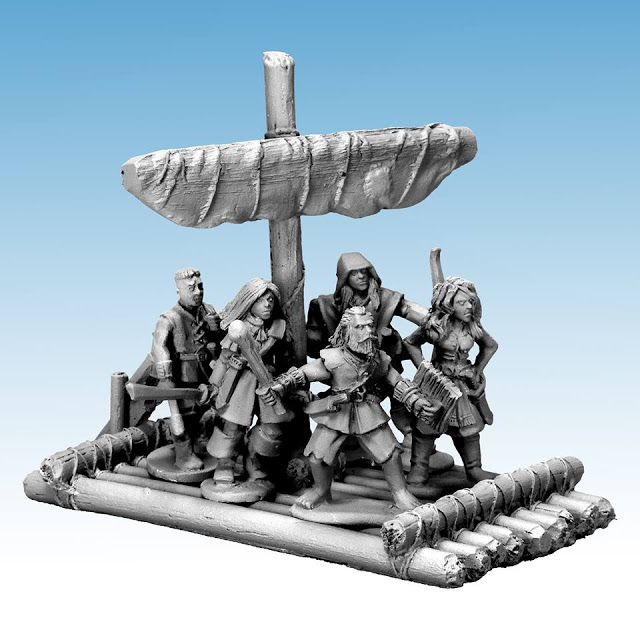 The third boat previewed by North Star is actually a raft. Image used with permission from North Star Military Figures.


The images previewed by North Star certainly look sharp with their miniatures sailing across the sea. You might notice that the boat sculpts are actually by Ainsty Castings and not necessarily North Star Military Figures. For me, that is fine. I think that it is absolutely fantastic that North Star Works with both their own lines and the products of others.
When I saw what was available through this Nickstarter, I was impressed. If you haven't checked the Ghost Archipelago Nickstarter yet, be sure to visit it and form your own opinion. There are a lot of offerings here that I personally want. These three boats, the plastic crew models, and the individual frames of previous plastic Frostgrave figures are at the top of my wish list.
What's on your list?
Until next time, Happy Gaming Everyone!!!
Discloser: Osprey Publishing provided Must Contain Minis with an Advanced Copy of the Frostgrave: Ghost Archipelago Core Rulebook and the Tales of the Lost Isles (Short Story Collection) for Review Purposes.
Help Support Must Contain Minis
[amazon_link asins='1472817346,1472831470,1472824121,1472896289,1472832663,1472824687,1472832728,1472832701′ template='ProductCarousel' store='mustcontainmi-20′ marketplace='US' link_id='c134fbd0-a74f-11e8-8ed6-a9801966fff1′]
If you would like to support Must Contain Minis in a monetary fashion, we have a sales affiliate relationship with Amazon
, the Wargame Vault and DriveThruRPG. If you purchase something from one of those stores and use the links from this site to get there, a portion of the sales goes to Must Contain Minis. 
If you know of someone, or are someone, with a product that you would like to see on Must Contain Minis, please be in touch with us at [email protected].