Here at Must Contain Minis, we use the same table for painting miniatures as we do for playing games and taking photographs. Because of this, I really appreciate products that allow me to clear my space quickly to change it for a different function. Today, we look at a product that allows me to do exactly that. The product today's review is the "Mini Painting Station" by XOLK.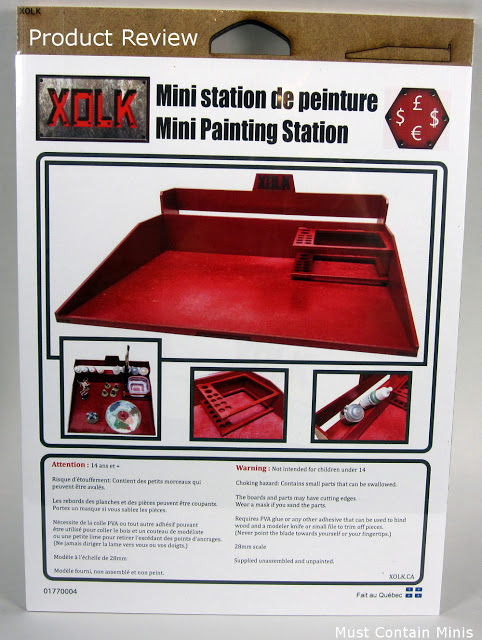 Above is the product we review in this post. It is a Mini Painting Station by XOLK.
In the interest of full disclosure, XOLK sent me this painting station for review purposes.
For those that don't know of XOLK, they are located in Quebec (Canada), and their products are made in North America. You can buy there products from select stores in Canada or directly through their online store.
Originally, I planned to take pictures as I built the paint station, but XOLK has excellent guides available online about how to build their products.
The paint station went together very easily but I found that two steps were a little tricky. These trickier parts include assembling the shelf and attaching the base.
When gluing the shelf together, there is a point where four pieces need to be glued together simultaneously. It was easy enough, but required patience. Likewise, gluing the bottom base to the station took a little more fiddling than other parts in the kit.
Once finished, my portable paint station looked very nice indeed.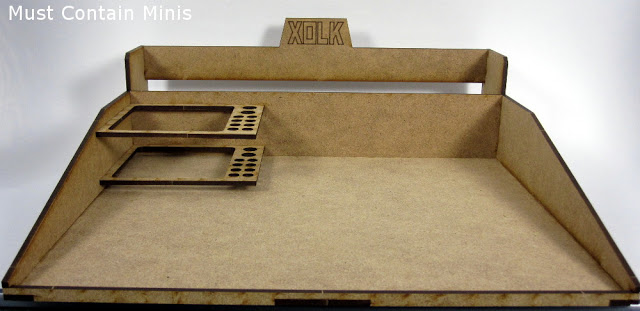 My Completed Mini Painting Station by XOLK.
Being that this is a paint station, I don't see a need to paint the product – but I am considering hitting it with a coat of Shellac to give it a seal and protect the MDF from moisture.
To me, this is a very sharp looking product at a great price point. In fact, this product sells for just $22.99 Canadian. That is $17.60 American in today's dollars. There are a couple of other paint stations that I have seen on the market, but nothing compares to this one pricewise.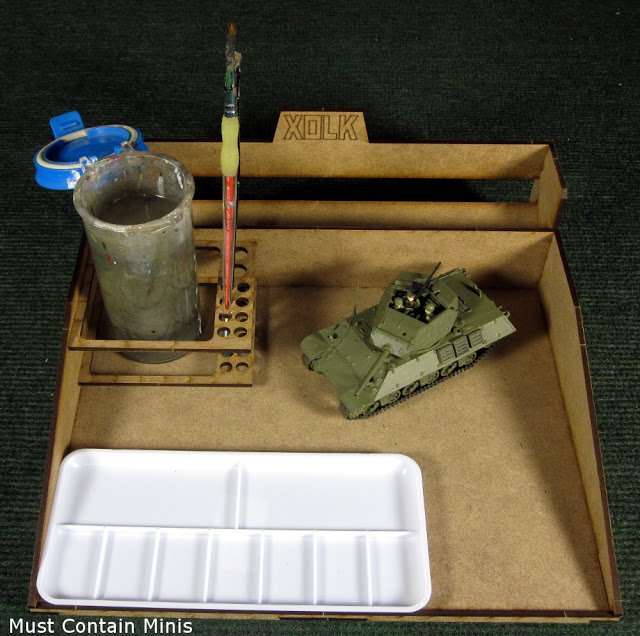 For the purpose of scale, there is a 28mm Bolt Action tank on the paint station. I really like that it has a place for my brush, paints and water. I will have to find a better water container to fit its built in spot though.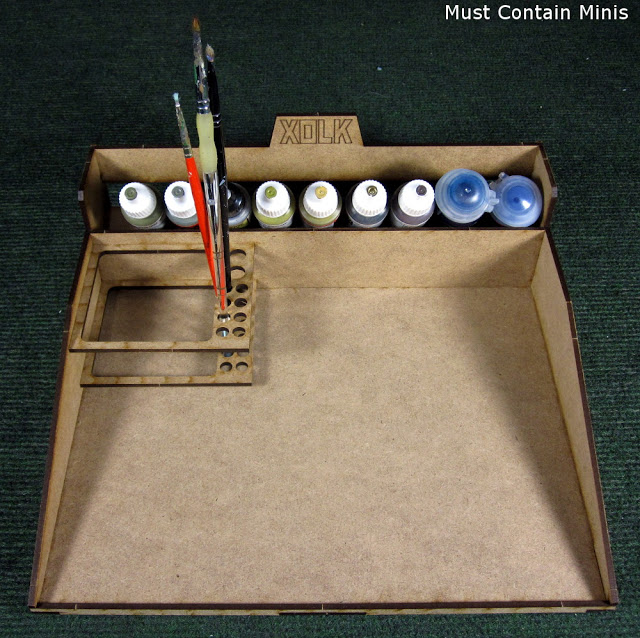 A look at the paint station with paints and brushes. Not bad at all. I like it a lot.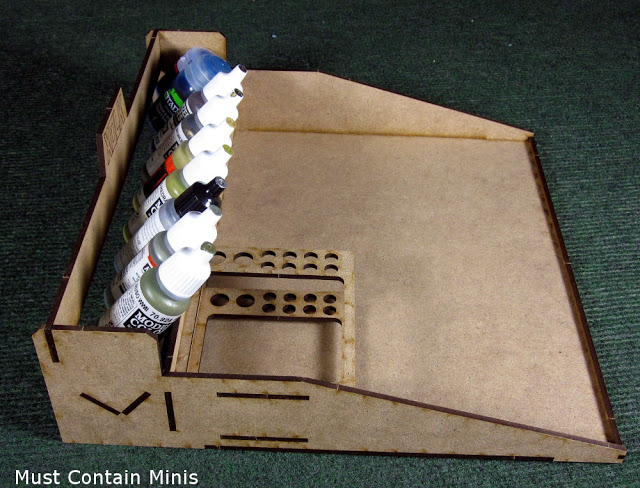 A side profile of the paint station.
This is a very nice product, but I do have one small criticism. That criticism is its size. This unit measures just a little larger than 10″ by 10″. It is certainly big enough to paint a 28mm vehicle or squads of 28mm infantry models, but it is smaller than what I used in the past.
If you don't have a lot of space, I think this product is perfect. For me, it will take a little adjusting, but not too much. My current painting station is a self-built option made out of foamcore and happens to be ginormous.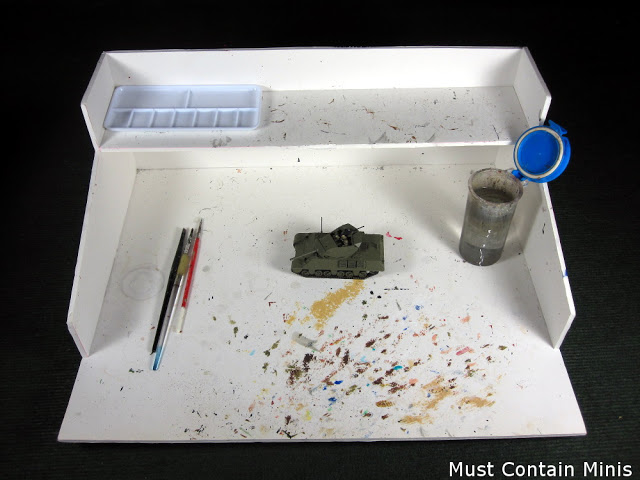 This is the paint station that I have used for the past few years. It is made from foamcore and is very large. In fact, I can house entire Bolt Action armies on it should I so choose.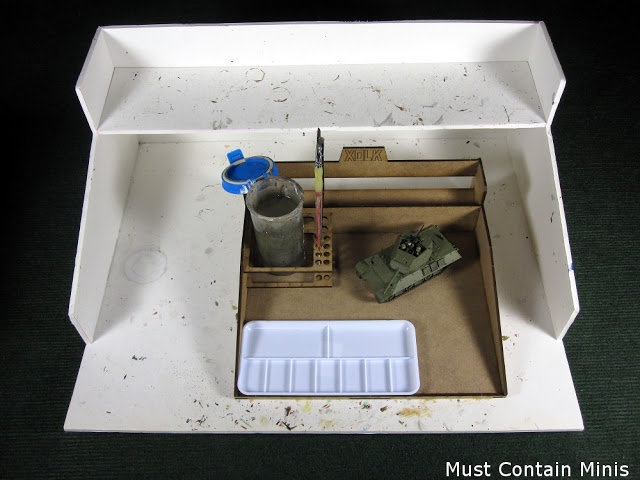 Above is a picture of the XOLK Mini Painting Station on top of my old home-made paint station.
For those happy working on a 10″ by 10″ area, I think this product is absolutely great. I am very excited about using it myself. Being made of MDF, it is sturdier than my foamcore one. It also happens to be time for me to replace my homemade station. It is starting to warp.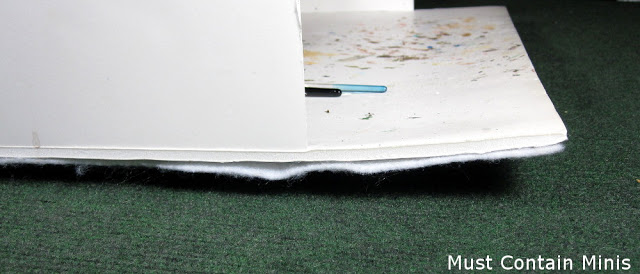 A side look at my older homemade paint station. The platform is starting to warp so I am very happy to have something to replace it with. For those wondering what is on the bottom side, I lined it with white felt to protect the table (for back when I used to paint in our dining room).
Personally, I like this new paint station by XOLK and would like to thank them for sending it to me for review. If you think you might want one of these too, be sure to check them out.
Until next time, Happy Gaming Everyone!!!
Discloser: XOLK provided Must Contain Minis with this Mini Painting Station for Review Purposes.
If you wish to help support Must Contain Minis, we have a sales affiliate relationship with DriveThruRPG and the Wargame Vault. If you make a purchase from either of those sites after using one of the links on this site, a portion of the sales goes to supporting Must Contain Minis.