In this post, we take a look back at the Cities of the Black Scrolls Kickstarter Campaign. If you want a refresher on that campaign, please feel free to visit either the Kickstarter page or my previous article.
As of now, the Kickstarter Campaign is now almost over and backers have successfully unlocked many extras!! My favourite new add-on is the Docks and Canals Set. This set will come free to digital backers (at the Architect Level or higher) or at a slight cost for backers that ordered the printed tiles. Below is the concept art of the Docks and Canals.
Note: All images in this post are from Black Scrolls Games Kickstarter Page. 


Check out those concept drawings! How cool would it be to play games on them!!! I could see them being used for RPGs and Miniatures Games alike.
I can completely foresee using this set for Blood & Plunder or perhaps Ghost Archipelago.
Moat tiles have also been unlocked. Check out these concept drawings. Very nice.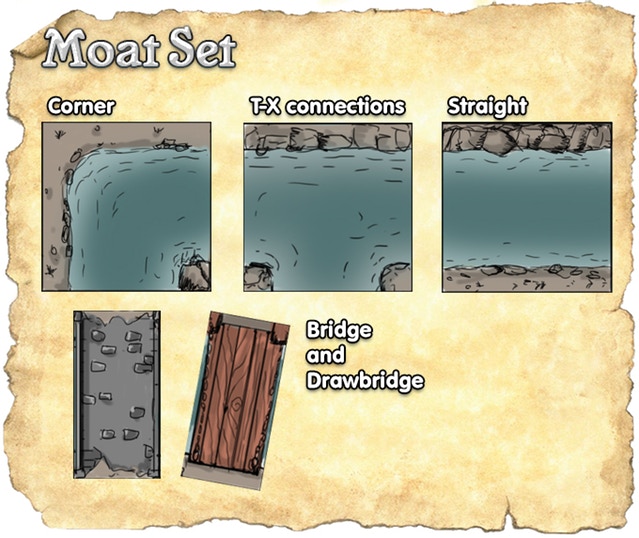 The Moat Pieces (concept art).
Since the last time I wrote about the Guys of Black Scrolls Games, they have made available a free sample of the Kickstarter tiles on DriveThruRPG. Head on over there and see the quality of the files for yourself.
The Kickstarter also unlocked 3D Printable Doors that you can use for your castles and cities. Check out the video below for how they work.
This campaign is now over 1500% funded. That means that a lot of extras have been unlocked and perhaps a few more will be unlocked before the campaign is over.
I am not going to go through all of the extras, but below is another set of concept drawings of an unlocked extra. This time, it is for a village.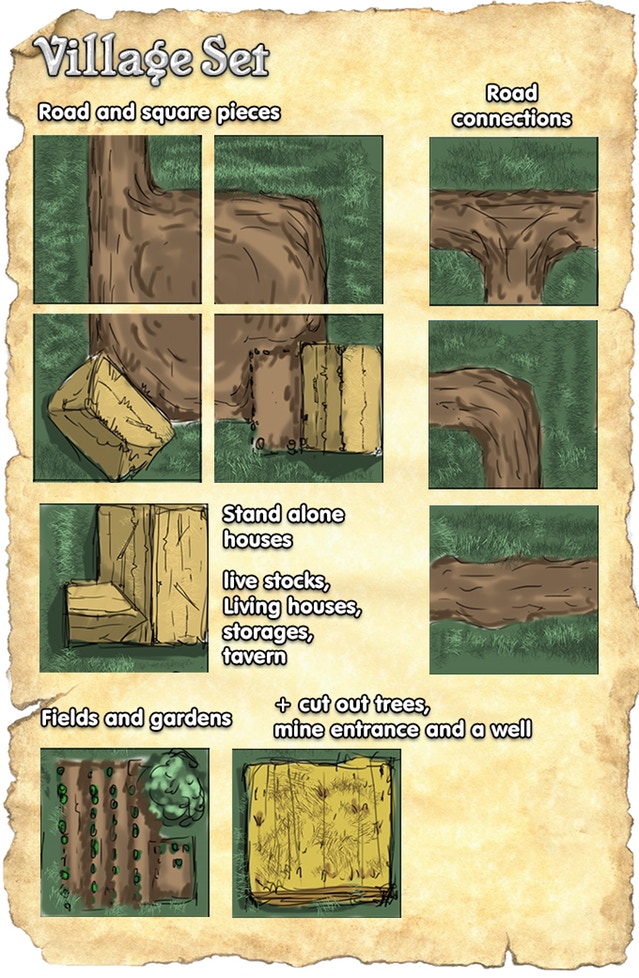 The Village Tile Set (Concept Drawings).
Finally, below is a couple of the completed extra tiles.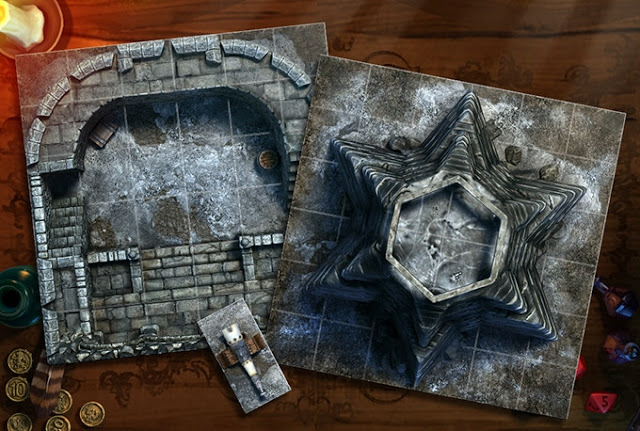 Some of the completed unlocked tiles.
As you can see above, the map tiles are really nice. If you are interested in this Kickstarter for your RPGs or Miniature Wargaming needs, be sure to check out the Kickstarter before it is too late. Also, feel free to download the free sample files for some fun and a gain a better idea of what to expect from the final product.
Until next time, Happy Gaming Everyone!!!
Disclosures… 


Black Scrolls Games sent Must Contain Minis printed copies of the Trenches and the Tropical Islands tile set for review purposes. The quality on those tiles is quite good and the quality of the card stock that they will be printing the Kickstarter on is supposed to be even better.

This post contains links to DriveThruRPG. We have a sales affiliate relationship with the Wargame Vault and DriveThruRPG. If you purchase something from those stores and use the links from this site, 5% of the sales price goes to supporting Must Contain Minis (at no extra cost for you). 
There is also an affiliate link with-in the article to Amazon for Ghost Archipelago. If you purchase something from Amazon using that link, a portion of the sales goes to Must Contain Minis.