Before obtaining higher end terrain, Must Contain Minis used paper terrain for gaming. There is no shame in that! Paper terrain can look really good and is extremely affordable. Take a look at this model's eye view of a wargame table full of paper buildings. It looks absolutely great!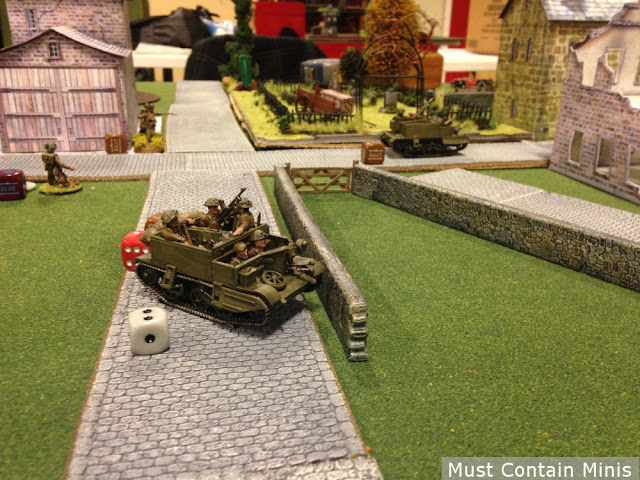 An early picture of a Bolt Action game that predates the Must Contain Minis Website. All of the buildings on this table are made of paper and look great even at the model's eye level.
As one can see, the buildings look great up close and alongside the 28mm Bolt Action Miniatures. And at a distance, it is a good looking table.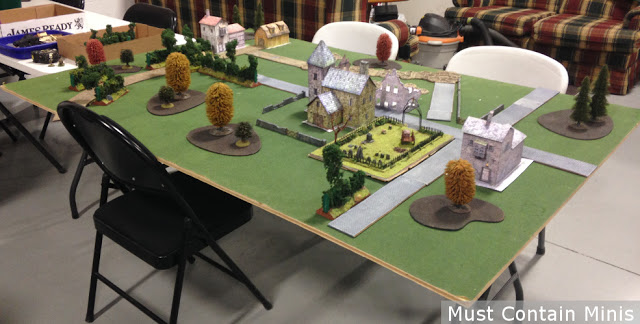 A Bolt Action table using paper buildings. Looks pretty good to me.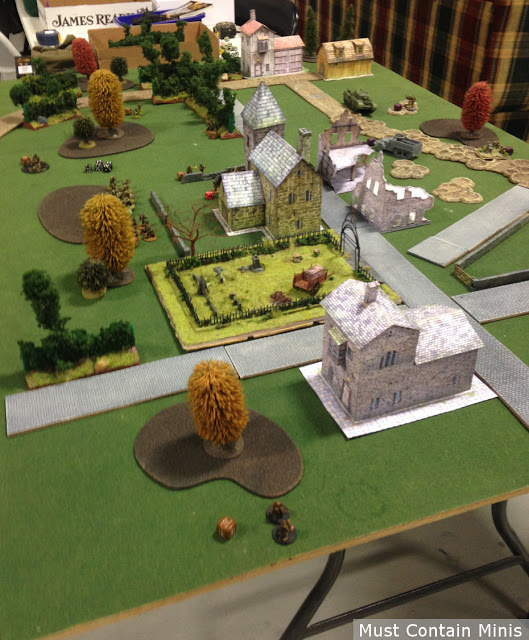 Another shot of the table from a different angle.
Having played games with Paper Terrain, I can say with confidence that building and playing with paper terrain is a great way to make a great looking wargame table on a budget.
One of the best parts of paper models is that once you buy the model, you can print it off as many times as you want. In the picture above, we actually have two coach houses but with different coloured brickwork so they look like different buildings. The kit actually comes with different "skins" so you can make the model in multiple ways.
The pictures above, pre-date Must Contain Minis, but recently I played a game at Broadsword 3 where the table featured paper terrain. It may be paper, but the table still turned heads by admiring people.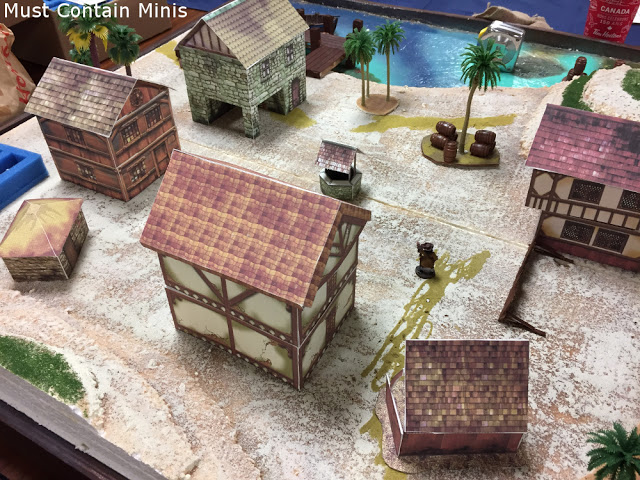 All of these buildings are made out of paper (card stock). This table certainly looks good enough for an enjoyable miniatures game.
Personally, I have built models by Dave Graffam Models, World Works Games, and Fat Dragon Games. All of the models were fairly fun to put together and looked good on the table. Depending on what you buy, some of the kits even have interior kits for the models.
If you are new to paper terrain or interested in my recommendations, below is a short list of some recommended companies and their specialties.
Dave Graffam Models – Dave Graffam Models has many excellent buildings suitable for Historical settings such as World War 2 and Colonial times. These same models may very work for fantasy based games. The company also has a science fiction line. Some of the buildings have accessible details but many do not.
Fat Dragon Games – Fat Dragon Games have an excellent selection of Fantasy buildings as well as collections for Sci-Fi, Modern Gaming and the Wild West. They also have a line of models for 3D printers and will run a Kickstarter for one such project starting this September 19 (2017).
World Works Games – World Works Games has absolutely awesome Fantasy and Sci-Fi terrain, but their website has had issues of late. It is still up, but the user login has not worked properly for a while. That is why there is no link from this site to theirs at this time. If you are interested in them, I would recommend that you follow their Facebook Page and hold off buying until they fix their webstore issues.
Black Scrolls Games – Black Scrolls Games is a company that I have not yet worked with, but their map tiles have caught my eye. I think these tiles might be good for skirmish and role playing games alike.
Until next time, Happy Gaming Everyone!!!
Disclosure – This article contains Sales Affiliate links to DriveThruRPG.
If you wish to help support Must Contain Minis, we have a sales affiliate relationship with DriveThruRPG and the Wargame Vault. If you make a purchase from either of those sites after using one of the links on this site, a portion of the sales goes towards supporting Must Contain Minis.