Less than a month ago I wrote about a Blood & Valor deal that really interested me. Well, I couldn't resist the deal and I bought it! Now it is here, and I want to show you what I got.
If you want to see my original post about this deal and two other deals, check out my post "Fantastic Deals On New Games – Firelock Games."
In this post I am quickly going to show you what I received from Firelock Games in the Blood & Valor Starter Bundle.
Blood And Valor Starter Bundle – Basically a Two Player Starter Set
For $99 I picked up a Blood & Valor two player starter bundle. In this bundle, I received a hardcover rulebook, two boxes of miniatures with a total of 65 miniatures, a bunch of bases, and six 10-sided dice. That's all for $99!!! If you are interested in this deal for yourself, here is the link to Firelock Games' Product Page.
Let me show you what is in the Starter Bundle. After showing you the bundle, we are going to tally up the value of the products inside.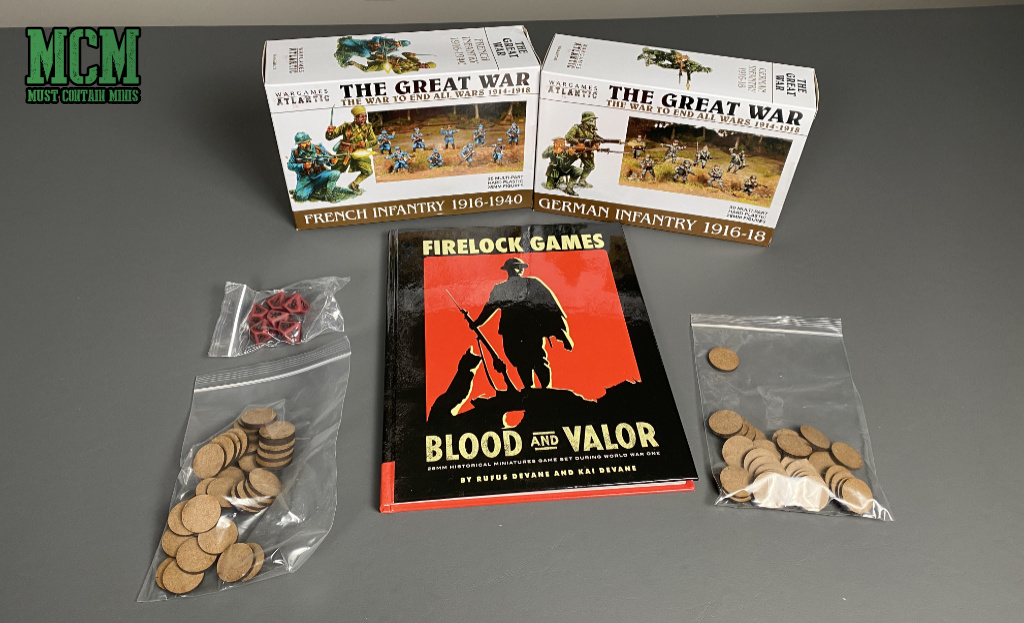 If you are after value, those miniature boxes currently sell for about $35 each. Here is a link to the manufacturer's website. They don't come with bases, so Firelock is providing you with those bases. Where I buy mine from, that is about $12 worth of bases, which brings us to $82 so far. The dice are worth $16 and the rulebook itself is $39.
That brings the total value of this package up to $137 and Firelock Games is selling the bundle for $99. That is a nice amount of savings!
Compared to other companies, these products on their own are a great deal. The bundle makes the price even better.
Inside the Book – Blood & Valor
Firelock Games did an amazing job with their Blood & Plunder rulebook. You can tell that they want their game to look good, which leads to one of the best looking historical wargames that I have ever seen on the tabletop. Likewise, they made a nice looking rulebook with Blood & Valor too.
Below is a sample page. The Blood & Plunder book is more visually appealing throughout, but Blood & Valor has its charm too.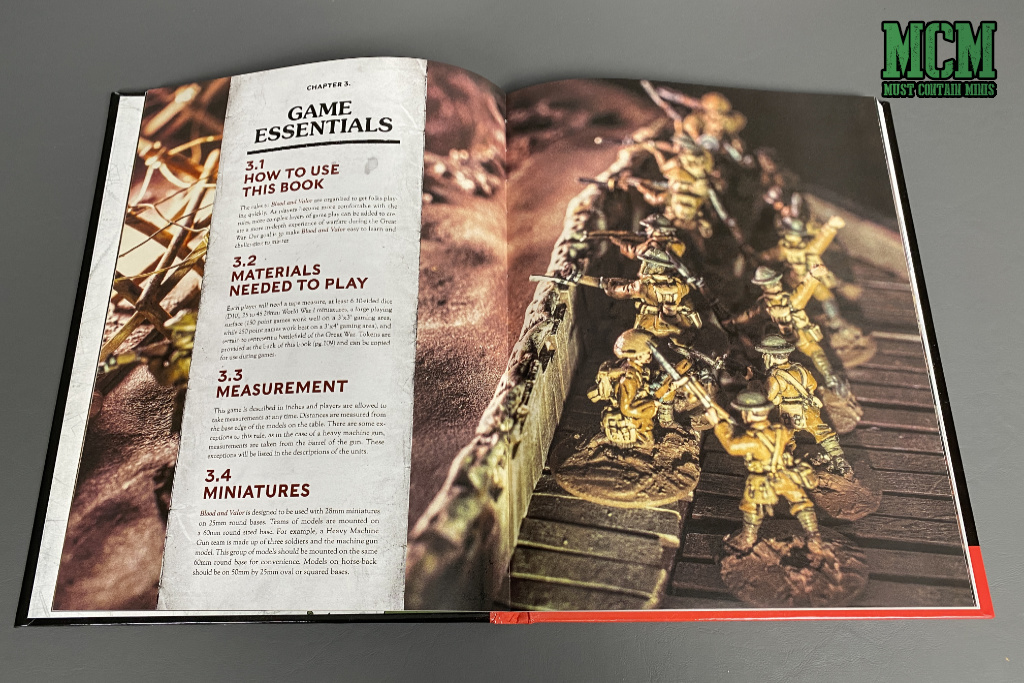 In all honesty, I haven't played Blood & Valor yet, but I have read through the rules a couple of times and played around with creating a few different lists. I wrote a little about the book over in this post.
You can also buy the Blood & Valor Rule Book digitally through Firelock Games or the Wargame Vault [Affiliate Link].
Wrapping it up…
If you ever thought of trying out a World War One game, Firelock Games has a skirmish level game available at a great price.
No need for large masses of miniatures for this one. Blood and Valor focuses on battles with 25 to 45 miniatures per side. The game plays on either a 3′ by 3′ or a 3′ by 4′ table depending on your army sizes.
This starter bundle gives you all you need to get right in on the game quickly. You get 35 French miniatures and 30 Germans to use in the Wargames Atlantic boxes that come in the set.
This deal is so good that I actually bought it for myself despite already owning the rulebook and the miniature boxes that come with it. Like many other games, I just like to collect too and at that price, I thought why not, I am going to snap this up. I wanted to get my hands on the bundle and see what was in it for myself.
If you haven't done it recently, be sure to check out Firelock Games.
Until next time, Happy Gaming Everyone!!!