A while ago, I built up my Oathmark Elf Light Infantry Miniatures. These miniatures by North Star Military Figures and Osprey Games come in boxes of 30 miniatures.
In this post, I showcase to you five of the Oathmark Light Elf figures that I painted and discuss how I painted them. I will even go so far as to give you the colors in a list, in case you want to replicate the scheme.
All that you need to use these in Oathmark is the core rulebook.
Now, let's get into it.
You May Remember – Images from Previous Posts
You might remember these miniatures from earlier. I have already reviewed them, and showcased how a friend painted up 10 of them. To refresh your memory, here are a couple of pictures to remind you.
If you want to see the original posts, there will be links at the end of this article.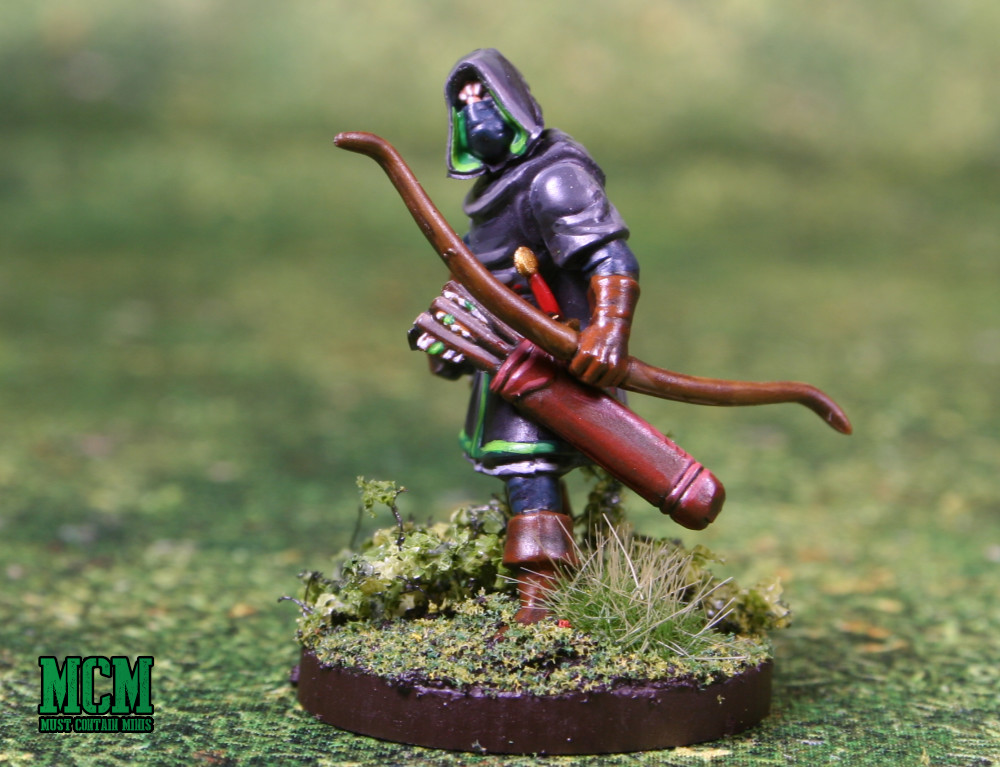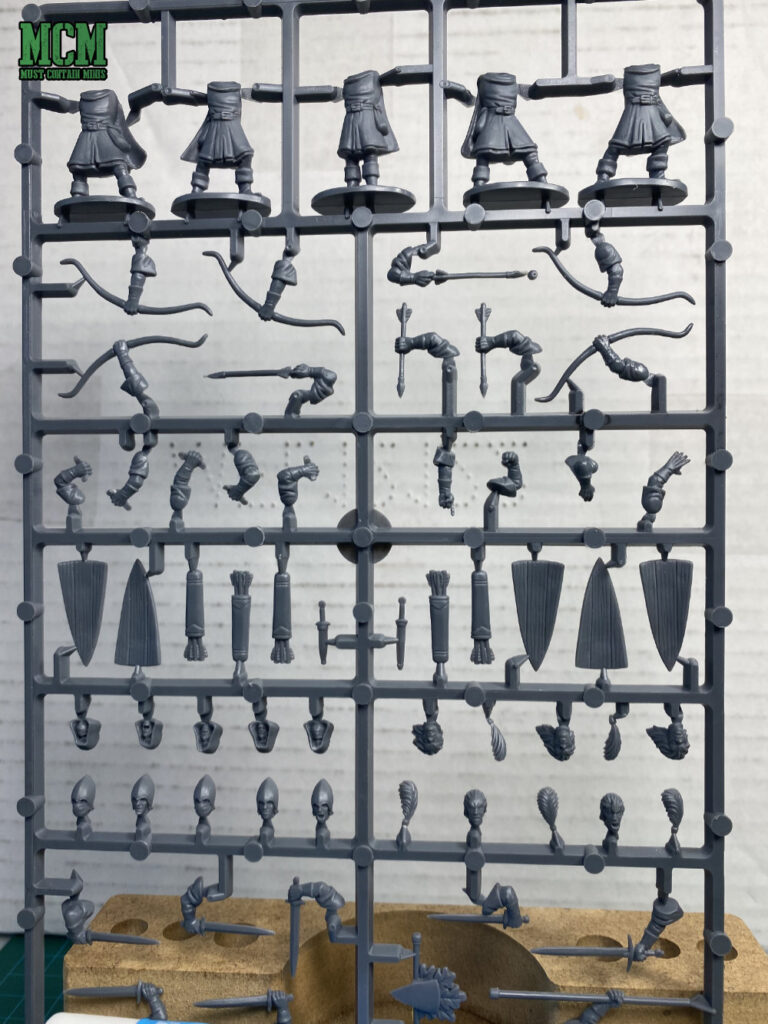 In this post, I am going to show you the others that I painted and how they look now. I painted up just 5 of the figures, which means I still have 15 more to go before the whole box is painted.
How they looked at the Start
The group of miniatures that I painted started as grey minis. Below is the group of miniatures that I painted up in this post. This is how they looked before getting paint.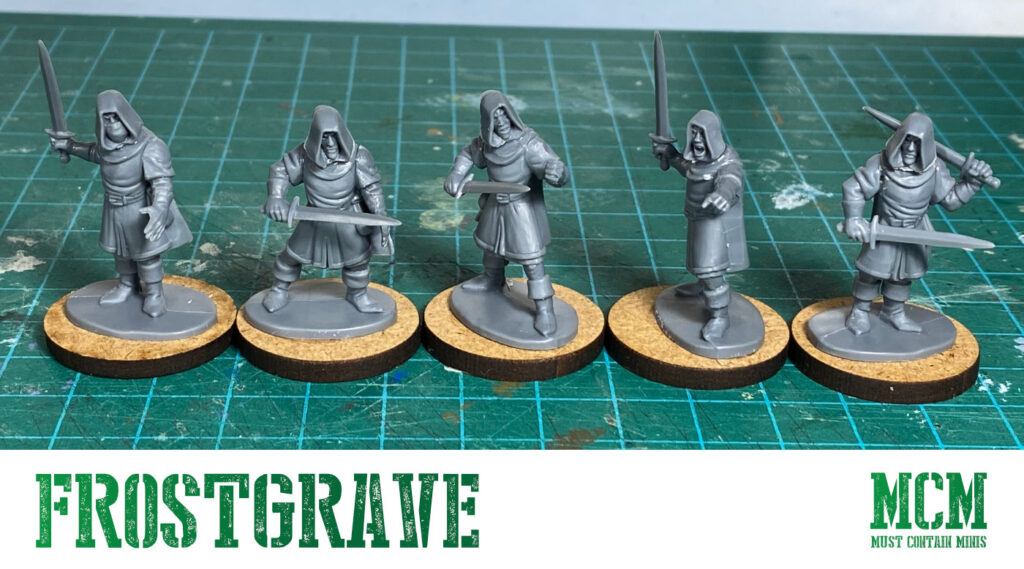 Now, let's talk about how I painted them.
To Start, I painted them with Citadel Abaddon Black. This paint acts as a brush on primer as well as a base layer. before I primed them with black, I added a little bit of wood filler to the bases to better hid the integrated bases.
While I really like the paint scheme my friend did on the minis I showed earlier, I wanted to paint my non-ranged light elf infantry in different colors.
The idea behind this new scheme in the melee characters is that they are going to have to do more sneaking around in the woods during the daylight. That is opposed to the ranged characters perhaps work more under the cover of darkness.
In the end, it is all aesthetics and just an easy way to tell the groups of miniatures apart. Here is how they looked after I applied the base layers.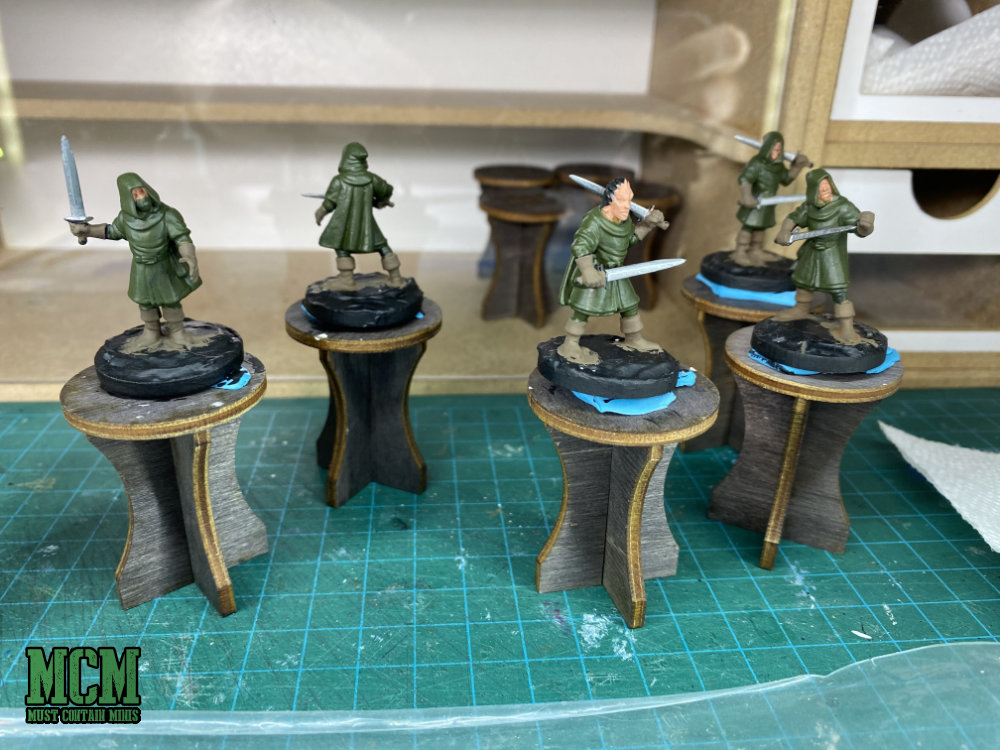 Shading & Highlighting
After applying the base colors, I shaded them up with Citadel Agrax Earthsade. After that, I went back over the miniatures with my original colors and repainted all of the raised areas. This is to give some impression of the light hitting the miniautre.


To do the eyes, I actually used a pen. I talk more about that in my painting RPG miniatures tutorial and in my Cerulean Miniatures Review. I placed links to those posts further down in this article.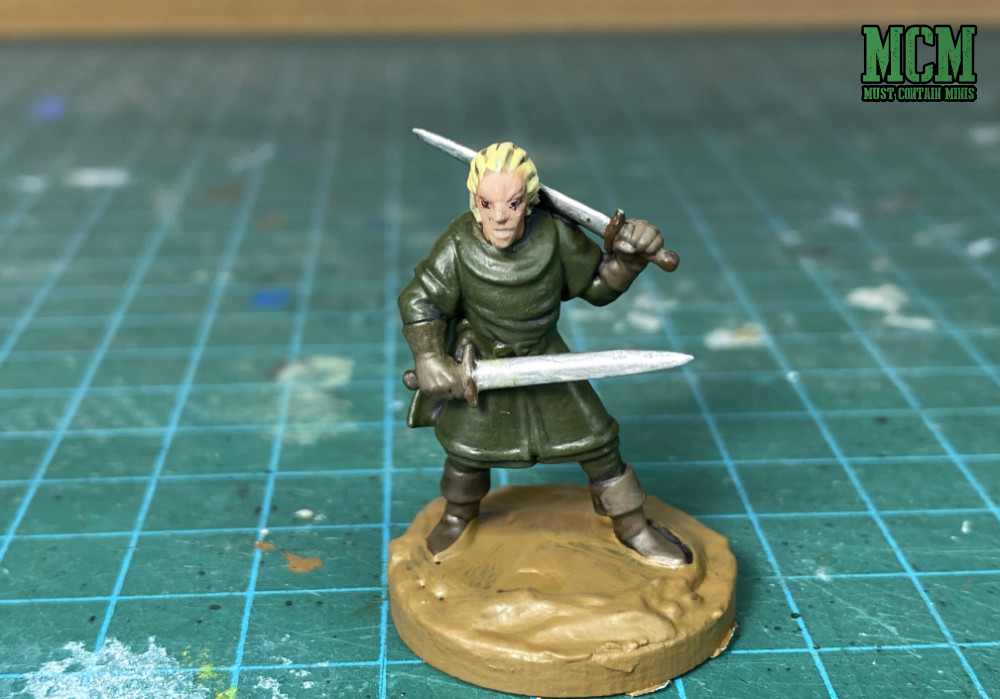 Overall, they are looking pretty good. Time to give them a spray of matte varnish and add basing material to the bases.
The Finished Miniatures
Below you will find pictures of these five finished miniatures.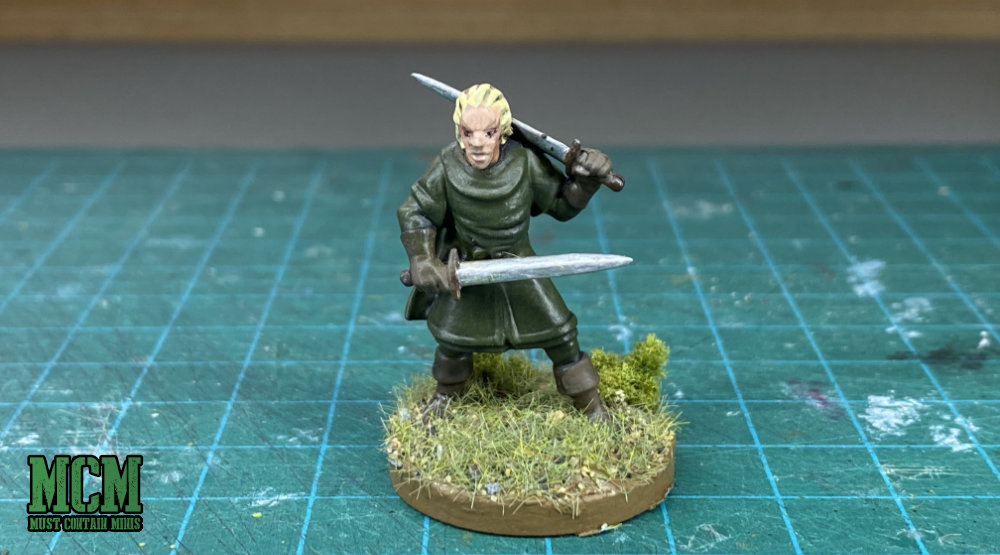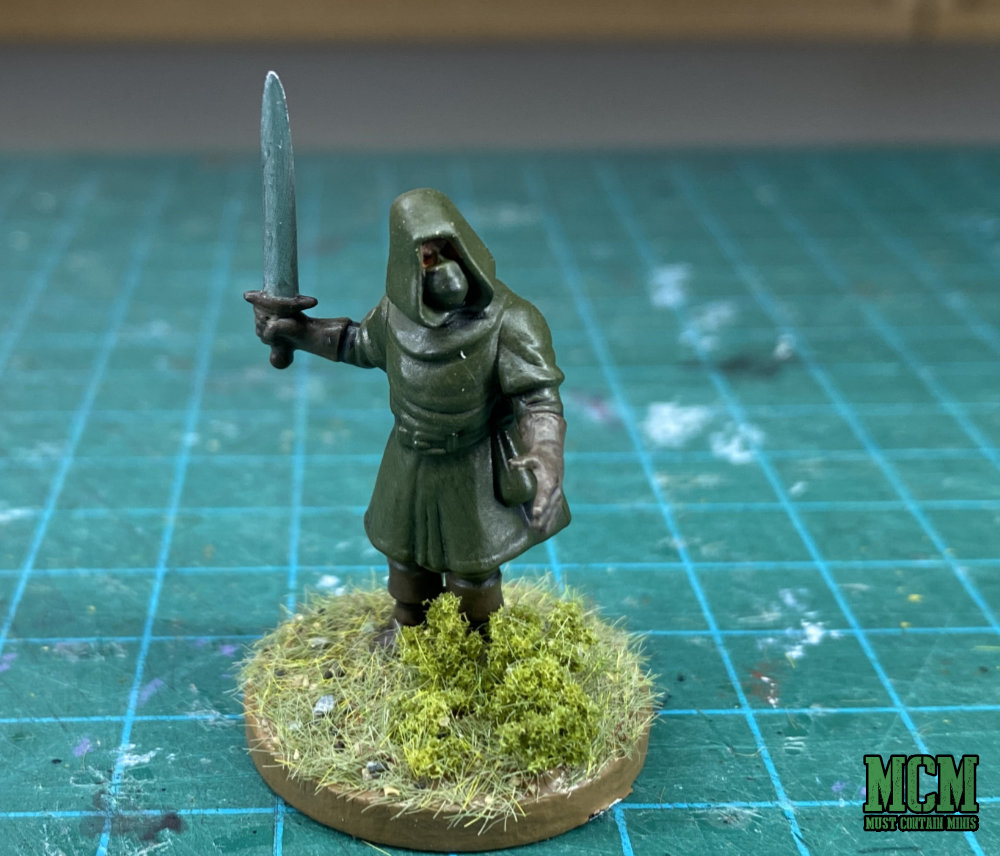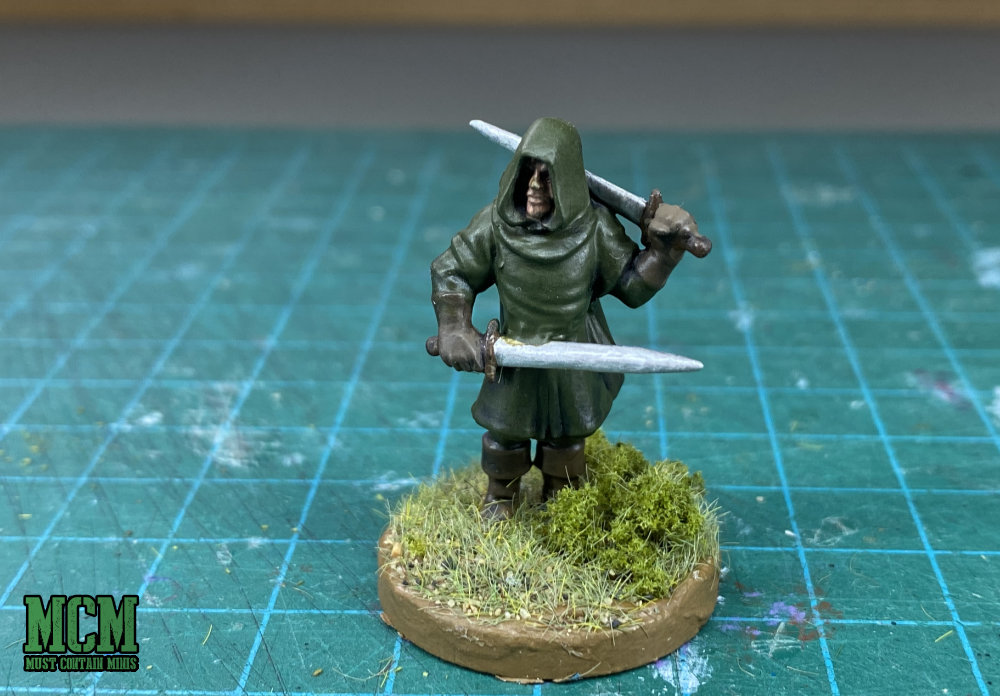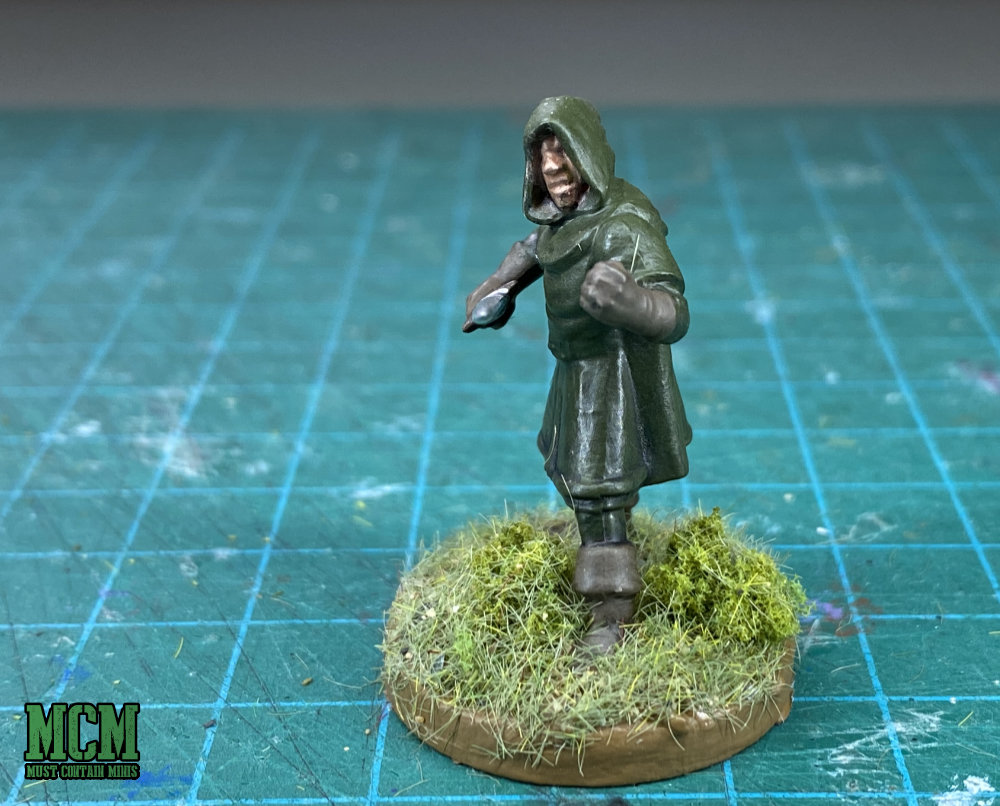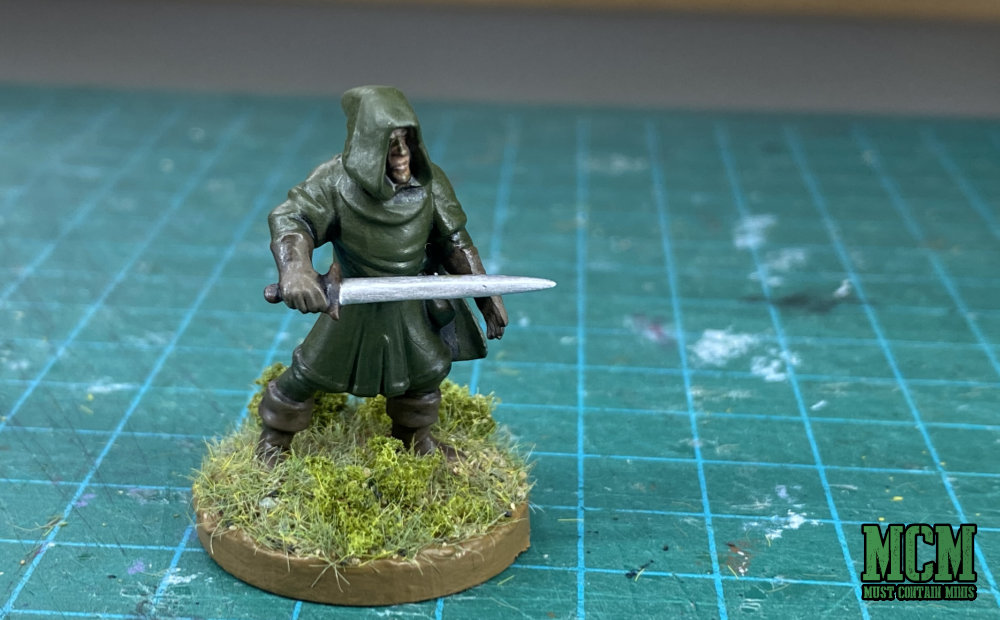 If you like this simple paint job, below are the colors I used to paint these miniatures up.
My Color Recipe for Oathmark Pathfinders
I painted up my Oathmark Light Elf Infantry with the colors as follows.
| Color | Brand | Items Painted in Color |
| --- | --- | --- |
| Cultist Robe | Army Painter | Tunic and paints |
| Tanned Flesh | Army Painter | Skin |
| Leather Brown (V821) | Vallejo | Gloves and boots |
| Dark Sand (V70-947) | Vallejo | Blonde hair |
| Plate Mail Metal | Army Painter | Sword blades |
| Oak Brown | Army Painter | Hilt of sword |
| Flat Earth | FoW / Vallejo | Earth color on base |
| Agrax Earthshade | Citadel | Shading of miniatures |
| Abaddon Black | Citadel | Priming / undercoat |
Above is a chart of the colors I used to paint these miniatures.
I used the same five step approach to painting miniatures that I use on most of my miniatures. Those steps are…
Clean and prime your miniature
Lay down your base layer
Apply shades or washes
Highlight your miniature
Glue on basing materials
You can see more about those steps if you head to my How to Paint a Miniature for Role Playing Games article after you are done here. The link is at the end of this post.
These Miniatures in Oathmark
In Oathmark, these pathfinder miniatures need shields attached to them to be WYSIWYG. I made these five miniatures differently so I could use them in Frostgrave or Rangers of Shadow Deep if I so choose.
In Oathmark, I foresee them either filling the role of a champion, or hanging out in the back ranks of a Pathfinder squad to be the first to taken away as casualties.
Personally, I like the color scheme and feel I can paint up the last 15 shield and sword miniatures in the same way.
All that you need to use these miniatures in Oathmark is the core rule book.
Links of Interest
Below are a few lists to articles and pages of interest relating to these Oathmark Light Elf Infantry Miniatures.
Shopping for Oathmark
Check your favorite online and FLGSs for Oathmark. Failing that, here is a list of some other places where you can buy the miniatures and rules.
Other Related Articles
Below I made a list of some related resources on Must Contain Minis.
Painting Tutorials
Wrapping it up…
Thank you for joining me in taking a look at the five Oathmark miniatures that I recently painted. They turned out pretty good and I like the color scheme for when I get to painting up my other Oathmark Pathfinders (Light Elf Infantry).
Until next time, Happy Gaming Everyone!!!