Painting MDF Terrain can sometimes be a challenge. I am not sure about you, but I have had this terrain material suck up my paints and leave me with a finish that I am not exactly happy with. This leaves me wondering, what is the best way for Priming MDF Terrain?
To figure out how to paint MDF Terrain, I have done a lot of research. I am going to share those findings with you here today. In addition, I discuss methods I used in the past to paint MDF projects what method I am following on my newest project.
Now, I am not an expert at painting MDF Terrain for tabletop gaming. That said, I am going to take you through what did and did not work for me in the past and talk about the advice that I found on the internet.
Hopefully this article can help you out. Please feel free to leave a comment below if you have some advice that you want to share. I am looking for advice just as much as I aim to share my advice and research.
Now, let's talk about the methods that I have tried to paint MDF with.
Approaches I Used in the Past to Paint MDF Gaming Kits
To paint MDF terrain, I tried a few different approaches. None of them were 100% great. Generally, I use craft store acrylic paints for my terrain projects. They require more coats than true miniatures paints, but they are very affordable.
Unfortunately, MDF reacts differently than other materials that are used for Wargaming terrain (like resin).
Below are the approaches I tried and my thoughts on the approach.
Painting Acrylic Directly to the Terrain Kit
Using acrylic paints straight to the kit is the most simple approach. It works, but MDF terrain sucks in acrylic paint like no one's business. The paint that would normally be brilliant on my miniatures dried mute and faded. It took many layers to get the colour to the level that I wanted.
This is the approach I took early in my gaming career with my MDF kits. I also had a hard lesson early on here. When you paint, paint all sides of your MDF Kits. I had a removable roof from a cheap kit warp on me when I painted only the tops and not the bottom.
I read that the reason for this is because you have to seal your MDF all the way around or the paint will pull on one side of the mini. That was something I did not expect.
Spray Paint Primer Followed by Acrylic Paints to Paint MDF Terrain
I painted all of my XOLK terrain using this painting method. For these pieces, I spray-painted them black with miniatures primer and then painted on top of that with acrylics. Again, I needed a few coats of black primer to get it to be dark enough that I was happy.
I don't remember what brand of primer I used, but the MDF just soaked up the paint. That said, after a few of coats of primer, the terrain was ready to paint.
Below are a couple of finished examples of terrain pieces that I painted with this method.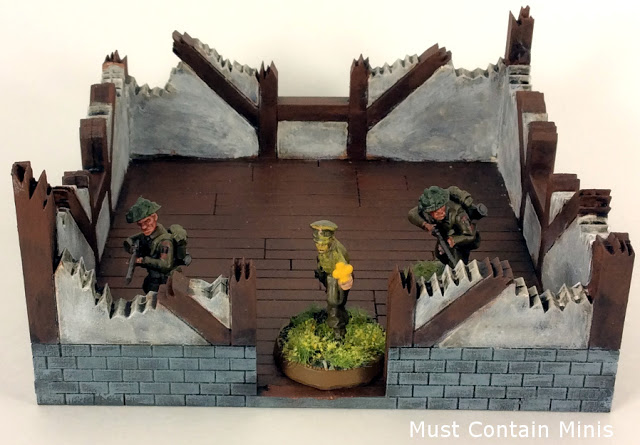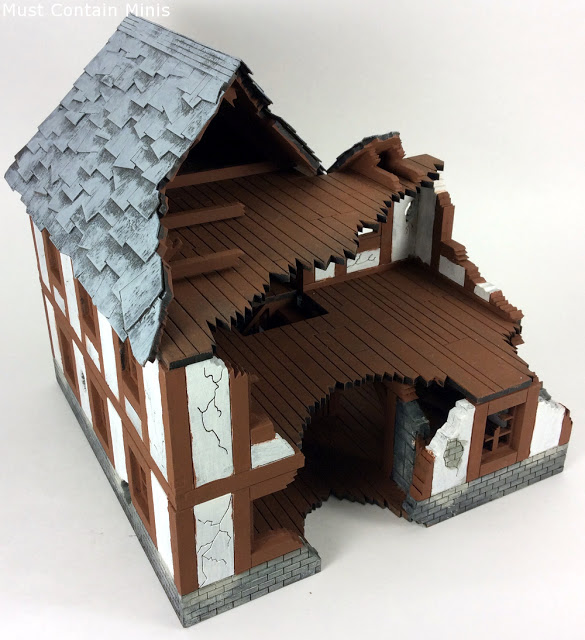 Overall, painting straight to the terrain piece after primer yields a nice result.
This is also the same method that Mel the Terrain Tutor uses when he builds MDF Kits.
Approaches to Priming MDF Terrain that I am Yet to Try
Now, let's look at some methods that I have not yet used. The Shellac approach is the approach I am taking with my newest project.
Seal Your MDF Kit before Painting with Lacquer
While The Terrain Tutor recommends that you only need to varnish your MDF Kits before spray prming if you plan to use house paints on them, both Allen (from Game Craft Miniatures) and Doctor Faust recommend that you seal your MDF Terrain Kits with a sealer before spraying primer.
Allen recommends that you use Sanding Lacquer. Doctor Faust recommends that you use Shellac.
If you want to hear more about the benefits of using Lacquer on MDF Terrain Kits, here is another video of Allen talking about lacquers.
Check Price of Lacquer on Amazon (Affiliate Link)
Seal Your MDF Kit before Painting with Shellac
I am going to use Shellac on both my Higgins Boat and my other landing craft that I bought for Bolt Action. There are links to their reviews at the end of this article.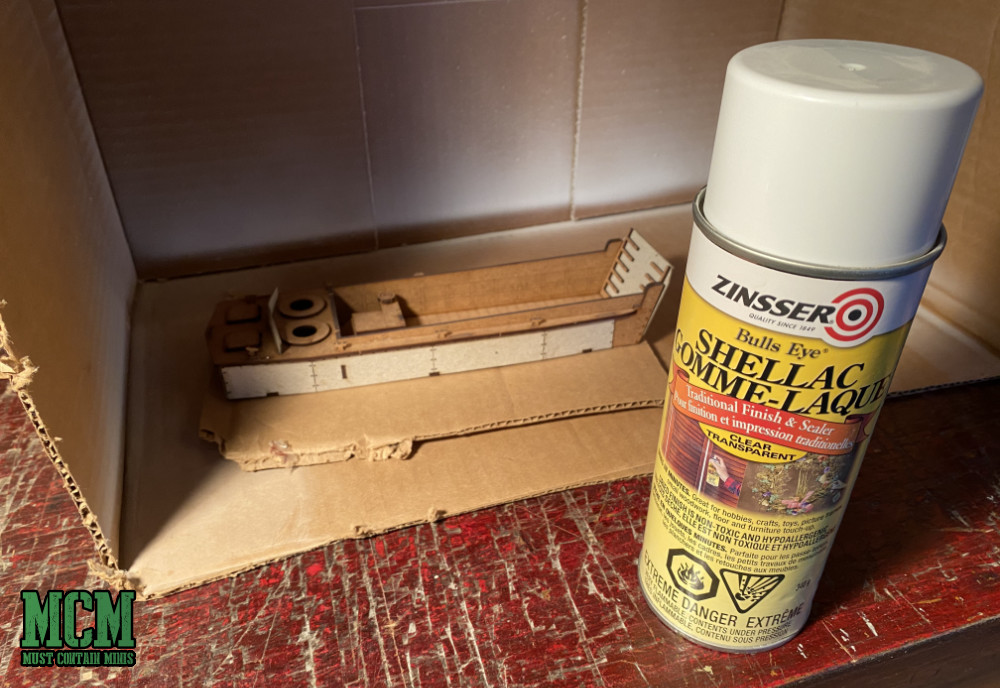 For now, let's take a closer look at Doctor Faust's advice.
In both cases, you are applying the sealer before the spray on primer to prevent the MDF wood from soaking in the moisture of the paint. This is suppose to help make painting the model a more enjoyable experience.
Check Price of Shellac on Amazon (Affiliate Link)
Now that I coated my MDF Kit in Shellac, I have to figure out what brand of spray paint to use on top. I am thinking either automotive primer, or Army Painter Spray Primers. Which would you suggest? Please tell me in the comments below.
I am leaning towards the Army Painter, but still have to buy the cans.
Having looked at sealing your kit with shellac or lacquer, let's look quickly at other ways I found to seal your MDF Kits.
Seal the Miniature with Varnish
A number of people say to spray the MDF Terrain kit with Varnish before priming the model for painting. To be honest, I don't know the difference between Varnish and lacquer (other than I believe lacquer is harder). Sounds like sound advice that should work as well as Lacquer and Shellac.
Check Price of Varnish on Amazon (Affiliate Link)
Use Hairspray
This is 100% untested by me, and not advocated by me, but I came across advice on a few sites and YouTube videos. The thing is that Hairspray is not a sealer. Some of them might have Lacquer or Shellac in them.
It might work in a pinch, but if you use hairspray I also read that it is possible that it will flake off later. My opinion is that it is best to avoid this route so you don't lose your paint job further down the road.
Use Watered Down PVA Glue or Mod Podge to Seal your Terrain
I have used both of these on foam terrain and liked the result. This should work on MDF Kits too. I would imagine that you might see a bit of swelling or fuzzing of the material because there is a lot of water in there, but it should work.
I have read that after this you can paint either direct to the model or spray prime it first. Again, I have not tested it on MDF.
Gesso
I've used Gesso in the past for my miniatures. It works well enough as a brush on primer. The thought never occurred to me to use it on MDF Kits.
There are actually a large number of videos on YouTube detailing the process above. Some just slather the Gesso on and some damp down the wood a bit before applying the Gesso. It is used as a primer and sealer. Very interesting.
That said, I didn't find anyone actually using Gesso on MDF wargaming terrain. Now, let's look at a method that many people swear by – Automotive Primer.
Automotive Primer
Admittedly, I do not know much about Automotive Primer yet. I have used different types of miniatures primers and even Krylon spray-paints, but I have not yet used Automotive primer. If I don't get the results that I want with the Shellac and Amy Painter Primers, I might go down this road of investigation next.
A lot of people swear by it. Below is a video showing Luke from Geek Gaming Scenics using the automotive primer to start off his miniature paint job.
Enamel Based Primer
Again, I mostly paint with acrylics, so enamels are something I would have to look into and investigate further.
That said, a number of places recommended Enamel based spray paints for working with MDF Terrain. The only thing that makes me nervous about this one is that I don't know how acrylic paints will interact on top of an enamel primed surface.
Extra Resources
When it came to this post, I looked around the internet a fair bit. The best videos that I found about the topic, I embedded into this post. On top of that, I want to share this link from the Spruce Crafts about the best ways to Prime MDF. While it is not about miniature wargaming, it is still a helpful page for research.
Over here, we have a website page about using Gesso on MDF. Again, that is interesting.
If you are interested in reading reviews about the two MDF kits that I sprayed Shellac on this week, you can check out the links below. They are really nice models by Sarissa Precision.
Wrapping it up…
Hopefully this post helped you learn a little more about possible approaches to painting MDF terrain. Counting them up, there are 10 approaches to priming MDF terrain in this article.
I will be trying the Shellac followed by primer on my current two model kits. If that doesn't work to my satisfaction, I will likely try lacquer, varnish or automotive primer.
How about you? What is your approach to painting MDF Terrain?
Until next time, Happy Gaming Everyone!!!