Recently I reviewed the first piece of Terrain that I bought by XOLK. That product was their Cottage in Ruins. That is a nice piece at a very affordable price. Since buying that piece, XOLK has sent Must Contain Minis a few products for Review purposes. Their 28mm Normand House in Ruins is one of those products.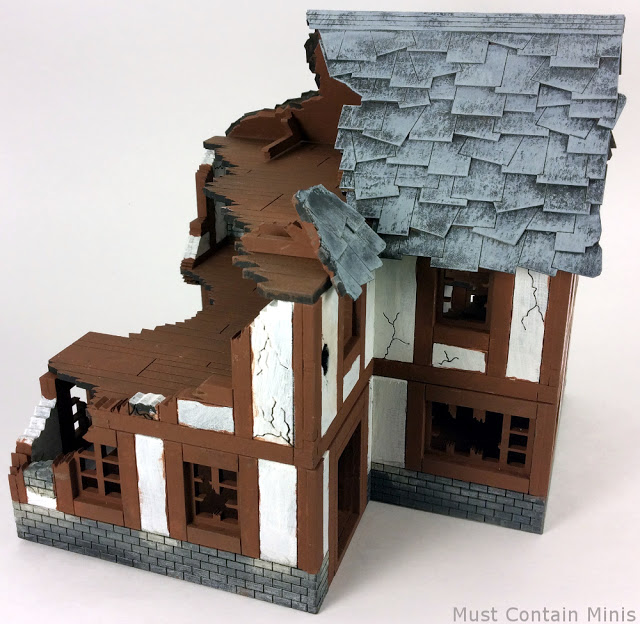 Check out this MDF House. It is gorgeous and goes together very nicely.
This piece is admittedly more expensive than the Cottage in Ruins. It comes in at $46.99 Canadian ($34.60 American with the current exchange rate). Is the product worth it?
Personally, I like this ruined house a lot, but I will let my readers come to their own conclusion.
This model comes as 5 MDF boards plus one sheet of Cardboard used to as shingles on the roof and details for the door. Using the instructions on XOLK's website, this kit was extremely easy to build and went together nicely. To make it even easier, I used watered down carpenters glue and a brush (rather than applying the glue in globs straight to the model.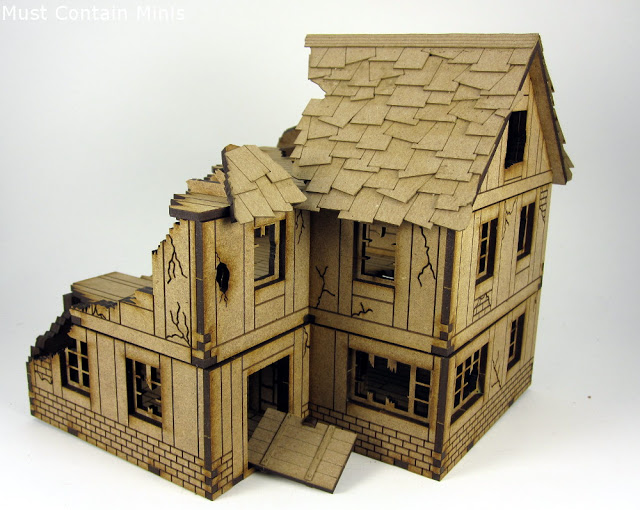 The MDF model completed, but not yet painted. It looks fantastic!
The MDF boards are nicely textured and after I assembled the model, one of my friends questioned whether I even really needed to paint the model. Since I was using these on what I wanted to be a "Showcase" level table for Hotlead 2017, the answer was simple – these houses needed to be painted.  🙂
Some of my readers will recognize the pictures below from an earlier post. I wanted to repost these images to show what the house looks like unpainted. There are new pictures of the painted house further below.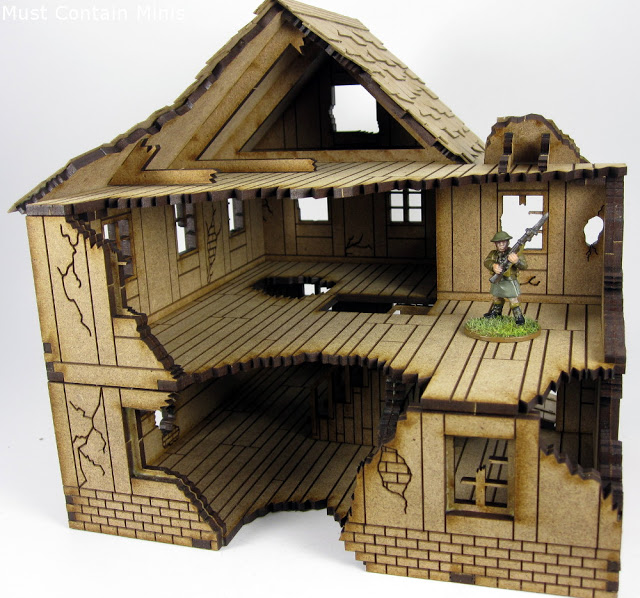 Here a Pulp Figures' British soldier stands on the second floor of the structure.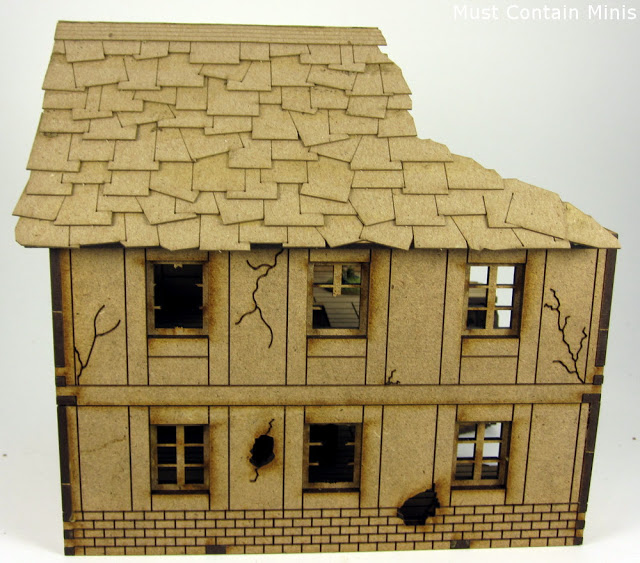 A look from one of the sides. Lots of battle damage on this model.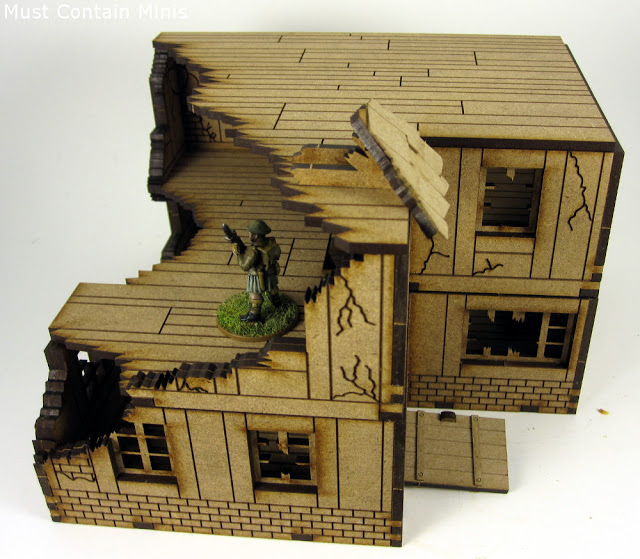 All of the levels can be removed allowing players to access every level of the structure.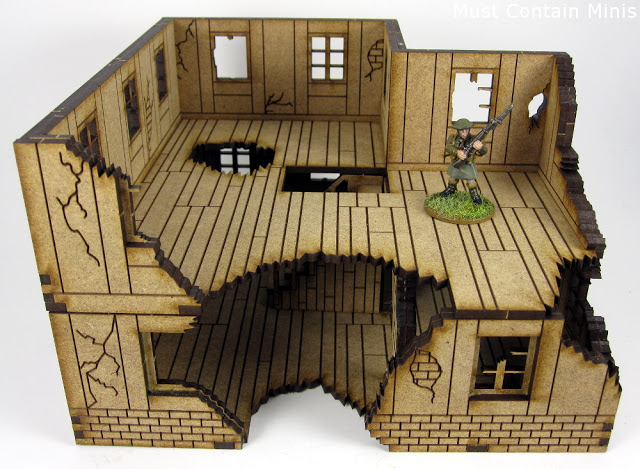 A look at the second floor with no ceiling.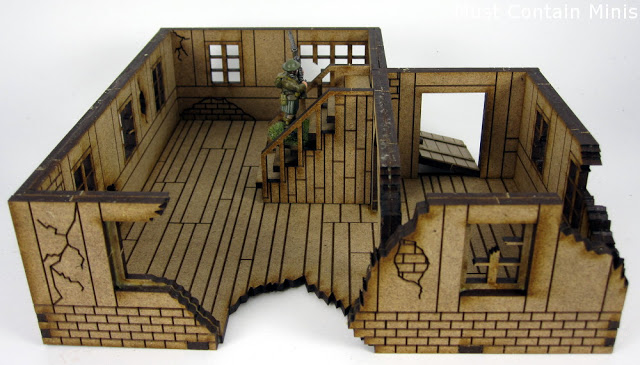 A look at the ground floor. Love the stair case and all of the details in this MDF terrain kit.
As my friend stated, this model looks great even if it isn't painted. Time-wise, it took more time to assemble than a PlastCraft Games model, but significantly less time than a 4Ground Model. My guess is that I had it built in a couple of hours, but I assembled it while watching YouTube videos so I can't quote you exactly how long it took to build.
Below are pictures of the finished MDF terrain kit.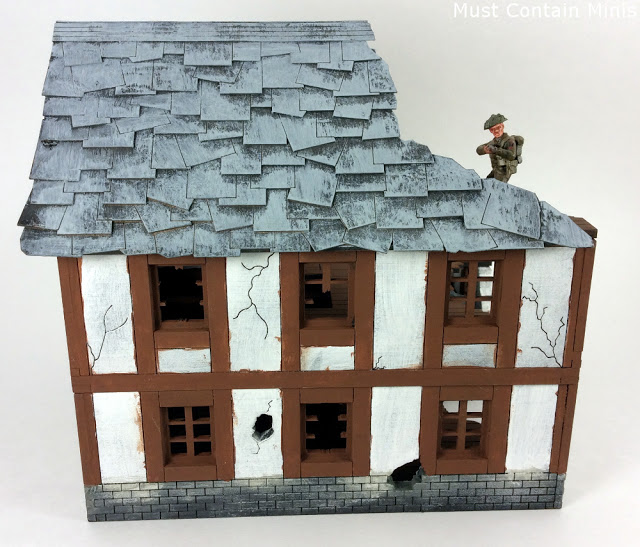 The Normand House in Ruins with a Bolt Action miniature by Warlord Games on the attic floor. As one can see, this is a sizable piece of terrain.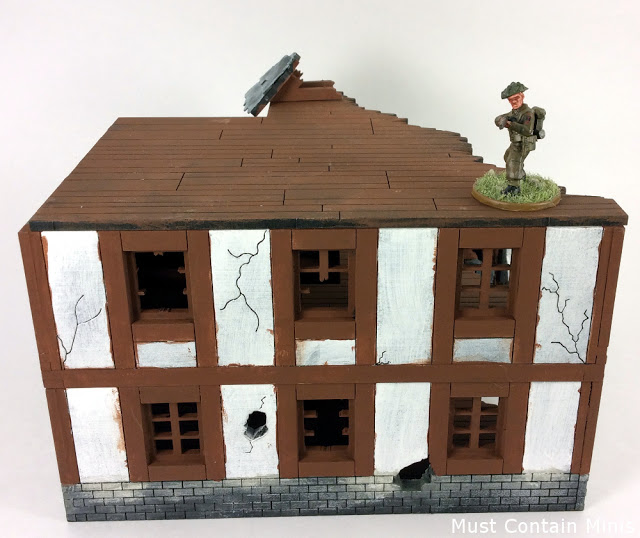 The exact same image as above, but with the roof removed.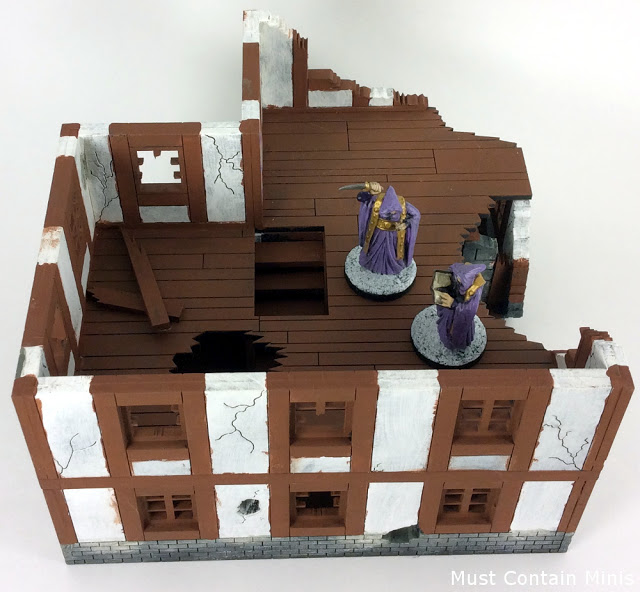 The second floor of the house with two Reaper Miniatures based for Frostgrave.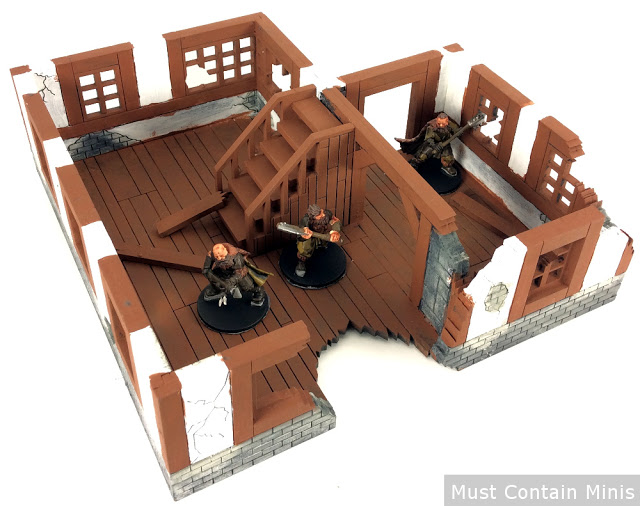 Some North Star Military Figures Frostgrave Barbarians on the first floor with some of the stray wooden planks scattered around the building. This image is a little over-exposed to better show off the internal details of the house.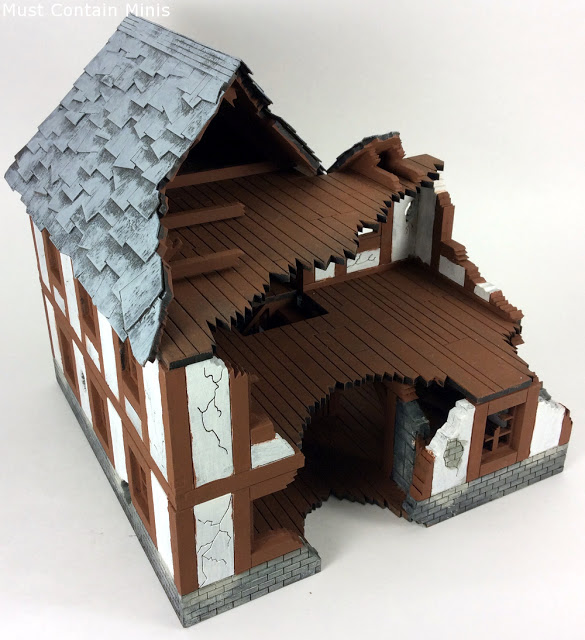 The full model from the opposite side. This MDF kit gives some nice access to the internal figures without even taking the layers apart (especially for the second and third floors).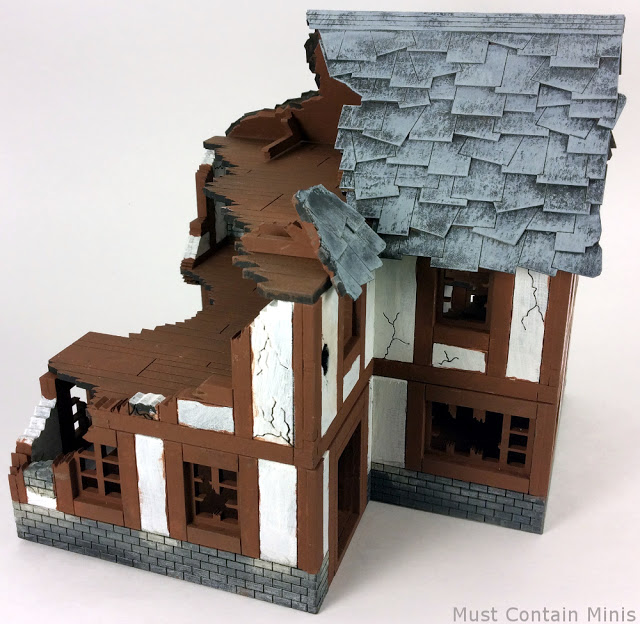 Another look at the image with which I started the article. I think this house looks fantastic and I am really happy with the model. A big thanks goes out to XOLK for sending this for Review.
I will admit, that I am not the best of painters. This model was not painted to the best of my ability either because I was in a rush to get everything done in time for my convention game of Frostgrave (I had multiple Warbands and terrain pieces to paint for the event).
To paint this model, I spray painted it black and then dry brushed it. I did no work with shading or highlights. For the quick paint job that I gave it, I think this model looks rather striking. It is certainly better than anything that I could scratch build.
From a table length, this quickly painted model look even better. Below is a picture from a yet-to-be-published Battle Report of Frostgrave. It gives a great view of the XOLK Normand House in Ruins alongside the Cottage in Ruins. There are also miniatures and a hand in the shot to give a sense of scale. The Normand House in Ruins is a large model compared to many other kits (including kits by 4Ground and PlastCraft Games).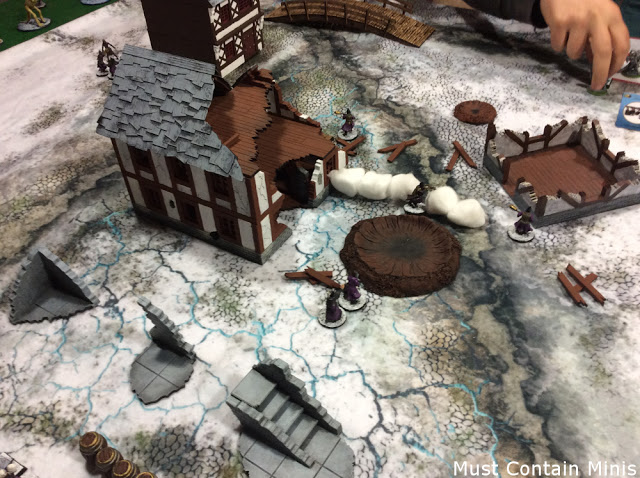 A look at the Cottage in Ruins and Norman House in Ruins in close proximity. The House in Ruins is a sizable model.
Overall, I am very impressed with this product. It is easy to build, easy to paint and it can easily be used for either WW2 or Fantasy games. I am sure that the model could fit into Medieval to Modern games as well. This versatility gives the product a lot of life.
Thanks goes out again to XOLK for sending Must Contain Minis the Normand House in Ruins. If you happen to be in one of the shops that sells the product (or order it from the Internet), it comes packed as below.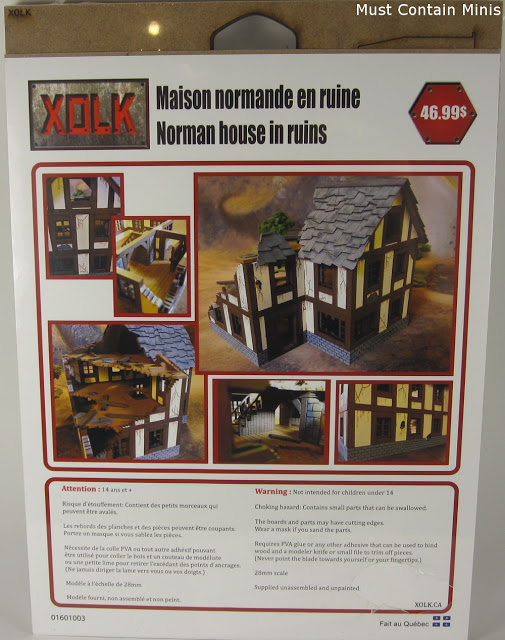 The XOLK Normand House in Ruins still in its shrink wrap. I do realize that the package calls the structure a "Norman House in Ruins," but it is listed as a Normand House in Ruins on the website so I have been staying consistent with that.
For those that don't know about the company yet, XOLK is fairly new. They are based out of Quebec and build MDF terrain. Because they are fairly new, I encourage you to check out their Facebook Page and give them a "Like" if you like their stuff.
Finally, if you come out to Broadsword 3 (in Hamilton, Ontario, Canada on May 6 [2017]), look for me. I will be there and I have coupons to give out for these products.
Until next time, Happy Gaming Everyone!!!