My favourite annual gaming convention is coming soon, and, this year, I am running a Gaming Table. The gaming convention I speak of is Hotlead. Yes… I dream of going to Adepticon and Gen Con, but until someone offers me an all expenses paid trip (or I come into some money), Hotlead is the closest I am going to get. To be honest, that is okay with me. Hotlead is an awesome event and happens to be where I learned that there is much more to the miniature hobby than just GW.
This year, Hotlead runs March 24 to 27, which coincides with AdeptiCon. It is a big event for my area with plenty of participation games, Vendors and a huge "Bring and Buy" Table. If you live in Ontario, Michigan, or New York and are looking for an exciting gaming Convention that is closer than AdeptiCon, this might be an answer for you. I personally will be running two sessions at this event.
In both instances, Must Contain Minis will be running a Frostgrave Gaming Table and I have plenty of Corporate support. For this event, the following companies sent support items to Must Contain Minis: XOLK sent a number of their MDF buildings, North Star Military Figures sent some of their Chilopendra Demons and another figure to represent Tiszirain (a scenario boss), and Osprey Publishing is providing prize support.
Jeremy, from Forbes Hobbies, offered to do some commission painting to help get Must Contain Minis ready for the convention. He is now working on the North Star figures and I am really looking forward to seeing what they look like after a professional paint job. I also have my friends Dave and Randell working on some terrain for this game. Outside of all these new items, I also plan to use some items that I already own for the gaming table. This includes a gaming mat by Cigar Box Battle, some Scatter Terrain by Six Squared Studios, some RAFM and Reaper Miniatures, Plenty of North Star Frostgrave Figures and miniatures from the Conan Board Game distributed by Asmodee.
The games I am running are on Saturday, March 25 at 2pm and 7pm. Below are the descriptions of the games…
Mortal Shells @ 2pm "Something must have drawn these Barbarians to Frostgrave. What, we don't know yet. Wait a minute?! What's happening to that Barbarian?!" The Barbarian's body collapses to the ground and a hideous demon claws his way out of the corpse's stomach. "Men, hold back those demons! I am going to read these ruins to try to figure out what is going on!" Come and give this modified scenario from Forgotten Pacts a try. GM: Jacob Stauttener from Must Contain Minis & Dave Lamers, Frostgrave rules, 28mm, Four to six players. Table Support by XOLK and North Star Military Figures. Prize Support by Osprey Publishing.
Rescue the Prince!!! @ 7pm After much study, the Wizards across the city realize that the past events are just a lead up to the summoning of Tiszirain (The Demon Lord of Victory and Consumption). According to the books in the great halls, the next step in the summoning this Demon is a blood sacrifice of a noble. At this time, one of the warband members comes back to inform their boss that the word on the street is that a prince has been kidnapped and a sizable reward will go to anyone that can bring him back alive. It is time to save the city and make some extra money at the same time! Come and give this modified scenario from Forgotten Pacts a try. GM: Jacob Stauttener from Must Contain Minis, Frostgrave rules, 28mm, Four to six players. Table Support by XOLK and North Star Military Figures. Prize Support by Osprey Publishing.
XOLK has been very generous in the support that they have given Must Contain Minis for Hotlead, and sent a number of buildings. They also sent me plenty of coupons to give out at the convention for anyone that wants to try these products out for themselves.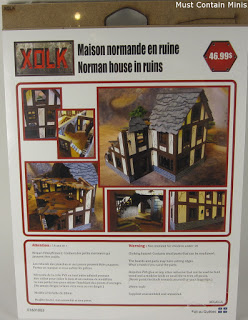 This Norman House in Ruins is my favourite piece that they sent. We will look at it more in depth below.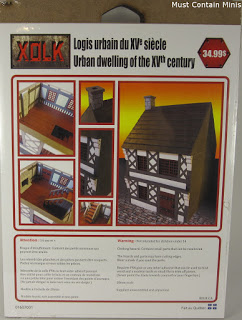 This is their brand new Urban Dwelling Building. Love that the pieces have accessible floor levels!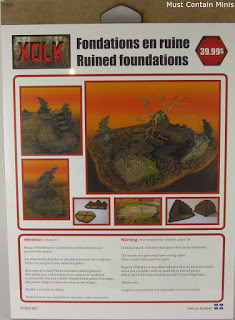 Some Ruined Foundations. The stairs fit in such a way that I think it may end up being the piece in the middle of the table as a makeshift alter for the blood sacrifice that our wizards have to stop.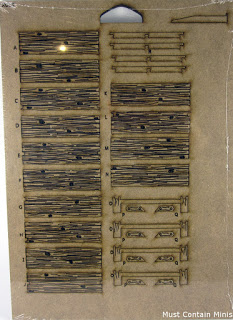 This is XOLK's brand new Bridge.
Of this batch of MDF kits, I have built the Norman House in Ruins and the Ruined Foundations. Both of the kits look great, but my favourite (so far) is the Norman House in Ruins.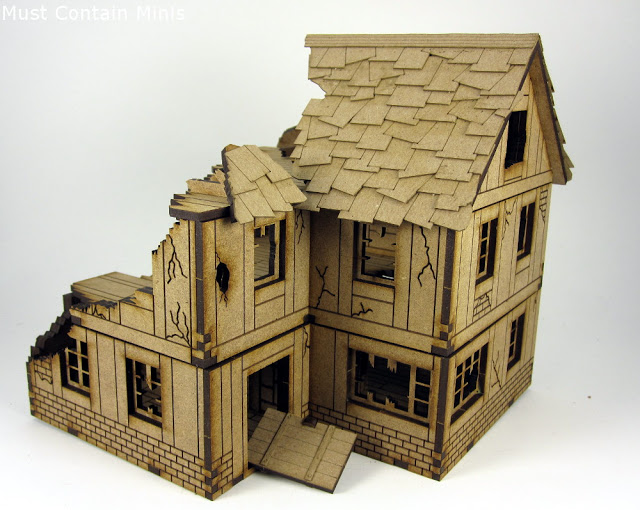 This building is great and comes apart nicely to access the different layers of the structure.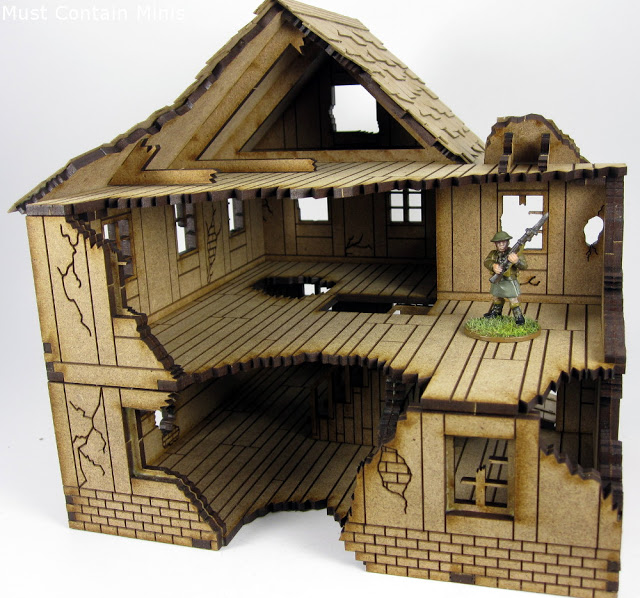 This picture has a 28mm miniature added to give a sense of scale. Compared to the 4ground and Plastcraft Games Houses that I own, this house has a larger footprint.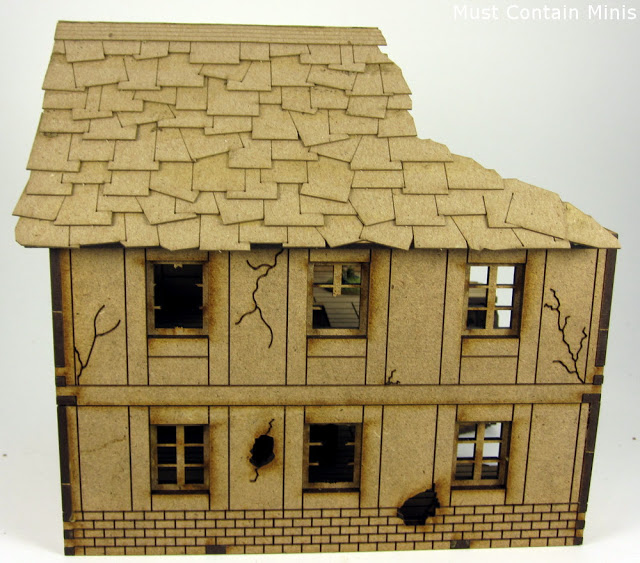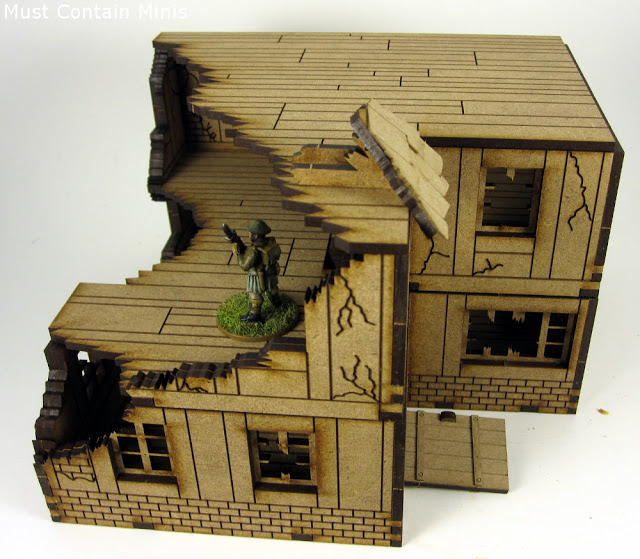 The roof comes off.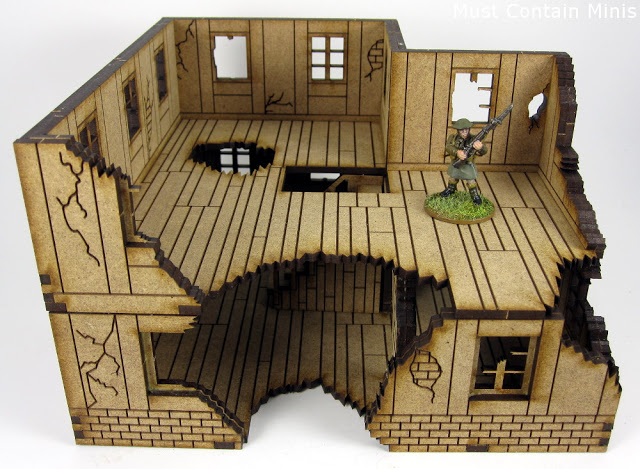 The top layer comes off to reveal the second floor.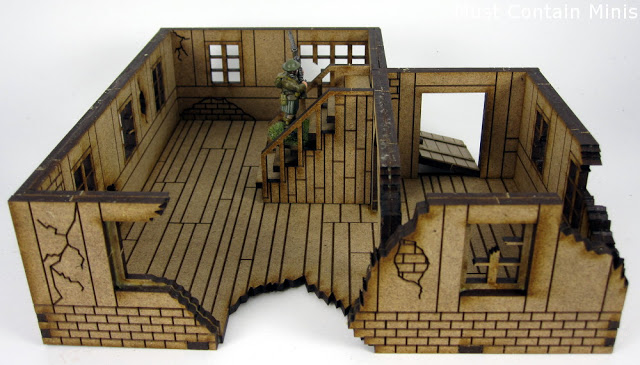 The Ground Floor.
Below is a picture of the assembled Ruined Foundations Kit.

This is the Ruined Foundations Kit. I like the stairs in this set and those stairs will likely act as a makeshift alter in my game at Hotlead.
When I get everything done, the table is going to look great!!!
Now, I have a lot of work to do before the convention to get everything ready. This means that the frequency of my posts might go down to just one or two a week for the next little while.
Until next time, Happy Gaming Everyone!!!
[amazon_link asins='1472823966,1472818539,1472823923,1782006354,1780968469,B07D189ZVV,184908680X,1472830229,1780968493,1472814940′ template='ProductCarousel' store='mustcontainmi-20′ marketplace='US' link_id='2eb9ad5f-a4e0-11e8-aa2e-b91520e51f57′]