In this post, we take a second look at the Arvalon 8 Kickstarter. I previewed this project by RM Printable Terrain earlier. Now the Kickstarter is busting through stretch goals with ease. In fact, they should break the $50,000 mark very soon. On top of that, they have many days left to the campaign. When I wrote this article, 22 days remained. That's pretty good!
For those that don't know, the Arvalon 8 Kickstarter project aims to raise money to develop STL files (3D Printer Files) for gaming. These files include Sci-Fi Terrain, Space Ships and Miniatures. RM Printable Terrain sized these items so they will fit in with Warhammer 40K, but really, you could size them to anything. These are printer files after all!!!
Made for Role Playing Games (RPG), the miniatures of Space Bounty Hunters could also find homes in Miniature Agnostic games like Rouge Stars and other Indy titles. On top of that, I envision the terrain and ships making their way to Infinity and Warhammer 40,000 tables too.
Now that Kickstarter is off to a great start, let's take a look at some of the campaign developments.
As a note, all images in this post are from RM Printable Terrain.
Another Free Mini
In my last post about Arvalon 8, I mentioned that RM Printable Terrain was giving away STL files for the campaign including a Bounty Hunter Miniature. This has changed. Now, that download file contains two Bounty Hunter miniatures!
Update: July 23, 2021: This free miniature is no longer available.
This is for free!
If you downloaded the first one, be sure to head back and download this new set that contains a second miniature. Below is a sample print out of the new free mini. I detect a likeness to someone else, but can't put my finger on who. If you know who this figure resembles, please comment in the comments section below.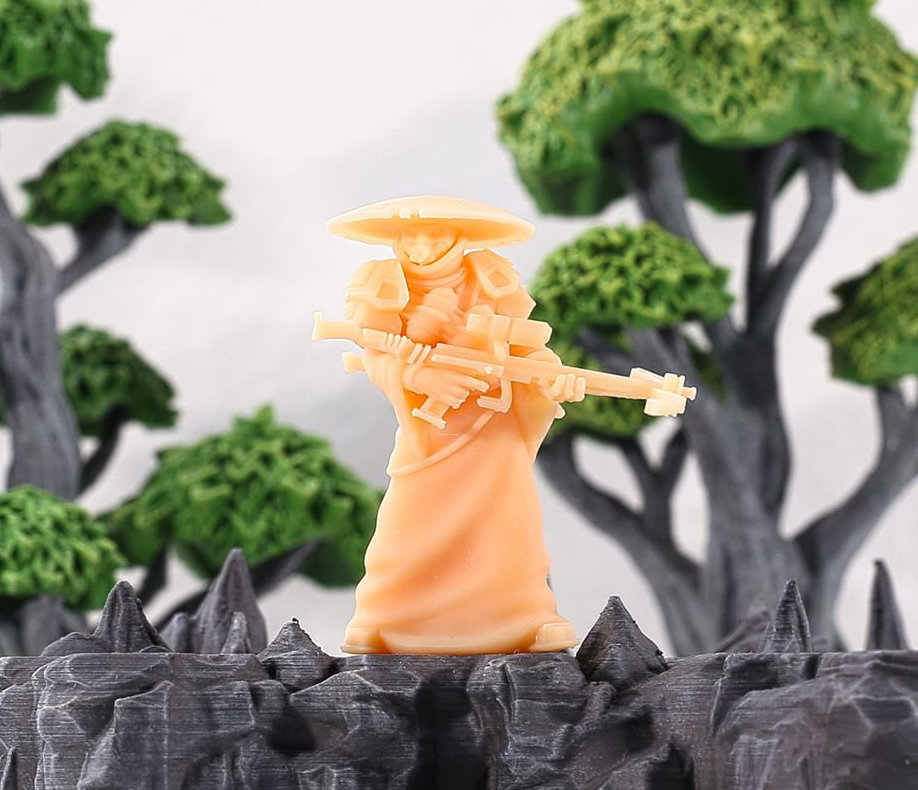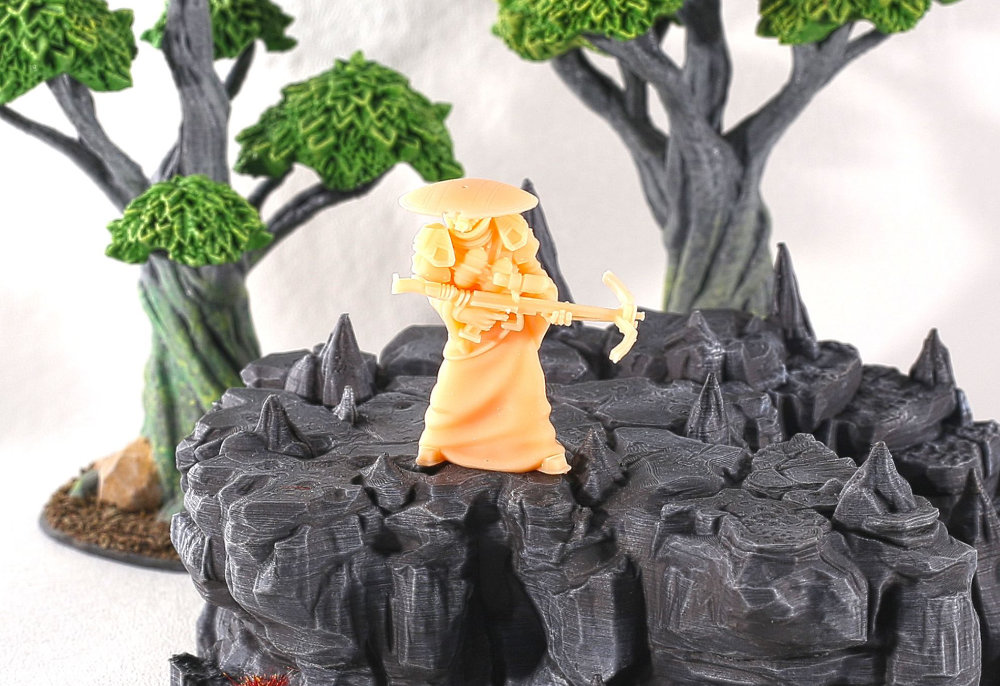 More Miniatures
There are 10 Bounty Hunters and a wealth of crew miniatures all unlocked in the Kickstarter campaign. Arvalon 8 is actually working its way to unlocking 50 miniatures. Below are a couple of preview images of printed Bounty Hunters.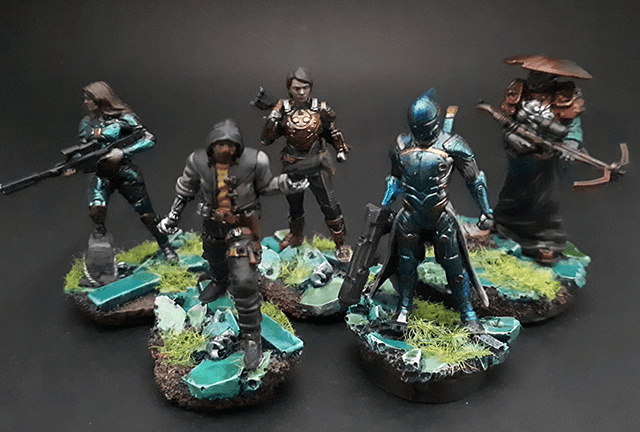 Terrain and Ships
While this post focuses on the minis in the Arvalon 8, it is important to remember that the Kickstarter offers up terrain and space ships too. The previous post looked a lot at the ships and terrain, but I wanted to include another couple of terrain pictures.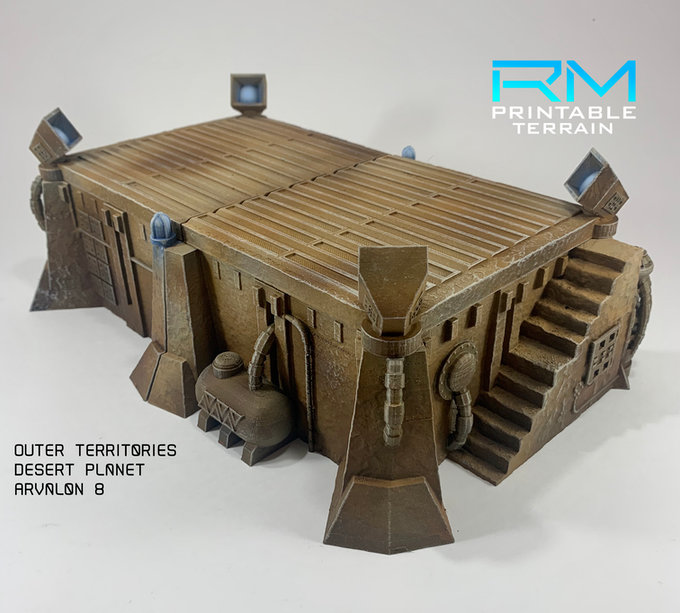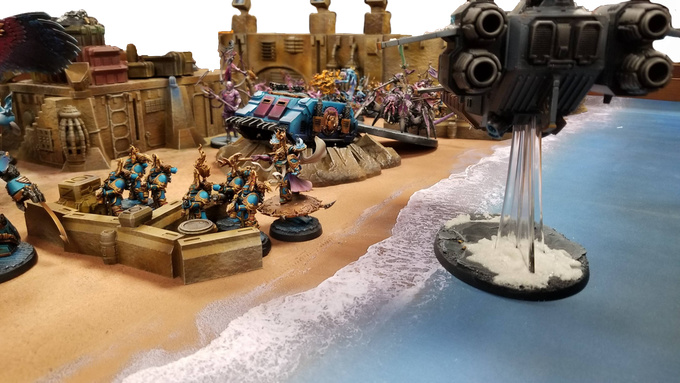 Wrapping it up…
This concludes our second look at the Arvalon 8 Kickstarter project. This project continues to smash through kickstarter stretch goals with many days left to the campaign.
The goal of this post was to let you know of the new free miniature file, to let you know of the Kickstarter project's progress, and to raise the awareness of RM Printable Terrain.
If this is a Kickstarter that interests you, be sure to check it out before the project is over. If you are like me and don't own a 3D printer yet, maybe you want to take advantage for the free STL files for now, and remember about RM Printable Terrain in the future (when you get your actual printer). Personally I am collecting a library of STL files in hopes of getting a printer.
Until next time, Happy Gaming Everyone!!!