Cigar Box Battle produces fantastic battle mats for Miniature Wargaming. They were the first to answer my call for terrain and I couldn't be happier. After some emails back and forth, they gave the choice of any two mats for them to send to me for review. They have so many great mats, I honestly spent three hours debating which mats would be best utilized with my collection.
In the end, I chose the Frozen Ruins Mat and the Europe 1 Mat both in the 4′ by 6′ Plus format. Being 4′ by 6′ Plus, they drape over a 4 by 6 table.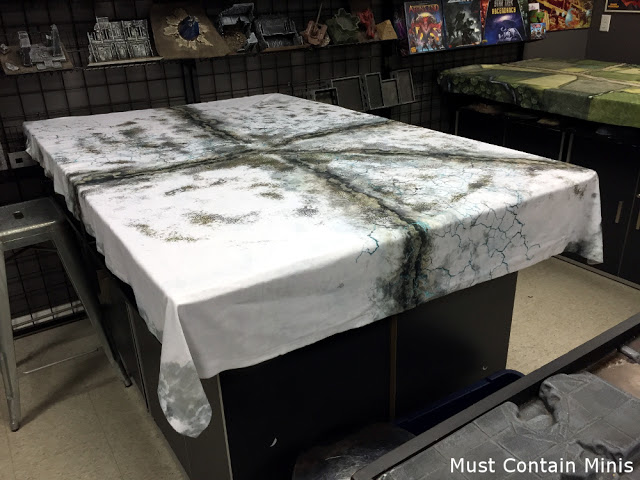 This is Cigar Box Battle's Frozen Ruins Mat.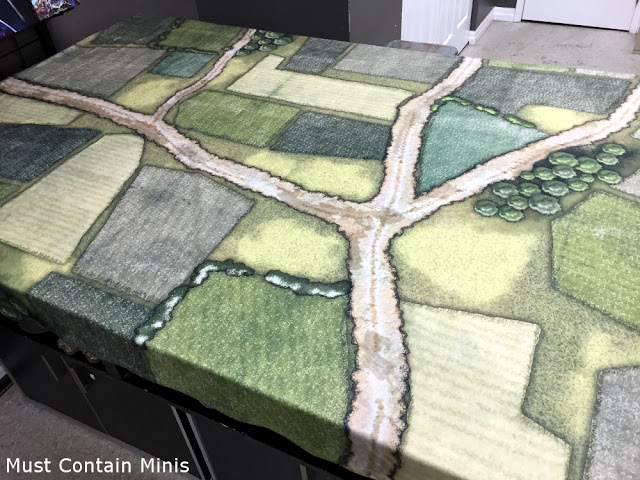 This is Cigar Box Battle's Europe 1 Mat in 28mm. The difference between the 28mm and 15mm versions of this mat is the width of the roads. I am sure that 15mm or 28mm could easily be played on this mat and that is part of the reason I asked them to scale it to 28mm.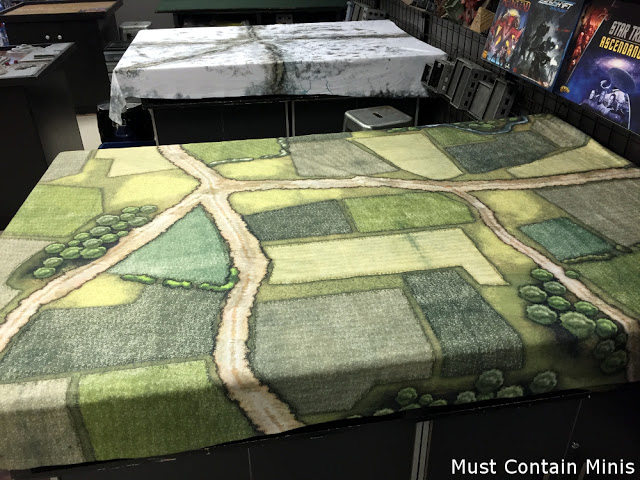 To get these mats out on the table for the first time, I took them to a Friendly Local Gaming Store. This time, I went to Phoenix Games and Hobbies in Kitchener (Ontario, Canada). On Sunday mornings there is a Historical Wargaming Group that rents the space. I knew that they would appreciate being the first to use these awesome gaming mats. On the Ruins table, we had a Home-Brew Korean Air Battle taking place between MiGs and American Jets. On the Europe 1 Mat, a group played out an American Civil War game of Longstreet. Sample pictures are up on my Twitter Page if you can't wait for the review.  😉
Going in, I knew that I would like these mats. I have seen them for sale at local conventions and came close to buying one at Council Fires 2016. I also had the pleasure of playing Charlie Company on a Cigar Box Battle San Juan Hill Mat. The game master at that table was really happy with his and that made me want one of my own.
These mats are made of double sided fleece. My first impressions are extremely positive. They are soft and look great on the table. They are easy to transport too, as they are light weight and can be folded up and placed in a bag or backpack. Although these mats are on the pricier side of things, they fall into the same category as 4Ground buildings. If you can afford it, the mats are a great purchase. Right now, they run $69 American each but international shipping is expensive.
Cigar Box Battle has a good selection of Mats. There are so many options, and I want so many of them. I really liked the Europe 2 Mat (more so than Europe 1), but chose the Europe 1 Mat because I feel it has more gaming flexibility. I also debated over choosing the Mixed Ground Mat and Medieval City Mat. I also wanted to get one of the smaller (3′ by 3′) battle mats, but decided on the 4′ by 6′ for better flexibility. One mat that they have that I think is fantastic for bloggers and photographers like me is the Bright Blue Sky Mat. That mat can be used as a backdrop for photographs or as a table surface for air battles.
Later on, I will post a fuller review about the mats with plenty of pictures. I have lots of eye candy of the games that were played on them this weekend and plan to get pictures of Bolt Action and perhaps Frostgrave on them too.
To end, I would like to give my readers a warning. If you get one of these mats, beware of your family members! My wife thought these blankets would look cool on a bed but knows it is for the gaming table instead. Someone else, was not so lucky. One friend told me a story of a man who lost his Cigar Box Battle Mat to his wife because she uses it as a blanket to wrap herself in while watching movies.
Thanks again goes out to Cigar Box Battle for sending me these review products.
Until next time, Happy Gaming Everyone!!!