In my last post, I took a nice and close look at a well painted Mother of Dragons Bust by Nutsplanet. Today, I share a quick electronic interview with the painter of the model, Johnathan Ho. He goes on Instagram as SirJohnTheHo if you want to follow his work. On that account, he posts as much work as he can about his miniatures. He paints both miniature armies and showcase type pieces. He tends to post more of the larger figures to Instagram. The reason for this is that he spends more effort on the larger figures and busts than his armies.
Without further ado, let's get into the discussion with Johnathan about his Mother of Dragons Bust from Sword and Brush 2019.
Interview with Johnathan Ho
I am wondering if you could tell me how long it took to paint the Mother of Dragons?
10-12 hours over the course of a weekend (in-between chores, errands, and homework). Most of the time spent was really on getting the face and skin tones right, since that was the primary focal point of the piece.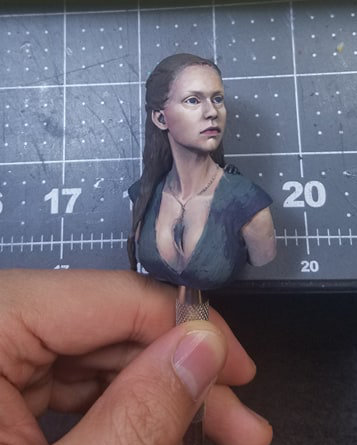 What inspired you to paint the Mother of Dragons?
I'm a huge House Targaryen fan (Stark first, Targaryen second, Dorne third, the rest are meh), and I wanted to paint a female figure piece. I had considered Sansa Stark from NutsPlanet as well, but from the photos, I felt like I could do more with the Daenarys piece.
Did you use any techniques on this model that you want to share?
Just the usual paint-on-brush-to-model. I'm a very quick, rough painter, and I spent much of the early phases focusing more on light and shadow and on getting the colors right than on really getting perfect blends. I find that as you work the colors back and forth, there's a natural blend that just happens as the colors work in together.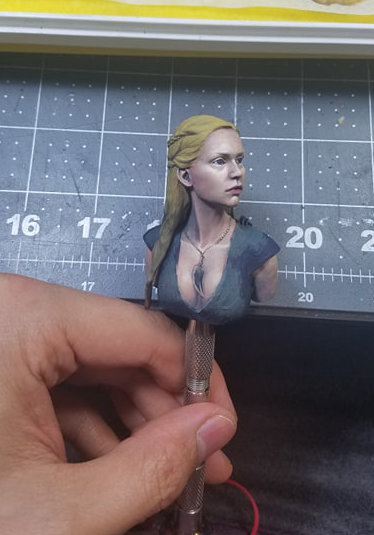 Near the end, I used an airbrush to spray on some heavily diluted (10-15:1 water to paint ratio) filters to help smooth some of the transitions and add color nuance to the piece, before going back in to carefully clean up and restore some highlights and edges.
What do you like best about the model?
It's simplicity. There's not a lot of clutter on the model, which really gives the painter a very blank slate to work with.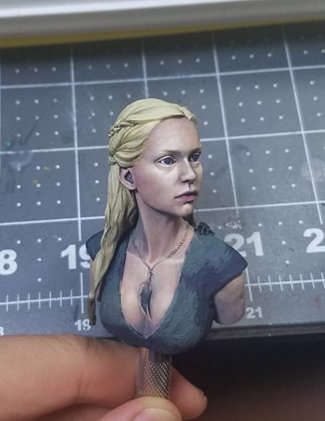 Wrapping it up…
Like any painter, Johnathan wasn't 100% happy with his end project. If you ask me though, it looks awesome and he did a great job.
He messed up on the colour of the hair and after re-watching a few episodes of A Game of Thrones, he had to go back and repaint the hair. He thought Daenerys Taragaryen's hair was a pale blonde. Turns out, the hair is actually a pale white.
Again though, the finished model looks great. If you want to see more, be sure to check out my Showcase Article for the Mother of Dragons.
Finally, be sure to check out my Wrap Up Article gathering together every single Sword and Brush 2019 article that I wrote.
Until next time, Happy Gaming Everyone!!!