In today's post, we take a look at Blood & Plunder's Native Warrior Unit. Firelock Games sent me these miniatures as a sample for their game a while back. You may remember them from my Blood & Plunder Arrivals Post earlier this month. Andrew Claessens (also known as Painting Sith on Instagram) painted these miniatures for my collection. I think they look stunning, and if you like his work, you can email him to see if he can do a commission job for you too.
Now, let's take a closer look at his work.
Blood & Plunder's Native Warrior Unit
This unit comes in a clam-shell containing for miniatures. Each miniature is armed with a club, and in some cases – a metal knife too. Firelock Games describes the unit as follows on their Website…
Some Native warriors prefer the more reliable results of close combat. These typically emerge abruptly from ambuscade to conduct swift melee assaults before quickly fading back into the brush. The tribes of Darien and the Northeastern Woodlands are especially renowned for their skill in these tactics.
Who the leader of the unit is, doesn't really matter, but I would assign leadership to this guy below.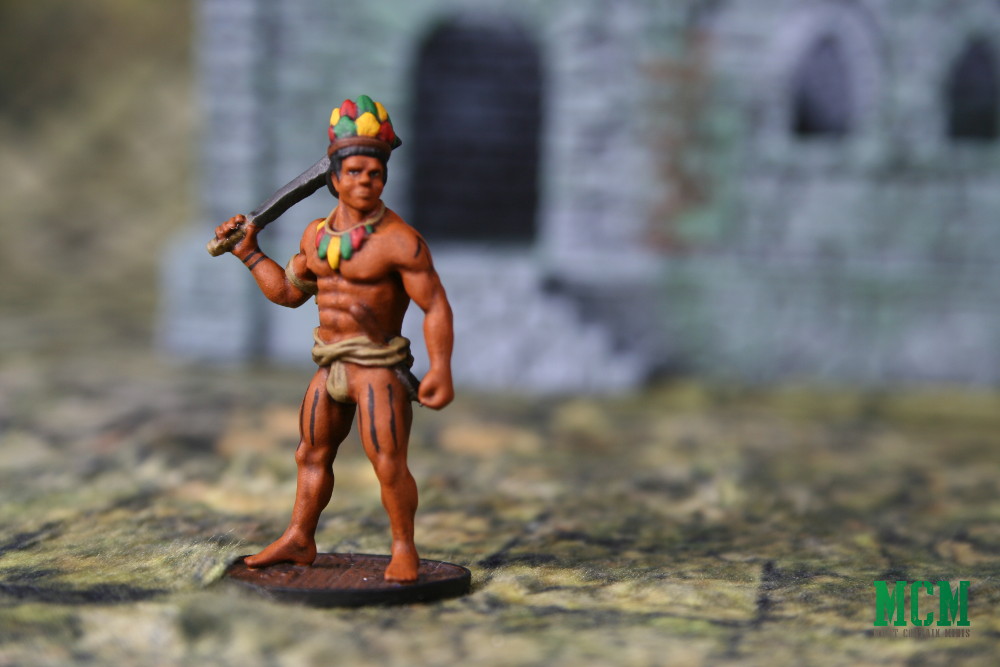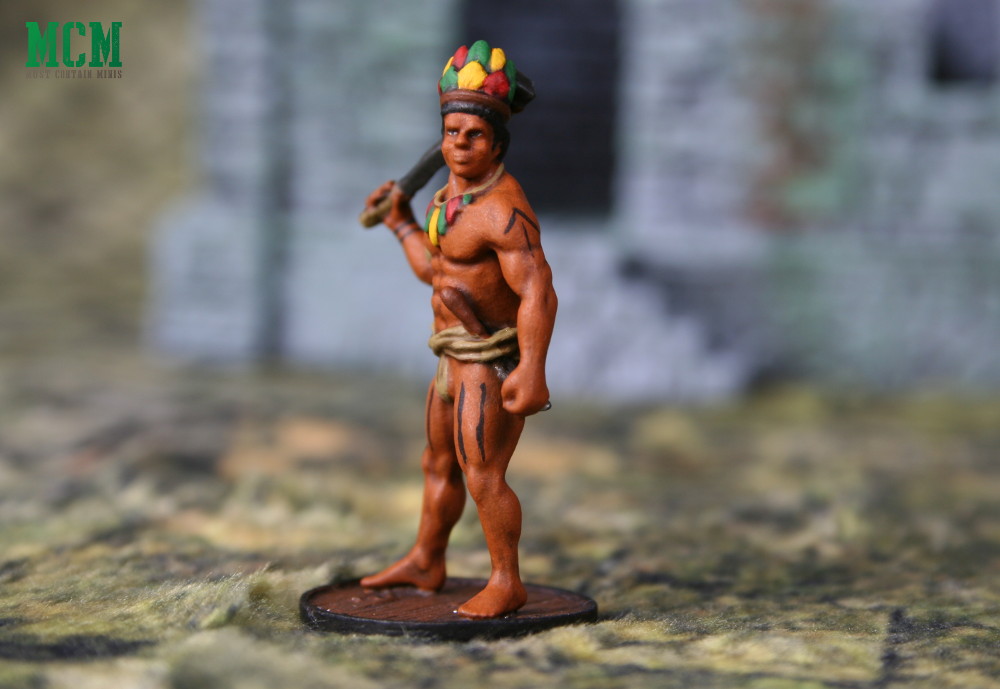 In fact, these miniatures are really nicely painted. Check out the eyes. I don't even bother with them. Andrew did a fantastic job on them getting all the details right.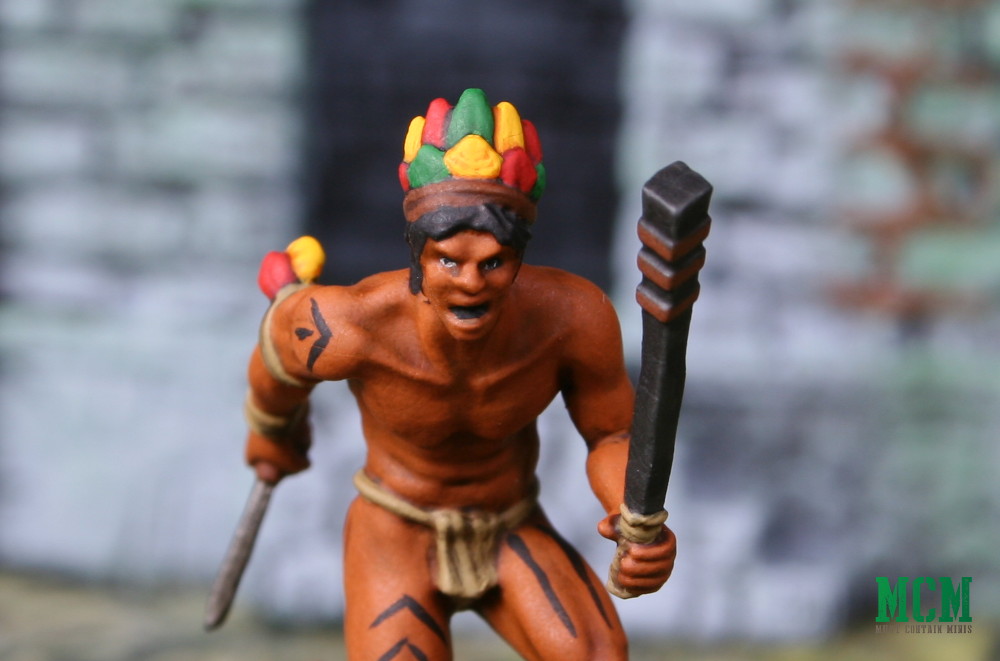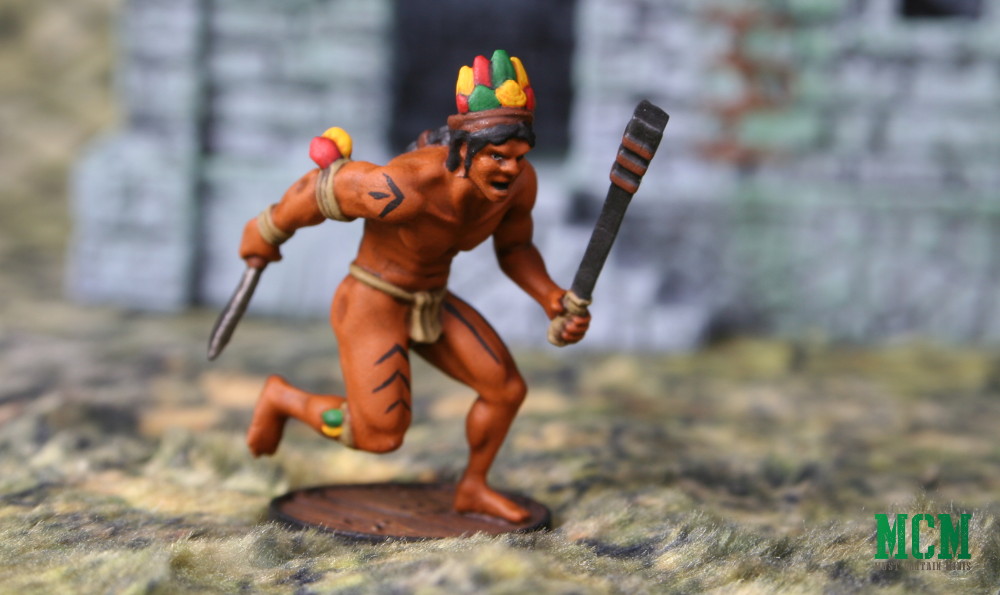 The next two miniatures are posed as though they are engaged in melee battle.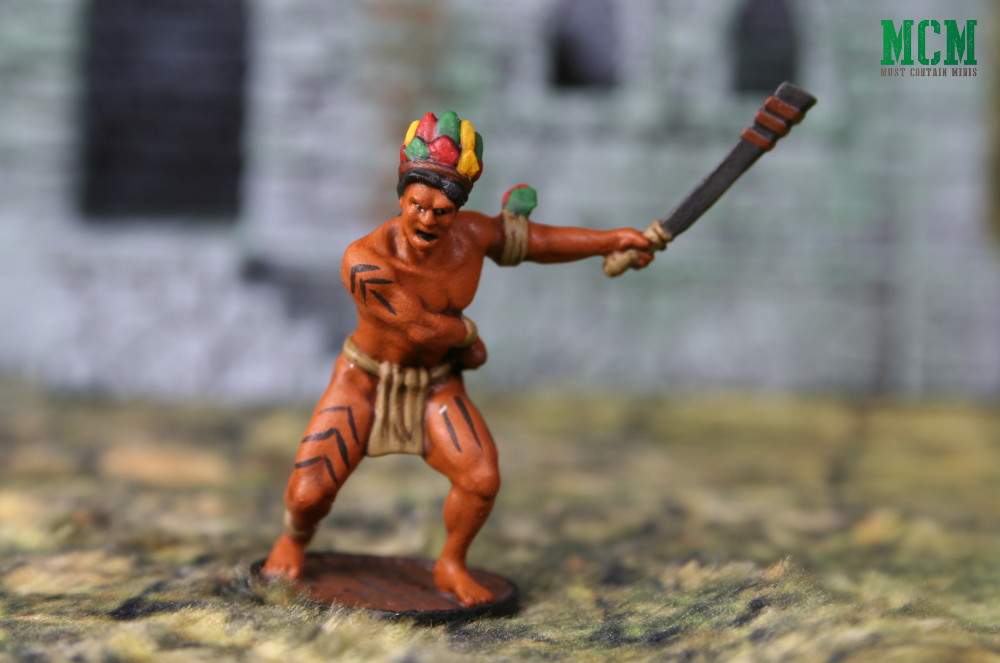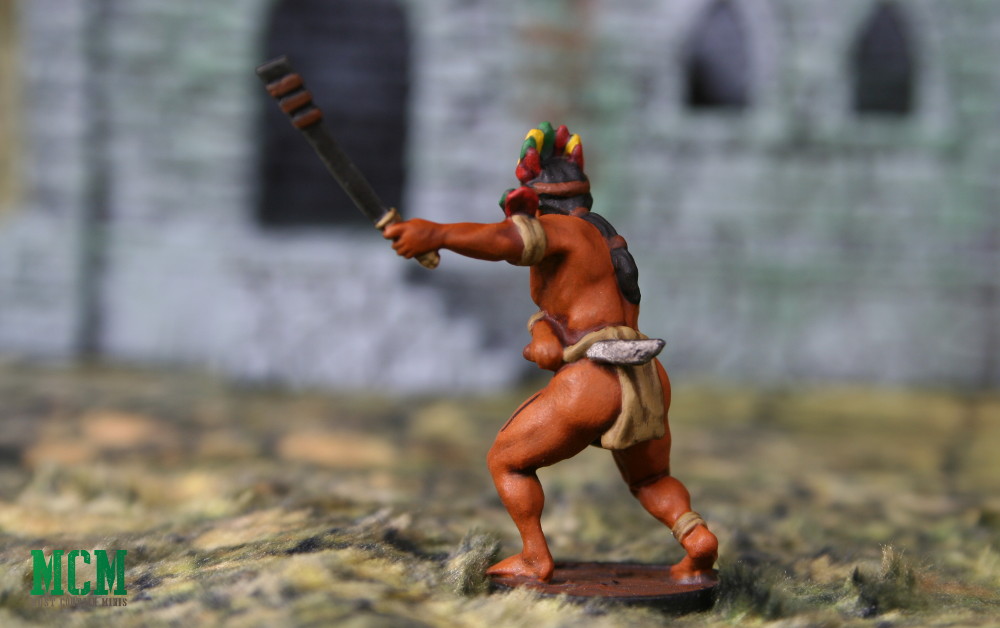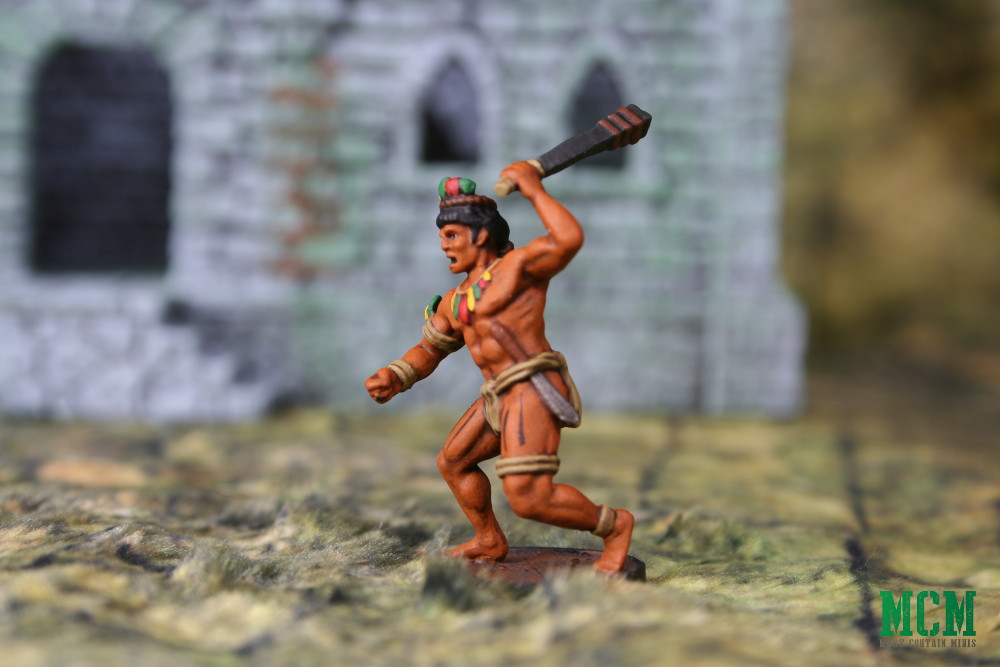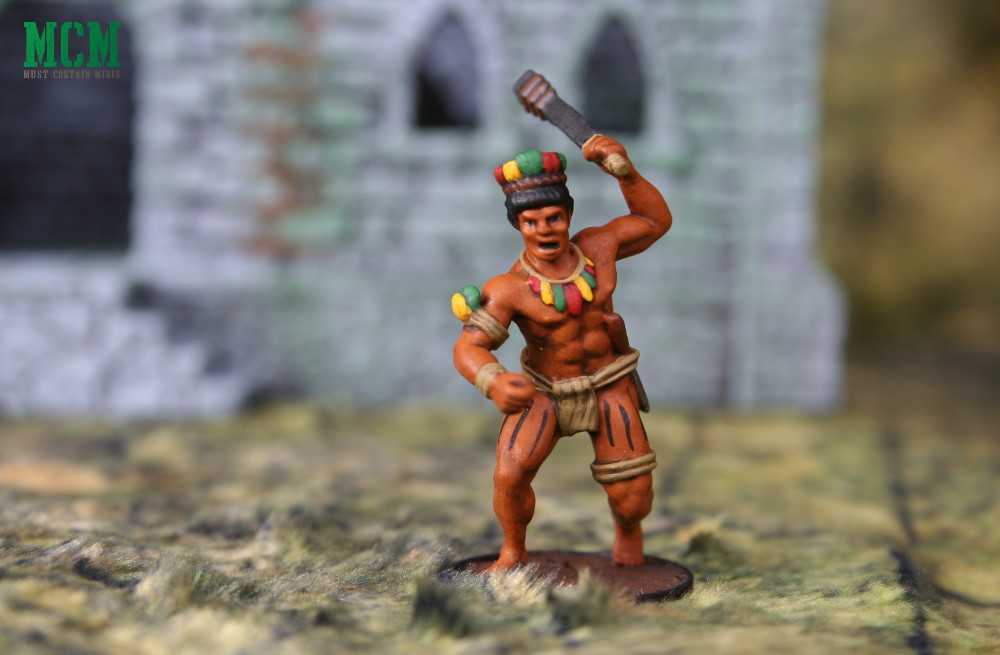 I have to say that I am very impressed with the look of these miniatures. They are nice models and Andrew did a fantastic job painting them up. What do you think?
Wrapping it up…
Hopefully you enjoyed this quick post looking at Blood & Plunder's Native Warrior Unit.
Special thanks goes out to Firelock Games for sending me these miniatures and to Andrew Cleassens, the Painting Sith on Instagram, for painting these up. I also want to put out a couple of other acknowledgements. I used a gaming mat by Cigar Box Battle for the backdrop of the photographs and the building in the background is a 3D prototype that I bought from Six Squared Studios.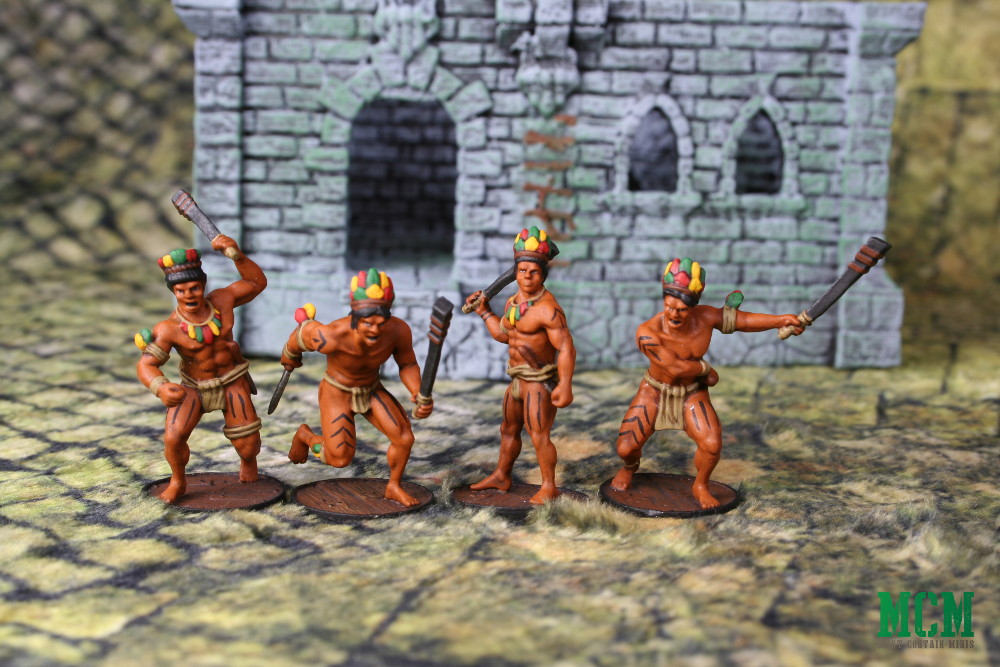 I met Andrew Claessens through the painters at Forbes Hobbies. If you like his work, you can reach him directly by email. I believe that he is selective on what jobs he takes as time is at a premium for him, but his work looks fantastic!
While Andrew painted the miniatures, all of the pictures in this post are by me, Jacob Stauttener.
Until next time, Happy Gaming Everyone!!!