In this post, we look at the Bone's version of the Frost Wyrm by Reaper Miniatures.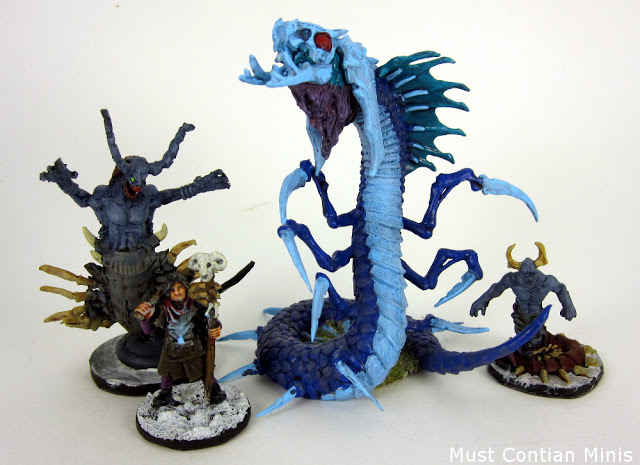 Above is a picture of my Frost Wyrm (by Reaper Miniatures) along with a Centipede Demon, Chilopendra Demon and Necromancer Apprentice by North Star Military Figures.
This sizable miniature is actually part of Reapers' Bones line made of a cheaper material than their metal miniatures. As a Bones Product, the Frost Wyrm retails for $14.99 (USD). It retails for $45.99 (USD) in metal. That is a huge difference in price and the key advantage of the Bones material! My friends at RAFM did even better for me, and sold me this model for a price below retail price at a local convention. This price was a show special and available to anyone that attended the event.  🙂
It took a while before this figure made it to the paint table. Despite the delay, I built the model and started using it as soon as I got it home. Below is a picture of it in use before being painted.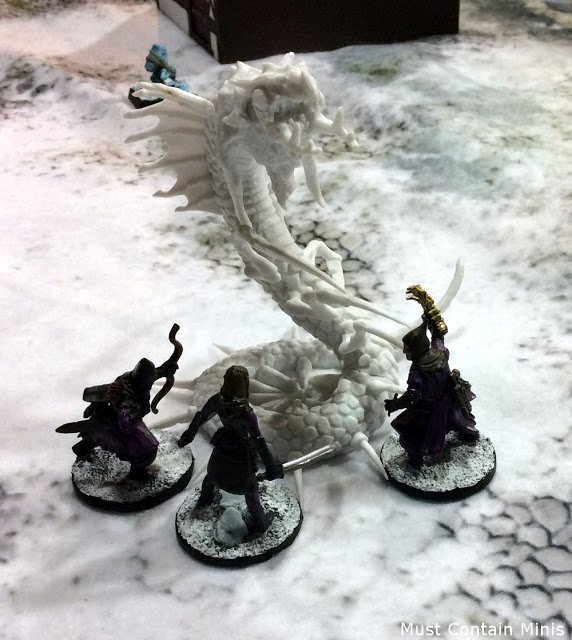 Here three of my Cultists take on the Frost Wyrm in a game of Frostgrave. The miniature is not yet painted and is easily lost in the snow.


When I finally got around to painting it, I took it to my Friendly Local Gaming Store – where there is a painting bar. There, Jeremy Cada (of Forbes Hobbies) and Dave Garbe (of Wargaming Tradecraft) gave me some painting tips and positive encouragement regarding this miniature.
One of the tips was to water down my washes when using them. I also learned some brush tips (such as how to transport them better, selecting the right brush for the right job, and keeping my brush wet while painting). I know the tips sound simple, but I am self taught and have been slathering excessive amounts of wash on my miniatures for years! This help is much appreciated.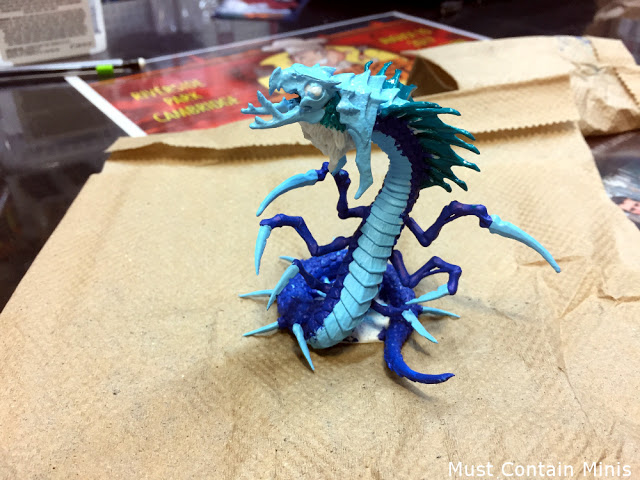 A picture of my Frost Wyrm during the base painting process.
And the finished model…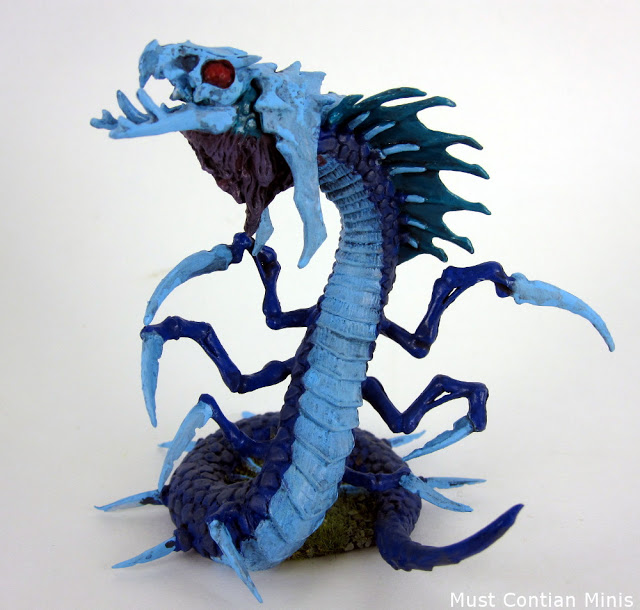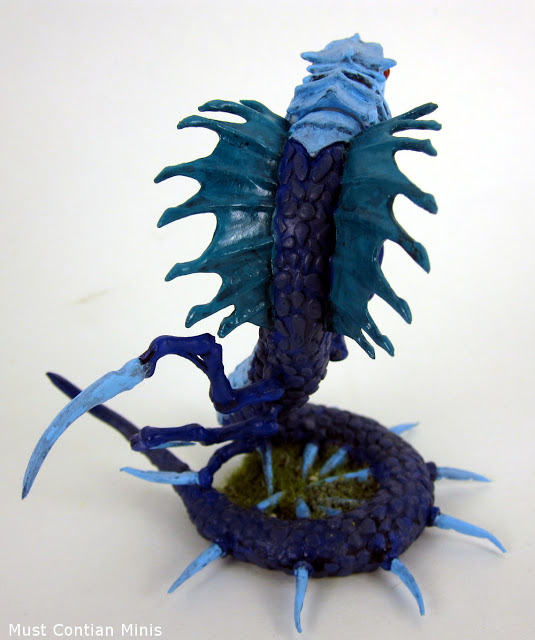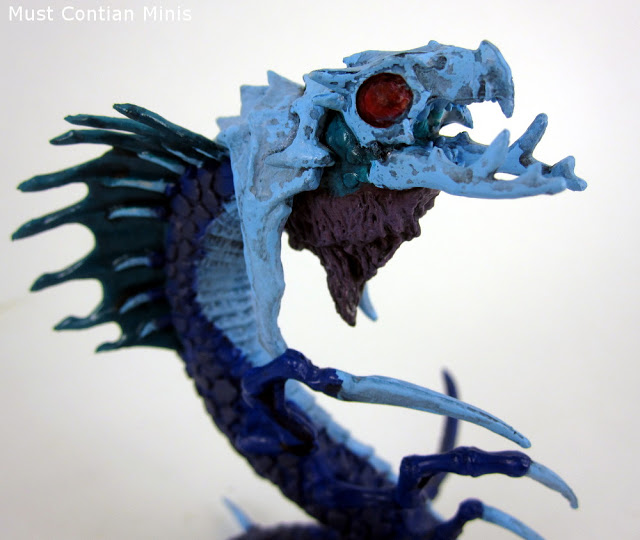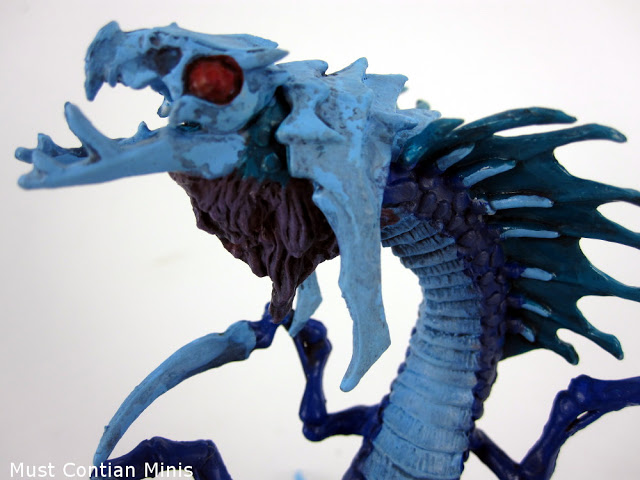 Overall, a very nice miniature!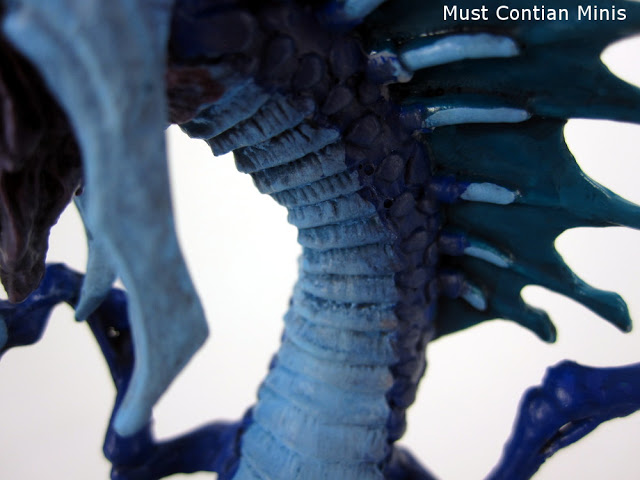 I absolutely love how the scales turned out under the neck. Not bad at all!!!
Now, I would like to draw my readers attention to the small holes on the model near the middle of the picture. A slight imperfection that isn't too noticeable from a distance but very noticeable in this picture.
The model itself was enjoyable to work with. I had to do the hot water trick (just like the last time when I reviewed a Reaper Bones product) to fix some of the claws. I also noticed two small holes in the neck after I painted the model (pictured above). If I had of noticed earlier, I could have filled that with something. Fortunately, the blemishes are not really noticeable at a Tables' Length (which is the quality level I usually aim for anyhow).
One of the things that I still prefer about the metal miniatures over the Bones ones is that the metal ones do not flex. The arms on the Wyrm moved around while I dry brushed the figure. I found myself holding the arms (claws) down with one hand while dry brushing with the other.
For the price point though, my complaints about the model are minor. I really like this miniature and it looks awesome on the table. I plan to use this figure as one of the larger monsters on my Frostgrave table at Broadsword 4 (this Saturday, August 26, 2017).
Now, let's take a look at how the Frost Wyrm measures up to other miniatures.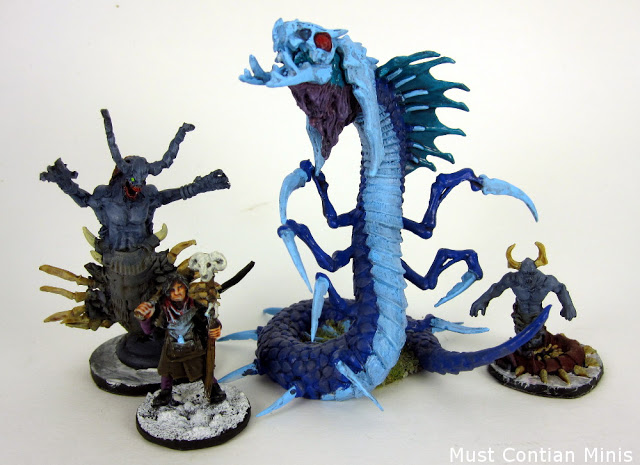 This is the same picture that I used to open the article. Here we have three miniatures from North Star Military Figures and the Reaper Bones' Frost Wyrm.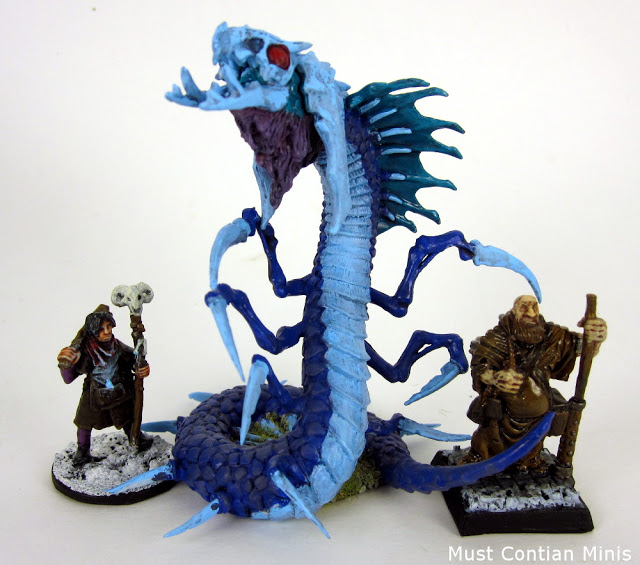 Here we have a 28mm Frostgrave Apprentice, a 32mm Reaper Miniature and the Frost Wyrm. This is a large sized creature.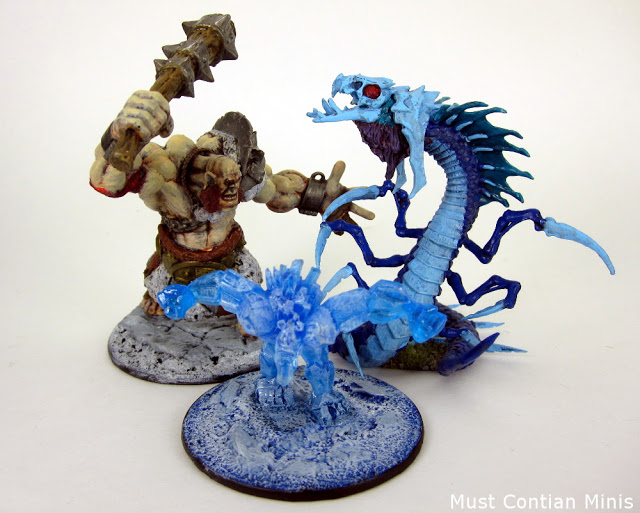 The Wyrm is even taller than Reaper's Hill Giant and Crystal Golem.
Overall, the Frost Wyrm is a very nice miniature by Reaper Miniatures. I will be using this figure in Frostgrave and plan to also use it in the upcoming Frostgrave: Ghost Archipelago (providing that there is a suitable monster for it to represent). While I plan to use this creature for Frostgrave, I could easily see people using this miniature for Role Playing Games (such as Dungeons and Dragons) and other miniature wargames (such as Dragon Rampant).
Until next time, Happy Gaming Everyone!!!
[amazon_link asins='B00FIAFGWO,B004FOPX5Y' template='ProductCarousel' store='mustcontainmi-20′ marketplace='US' link_id='deced7ed-a750-11e8-9d23-57e302505eaa']
Must Contain Minis has a sales affiliate relationship with DriveThruRPG and the Wargame Vault. If you make a purchase from either of those sites after using one of the links on this site, a portion of the sales goes to supporting Must Contain Minis. 
Must Contain Minis is also a participant in the Amazon Services LLC Associates Program, an affiliate advertising program designed to provide a means for sites to earn advertising fees by advertising and linking to Amazon.