This past weekend, I attended Council Fires 2016, a gaming convention in Brantford, Ontario, Canada. What an awesome event! I would guess that there were over 100 people in attendance and I really liked the venue that they chose. This post is a summary of that event with plenty of pictures of the hosted gaming tables.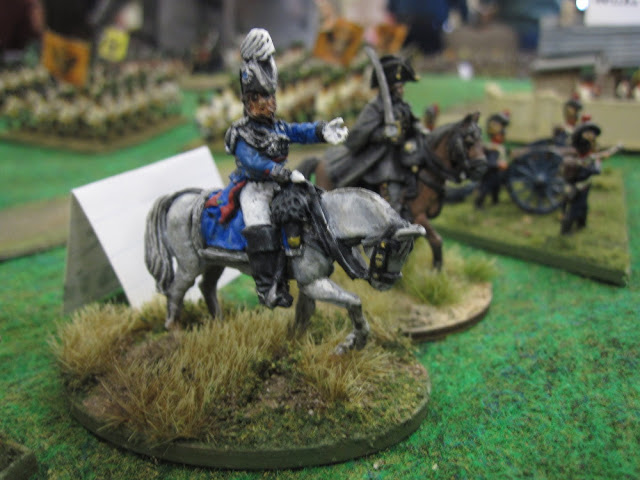 "Welcome to a fantastic event. We have many tables set up and ready to go with games of all sorts. There is Fantasy over there, Sci-fi over there and over here, we have plenty of historical games. Please, be my guest."
A Free Gift!
At the door, all attendees were given a free miniature by RAFM Miniatures. This was a nice touch and I really appreciated that the event planners were able to give everyone a free mini. A couple of years ago, all attendees to Council Fires got a free mini from RAFM's Norse Saga line. This year, everyone got a miniature from their Airship Pirates line. I got the Kristina Erickson miniature, and I will be using her in Osprey's upcoming game, Rogue Stars. I could also imagine this figure being used in any number of games.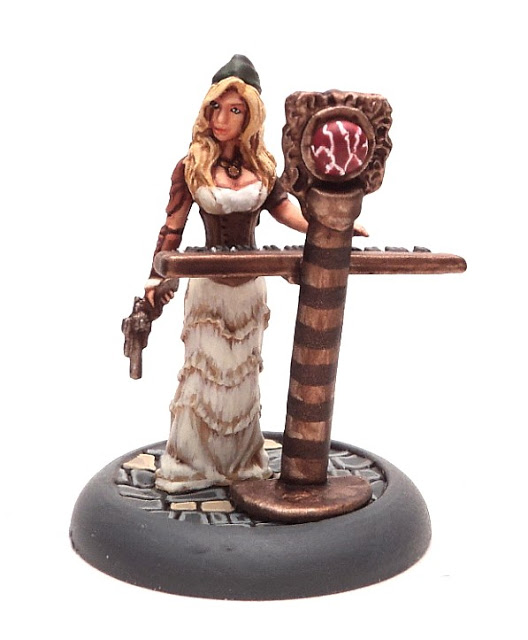 The miniature pictured above is the figure I received just for attending the show. Of course, mine came unpainted and did not have the keyboard. Still, I am very happy with what I got. They did not have to do this and the fact that they did adds a nice touch to the atmosphere of the event. I will make use of the figure in Rogue Stars, but I could imagine her being used for a variety of games. The image above is from RAFM's Online Store and is listed as "Kristina Erickson."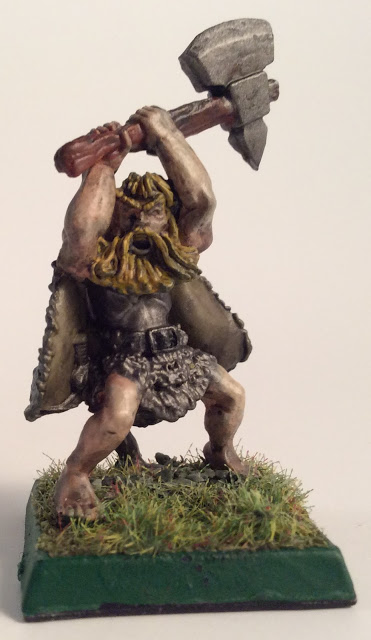 This miniature is the figure I received a few years ago when I last attended Council Fires. I painted him up myself and plan to use him in Frostgrave. He could also be of use if I ever get into SAGA.
All the Games!
Inside the venue, there were participation games of all sorts (from Fantasy and Sci-Fi to Historical). Participation games and vendors tend to be my favourite part of local gaming conventions. I really like that people volunteer at these events to run games so that others may try out other rule-sets without having to buy into the game. It is a great way to see what one likes on the market. Below are some pictures of the gaming tables at Council Fires.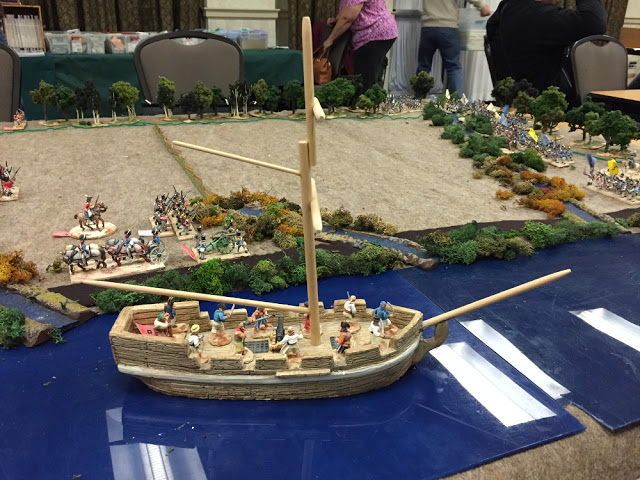 This game looked really neat, but I have no idea of its name. Great table. The fully crewed ship was especially impressive.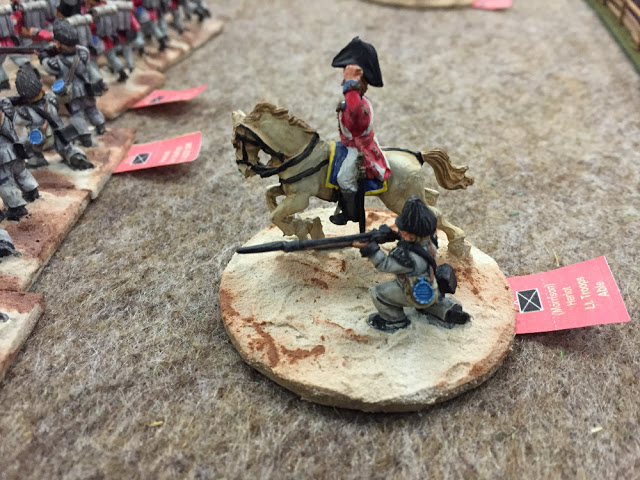 A Commander from the game above. I like that the Game Master went through the trouble of tagging all his minis to help players identify what is what. The old school boardgamer in my loves that touch.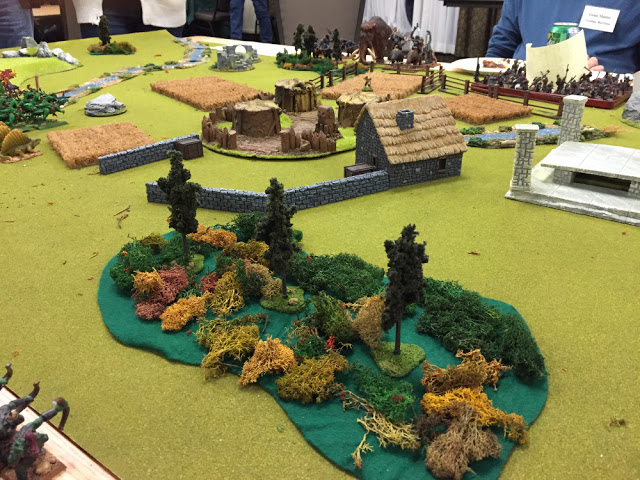 This table ran a game of Dragon Rampant by Osprey Publishing. I actually partook in this game, so a Battle Report post featuring my initial thoughts on the system will go up in the future.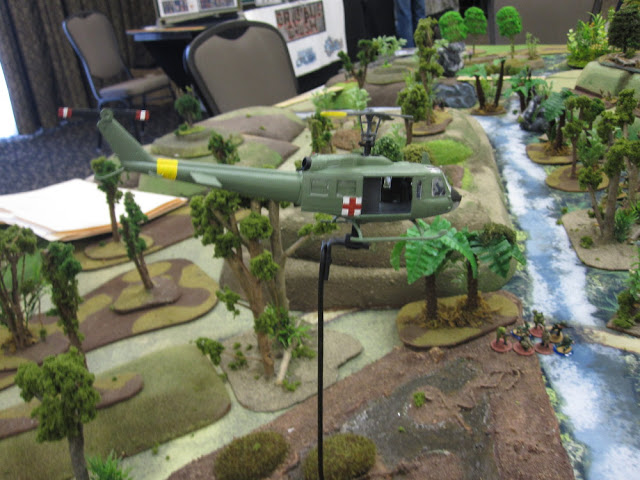 Charlie Company also made an appearance. Charlie Company is a great game that I played at the Summer Over The Top 2016 Gaming Convention earlier this year. I wrote a Battle Report about that play through and shared my thoughts on the system. While I did not get to play the game this time, it was great to see it on the table at Council Fires.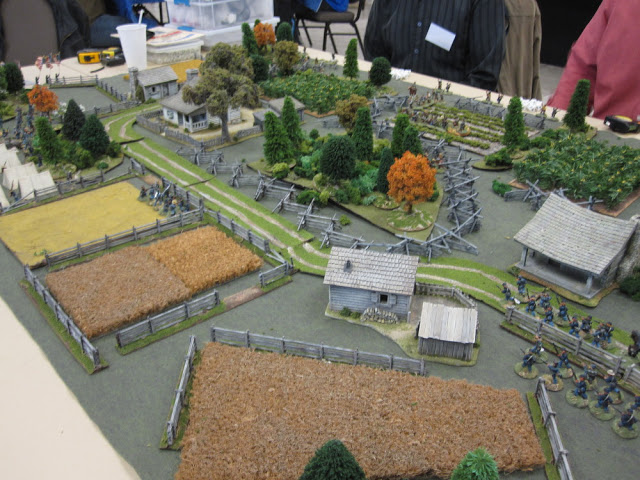 This table looked absolutely fantastic. I did not get to play, but it looked to be an American Civil War Game.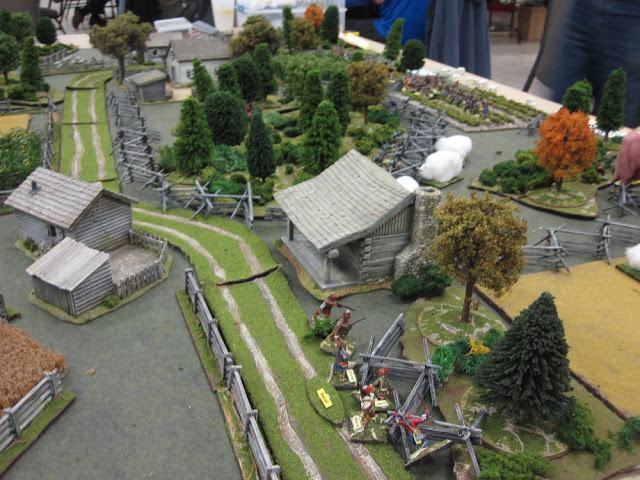 I simply love the fences that they built.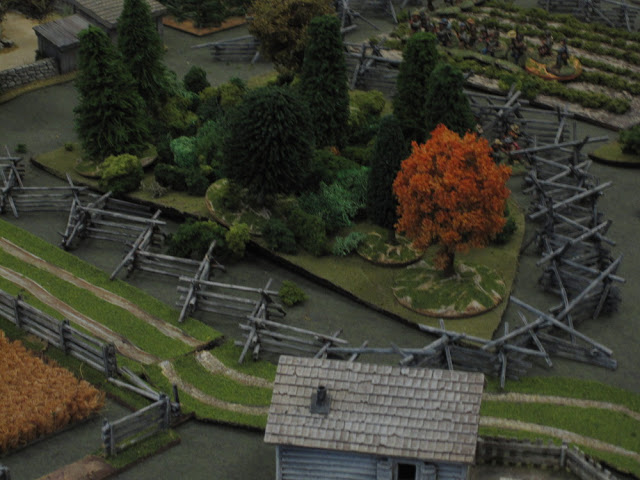 The detail on this table is superb. To whomever took all the effort to build this, amazing work!!!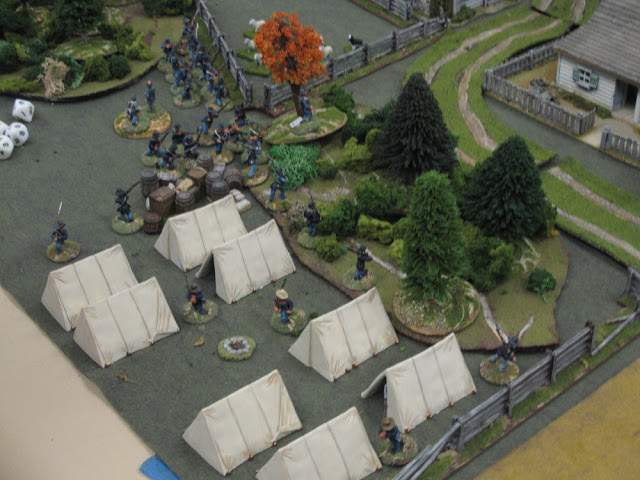 Just breathtaking!!! This would have been a fun game to try.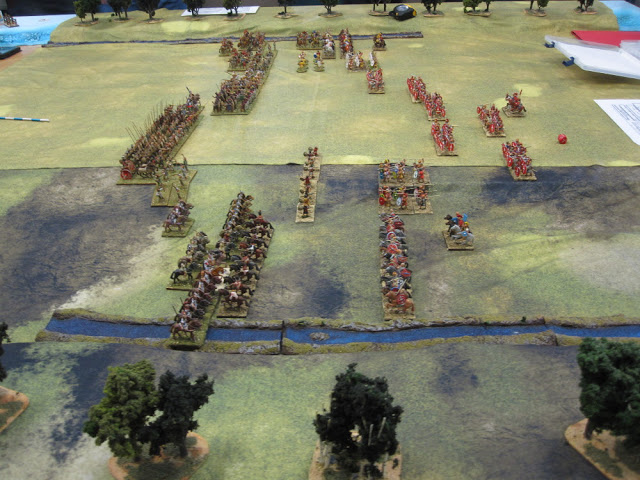 This table was humongous!!! I took a picture of it just because I was impressed by the sheer size of the gaming surface.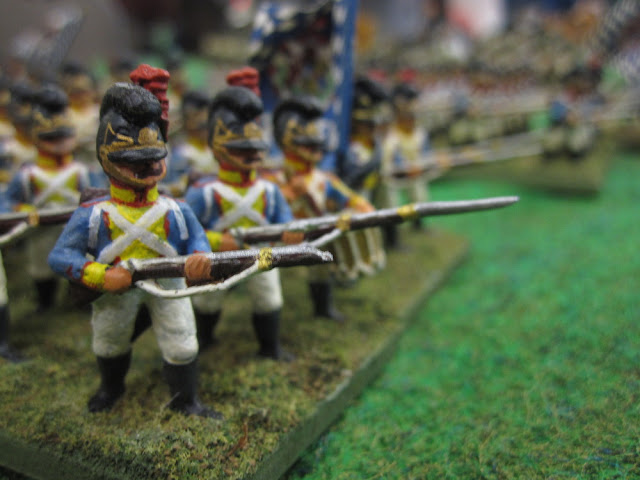 Another Massive game underway. Figured I would get a close shot in before showing off the table.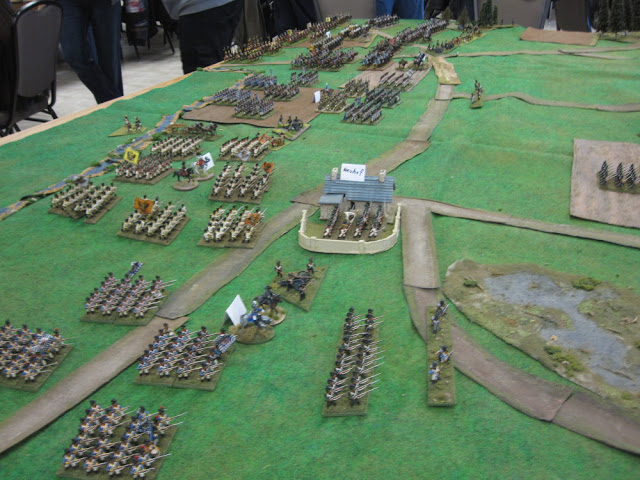 Look at all these minis painted to the same quality as the photo above. Simply fantastic!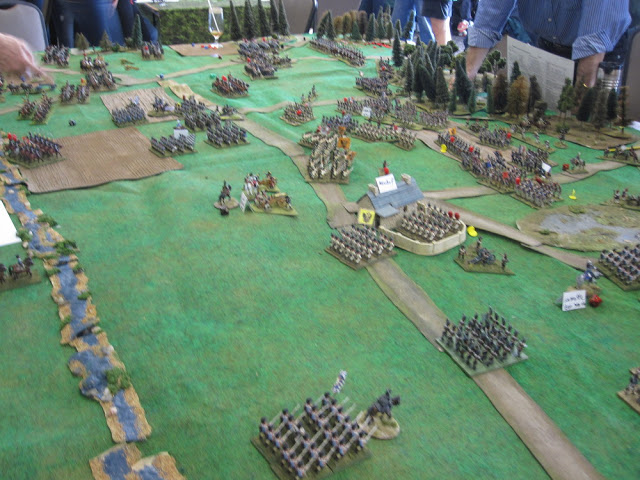 I do apologize that these images are a little blurry. I was experimenting with a different camera. For general shots, my phone unfortunately takes better pictures. I still wanted to include this picture to show off the scale of the table.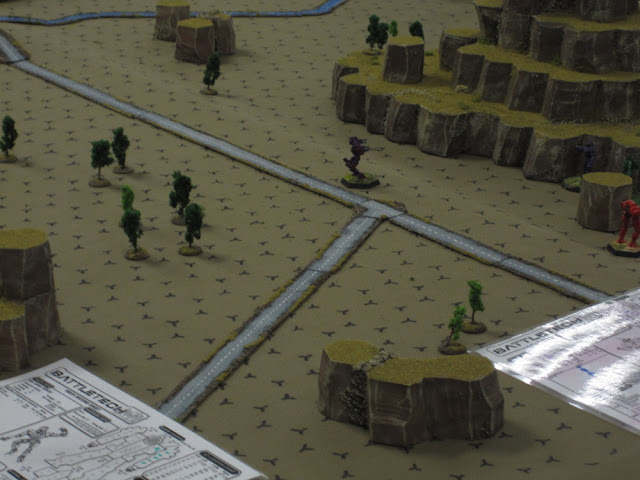 Battle Tech also made an appearance at the show. I've played this game a number of times and it tends to go very well in groups of people where each person controls one mech.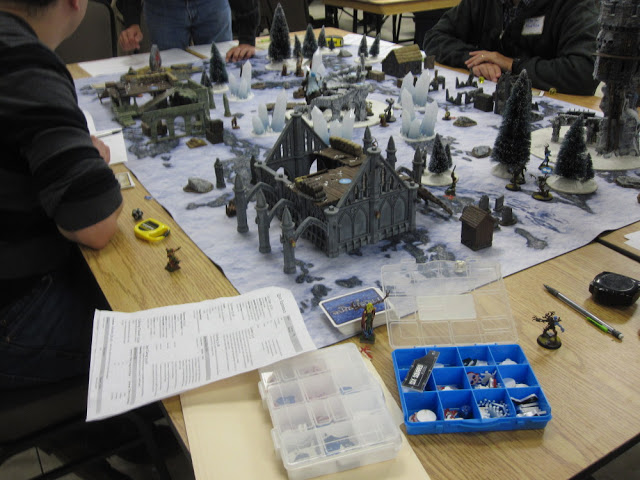 The guys from Six Squared Studios ran Frostgrave again at this convention. They do a wonderful job and I happened to play Frostgrave with them at Over the Top earlier in the year. If you wish, you can check out my previous Battle Report about that game. Now, I did notice that the game was being ran with different miniatures this time. This game was sponsored by both Six Squared Studios and RAFM Miniatures. Players were rewarded with Reaper Bones miniatures for participating. How cool is that!!!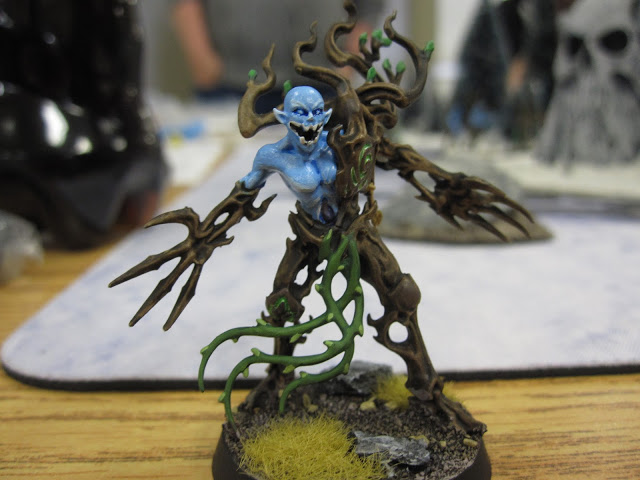 Although the camera I was using was not taking great table pictures, it did work very well at a macro level. Above is a picture of one of the figures being used for Frostgrave. What a great paint job!
There were many more games running, but these are the only ones of which I got pictures. On top of the participation games, three tournaments took place. The tournaments were for Warmachine / Hordes, Flames of War and Bolt Action. I did not get any pictures of the Privateer Press tournament, but I did get pictures of the Flames of War and Bolt Action tables.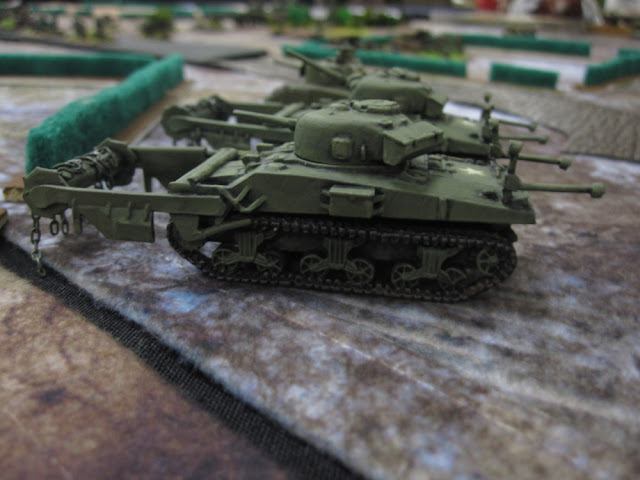 A platoon of Sherman Crabs in Flames of War.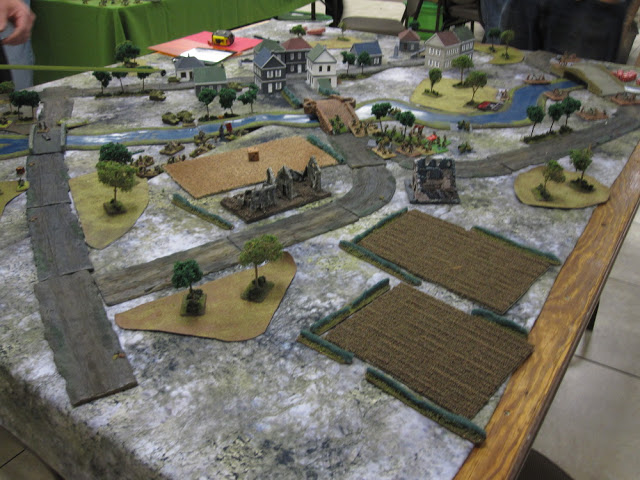 A Flames of War Table.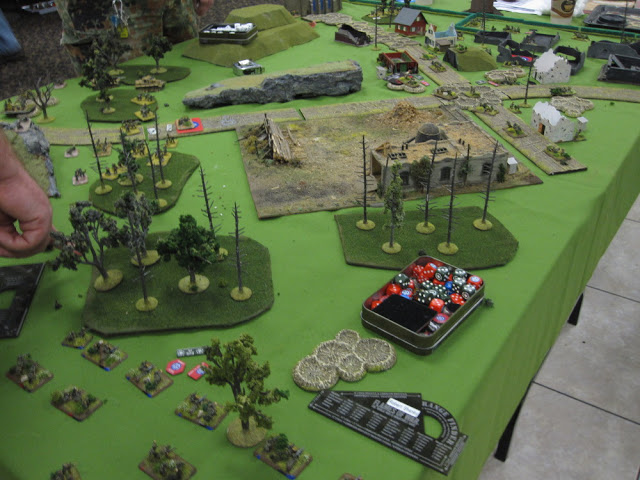 Another Flames of War Table.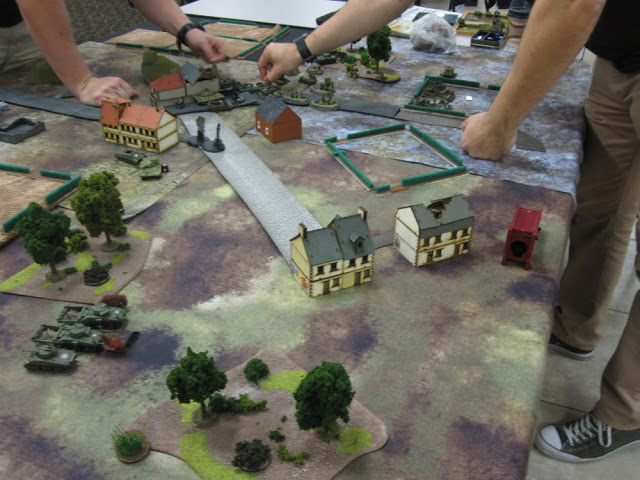 More Flames of War.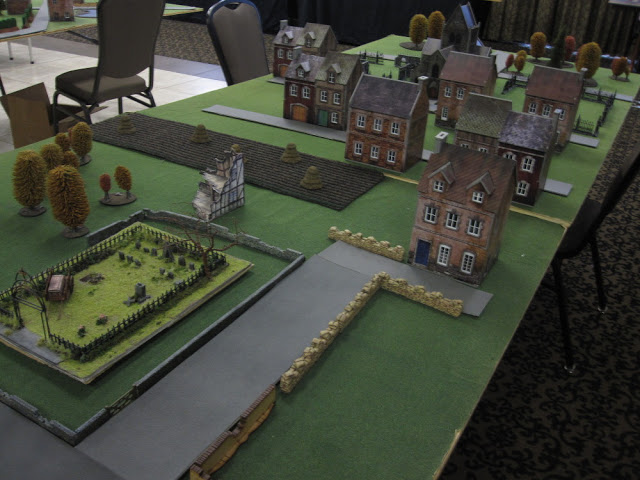 One of the four Bolt Action Tables. Since I partook in this tournament, more posts about this competition will go up on this blog at a later time.
Wrapping it up…
While I was visiting vendors and waiting for the Bolt Action tournament to start, I met Youtuber Teri Litorco of That Teri Girl and Geek and Sundry. Now, that was super cool to bump into someone that I recognize from the Youtube. She was very personable and we talked a little bit about blogging, vlogging and games. Currently, she is into Malifaux, Privateer Press and loves Strange Aeons, but I got the feeling from chatting with her that she just loves games in general. Recently, she published a book called The Civilized Guide to Tabletop Gaming.The Flames of War and Bolt Action tournaments were sponsored by Forbes Hobbies while the Warmachine / Hordes Tournament was sponsored by Privateer Press. Of course in addition to all of the games running at the event, there were also an number of excellent vendors on site. J&M Miniatures, Crucible Crush, RAFM Miniatures, Six Squared Studios and Tanks an Trees Custom Terrain by James (Jim) Whyte were all vendors that took a few moments to chat with me during their busy day. There were also a few more vendors that I did not manage to get to including one company that specialized in Steam Punk Miniatures.
It was very exciting to meet Teri, but it was also great to see and chat to all of the people that keep coming to these events. Everyone that I chatted to at Council Fires was very friendly and inviting. To end off, I would like to thank the organizers, volunteers, sponsors and everyone else that was involved in executing this fabulous event. I had a fantastic time!
Until next time, Happy Gaming Everyone!!!