One of the mandates of Must Contain Minis is to introduce its readers to games out on the market. Today's post is exactly that. Today, we will be taking a brief look at a game called Flint and Feather by Crucible Crush.
All of the images in this post are from Crucible Crush's Facebook Page, Blog, Kickstarter Page and Website. These images are used with their permission.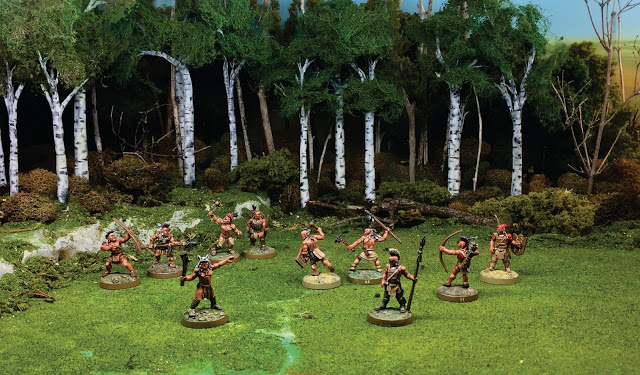 The miniatures in this game are simply astounding. Bob Murch did a fantastic job sculpting these models.
The game itself is about Native North America conflicts around the Great Lakes before the arrival of settlers. Some of the history this game is set in was actually taught to me in grade-school as I live in the Great Lakes region. Warbands typically consist of 6 to 12 models and the models for this game are beautiful.
Check out these images of the two warband nations from their website.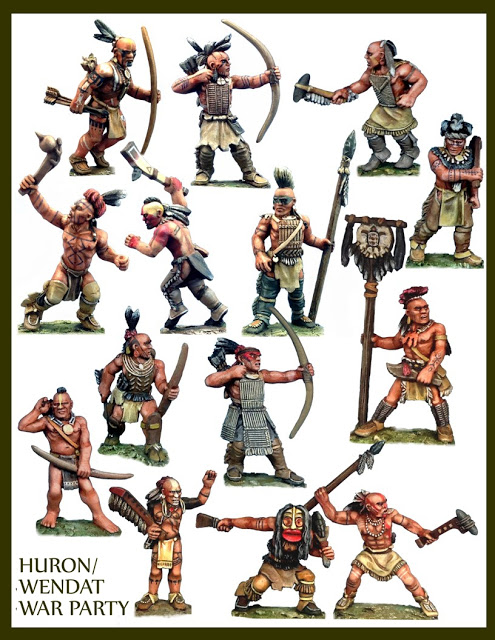 These miniatures were sculpted by Bob Murch of Pulp Figures and sold by Crucible Crush.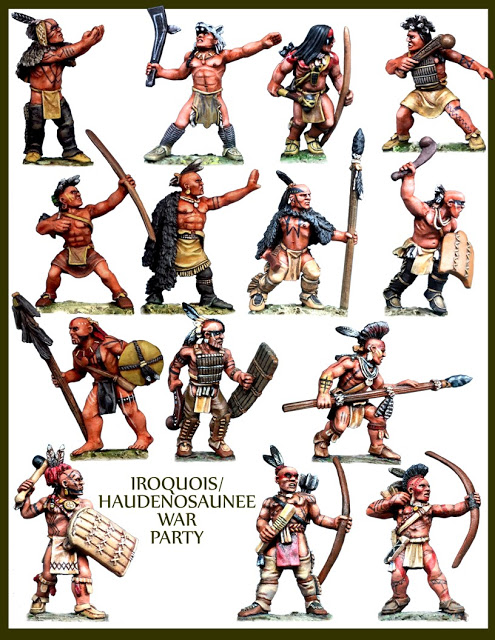 All of the figures look great.
The Beta test rules themselves are currently available on Crucible Crush's Website in a PDF format along with a painting guide and historical reference sheet. Final rules for the game should be published soon.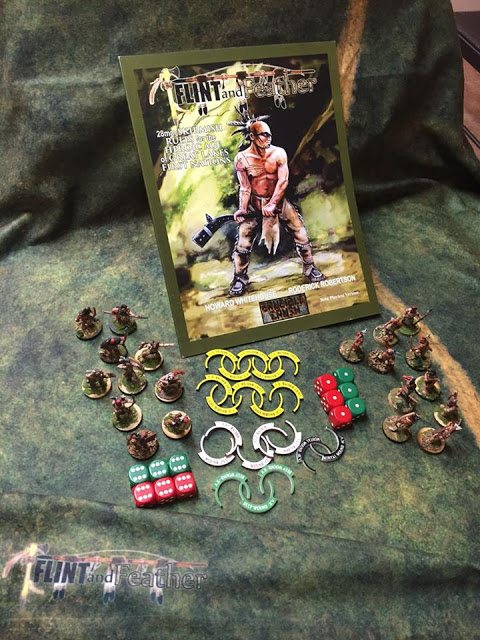 The rules on display on their officially licenced Cigar Box Battle mat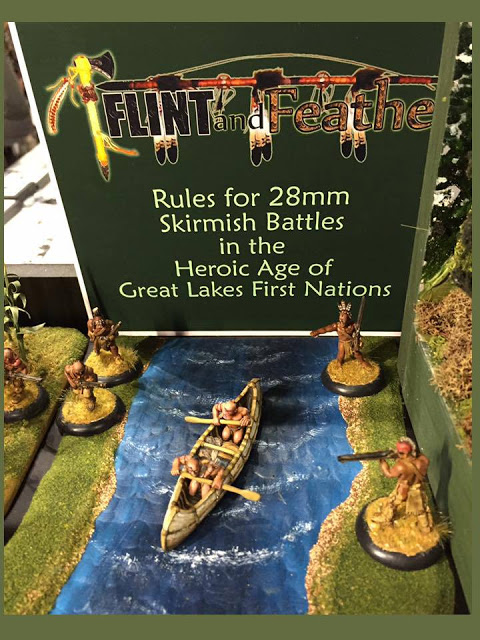 Another display for Flint and Feather, this time at a convention earlier in the game's development.
If you zoom in on the rules display picture on the gaming mat, you may have noticed that the authors of this rulebook are Howard Whitehouse and Roderick Robertson. That is the same pair that wrote Mad Dogs with Guns and while I browsed Flint and Feather's Beta rules, I recognized some of the mechanics from the other book. That said, there are also a number of changes that I am not going to get into in this post.
Personally, I even gave Flint and Feather a try back in 2015 and enjoyed the game play experience. Now, the game that I participated in was a playtest of the ruleset, so the rules will not be exactly the same as when I tried the game. One neat concept in the game that appears to still be there is that players assign "moves" to warriors with their weapons and what "moves" are used will influence the combat die rolls. This is kind of a neat thing to do in a Skirmish level game.
If you want to read more about the game that I participated in, check out Flint and Feather's Blog.


The game itself looks pretty with really nice miniatures. They even have canoes that you can buy and use in some of the missions. How cool is that?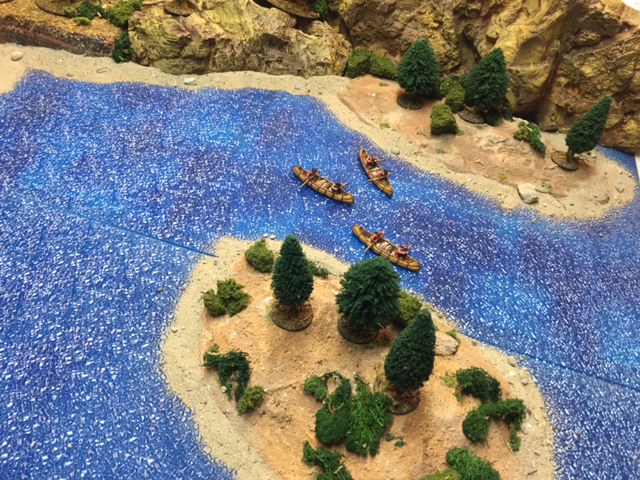 I would love to play on that table. Gorgeous!!!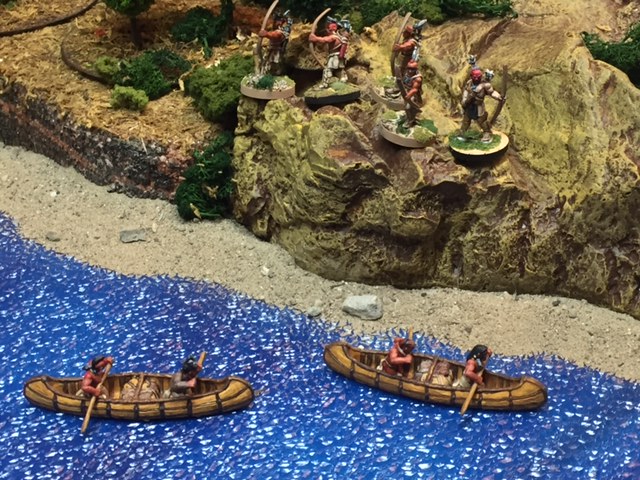 A couple of canoers get ambushed by archers on shore. Paddle Faster!!!
Crucible Crush is now working on their second wave of items from the Kickstarter. The items include a beautiful Cigar Box Battle Mat, more miniatures, markers and cards.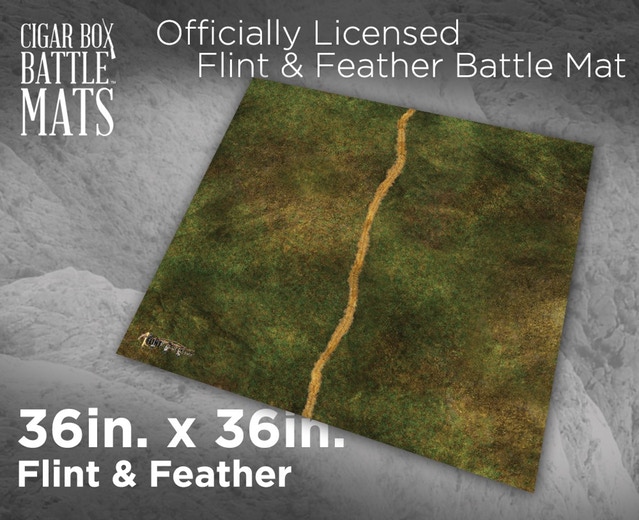 Above is the Flint and Feather Officially Licensed Cigar Box Battle Mat. It looks beautiful. If you want to know more about my thoughts on Cigar Box Battle Mats, check out my Review. The short of that review is that they are awesome.  🙂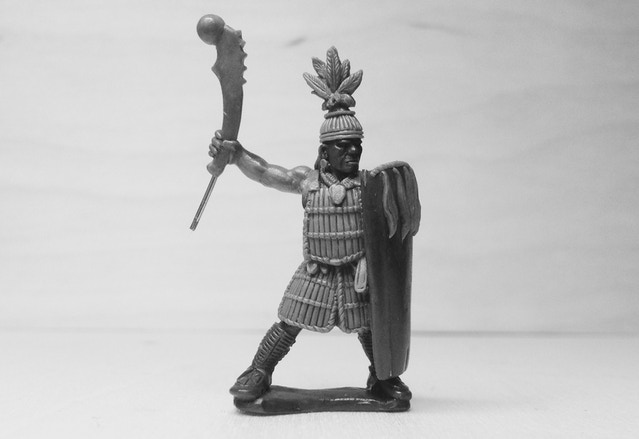 Check out this Warrior in Wooden Armour!!! This is one of the miniature units still in the works. He is very Cool!!
The full rulebook itself is still in the works and still in the editing process. For now, the Beta rules are available on the website. I am looking forward to this book's release.
Finally, the guys from Crucible Crush will be sharing a booth with Pulp Figures at Historicon this week. If you make it to that convention, be sure to look the guys up and chat to them about their game.
Until next time, Happy Gaming Everyone!!!
[amazon_link asins='0850459990,1849084599,B07D1742DG,0850450497,0850456088,184603065X,1472808843,1472820185′ template='ProductCarousel' store='mustcontainmi-20′ marketplace='US' link_id='0c36d0ec-b0b8-11e8-b8f9-8f3270029bda']