Today I am looking at terrain for the game board. Specifically, I will be comparing and contrasting products from Plasticraft Games, 4Ground, Michael's Crafts Stores and my Own Scratch Built pieces. When I was researching what to buy for my table, I was disappointed that there were very few reviews of these products online. Since I wanted to see reviews and pictures of these products before buying, I figured that I would write my own in hopes that it will help someone else in the same situation.
All of the products below have removable roofs and accessible floors so that miniatures can actually be placed inside the buildings. I bought these buildings specifically for Bolt Action, but have used them for other games as well. Below is my collection so far.

From Left to Right… Two Scratch Built Buildings, two Bird Houses from Michaels (a Canadian Craft Store), two Houses by PlastCraft Games, and a House by 4Ground.
If you can afford it, the 4Ground stuff is the best that I have seen on the market. The kits look fantastic and go together like true model kits. It took a lot of time to build my 4Ground house and furniture, but the results are amazing. Pictures are below. I bought the house from J&M Miniatures several months ago for around $55 Canadian. The house itself is called "Detached House 2" in 4Ground's online Catalog.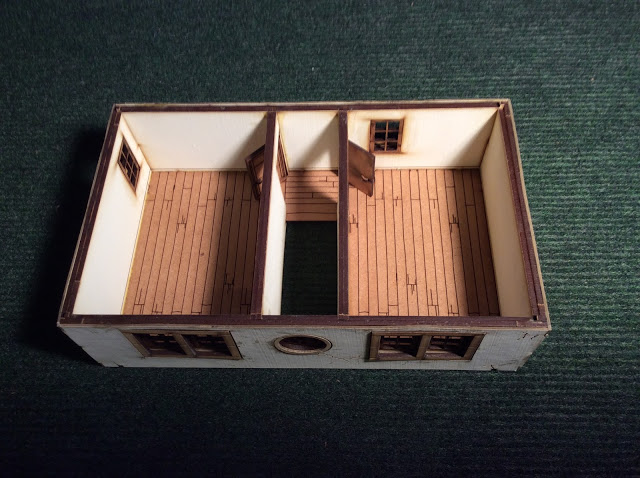 All the doors actually function in this kit.
Since 4Ground is the Cadillac of miniature houses, I also bought some of their furniture to put in the house. This stuff looks superb.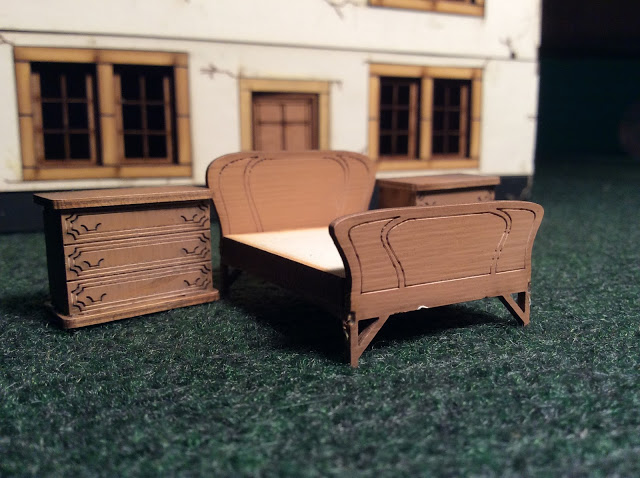 Bed and night stands.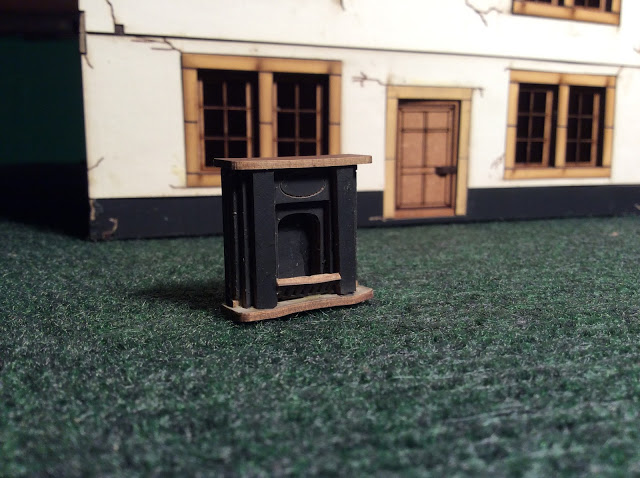 A fireplace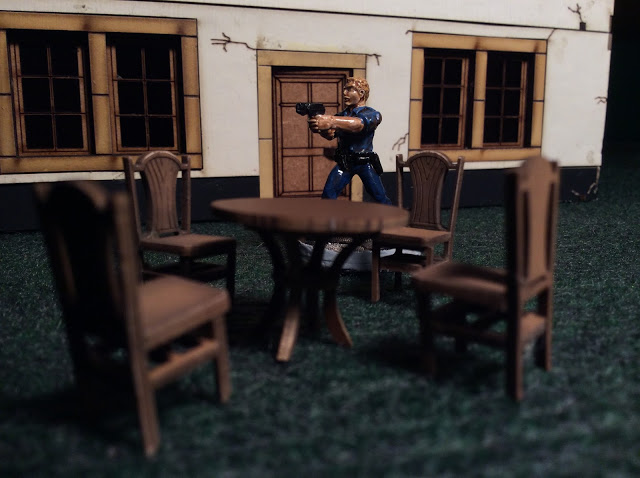 Kitchen table set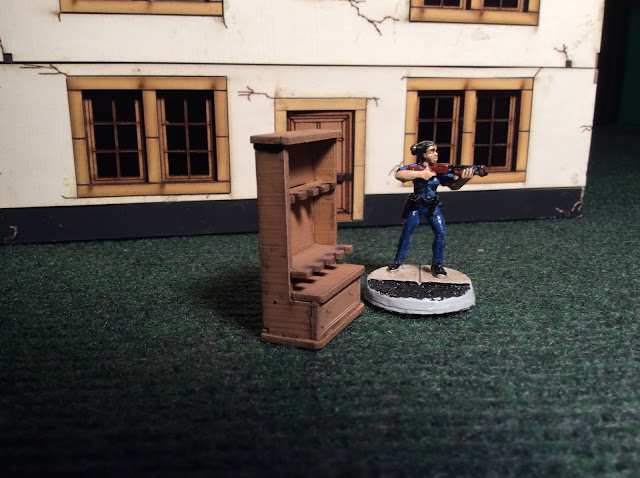 The gun-rack
As you can tell, this stuff is awesome. It costs a premium, but if you can afford it, nothing looks better.
For those of us without an infinite amount of money to spend on our hobby, PlastCraft Games offers up great looking kits at an affordable price. I bought two of their buildings and am very happy with their products. Each building took about an hour to build. That is much quicker than the two weeks that it took me to build the 4Ground model. Part of the reason maybe the adhesive that you use. For 4Ground, best results are achieved with carpenters glue. For PlastCraft, best results are achieved by use of Super Glue. This means that you can put together the PlastCraft buildings without waiting long amounts of time for the glue to dry.
The house below is their "Town House" from their EWAR 28mm colorED range. This model cost me around $30 Canadian from Forbes Hobbies in Cambridge, Ontario, Canada.
Now let's check out the interiors. Levels two and three are available by removing a roof tile.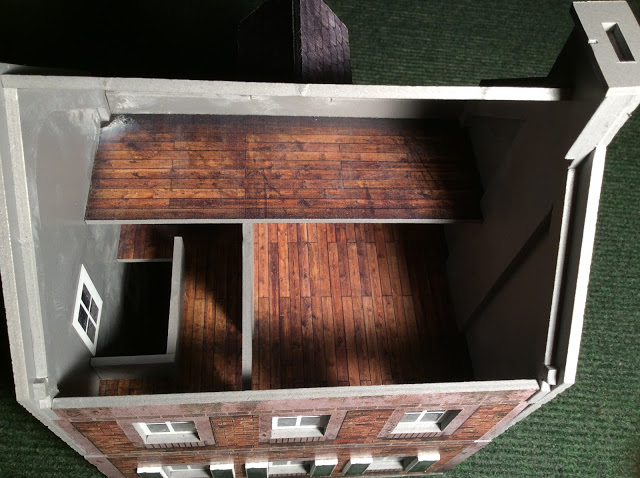 Some nice looking interior details here.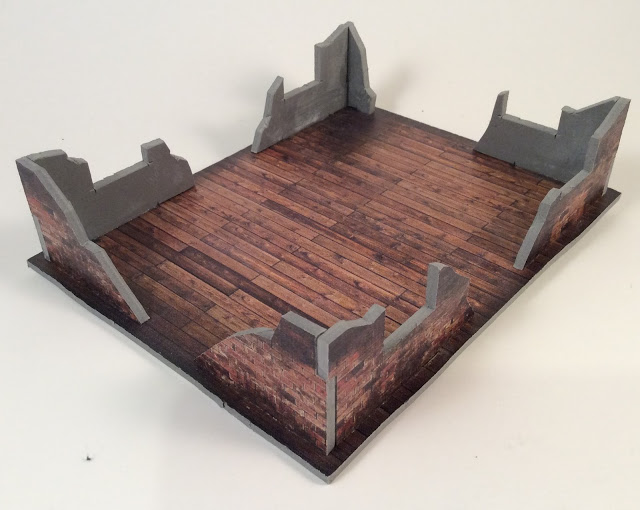 The gound floor is accessible by removing the body of the house. The minis can then go in and the house goes back on top without issue. If you are playing a game with destructible terrain (such as bolt action), you can remove the top and leave this base as a set of ruins. I am also thinking about using these ruins for Frostgrave.
The other building that I bought by PlastCraft Games is their "Grocery" store from the same line of products. Just like the building above, the interior is accessible for the top floor by removing the roof and for the ground floor by removing the building off of the base. The base doubles as ruins. This building cost me around $25 Canadian, also from Forbes Hobbies.
For the price-point and how good these buildings look, I think that these are the best "value" product currently out there. I am very happy with my PlastCraft Buildings.
Before I bought my PlastCraft and 4Ground Buildings, I experimented with even cheaper "value" terrain. The following two pieces are actually Bird Houses with their roofs cut to be removable. They are from Michaels, a Craft Store, and cost me $8 and $6 after using a 50% off coupon.
Below is the $8 house. I stained it with a dark wood stain and then put some basing material around its edges. The roof was painted red and then stained as well. I think it looks okay for $8, but not nearly as good as the models by 4Ground or PlastCraft Games.
And the other house cost me $6, but required more work. I had to saw off a perch, and cover the door for a bird with some plastic card. I wanted this house to have a few more firing points than the other house, so I used plastic card to add more windows and a second door to the building. I even added one window to the attic, but have not got around to building a foamcore surface for a second floor yet. Painting was done in the same method as the first house with the exception that I painted the interior a different colour and painted on windows and doors. Not fabulous, but not bad for $6 either.
This next building is what I came up with was extremely cheap. There is approximately $2.50 worth of material in this project. This ginormous house required a full board-and-a-half of foamcore to construct, I placed a miniature beside the house in some pictures for scale. I think the interiors are good enough, but I am not too happy with the exterior and how the levels line up. The exterior I textured with plaster, painted with a yellow daisy colour and toned down the colour with a stain. I figured this building could be used as a base in Frostgrave or as a large house in Bolt Action. I am guessing that this building won't make it out of my basement. It is certainly not a showcase piece. 🙂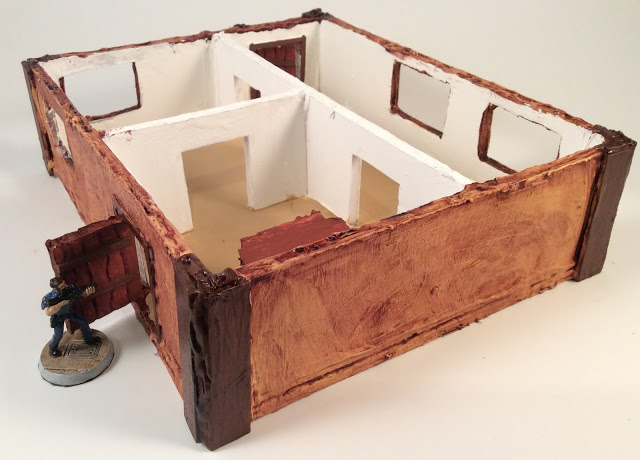 The doors open and close just like the 4Ground product.  🙂
My final building is a scratch build that I am a little more happy with. The total materials in this project is between 50-cents to $1. While it looks like a Flintstone house, I use it as a shed or industrial building in my games.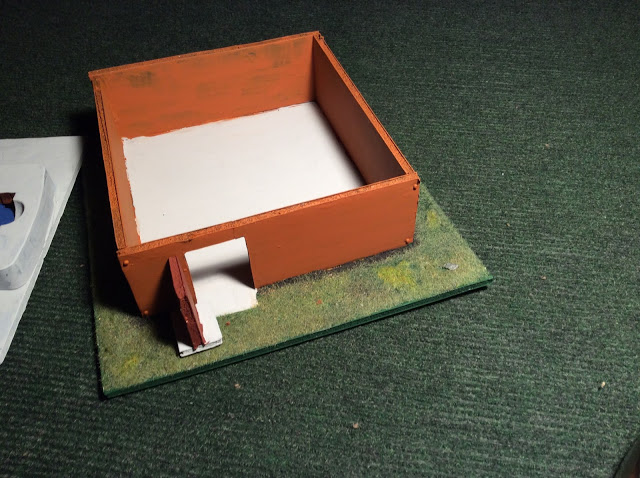 This building also has a door that opens and closes.
Of the products above, 4Ground is the best quality, but they are expensive. PlastCraft Games is more affordable and a very good value option while maintaining quality. If you are looking for cheaper alternatives, there is always the craft store and building your own.
I hope that you enjoyed this review. This post fills a void that I wish was available when I was looking at what buildings to purchase. For readers like myself, images of the building's interiors and these small reviews should help guide them on how to build out their tables.
Please leave a comment or get in touch with me if you have a product that you would like me to do a similar review on.