Today's Review is of Rookie Cops by Armorcast Tactical Miniatures. My first experience of Armorcast is seeing a model at a convention that utilized some of their fantastic weapons effects. Armorcast makes plenty of really cool products to make your weapons look like they are firing. Aside from their cinematic effects, they also sell miniatures and terrain. Now, let's look at their Rookie Cops.

Rookie Cops by Armorcast. The fancy bases came included with the minis and the group runs for $25 American.
I bought the following Armorcast models years ago. I believe I bought them from FRPGames (no longer exists) and I don't remember the price at the time. These minis are no longer listing on that site, but they are still available through Armorcast's website under Tactical Miniatures – Mobocracy for $25 American. $25 American for 5 miniatures is on the expensive side for my tastes. In today's dollars, $25 American works out to be roughly $33 Canadian. That is only $2 less than the RAFM S.W.A.T. Team box that I reviewed earlier (and that box contains 10 miniatures). That said, these minis by Armorcast are absolutely gorgeous and they come with their own special resin bases. These bases look great and help to justify the higher price. Since I bought my copy of the models, the product has changed a little. I am told that the product is now better packaged and comes with cardstock tokens representing crouching, prone, flashbang and chalk outlines. I have not personally seen those tokens myself, but I can think of a few instances where they could have come in handy in my games – especially the chalk outlines. 🙂
At the time that I bought these, my painting skills were still in development but I did a much better job on them than my SWAT Team. To paint them up, I base coated them (making sure to get all the details including eyebrows) and then stained them with a Walnut MinWax solution – and that is where I stopped. I did not highlight them or spray them with a Matte Varnish to bring down the shine. A keen eyed reader will notice that I did not paint the eyes on these guys but instead started to experiment with how to do faces with just washes (or stains). Personally, I think these models look fantastic and still hold up to the quality that I paint out today. Now for a closer look at what comes in this pack. Check these guys out…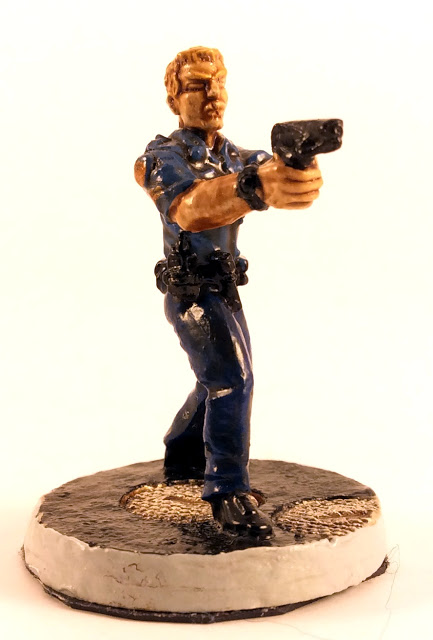 I can see this guy being the leader in the group. He painted up fantastically.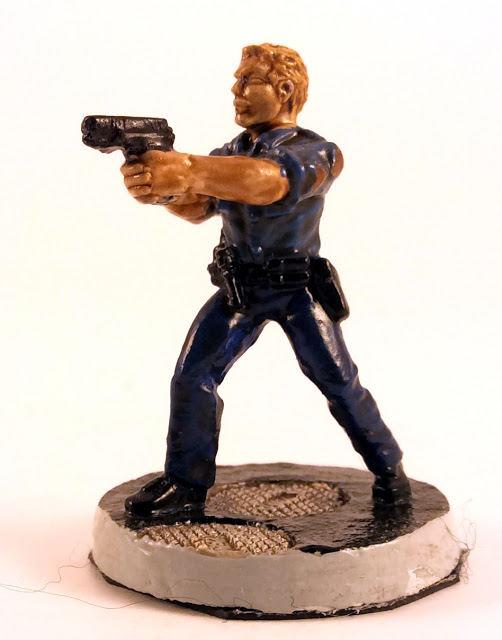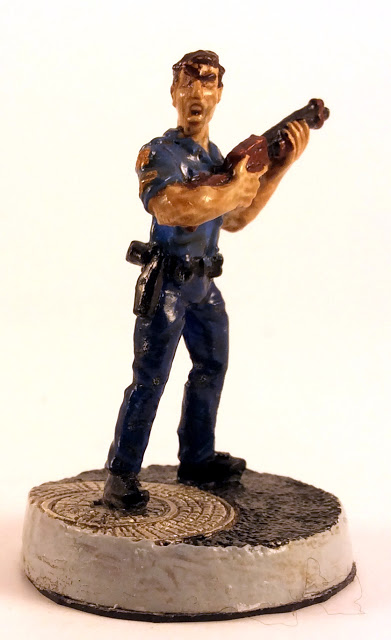 This guy has tons of personality! Love the way he looks.
Size Comparison…
Now let's look at how these miniatures size up against other ranges.

Left to Right… Armorcast Cop, RAFM SWAT Grunt, Warlord Games British Commander, Armorcast Cop, Kit-bashed Guardsman, Armorcast Cop, Chaos Cultist.
My feeling is that the Armorcast models are a tad on the small side compared to everything else. I will allow my readers to come to their own conclusions as to how the figures will fit in their collections. As I stated in my last review, I am not too bothered by slightly different scales and use my Armorcast minis alongside my RAFM minis. I am told that these figures are the same scale as Hasslefree Miniatures, but I don't own any myself for comparison.
In Closing…
Week of the Law!!!
Part 1: Introduction and Judge Dredd
Part 2: RAFM S.W.A.T. Team Review and Showcase
Part 3: Armorcast Tactical Miniatures Rookie Cops Review and Showcase 
Bonus: Civilians by RAFM and Reaper: A mini-Showcase and Review
[amazon_link asins='1782006389,1472807812′ template='ProductCarousel' store='mustcontainmi-20′ marketplace='US' link_id='e3ab980b-2ff0-11e8-b3ee-ad211b0d55f1′]