WizKids has just started releasing their second wave of Frameworks Miniatures and I was lucky enough to get my hands on one to check out!
For those of you who don't know, WizKids has a few lines of miniatures for Dungeons and Dragons. You can use these for Role Playing Games as intended, but I generally use them for skirmish games such as Frostgrave and Mordheim. In this post, I quickly review the Goliath Barbarian by Wizkids in their Dungeons and Dragons line of Frameworks miniatures.
What does Frameworks mean? It means that the miniatures come on a plastic frame (aka a sprue). This is a part of WizKids premium line of miniatures. They also have more affordable miniatures that come already made and primed. Now, let's take a closer look.
The Box and its Contents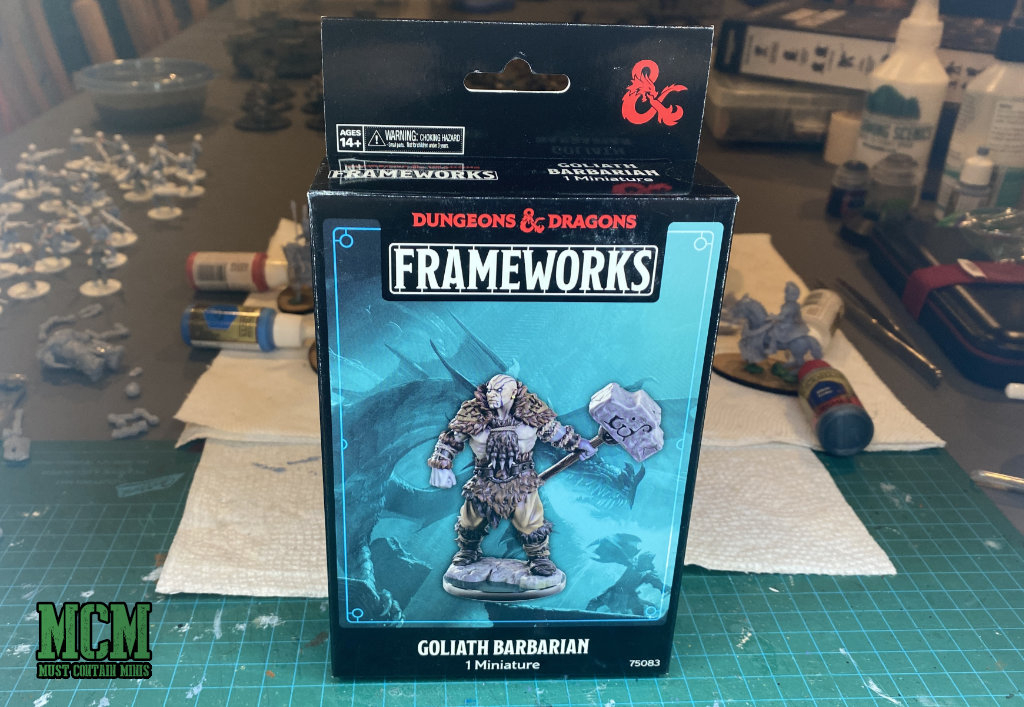 On the front you get some box art, and on the back, they show you want to expect in the box.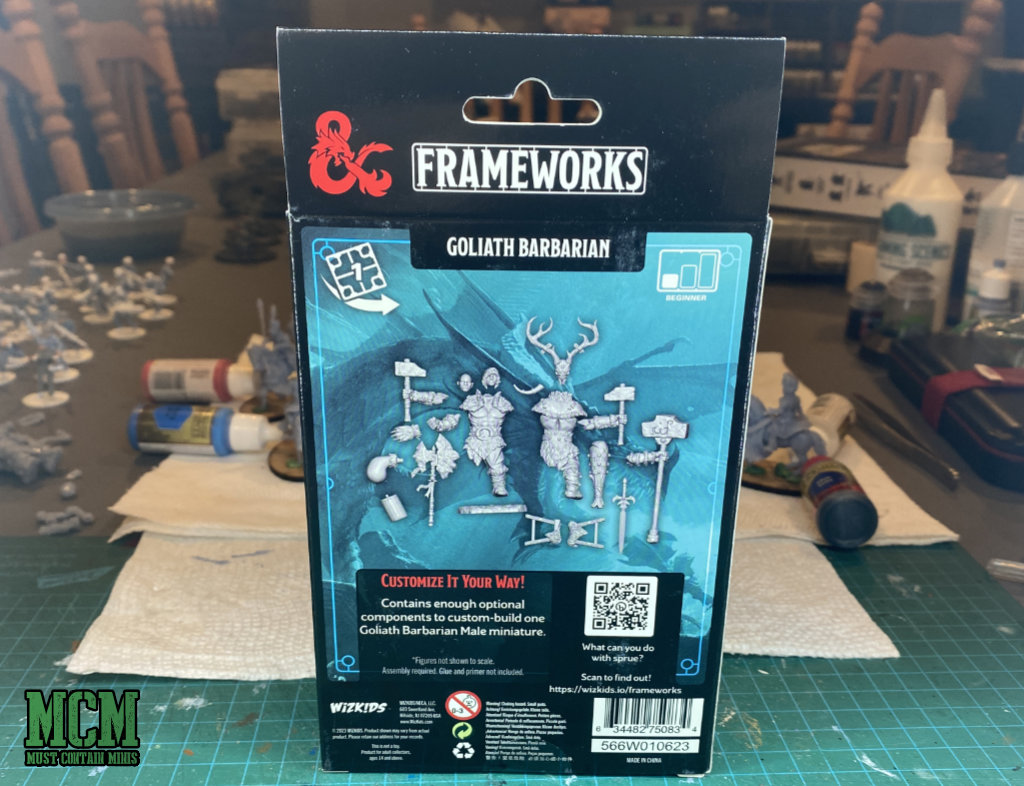 These Framework miniatures come on a sprue and to my surprise, this came with printed instructions and everything in the box was wrapped in paper.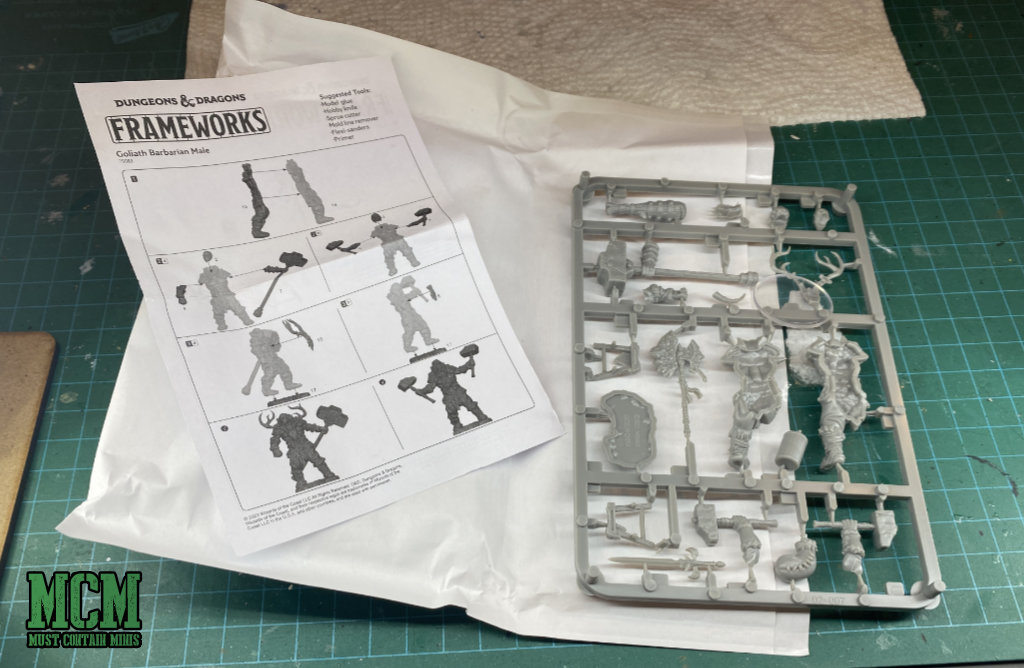 Putting it Together
Below is a look at the sprue. Putting together is easy and straightforward. I found I didn't even need the directions.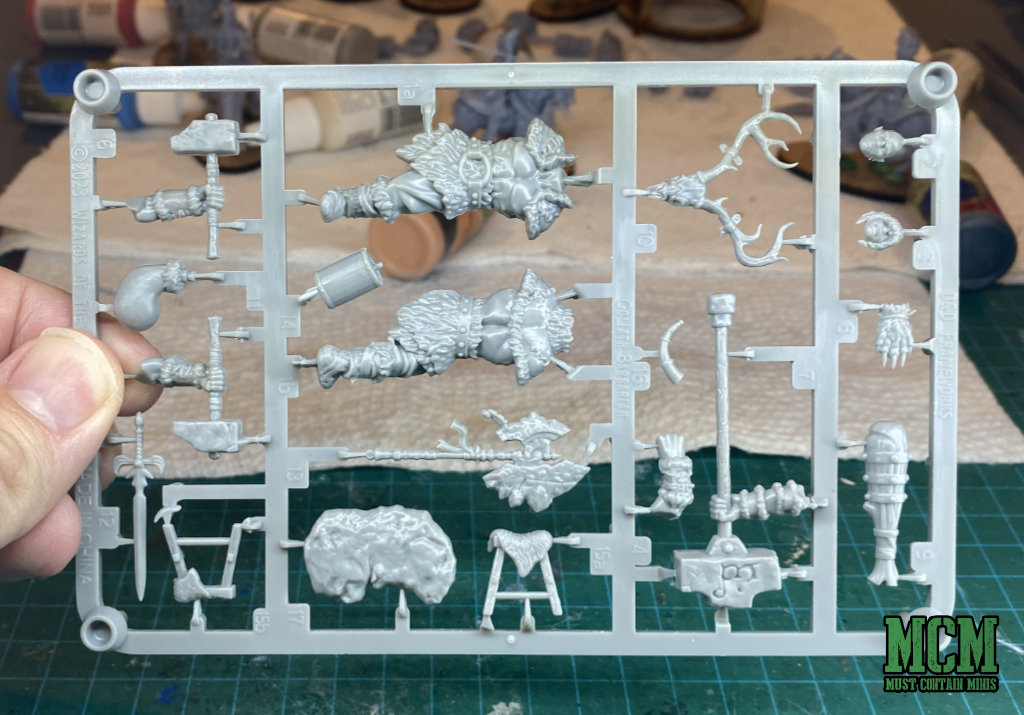 There are a couple of ways to make the figure, and here is the first way I made it.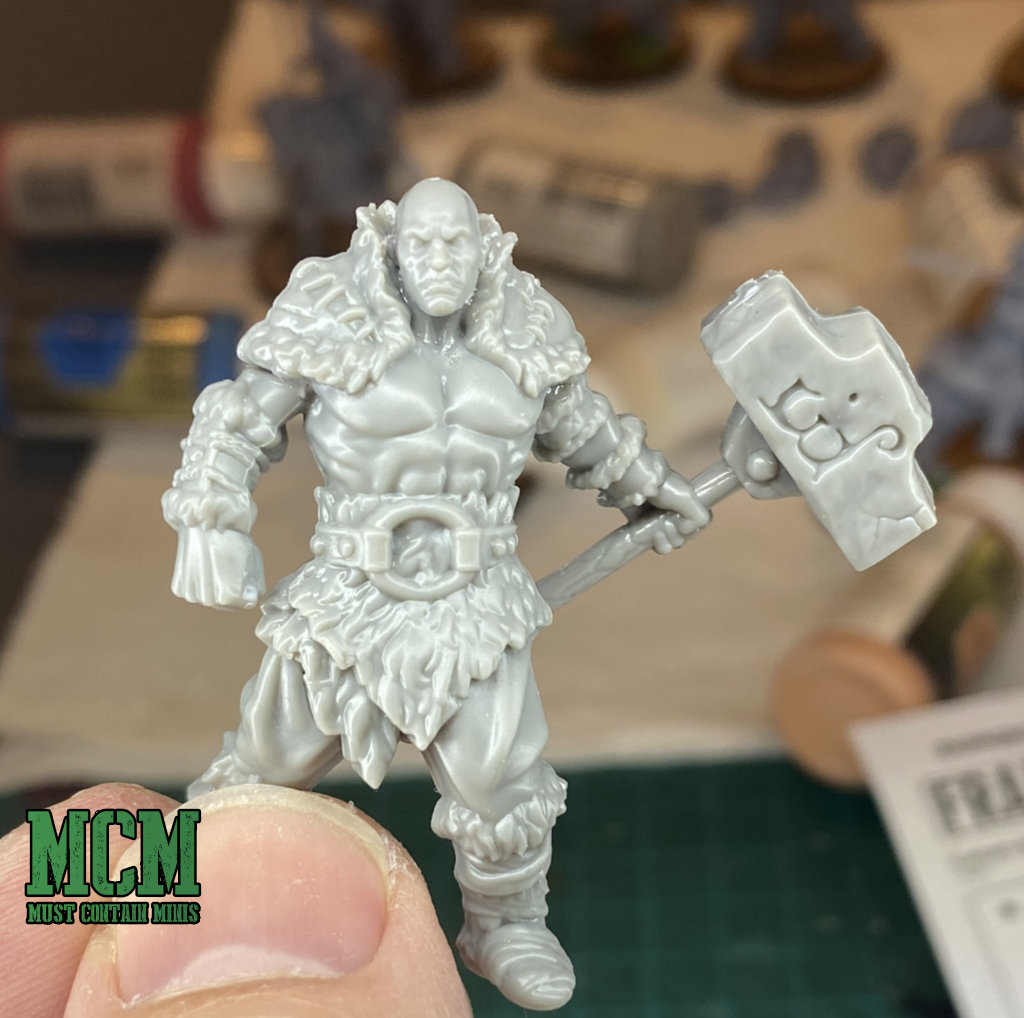 I then decided to add the antlers to the figures chest.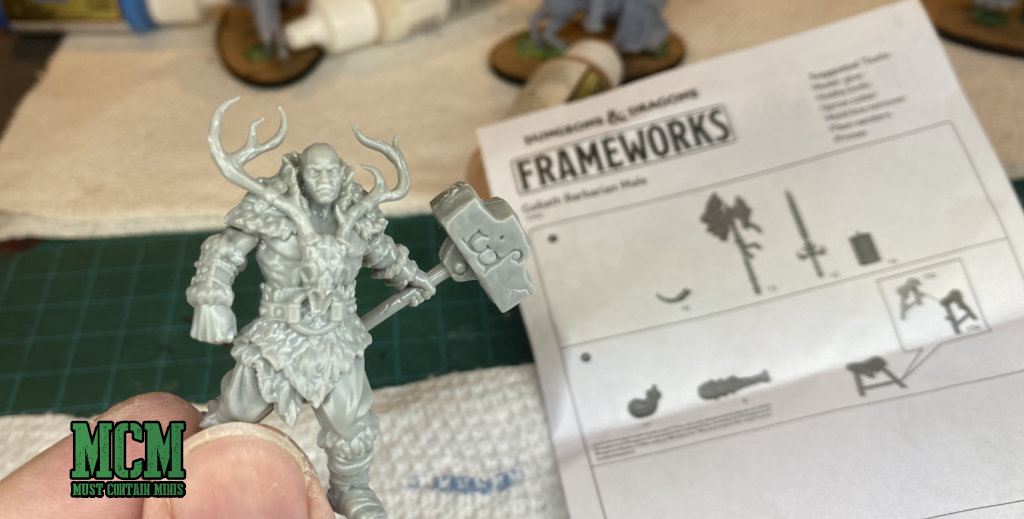 After this, my miniature was ready to go on a base. WizKids ships two bases with this figure. One clear one, one scenic one.
You can use either or both in conjunction with each other. personally I used the scenic base and plan to attach him to a bigger base later on. The reason for this is because I play Skirmish games instead of RPGs.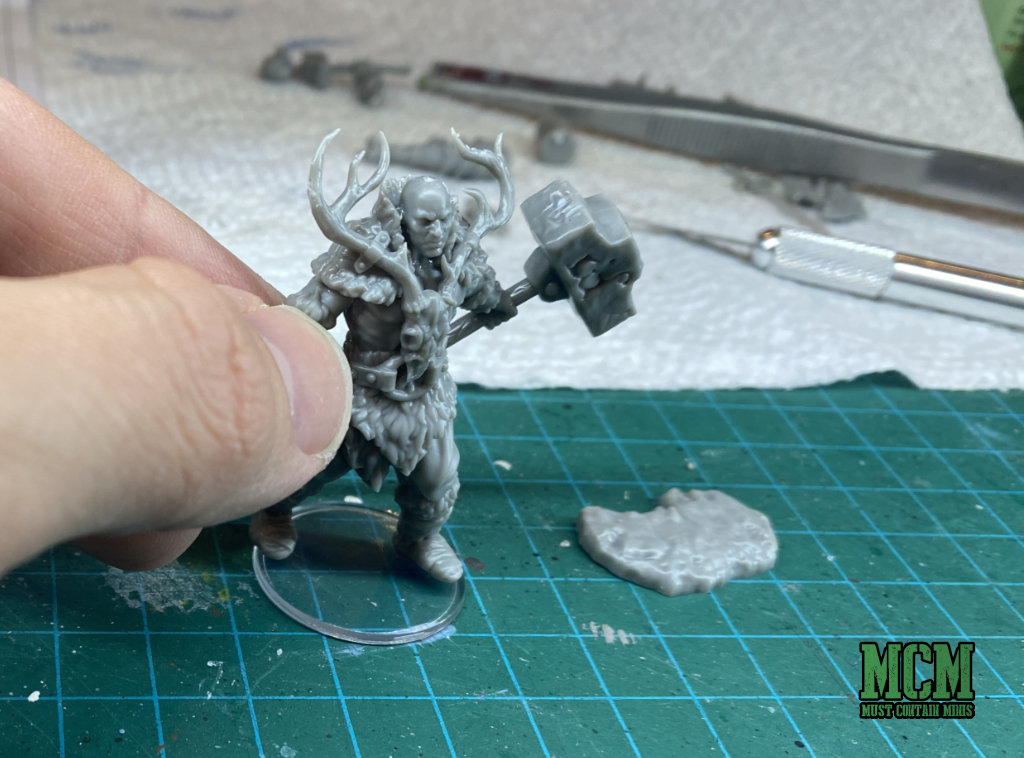 Oh yes, the miniature comes with lots of extras too. All this comes in the box for you to use as treasure, extra pieces or items for your bits box.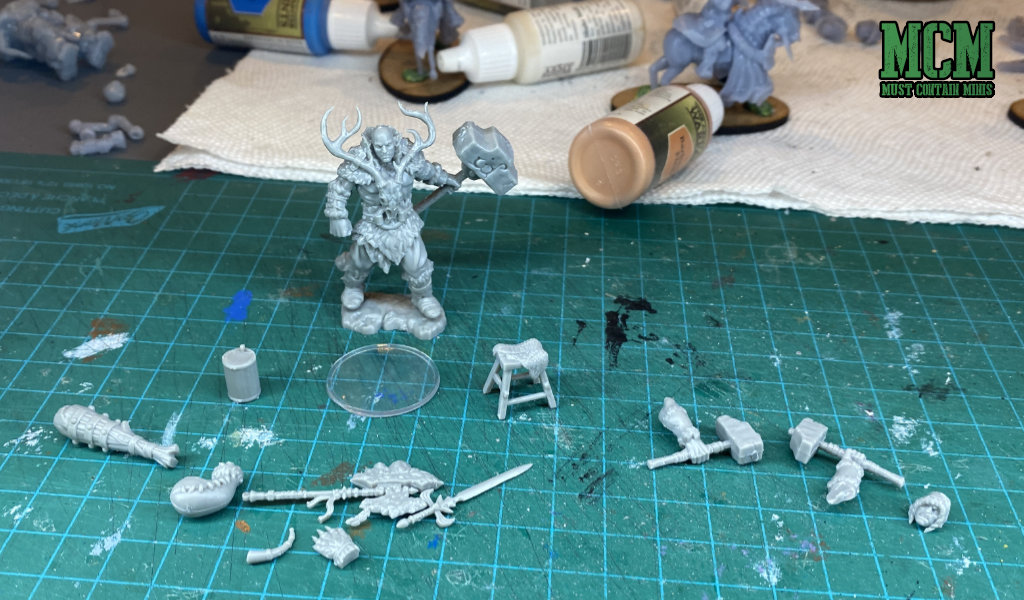 Now, let me show you how this miniature compares versus other figures.
Scale Comparison
Below is a quick scale comparison of the Goliath Barbarian to other brands of figures.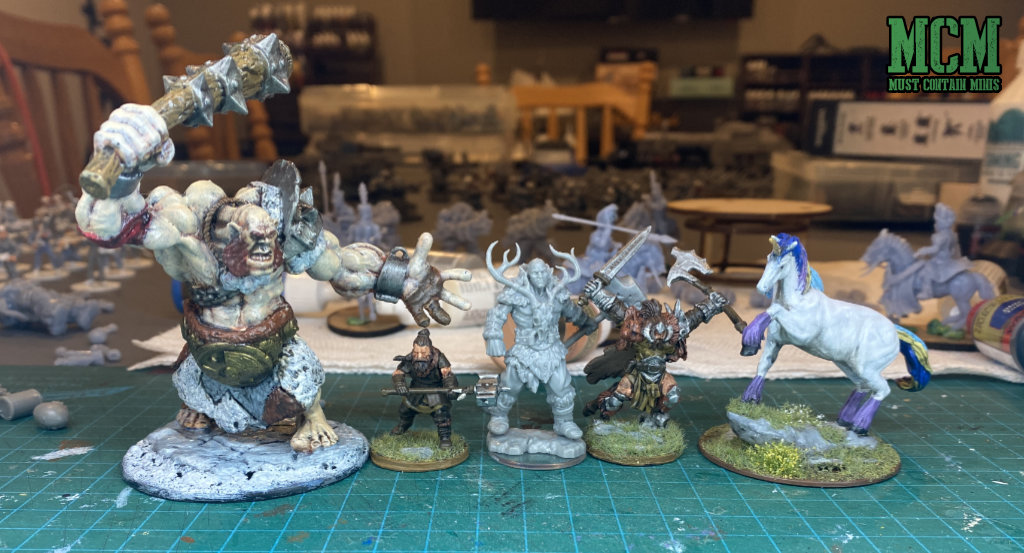 Left to right we have a Reaper Miniatures Hill Giant, a 28mm Frostgrave Barbarian miniature, the Goliath Barbarian, a 32mm Reaper Miniatures Barbarian and a Wizkids Unicorn for the Pathfinder RPG.
Below is the same figure compared to some other WizKids models.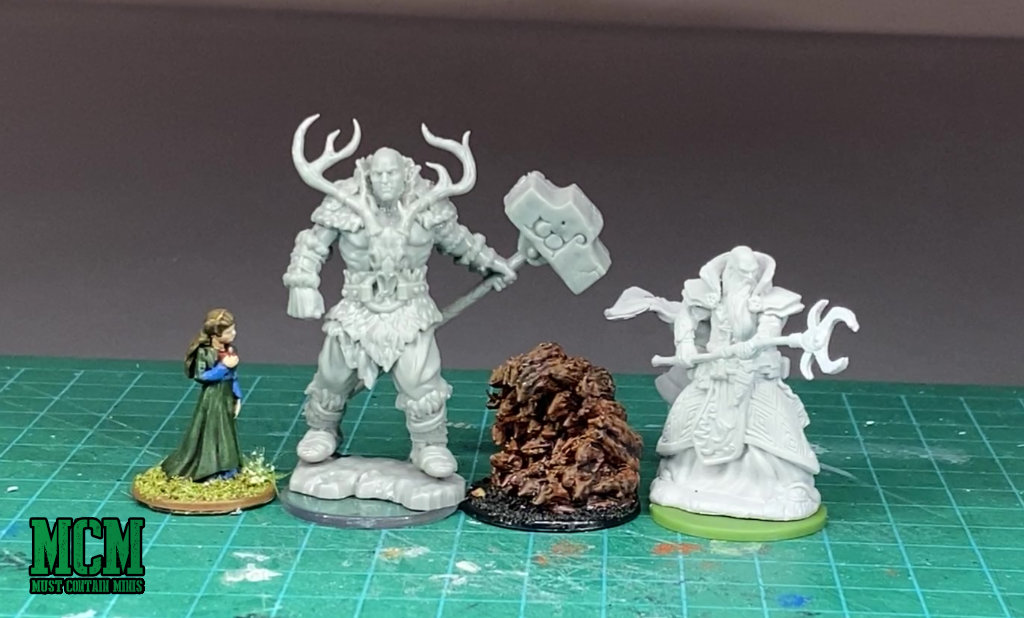 The miniature on the far right is a human scale miniature from the unpainted line of Dungeons and Dragons Miniatures.
The Video Review
Below is a video version of the review.
Wrapping it up…
This Goliath Barbarian is the first Dungeons and Dragons Frameworks miniature that I ever made.
The Frameworks line of miniatures is WizKids premium line of miniatures. They look good and come on sprues that you get to assemble. If you prefer, Wizkids also has a more affordable line of figures too.
Thanks for taking a look at their Frameworks Goliath Barbarian with me.
Until next time, Happy Gaming, Everyone!!!