Recently I took a look at some terrain from an upcoming Kickstarter called The GRID 3D Modular Terrain – Modern/Future Set. Raybox Games sent me this sample collection for the purposes of a review.
What they sent me was the pre-production product. This means that the end product sent to backers may (or may not) be different from what I received. Raybox Games designed this terrain set for miniature wargaming and Role Playing Games. Personally, I think it would work really well for something like Space Hulk and other games in that vein like Legions of Steel.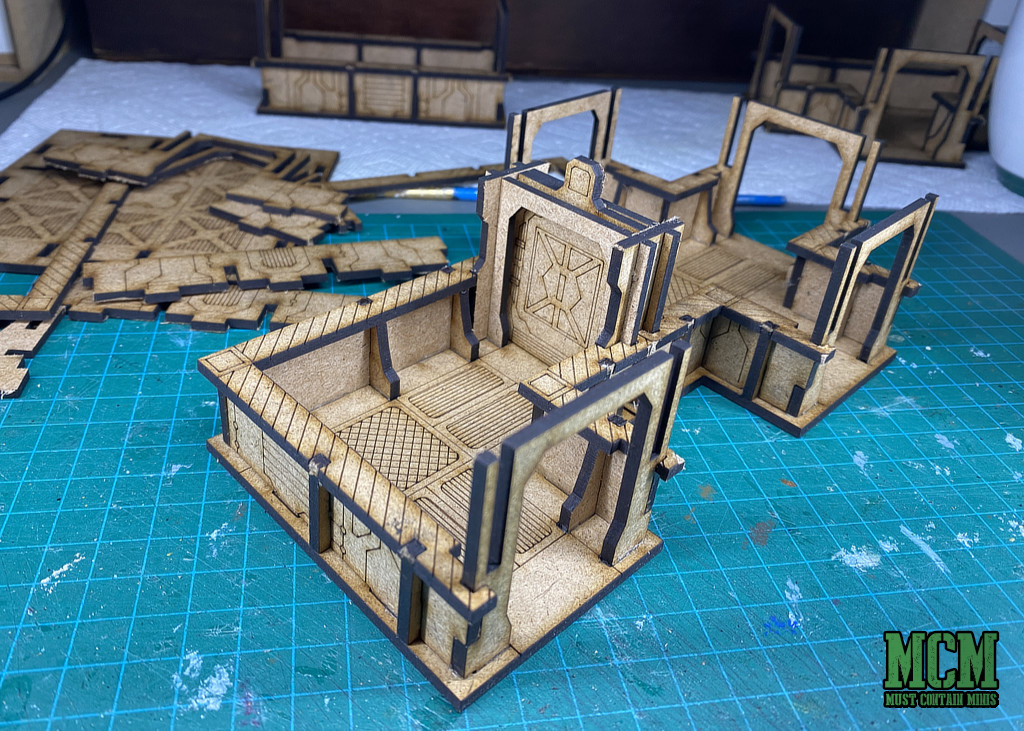 Of course, these tiles would also lend themselves well to Stargrave, Starfinder or any other game where you could take your character through a sci-fi "Dungeon." Whether you are boarding a spaceship, investigating a mine or navigating a large sci-fi building, this terrain could be useful to you.
If you are interested in a set for yourself, I will put links at the end of the article in the "Wrapping it up" section. Now, lets take a look at what Raybox Games sent me.
The Sample Box of GRID Terrain
The folks at Raybox Games sent me a box full of sample rooms to test out for their new Kickstarter project.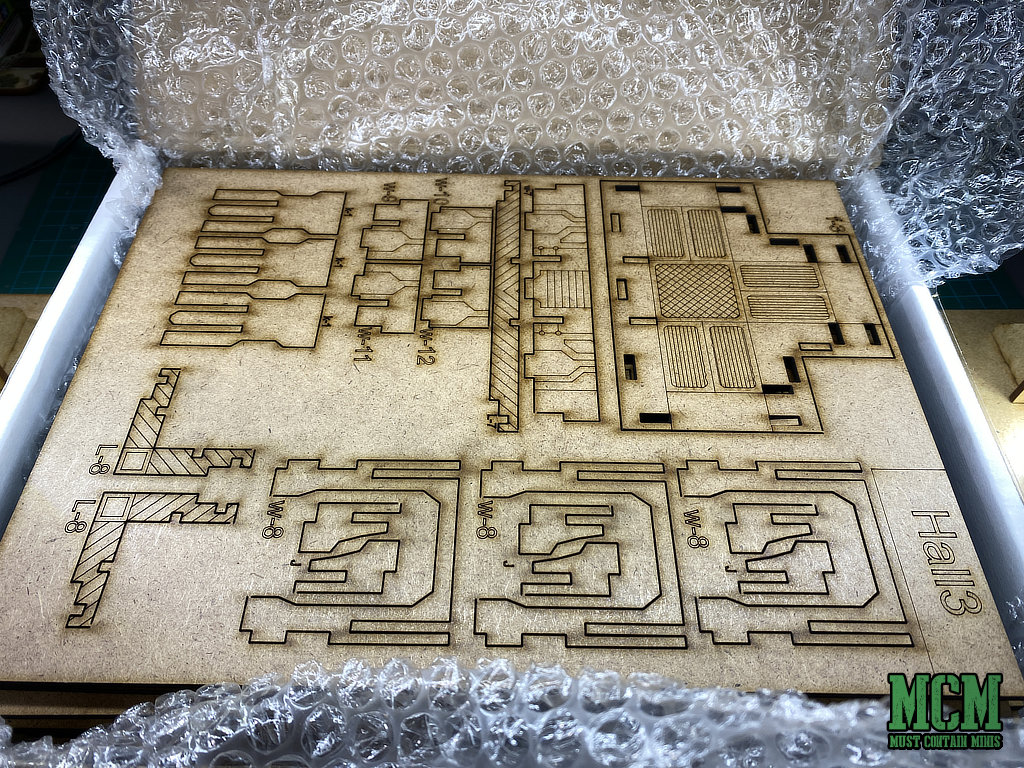 In this review, I focus on the build of the terrain. In a future article, I will test it out on the tabletop. Right off the top, I can tell that Raybox Games well labelled the parts of this kit.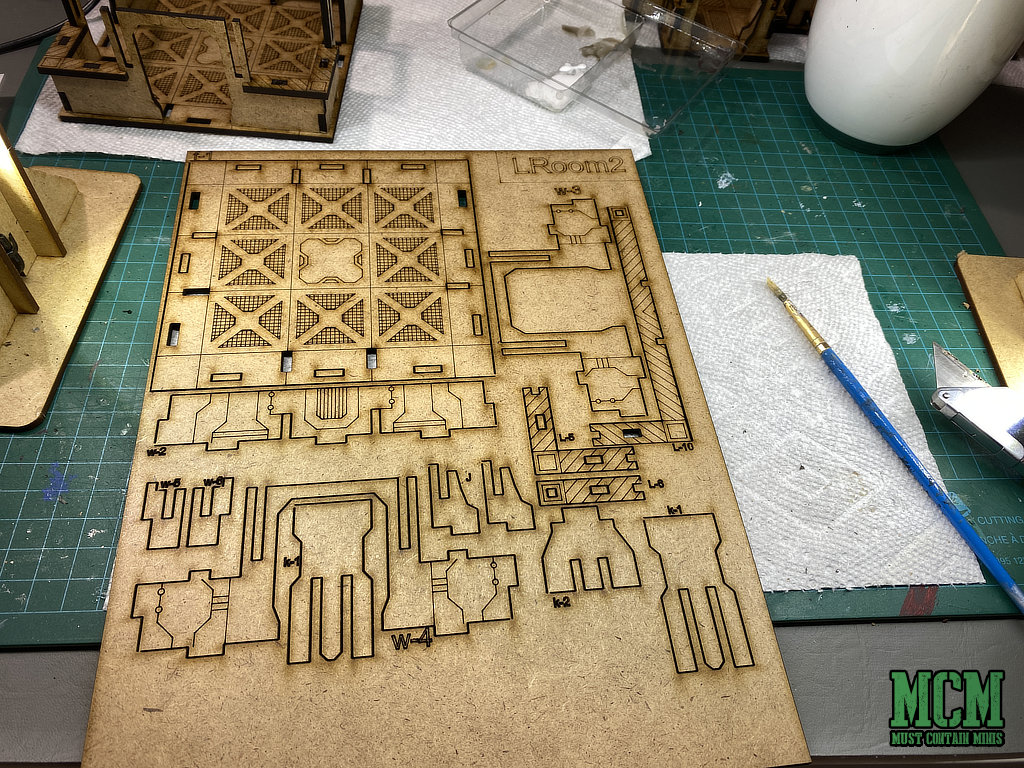 For directions, Raybox Games emailed me a PDF to follow. All of the rooms that they sent me go together in three to four basic steps.
Building The GRID 3D Modular Terrain
Building the GRID 3D Modular Terrain Hallways
The first step is to punch out your base and then the pieces labelled as "J" on the MDF sheet above. The pieces sent to me fit together by tension, but I used white glue to paste them all together. I couldn't think of any reason why you wouldn't want to glue it unless you intend on flat packing the terrain.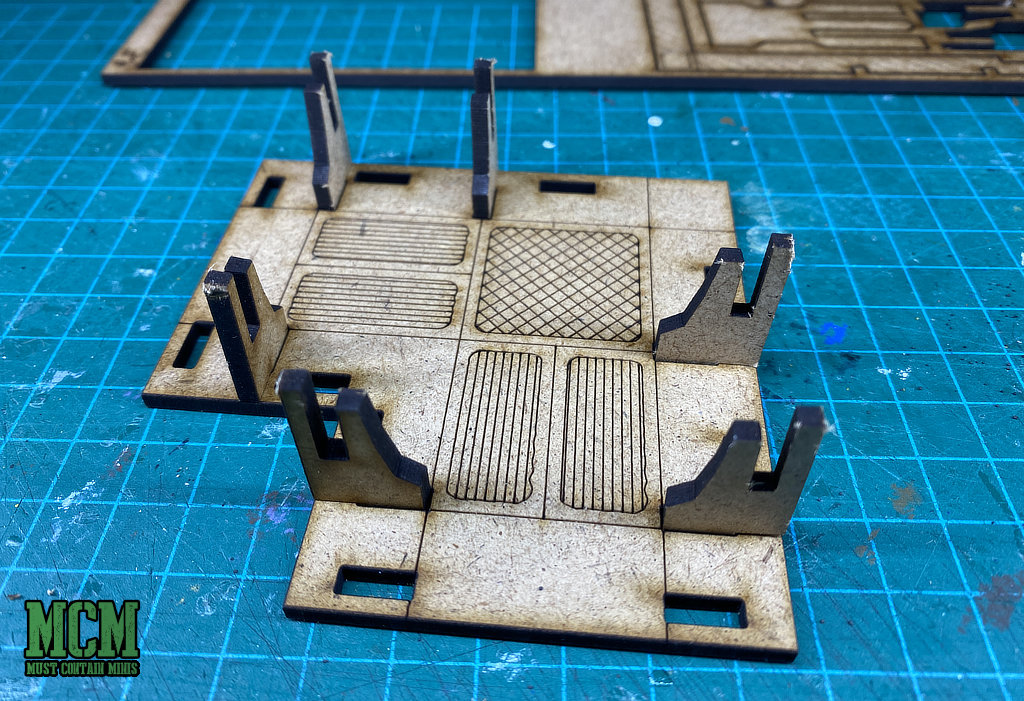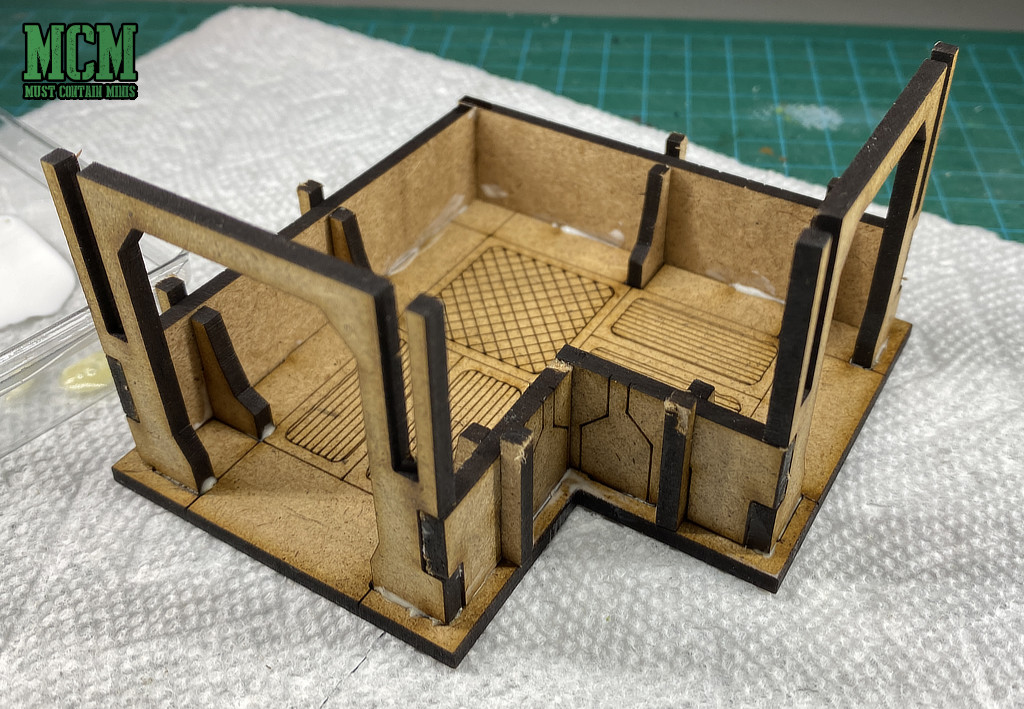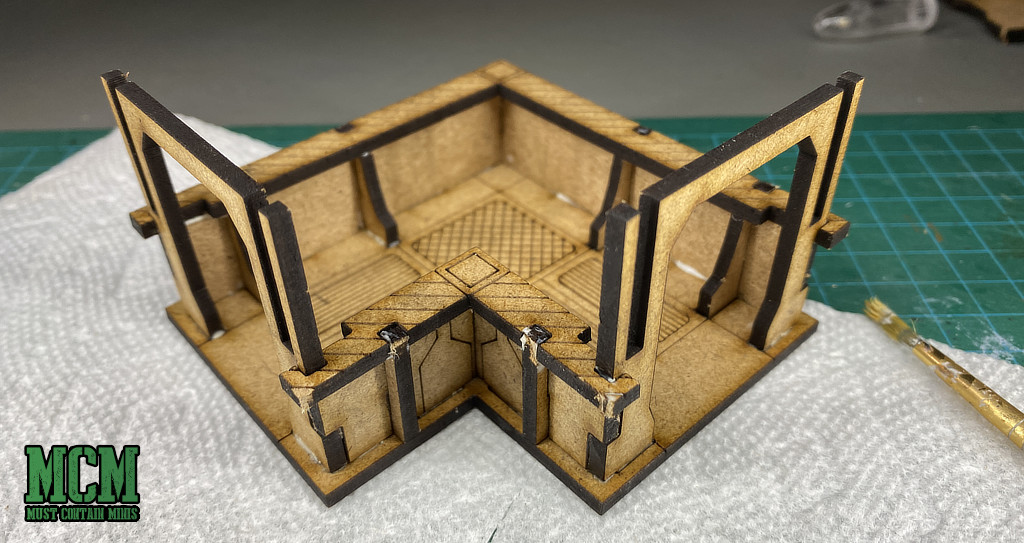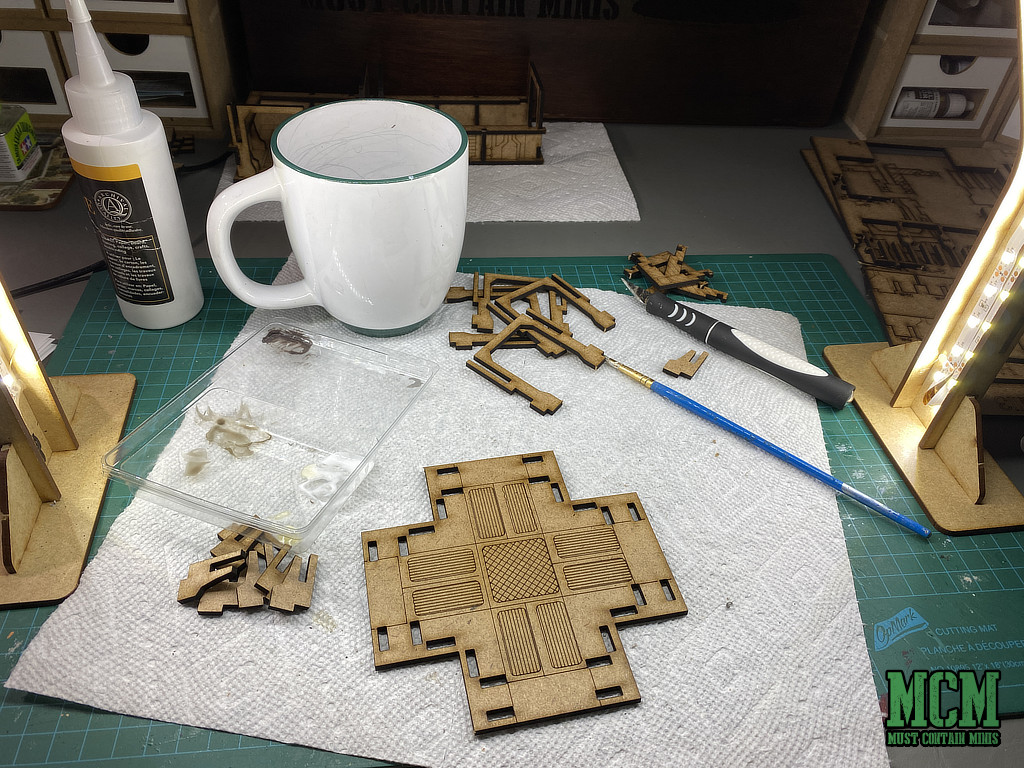 The hall sections went together well and look good. Here are some showcase pictures of what I built.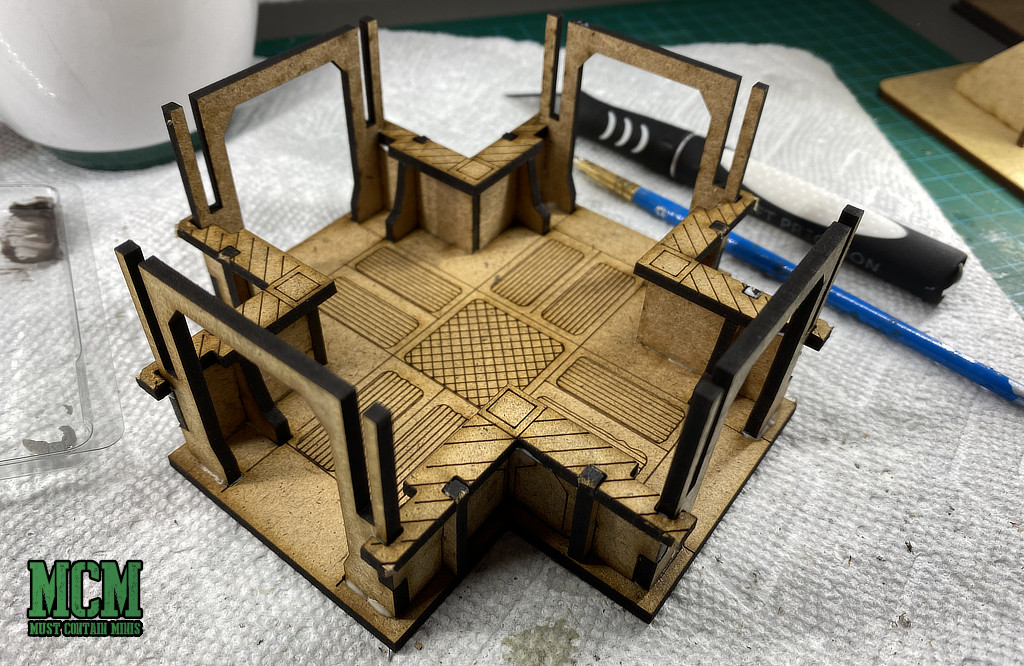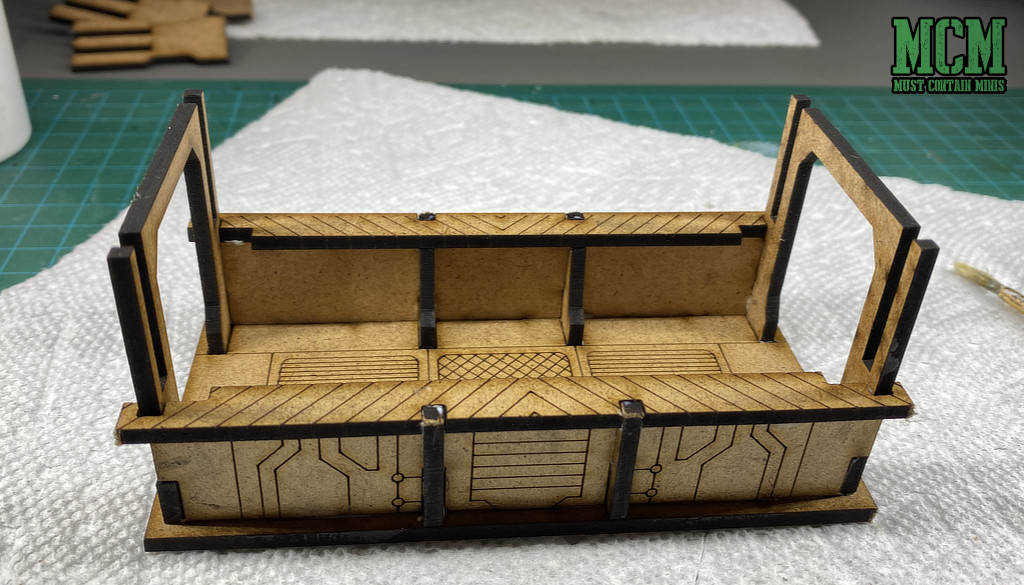 When I completed the hallways, I realized that I actually glued all of the wall details on backwards. The details are actually supposed to be facing in rather than outwards. That is on me for not doublechecking the directions before building them.
When I was about to message Raybox Games to tell them about the error I found in their directions, I double checked those directions and realized I was the one who made a mistake.
I made sure not to repeat my mistake when I built the rooms.
Building the GRID 3D Modular Terrain Rooms
The rooms build up in the exact same way as the hallways. In fact, I found the rooms easier to build then the hallways because their parts are larger and less intricate. The corners of the hallways take a little more time to build than the straight walls of the rooms.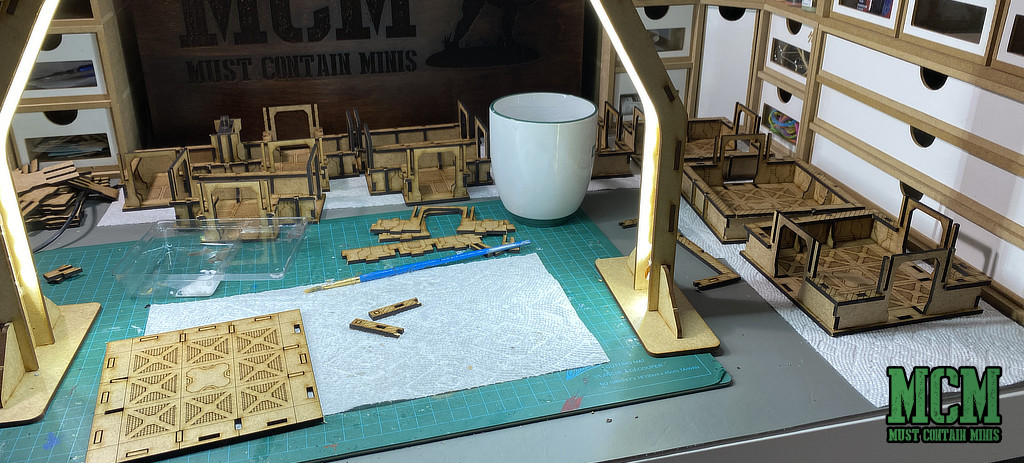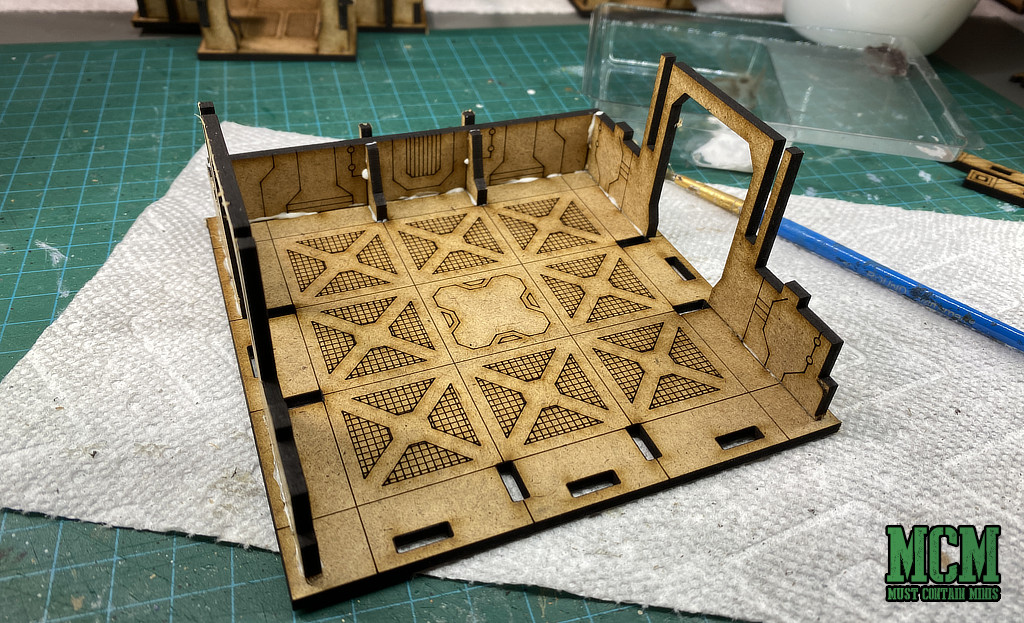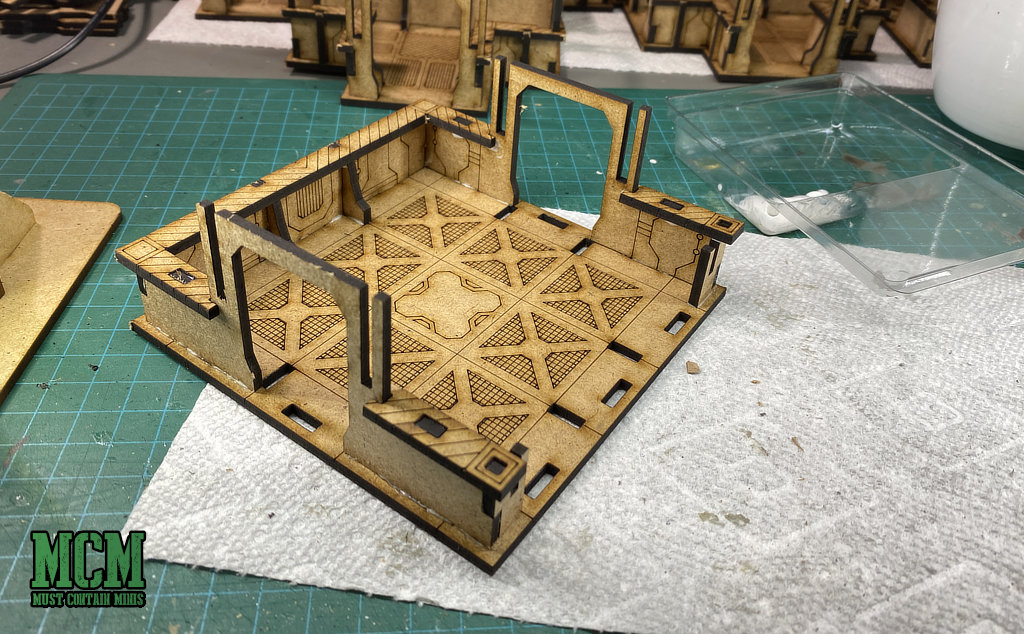 With the rooms, I made sure to glue all the details on correctly. I didn't want to repeat the same mistake as I did with the hallway. Regardless, the hallway and rooms still look good despite my mistake.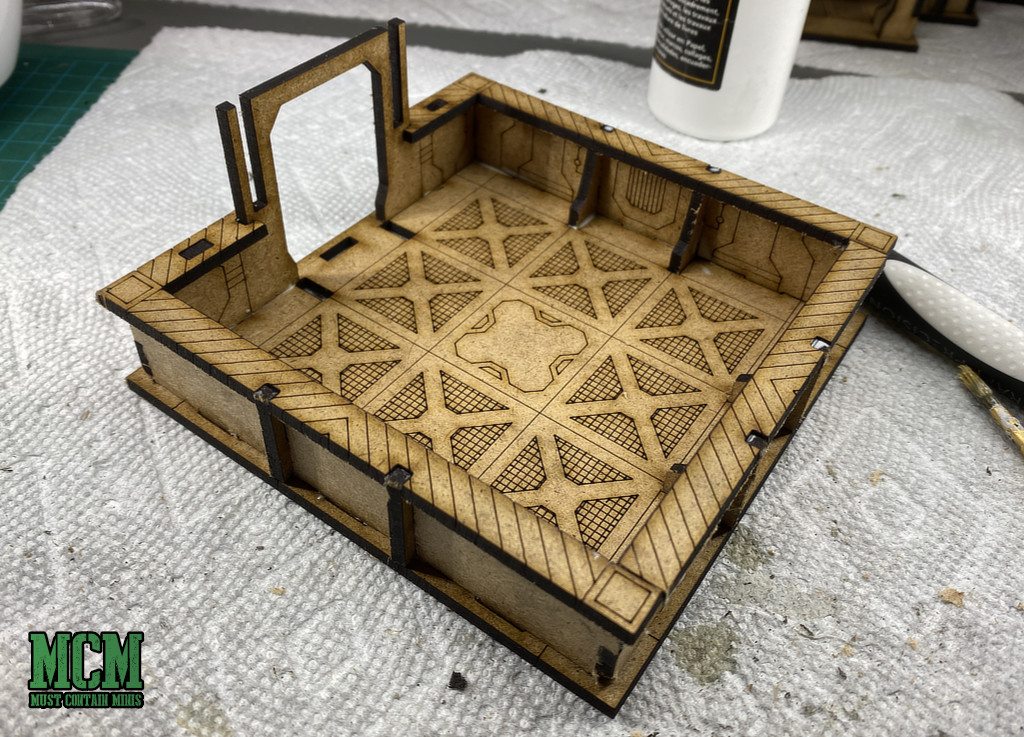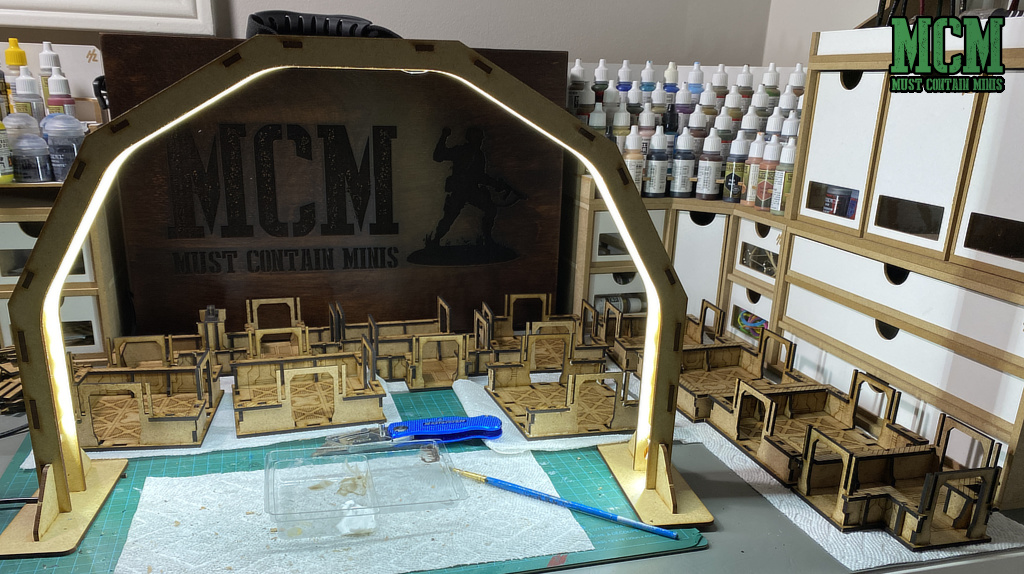 Product Highlights
Raybox Games highlights a number of features for this MDF terrain. They make it from 3mm (1/8″) HDF and designed it with half height walls for easy access to your miniatures. The Key attachments connect rooms together and form appealing doorways. Between them, you can can fit sliding doors.
The grid on floor tiles is 32mm (1.25″) which works well with a lot of games. Right now, they have 12 different room and hall types that you can use to build your structure. All of them have wall ledges meant to be a convenient space for your markers and counters.
While Space Hulk came to my mind first, you could use it for Star Wars Legion, Weird WW2, Aliens, 40K and most anything that could be set in a sci-fi room and hallway collection. This product is clearly aimed towards the Sci-Fi Dungeon Crawler fan market.
What I Like About GRID 3D Modular Terrain
This new Grid Modular 3D Terrain is really something neat. Personally, I really like how the sections combine together using the keys and then how those keys provide a space for doors between them. There is enough space in there that you can glue the doors back to back to give details on both sides of the entryway.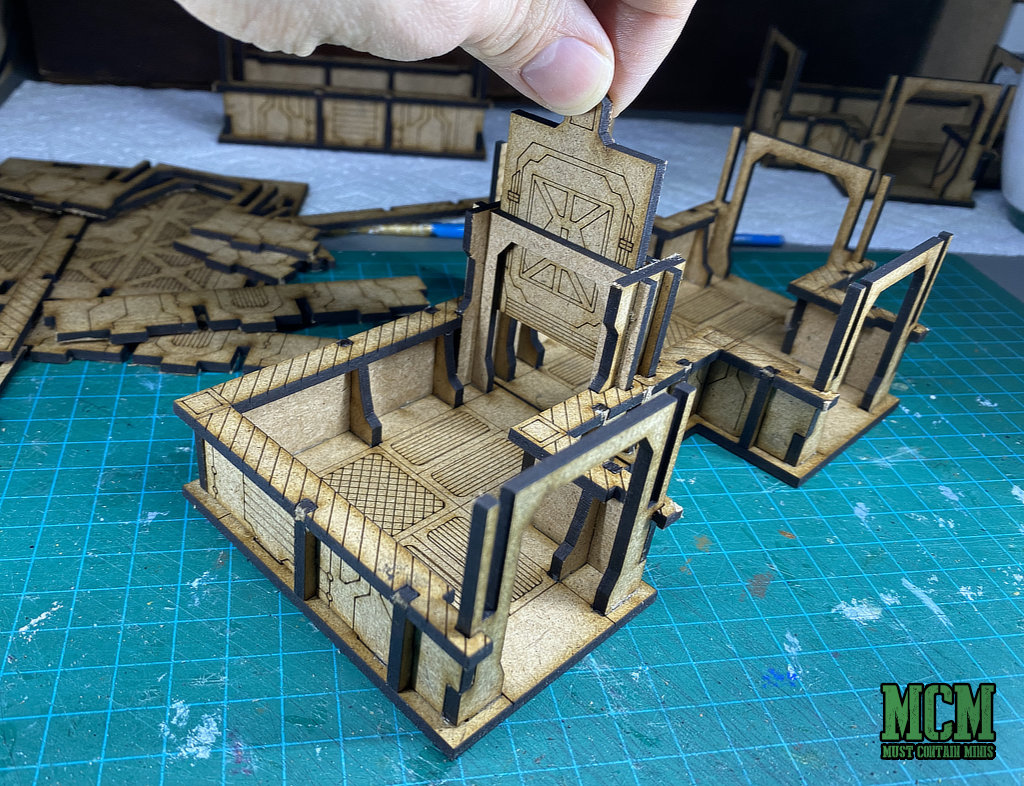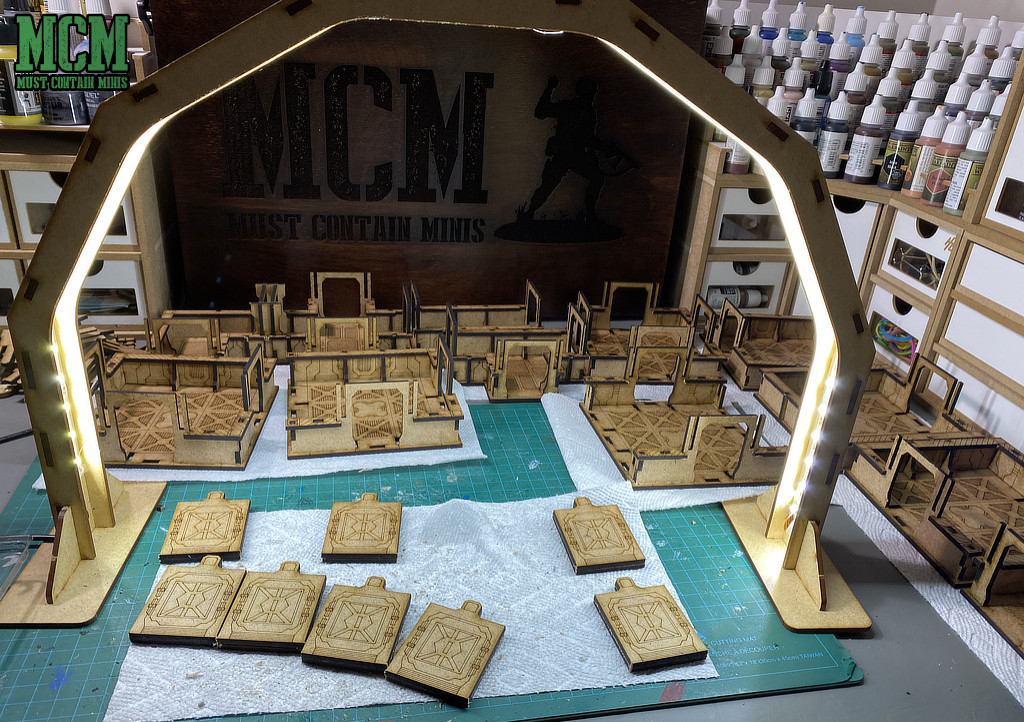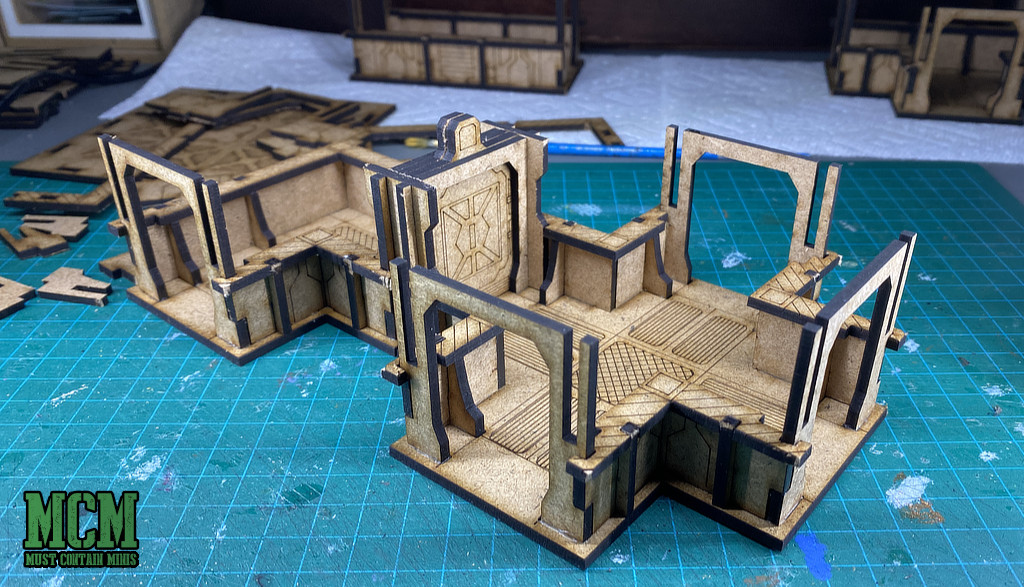 It looks appealing on the tabletop and I am looking forward to putting it together on the gaming table to see some of the setups I can make with it.
My Criticisms about the Product
Raybox Games sent me a collection of terrain that works well together. They designed these hallways and rooms in a very straightforward manner. Once you build one, the rest build pretty much the same way.
The only issue that I ran into is that some of the HDF boards Raybox sent me were of different quality than the others. Specifically, three of the boards did not cut all the way through. I had to score the back of the HDF boards in order to extract the parts from the board.
I want to reiterate that they sent me a pre-production sample of their kickstarter product. This means that there may be still more development and perfections to the product before they send it off to their backers.
For two of the three problem boards, I had to do a little trimming to get these pieces to fit properly in their holes. That said, there are some companies out there that regularly put out kits that need trimming.
The other boards in this set either punched out without a knife, or needed a knife to cut in just one or two intentional spots.
The three problematic boards where not so easy to work with.
To solve the problem, I could make out where the cuts tried to make their way through on the boards that did not fully cut. Once I traced these out the outline a few times with my knife, I was able to remove the pieces.
Aside from those three boards (out of many), I have no complaints or criticisms about this product.
Again, I am working with a pre-production sample copy of the product so the end kickstarter product will likely be different.
Wrapping it up…
If you like what you see, be sure to check Raybox Games' Kickstarter page for the GRID 3D Modular Terrain Sets. As of the time of my writing this, the Kickstarter has not yet launched, but it will be live soon.
You can also check out their website to see the other products that they make.
Overall, I found this product to be a fun and simple one to build. For 3D Sci-Fi "Dungeon Crawl" type games, this stuff is going to be great.
Until next time, Happy Gaming Everyone!!!