In this post, we take a look at a new paint station by Frontier Wargaming. This thing really has some nice benefits to it that I had not seen in a paint station before.
Frontier Wargaming just released this brand-new tabletop paint station. This paint station is functional, visually appealing and innovative. In this post, you will find my thoughts on this product and a video reviewing this really exciting new desktop organization system.
Now, let's discuss this stunning and innovative product from Frontier Wargaming.
Innovations in Desktop Hobby Storage
This Desktop Paint Station by Frontier Wargaming came with a few innovations that I had not seen before in their competitors. These innovations are groves to make the units easily stackable and paint tray holders so you can change on the fly what sort of paint bottles your shelf is designed to hold. If you watch the video further below, you will see those innovations in action.
Here though, I will just have to describe them to you. Let me show you a picture.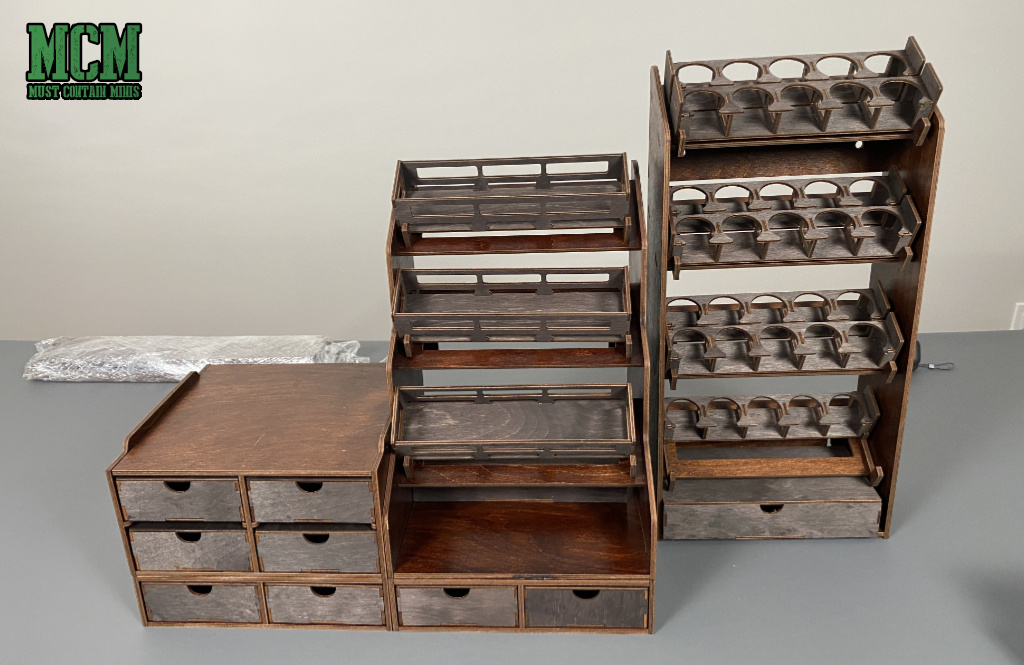 These units have some weight to them, so I am not afraid of them toppling over when I stack them.
The next innovation is even more unique. I have never seen before a desktop storage solution that allows you to change what paint bottles fit in the rack. You can take off the shelves, pot-holders or tube-holders and swap them out by changing the mount fixtures underneath. It is a little hard to describe, but if you watch the YouTube Review I made, you will see me do just that.
You can also see in the pictures below how I changed the GW sized paint holders to from the wall rack on the right to the paint stand on the right. That was slick, and unexpected.
As a note, the GW sized paint holder also holds craft store sized paints. I use those for my terrain projects.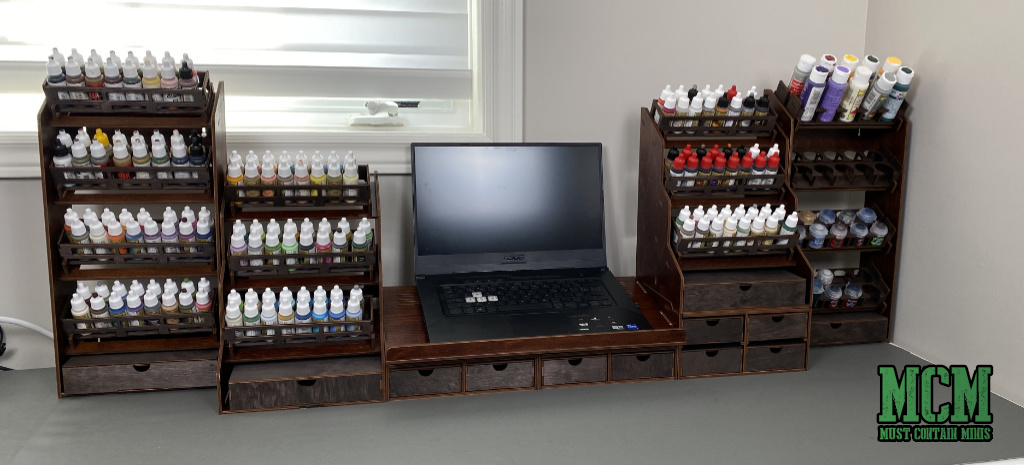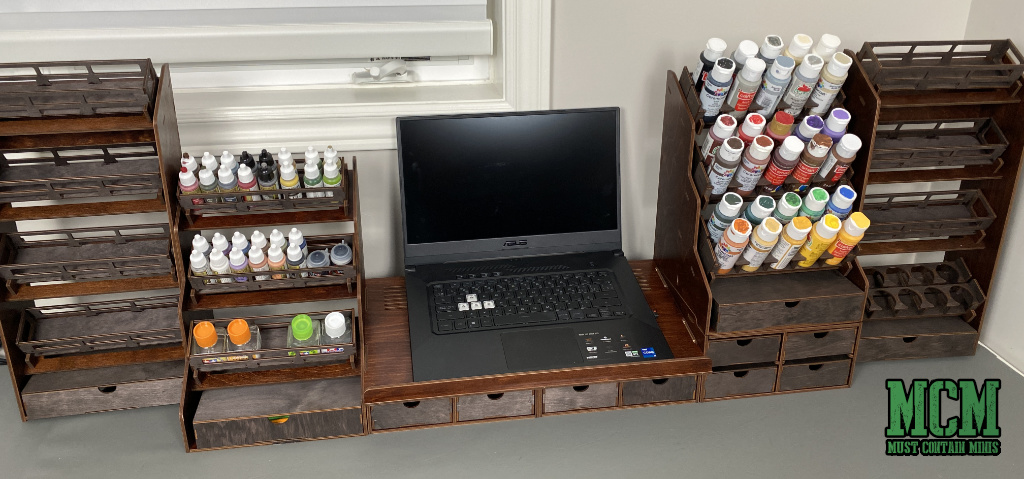 That is really sweet. Want to have holders that fit GW paints and then swap that out for something that holds Vallejo, you can do that easily and quickly!
This innovation alone I found very appealing and to be a good selling feature for this new paint station.
On top of that, you can get a laptop holder so you can place your laptop into the setup. That is cool. They even thought of adding vents to underneath it so your computer can get a little more air circulation too.
Finally, the toolboxes, half trays and paint holders can also fit in their already existing Paint Chest and Paint Case 2.0 products. That's handy!
What I Did with This New Paint Station?
I am fortunate enough to have three areas in my house where I can hobby. An office where I do most of my painting and miniature photos, a downstairs studio where I like to build miniatures and showcase products, and a garage where I do my spray painting and large project work.
Because I want extra surface space for content creation in my upstairs office paint area, I decided to reinstall my Paint Chest there.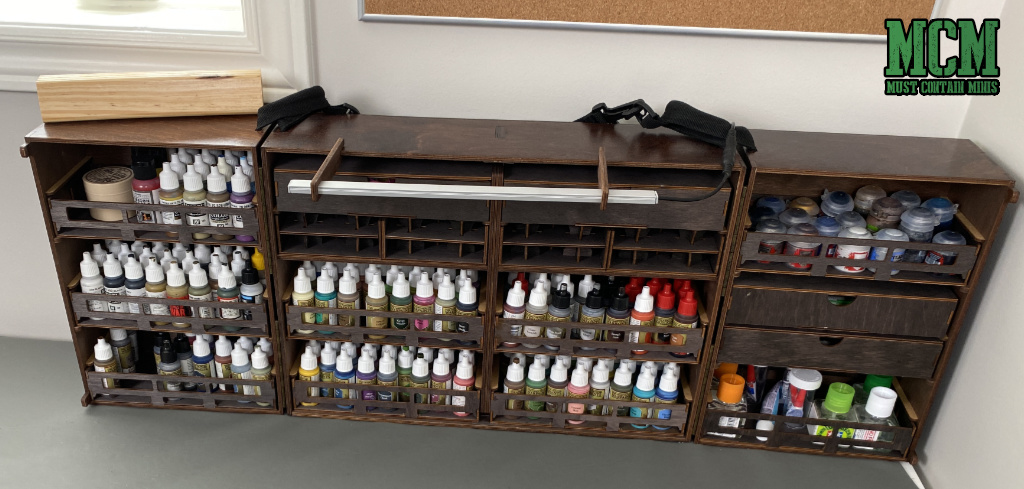 I then moved my new Desktop Paint Station to the basement studio. Here it found a home on top of my shelving. Looks great!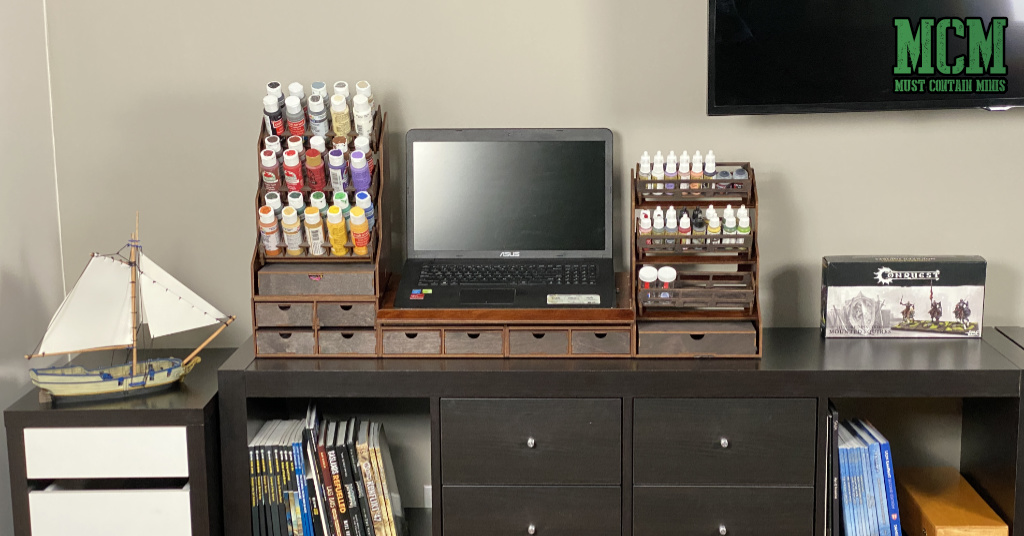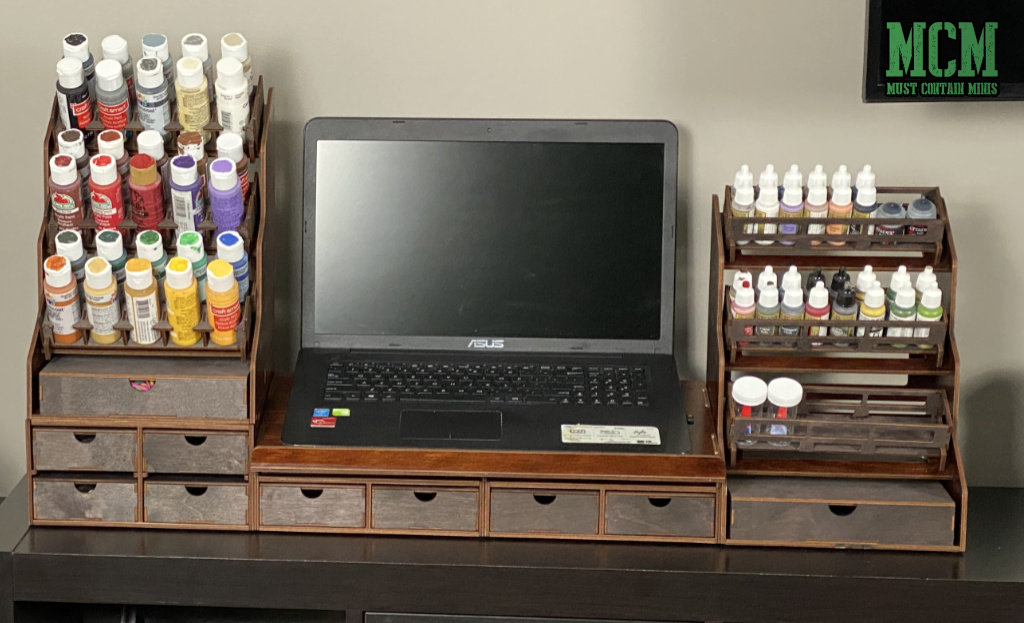 If you are curious about my choice in laptops, I have an article on another site about my research process in choosing my current content creation laptop.
You may have noticed that I don't have the wall racks here. One of them went to my wife. She found that they hold her collection of Washi Tape perfectly!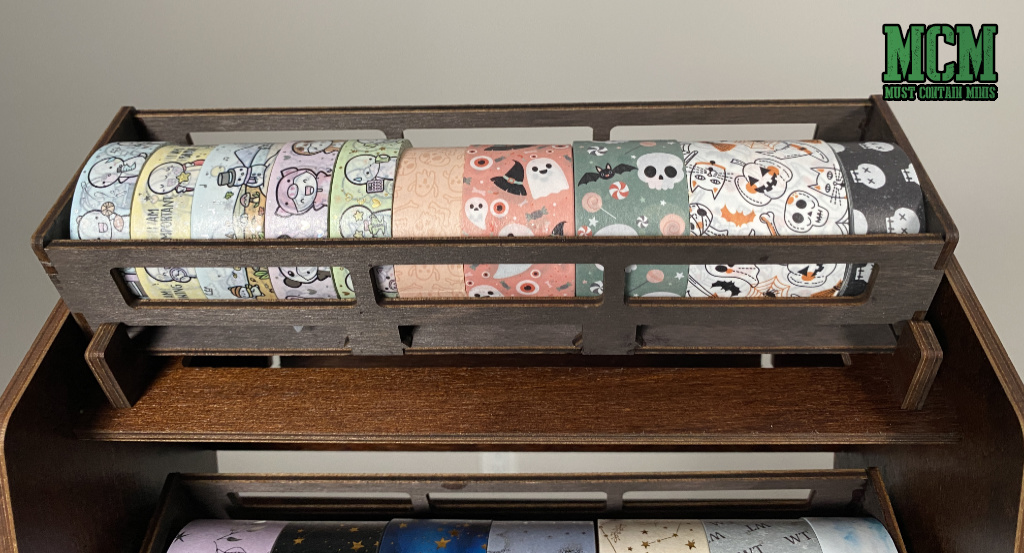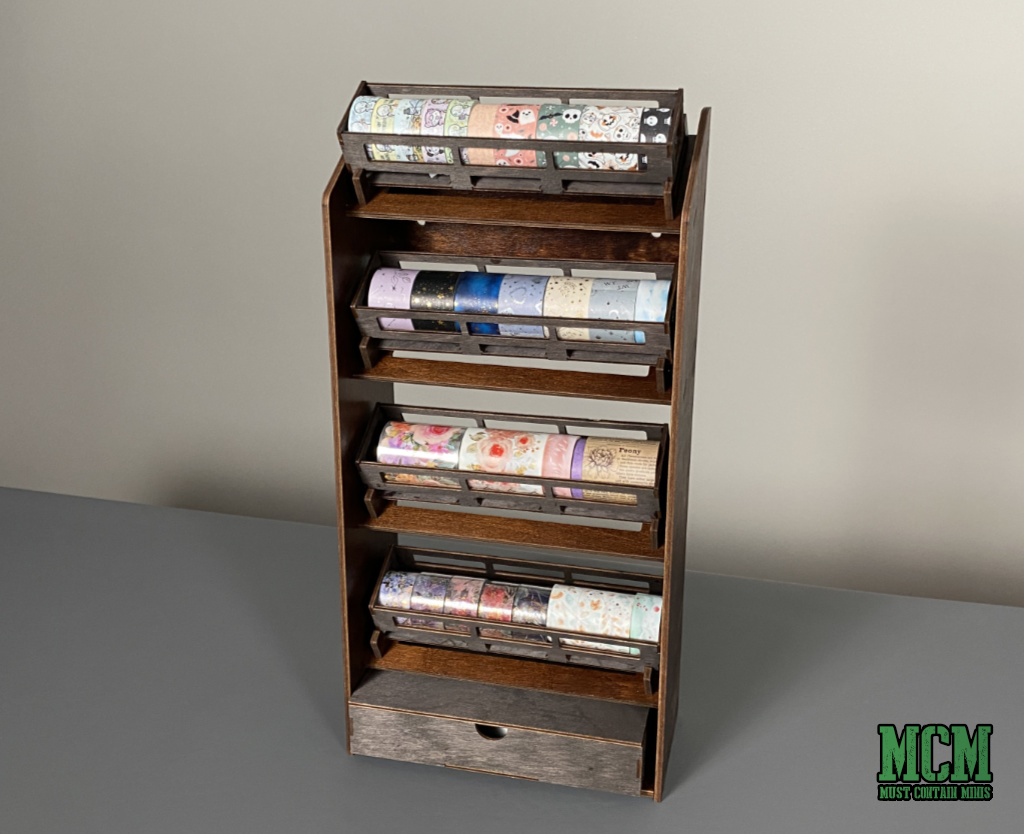 The stores where Mrs. Must Contain Minis buys her Washi Tape are The Washi Tape Shop and TheCoffeeMonsterzCO. They both have really nice designs.
My Thoughts on this New Paint Station
Overall, I really like this desktop paint station system. It looks good, is extremely functional and is compatible with Frontier Wargaming's already existing line of paint cases and paint chests. On top of that, it has some innovations that I really like.
Being able to change out what paints a rack is meant to hold is new to me and something that I feel is potentially trendsetting. At the very least, it is a nice little sales feature. The units stack together nicely and the fact that you can add in a laptop holder (or a flat topper for paint racks or a computer monitor) is something that I find appealing.
If you want one for yourself, here is how you can save some money.
Save Some Money – A Coupon Code to Frontier Wargaming
If you like this, or any other Frontier Wargaming product, use the Coupon Code MCM. It can save you $10 USD off of your purchase! The code will work until December 31, 2022. This is not an affiliate link. Instead, just a way for you to save some money.
Quick Details
Next up, the video review, some related links and then the article wrap up.
The Video Review
Below is a video of my Frontier Wargaming Paint Station Review. If the embedded file below does not work, use this link here.
Related Links
Like what is in this article, here are some related links.
The first place to go is to the Frontier Wargaming Website to see if you can find a paint station that appeals to you. Don't forget to use the coupon code MCM to save some money. If you want a direct link to the products related to the tabletop paint station, follow this link here.
Mrs. Must Contain Minis buys her Washi Tape from The Washi Tape Shop and from TheCoffeeMonsterzCO. If you or your wife are into scrapbooking, journaling or crafting, these shops are worth a visit. I have to admit that I like some of the designs myself.
Wrapping it up…
Thank you for joining me in this look at a fresh new product by Frontier Wargaming. Special thanks go to them for sending me this product to review. As stated earlier, both Mrs. Must Contain Minis and I approve of it.
Until next time, Happy Gaming Everyone!!!