Just this past week Osprey Games officially released The Silver Bayonet. I have not yet read the rules enough to form an opinion or offer feedback about the book, but I can talk a bit of what we can expect. In this post, I am going to specifically talk about generating your Commander and force of Soldiers and Specialists for this game.
In the interest of full disclosure, Osprey Games sent me a copy of The Silver Bayonet to help me create content for this website.
Now, let's talk about creating an Officer in The Silver Bayonet and recruiting your band of elite monster hunters to take on the Gothic Horrors of the Napoleonic period.
Creating an Officer in The Silver Bayonet
First and foremost, when you create an Officer for the game, you choose a nationality. You may pick that nationality from the following list.
Austria
Britain
France
Prussia
Russia
Spain
The choice you make affects which units your leader can take into the game. Some units are available to some nationalities, but not others.
You then have three choices to make to increase your Officer's stats.
Do you want to be good in Melee or Shooting? Would your prefer to be faster or be tougher? Do you want to be braver or to be able to hire more (or better) recruits?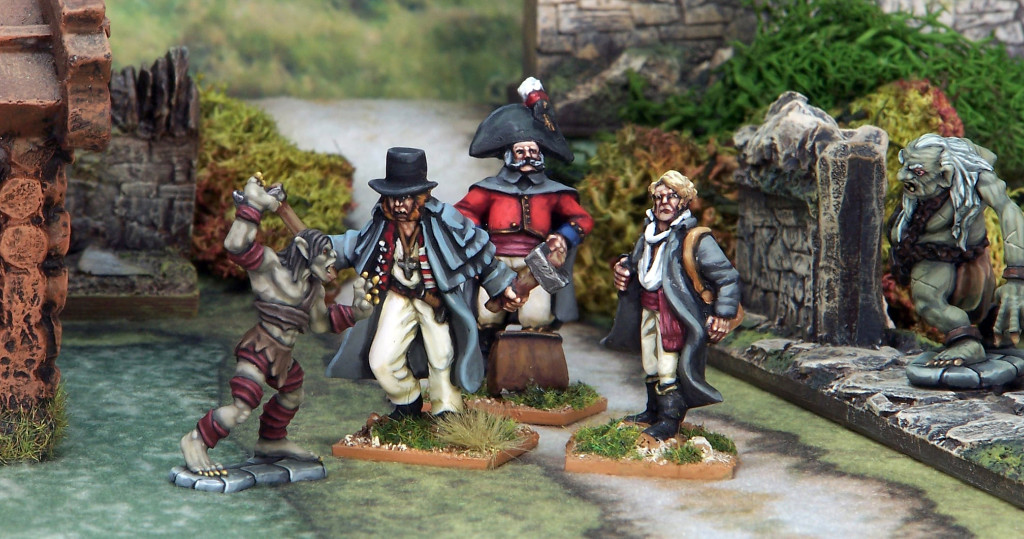 The choices you make with the above questions each increase one of your stat lines by a small bit. Finally, you select two attributes that give your character some boons. Joseph (the author) denoted the permissible attributes with an "(O)" in the attributes section of the book. I am not going into detail on those attributes, but I will mention a few.
You can choose to be an "Artillerist" who knows how to use artillery incase you come across it in the missions. You could go with "Hard to Put Down" where you get a second roll if you use fate points to negate damage. "Inspiring" also happens to be an option. If you choose this one, any allied figure within 6″ (and line of site of this character) gets a bonus to their courage.
There are many other Attributes that you may choose, but the sample above gives you a taste of what is there.
Next up, you select equipment and hire your crew. I won't be covering equipment here, but I will talk a little bit about hiring your band of monster hunters.
Recruiting Your Soldiers in The Silver Bayonet
Depending on whether you chose to be brave or to be able to have a bigger recruit pool, you will have 100 to 105 recruitment points to start. You use these recruitment points to hire your Soldiers. While your Officer gains more experience, they may choose to increase their recruitment stat. It looks like the max that you could recruit if you max this out is 145. Again, this is a very quick first look at the book.
Your typical Soldier is going to put you back 10 to 30 points depending on what they are. That means that you start with 4 to 7 Soldiers in your squad in addition to your Officer.

There happen to be 24 different types of soldiers that you can hire. Depending on which list you choose (nationality), you will be limited to 13 to 17 of these soldier types. For example, only the British can take a "Highlander" in with them. Based on the idea that a typical squad will come in with 5 to 7 soldiers in addition to the Officer, I don't find the selection restrictions devastating.
To give you a quick idea of some of the troop types you can take, let's look at the official miniatures for the game.
Official Miniatures
The Silver Bayonet is a use whatever type of miniatures you have type game. If you already have an extensive collection of 28mm Napoleonic miniatures plus a few RPG minis, you might only need the rulebook to get started.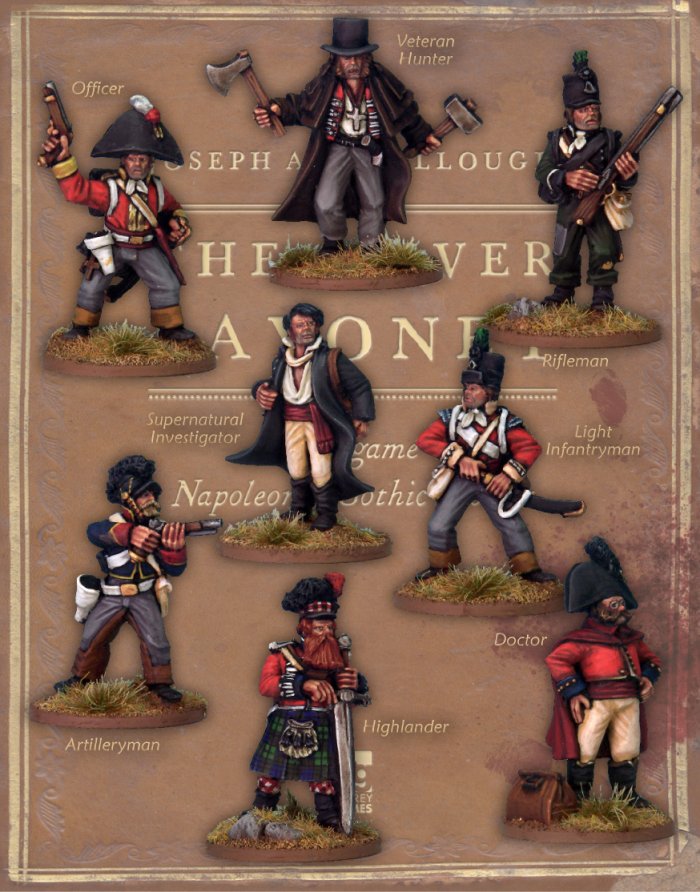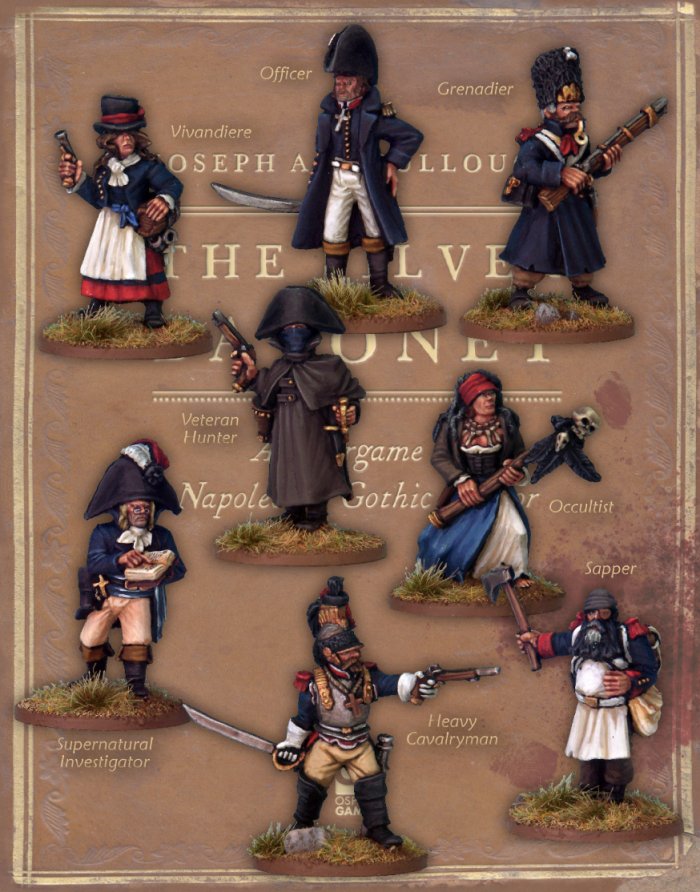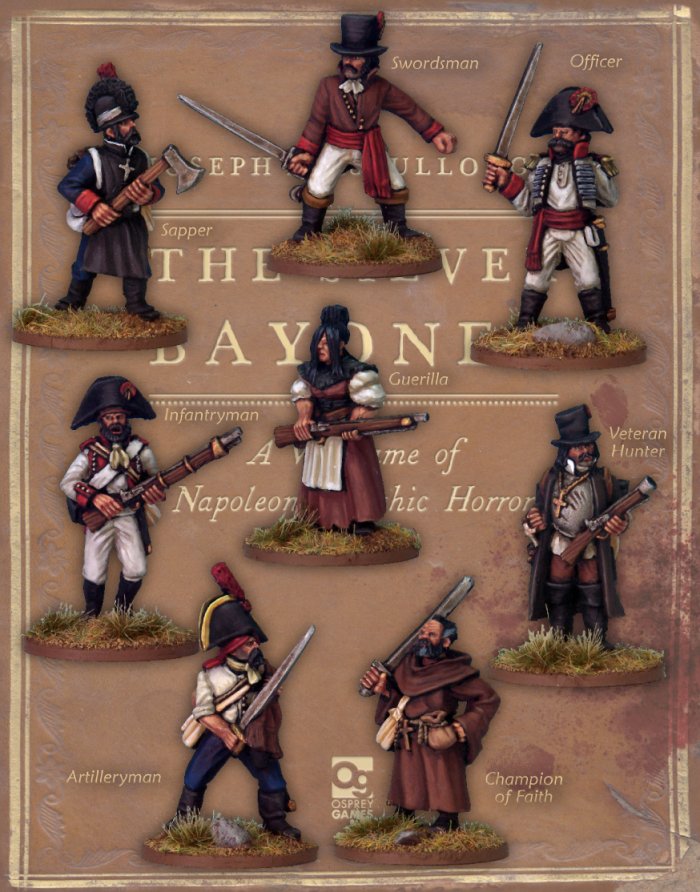 The miniatures above are part of North Star Military Figures' Wave One for The Silver Bayonet. I am guessing this means we can expect more miniatures to come.
Getting Your Hands on The Silver Bayonet
The Silver Bayonet is already out and in stores. There are a number of places you can look for this book including Amazon, your favorite local (or online) gaming store, and Osprey Games.
Any of the links where I get a small commission if you make a purchase (at no extra charge to you) I denoted with the word "Affiliate." Below are some places to look for the book if you can't find it at your local store.
Don't forget to check out North Star Military Figures to see if you can pick up the book (or official miniatures) from there too.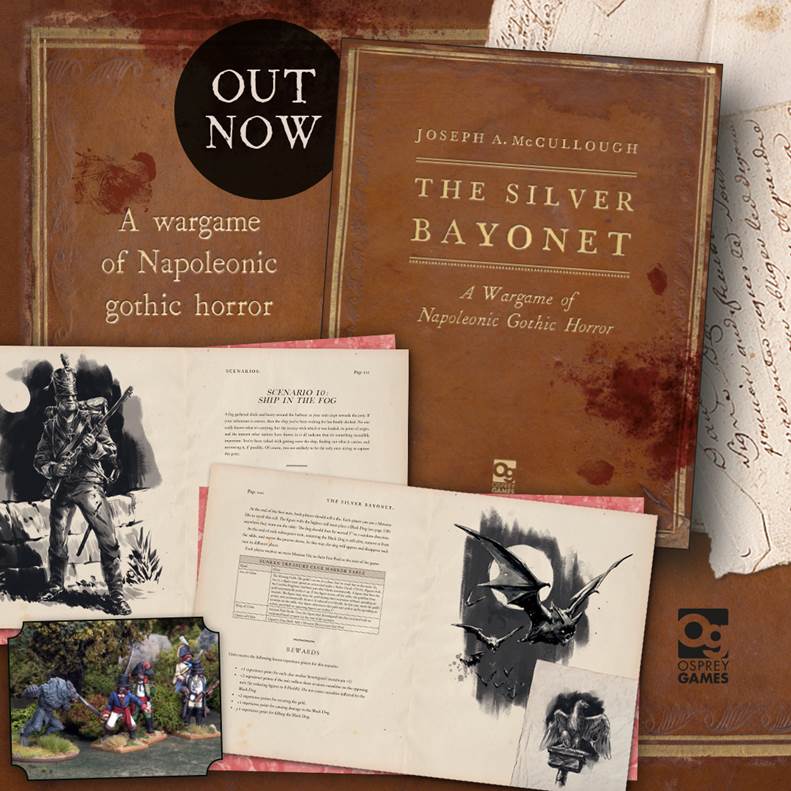 Wrapping it up…
Hopefully you enjoyed this quick article about building your band of elite monster hunters in The Silver Bayonet.
So far, The Silver Bayonet looks pretty neat. I already took a quick flip through and focused in on some sections of interest. There are rules and missions to play this game through solo, co-operative and competitive campaigns.
I did not yet mention, but Osprey Games intends that you will play this game on either a 2.5′ by 2.5′ or a 3′ by 3′ gaming table. With those measurements, this should fit on any kitchen table.
Thanks goes out to Osprey Games for sending this book. It really does help in Must Contain Minis being able to put out knowledgeable posts about their products.
I have been a fan of Osprey Games before I even started the Must Contain Minis website. I published a ton of articles covering this company through the years, and they happen to be the first company that supported Must Contain Minis with review products. A big thanks goes to them for their continued support.
If you want more stories related to Osprey Games, check out their articles section here on this site. I also have a quick post about what monsters you can expect to face in The Silver Bayonet.
Until next time, Happy Gaming Everyone!!!