OnTableTop just started the Global Gunslinger League this week. They set up the Global Gunslinger League as a slow grow world wide campaign to celebrate the new two player starter set for Wild West Exodus. If you follow (or join) the Global Gunslinger League, you will create a starter army of either Union or Enlightened factions.
On top of that, OnTableTop will provide awesome prizes to two lucky winners!!!
Now, OnTableTop sent me a Wild West Exodus: Showdown at Retribution Two Player Starter Set to get me involved in on the project. As such, I will be joining their Global Gunslinger League as I unbox the new Wild West Exodus Starter Set and document my work.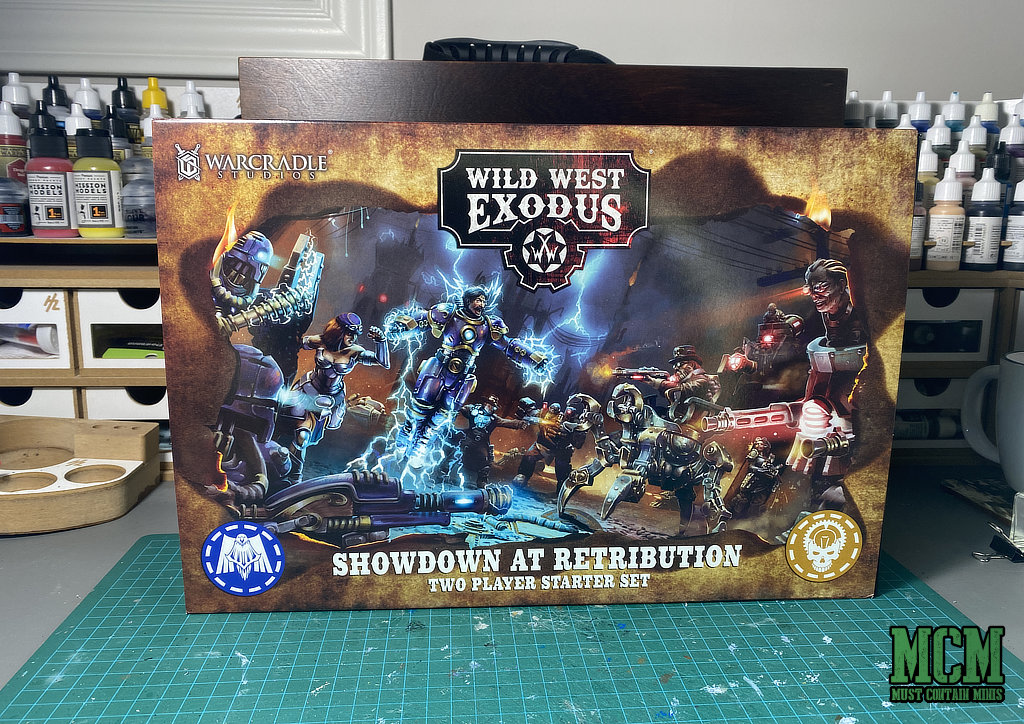 The New Starter Set – Wild West Exodus
I have not yet broken deep enough into my new Showdown at Retribution Two Player Starter Set to tell you about all the contents. All the miniatures are plastic and the box is heavy. Let's turn over that box and see what Warcradle packed in there.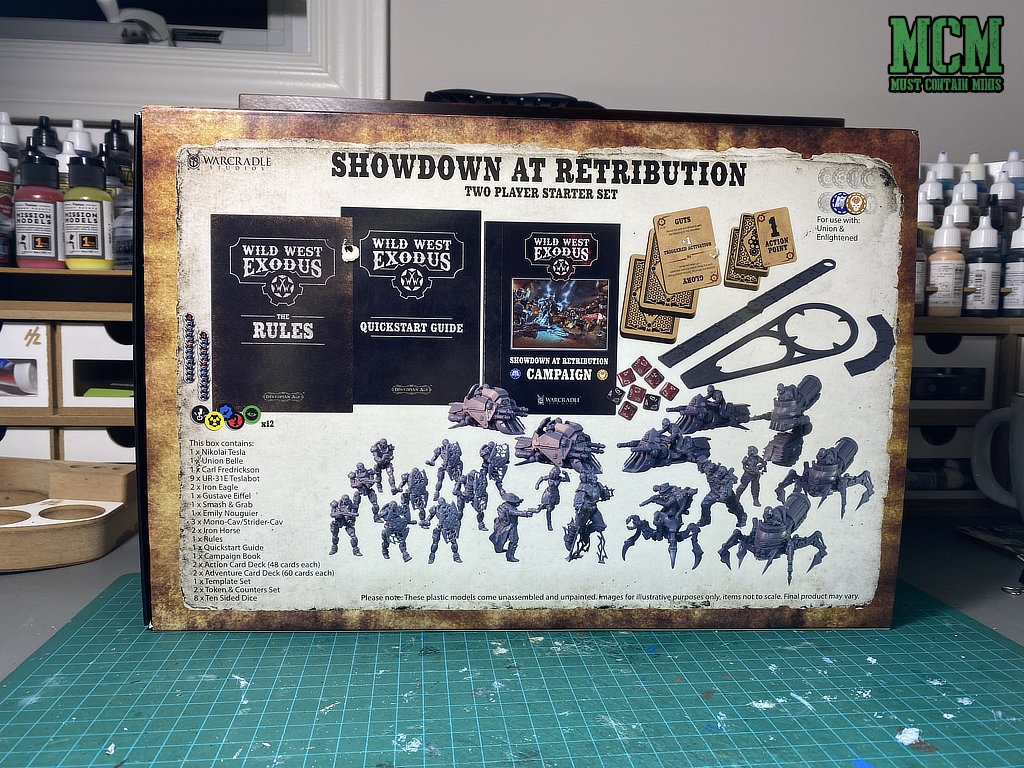 It looks like there is an elite group of Enlightened miniatures in the box along with a very interesting mix of Union minis. The soldiers on the Union side happen to be robotic.
Global Gunslinger League
To join the Global Gunslinger League, head to OnTableTop with this link here. That is the sign up page. Then go to the projects page and start a new project.
To do this, head to their projects page. Click on the dropdown menu labelled as "Related Contest." Choose "Global Gunslinger League" there.
From there, document your work as you build your force of Union or Enlightened miniatures. For the contest, you will have to pick a side. In early 2022, OnTableTop will choose two winners from those who participated in projects for the Global Gunslinger League.

I've already started and I would love to see some of your projects over there too. You can check out my OnTableTop project page for Wild West Exodus to see my posts on their site related to this project.
This is my first work on their site.
Now, lets discuss those prizes.
The Prizes
The 2 prize bundles for this contest are provided by OnTableTop. As such, I will use their words to describe the prizes. You might win one of two miniature bundles.
Each bundle contains a whole host of miniatures that you can use to build an alternative force to battle the one you currently have. So if you built up a Union force, here's your chance to win an Enlightened force! All you have to do is build a project and take part!

In early 2022 we will choose 2 winning projects from the OnTableTop project system that are part of the Global Gunslinger League (choose this option when you create your project) that have shown great progress and documented the completion of at least one faction from the new Showdown At Retribution starter set.

https://www.beastsofwar.com/wild-west-exodus-hobby-league-signup
Suggested Products
Warcradle Studios, the makers of Wild West Exodus is actually owned by Wayland Games [Affiliate]. Wayland Games also owns OnTableTop. Must Contain Minis has an affiliate relationship with Wayland Games. If you buy from them using links on this site, a portion of the sale price goes to Must Contain Minis at no extra cost to you. You will be also buying from as close to the manufacturer as you can.
In the interest of full disclosure, any links that might earn me a commission have been denoted as [Affiliate]. Now, let's look at some of the times you might want to buy to get in on the Global Gunslinger League.
The first step would be to buy the two player starter set [Affiliate]. That is what the contest is for.
If you want to go beyond the starter set, OnTableTop has some suggestions of where to go next. The next purchases are up to you, but they suggested the following below.
Union Army Next Steps for the Global Gunslinger League
The next purchase recommended for the league on the Union side is the following…
Enlightened Army Next Steps For the Global Gunslinger League
The following are recommended for the Enlightened side of the Global Gunslinger League.
Wrapping it up…
Thank you for joining me in this post about the Global Gunslinger League currently underway on OnTableTop. If it is something that interests you, I encourage you to join. There are possible prizes to be won.
I would like to thank OnTableTop again for sending me the new two player starter set for Wild West Exodus. You can find my posts for the Global Gunslinger League over on their site.
You can also head on over to the Wild West Exodus site for all of the latest news and rules about the game.
Until next time, Happy Gaming Everyone!!!