Ever wonder how to carry your miniature paints in style?
The Paint Case 2.0 by Frontier Wargaming is a fantastic solution for those of you who want to carry their paints around in style, and for those of you without a permanent paint station. While there are other ways to carry your paints, this product looks impressive and compactly contains your collection of paints and painting accessories.
Whether you are into model building or miniature gaming, this case will suit your needs. If you have not already guessed, this post is a review of Frontier Wargaming's "The Paint Case 2.0."
Disclaimer: Frontier Wargaming sent me this Paint Case for review. It is their base product along with a few additions. While I accept review products, I am in no other way compensated for this post and reserve the right to give a positive or negative review.
Now, before getting into the review of this case, let's talk about some alternatives for carrying and storing your paint.
Different Ways to Carry and Store Paint
Before COVID, back when I used to go to my favorite gaming store to paint with like-minded people, I used to carry my paint in a Zip-lock bag. I would then toss that bag into a box or backpack. That is how I carried around my paints, models and tools. It is not fancy, but it gets the job done. Depending on how I packed the miniatures, sometimes I would fear for their safety during the trip.
Likewise, I stored my paints at home in boxes. Again, super affordable, but nothing special. Later, I upgraded with paint racks by Six Squared Studios, XOLK and HobbyZone. You can look up posts about those products in my Painting and Painting Accessories section of this website.
That said, I lost my dedicated painting space for a while due to some things out of my control (the Pandemic). While I waited to regain that space, I used my Kitchen table as my hobby area.
At that time, I used a pizza box to hold my paints. It works, but it kind of feels messy.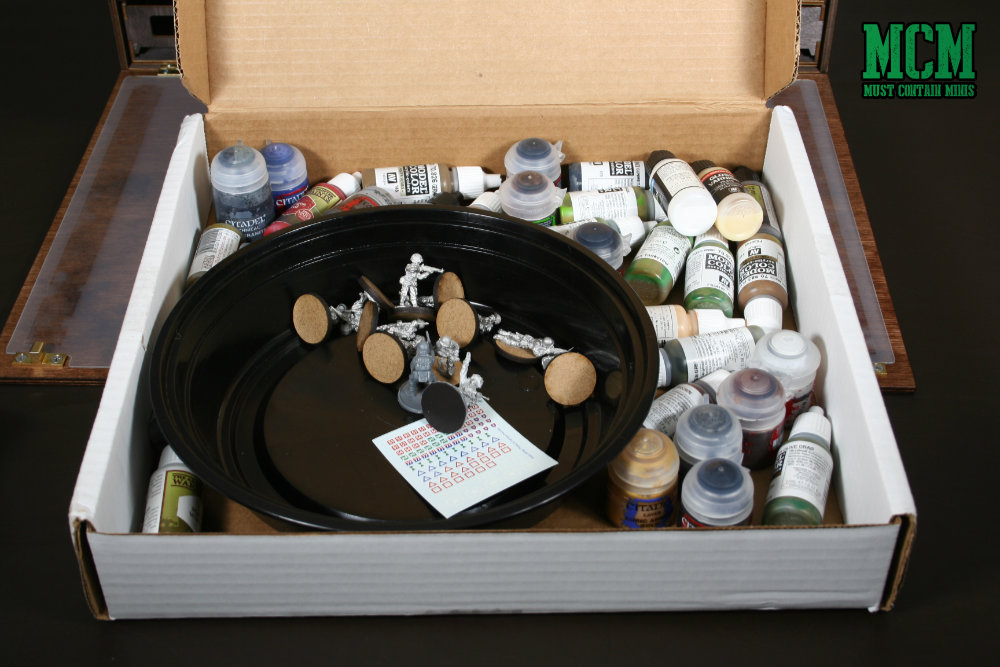 Then Frontier Wargaming sent me something much more stylish. Look at this!!!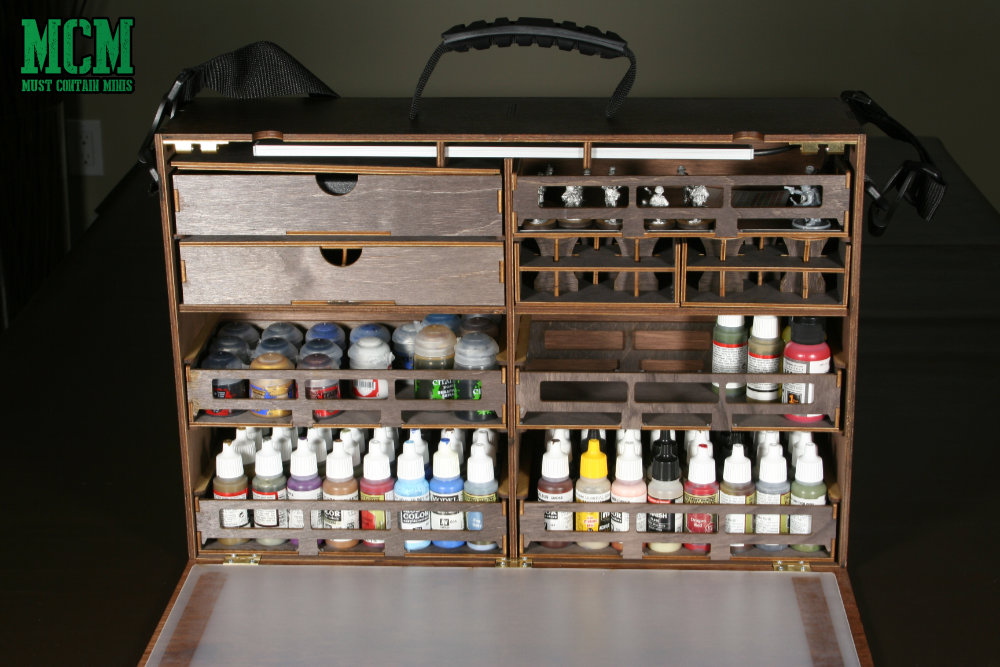 A Stunningly Beautiful Paint Case
The aestetics on this carrying are through the roof! Frontier Wargaming made a beautiful looking product here with the 2.0 version of their Paint Case. It comes stained and pre-built. No assembly needed.
As an optional upgrade, you can even get custom engraving on the lid. I got them to put my logo on there.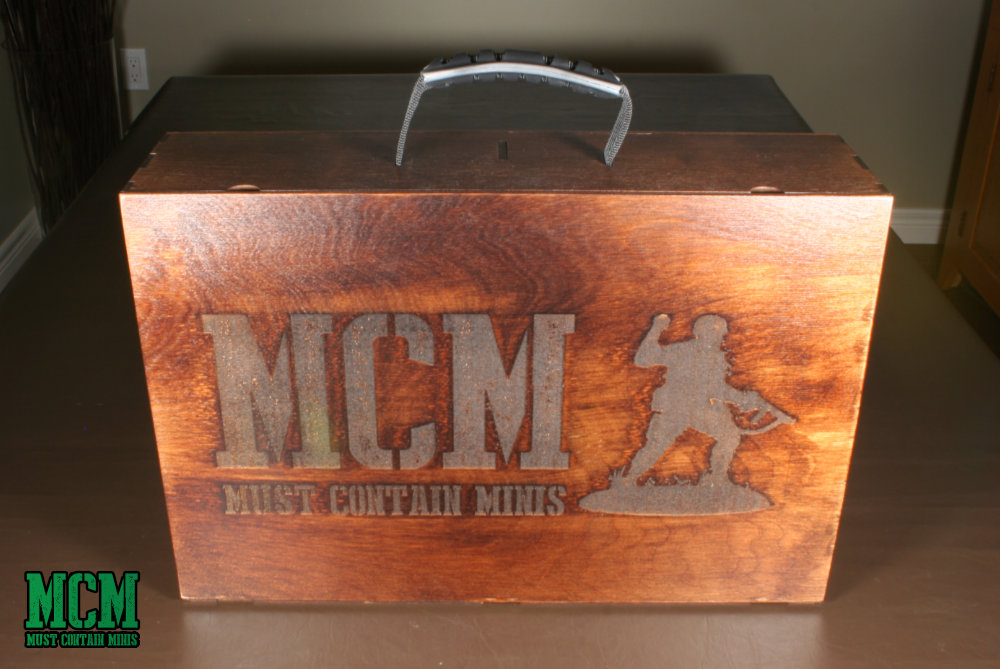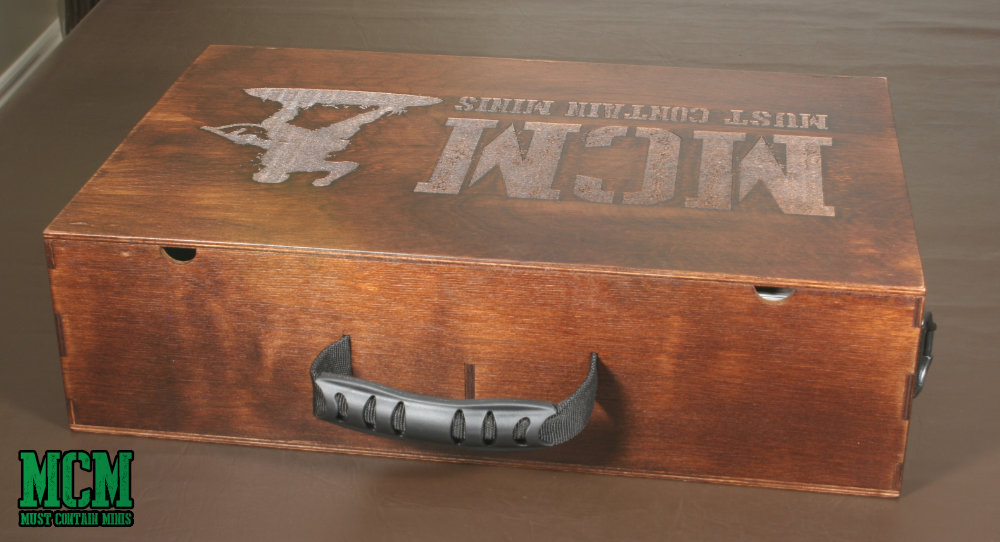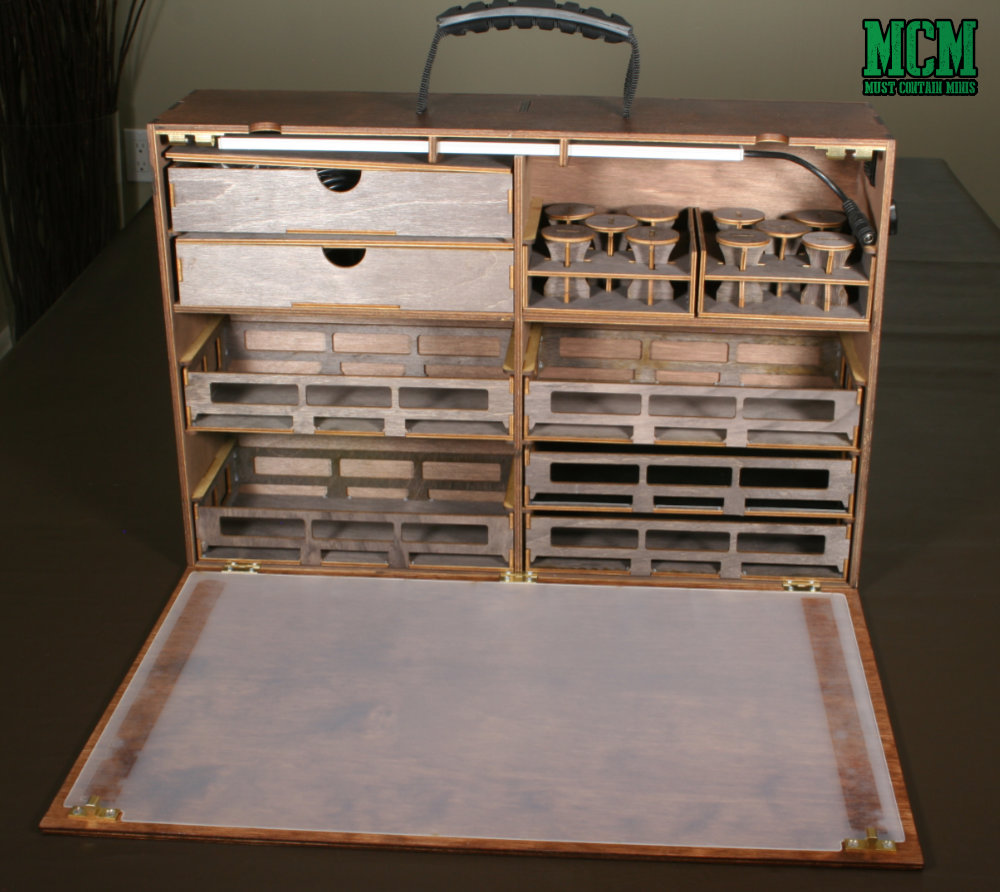 As you can see, this case is a work of art. Simply beautiful!
How Much Paint Does This Case Carry?
One good question right off the bat is how much paint does this case actually carry? Well, I decided to put it to the test and started stocking it with my collection.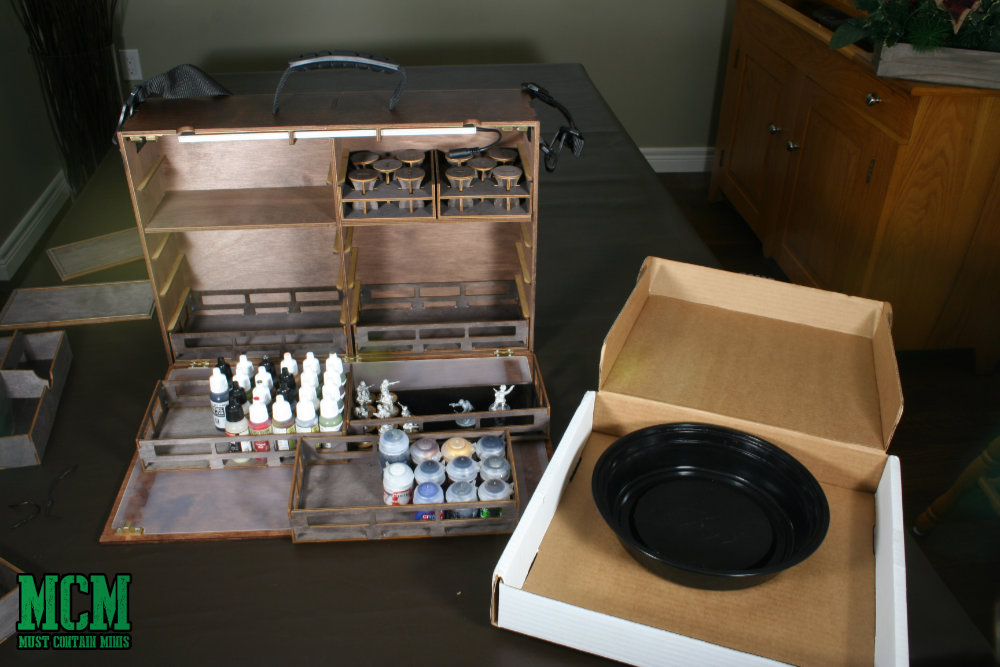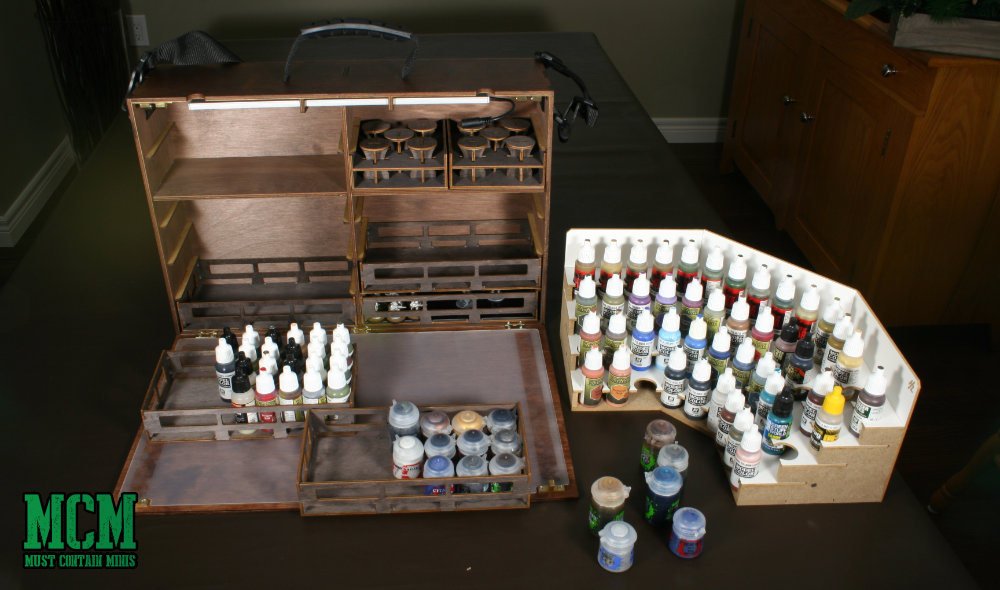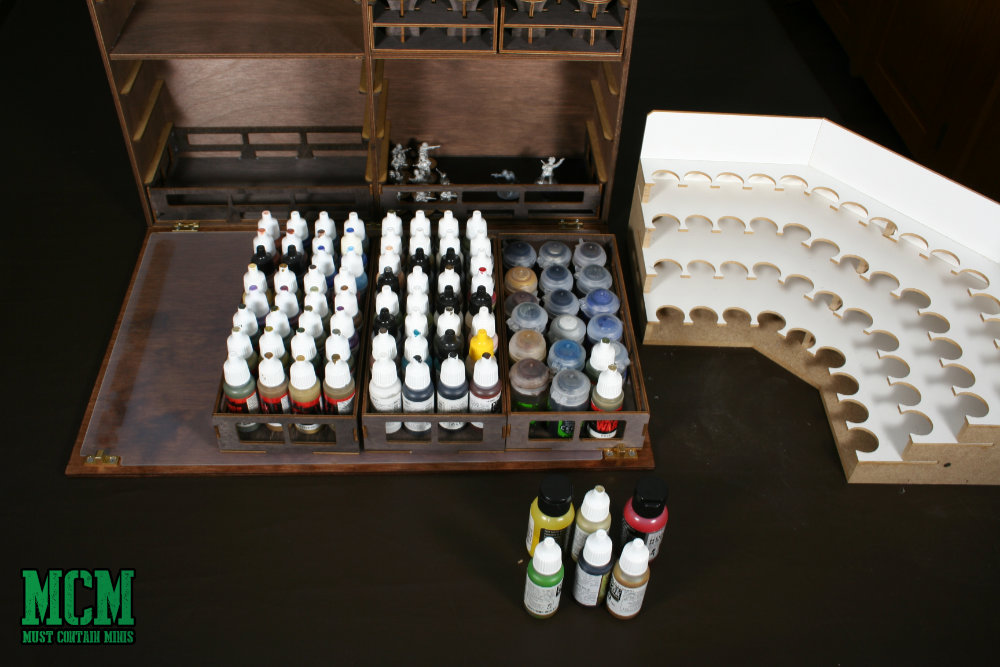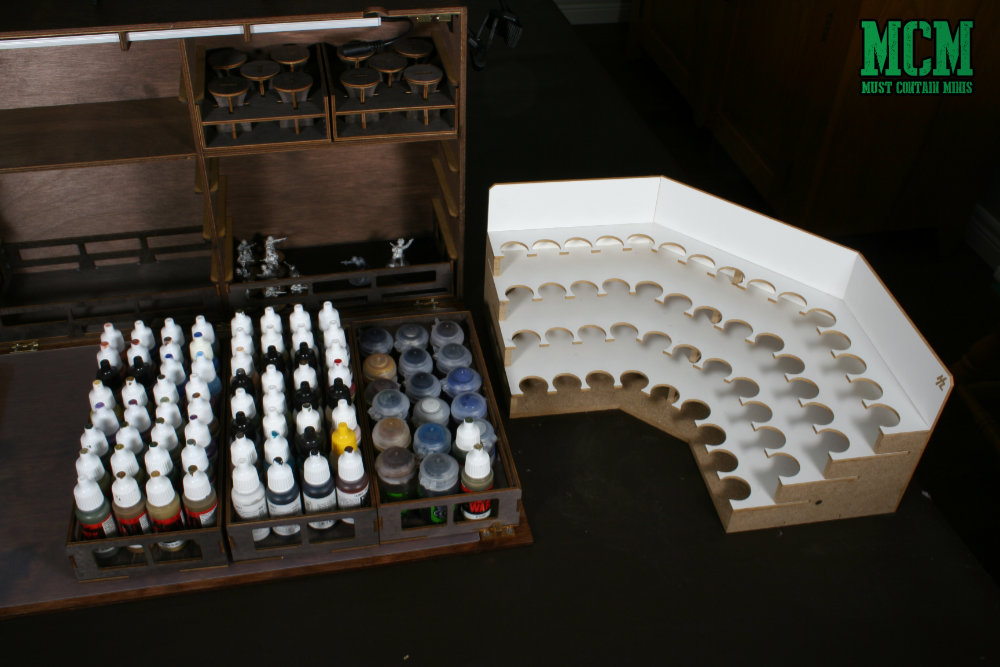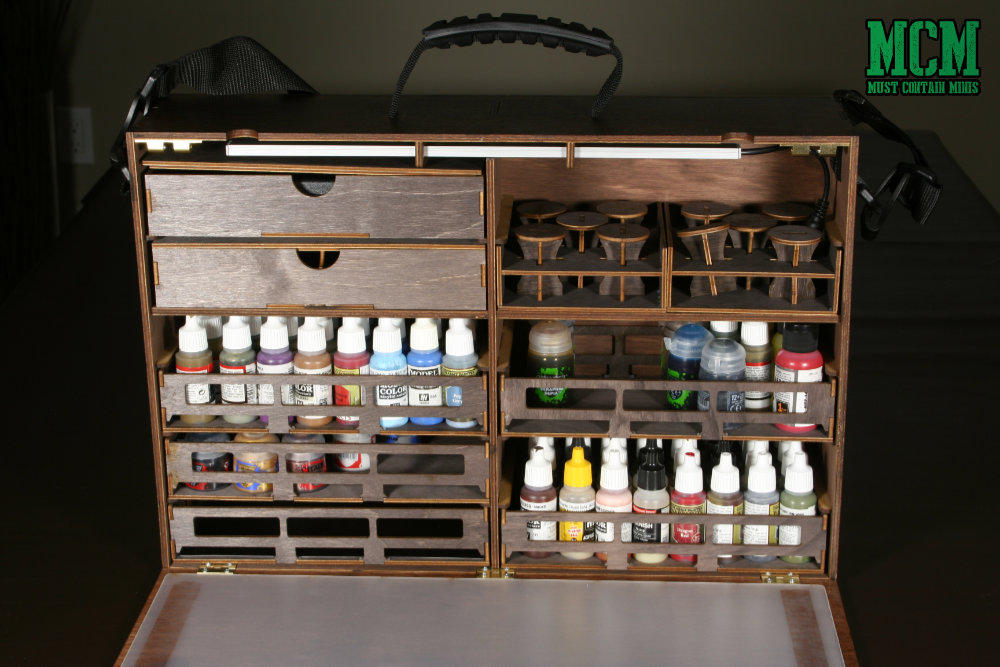 Okay, you can see here that the case holds all of my paints, but how much paint does it carry?
Here are a couple of quick charts that I made. As a note, these numbers are for if you go with just one style of paint bottles. If you mix and match like I have, your final numbers will vary.
Base Model – The Paint Case 2.0 – Paint Capacity
| Bottle Style | Capacity |
| --- | --- |
| Vallejo Style Dropper Bottles | 128 |
| Citadel Style Paint Pots | 72 |
A quick look at how many paint bottles the Frontier Wargaming Paint Case 2.0 can carry with the base model.
Not bad for just the standard case.
Maxed for Paint Model – The Paint Case 2.0 – Paint Capacity
| Bottle Style | Capacity |
| --- | --- |
| Vallejo Style Dropper Bottles | 192 |
| Citadel Style Paint Pots | 180 |
The Frontier Wargaming Paint Case 2.0 carrying capacities when fully optimized for carrying paint.
If you have a lot of paints to store, maybe you want to upgrade this case to max out the amount of bottles it carries.
The Tool Boxes
Now, let's take a quick look at those tool boxes.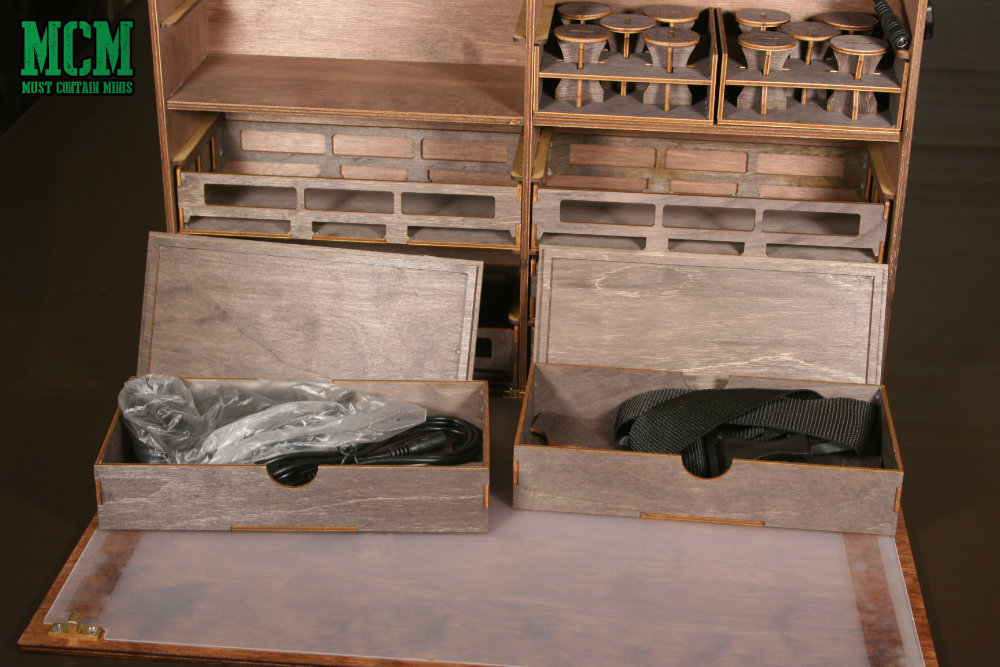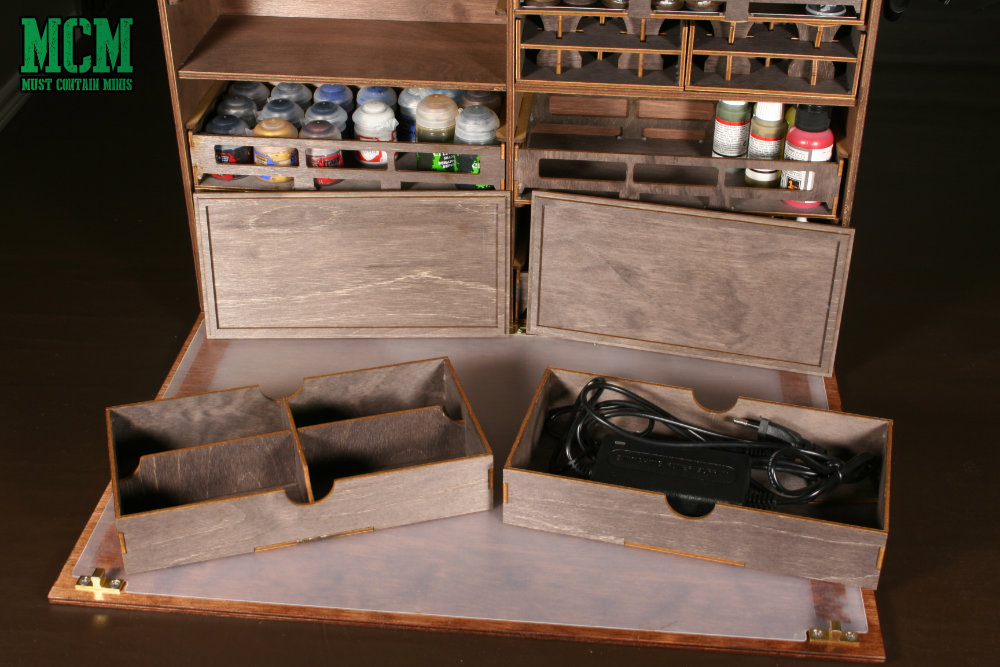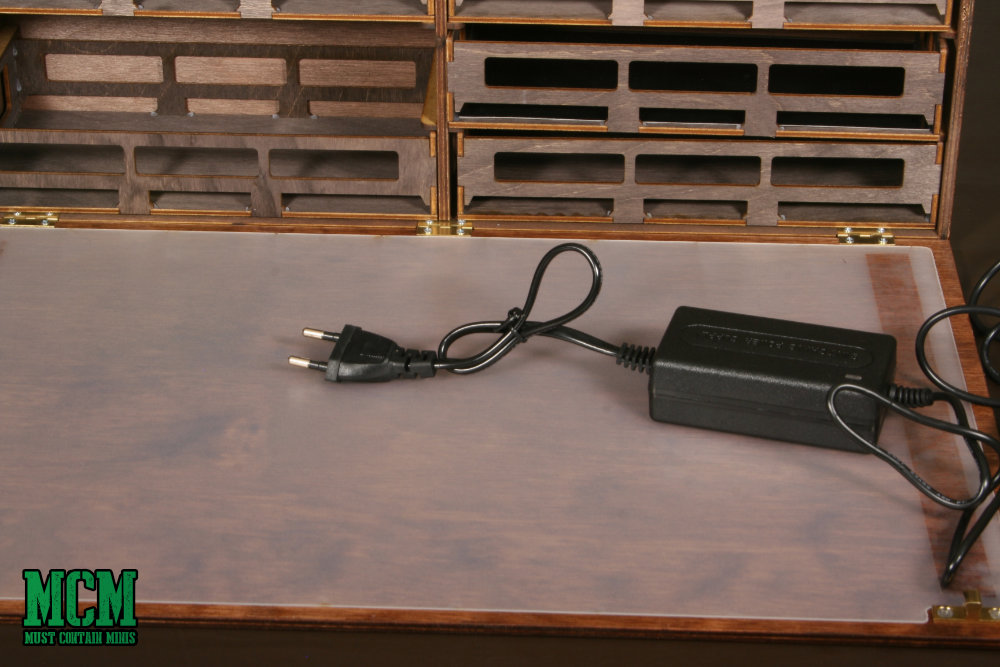 Now, if you want to see the lamp in use, you will have to check out my video at the end of the article. You will also see one of the tool boxes loaded up there. You can put in it whatever you want. Brushes, bits, or tools. I put in there building tools for miniatures and models.
Taking the Review Further
Overall, this is a beautiful product. It is on the pricier side, but it is an extremely impressive case.
Want to turn this into a miniatures transport case? You can do that with the magnetic trays. Want to carry just paints? You can do that too. Loading it up with the exact configuration of trays that you want is easy on the Frontier Wargaming website. There is a link at the end of the video.
On top of that, you can get your logo on there and the ability to customize the components is pretty sweet.
As far as criticisms go, if the price bothers you, then it is not the right case for you. Also, being in North America, the USB power setup would have been more useful to me than a Europlug.
That's about it really for my criticisms of the case. Overall, I like it.
My only other suggestion is for Frontier Wargaming to make it more apparent that they offer a service to engrave both the lid and backside (and whatever other sides you want) on the Paint Station 2.0.
Engraving the lid is great, but when you are using the station, people don't see that. If you want to take the paint station to a convention, event or store to promote your own personal brand or commission painting service, then having the logo on the backside of the case would be helpful.
I did not know that you could do that, so I did not ask for the service. Providing that you know that they can do this, you can take advantage of it. Having had the logo on both sides would make the paint case double as a sign for your business, even when it is in use.
If you want to get even more in depth with my thoughts on this case, be sure to watch the video review below too.
Video Review of Frontier Wargaming's Paint Case 2.0.
The video shows some items that I did not cover in the written review such as the paint handles, the light in use and a quick look at the tools that I tossed in the tool box.
Wrapping it up…
Overall, The Paint Case 2.0 by Frontier Wargaming is a really visually appealing, and functional product. It works well and I would recommend it for anyone who wants to carry their paint collection in style.
Specifically, it would be beneficial for miniature painters who do not have a dedicated hobby space (it is so easy to pack up your work with it) or for those who travel and want to carry around a portable painting station.
Have you used one of these or like Frontier Wargaming's style? Let us know in the comments below.
Until next time, Happy Gaming Everyone!!!