This post takes a look at another miniature from the Sword and Brush 2019 painting competition. This time, I showcase a Bust of Hannibal Barca by Nutsplanet. Chris Slye, of Lords of War painted this one up for the contest. In this post, I showoff the model, talk a bit about Nutsplanet, and publish a question and answer discussion with the painter of this model, Chris Slye.
Let's get into it.
Nutsplanet
Because I come from a strictly gaming background, I never heard of Nutsplanet before. So, I hopped on my computer and checked out their website.
Nutsplanet makes a number of Busts and Full Figures. They scale their full figures in 1/20 and 75mm sizes. Their busts come in a nice variety of Sci-fi, Fantasy and Historical Figures. Their Full Figures come in Fantasy and Historical models. If you like painting highly detailed models, this company might be worth a look.
The Hannibal miniature in this post is actually a 1/10 bust that comes in four pieces. In a future post, I have some absolutely amazing Game of Thrones Busts to showcase also by Nutsplanet.
The company runs out of South Korea, but their models seem fairly available through local stores or online.
Now, let's take a closer look at the model as painted by Chris Slye.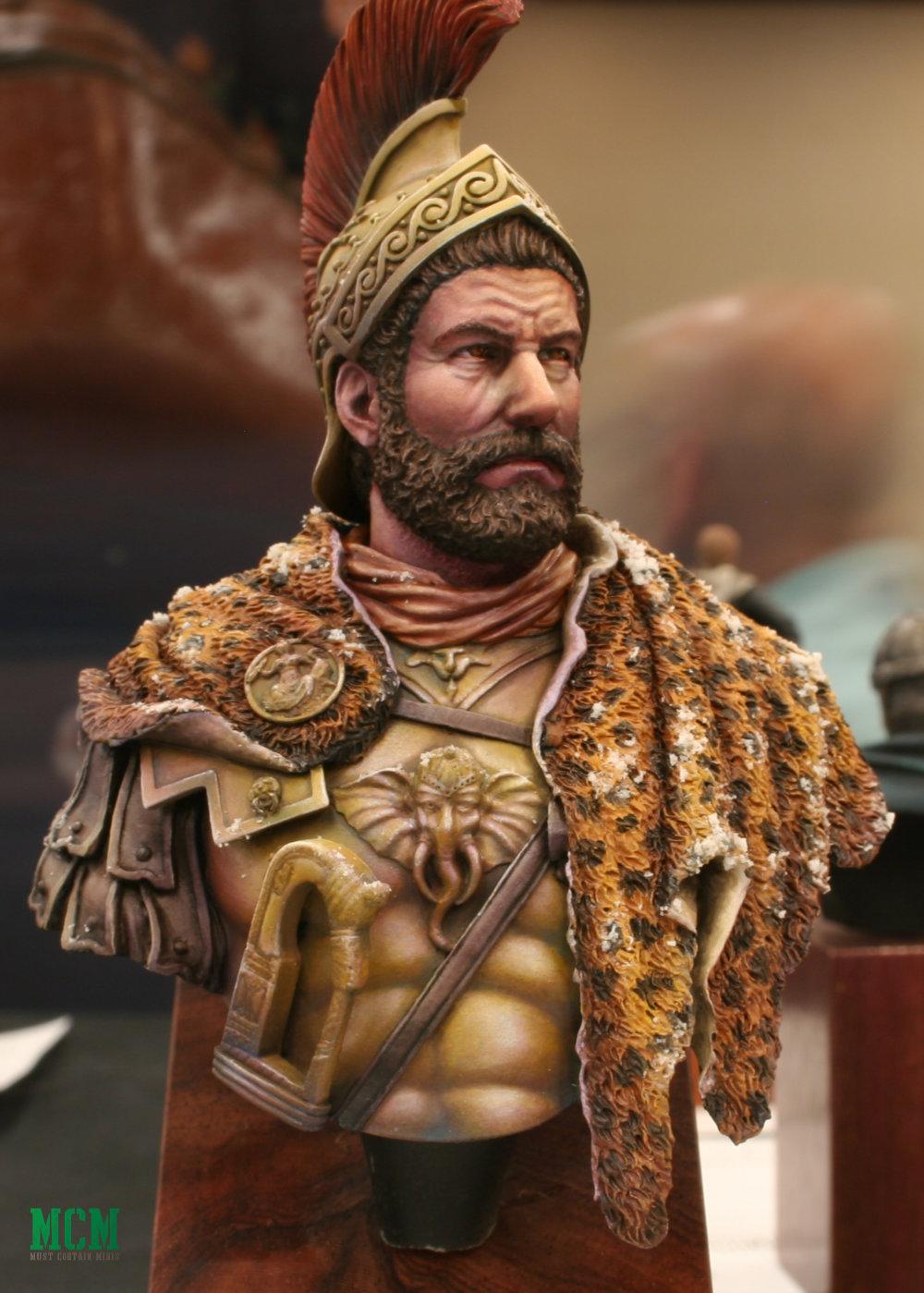 For this article, I reached out to Chris Slye to discuss his model.
A Quick Q & A with Chris Slye
Chris quickly responded to my questions about his miniature and rather than paraphrasing, I decided to publish his complete answers. Below, you will find my questions along with his responses.
What Inspired You To Paint Hannibal Barca?
It was actually the first bust I had ever painted. I had attended Sword and Brush a few years ago as a vendor (Lords of War) because I wanted to see what the event was all about. As an avid Wargaming hobbyist, I was pretty blown away at a hobby world that was completely different and yet alike to mine. I was particularly drawn to the inclusiveness of the event, how everyone used the event to celebrate figure painting, talk to old friends and appreciate a mutually held passion. I was inspired to paint a bust because it wasn't like anything I had previously done before.
Why Did You Choose This Model?
I chose the model because Nuts Planet is a very accessible, high quality resin casting company with incredibly detailed sculpts of very famous historical and fantasy characters. I wanted to do a historical figure, as I am a student of history. Hannibal Barca was an easy choice because his campaign against Rome is historically incredible, and the model itself is oozing with character and detail.
How Long Did the Model Take to Paint?
The model probably took about 50 hours to complete. I would say many of these hours were spent holding the model and thinking, as I was being overly thoughtful and critical (being my first ever bust). I think my future projects will paint up much quicker.
Did You Use Any Special Techniques that You Want to Comment About?
As far as new techniques, I did try a new glazing technique with the airbrush to help add additional color saturation, contrast and unity to the piece. This is done once you are done all of your layers and blends, by choosing a few colors you want to use (dark purples, reds or blues work great) and using a super watered down paint through the airbrush. You basically airbrush a thin layer carefully into a shadow or area you want to blend or add color to, an then quickly switch between paint and just air (quickly drying your successive layers). This gives you a huge degree of control as you add very thin layers of color. I was very pleased with how it turned out!
Wrapping it up…
A special thanks goes out to Chris Slye from Lords of War for being so quick to provide me with answers about his model. He painted this bust to an excellent quality.
I must say that the entries at Sword and Brush's painting competition really impressed me. In my next post, I showcase two Games of Thrones busts also made by Nutsplanet.
Be sure to check out my Wrap Up Article gathering together every single Sword and Brush 2019 article that I wrote.
Until next time, Happy Gaming Everyone!!!