In this post, I discus my first game of The Walking Dead: All Out War by Mantic Games. I played this at SkyCon 2018, and Andrew of the Hamilton Tabletop Gaming Society (pictured above) acted as the game master. Andrew's goal is simply to get more people playing a game he loves. I had a lot of fun testing it out and am happy that Andrew brought it to the convention. Not all the minis are painted, but I am told that he did this on purpose to show the Board Gamers and RPG Players at the event that you can enjoy this miniatures game without having to paint everything. He didn't want to intimidate people away from the hobby – and that is a cool thing.
This post is both a Battle Report and a First Impressions Article about the game. In a later article, I showcase more pictures from this gaming session for those interested.
Now on to the event. When I got to Andrew's demo table, he gave me the option of which battle I wanted to play. He had two maps and missions set up to go.
Choosing the Board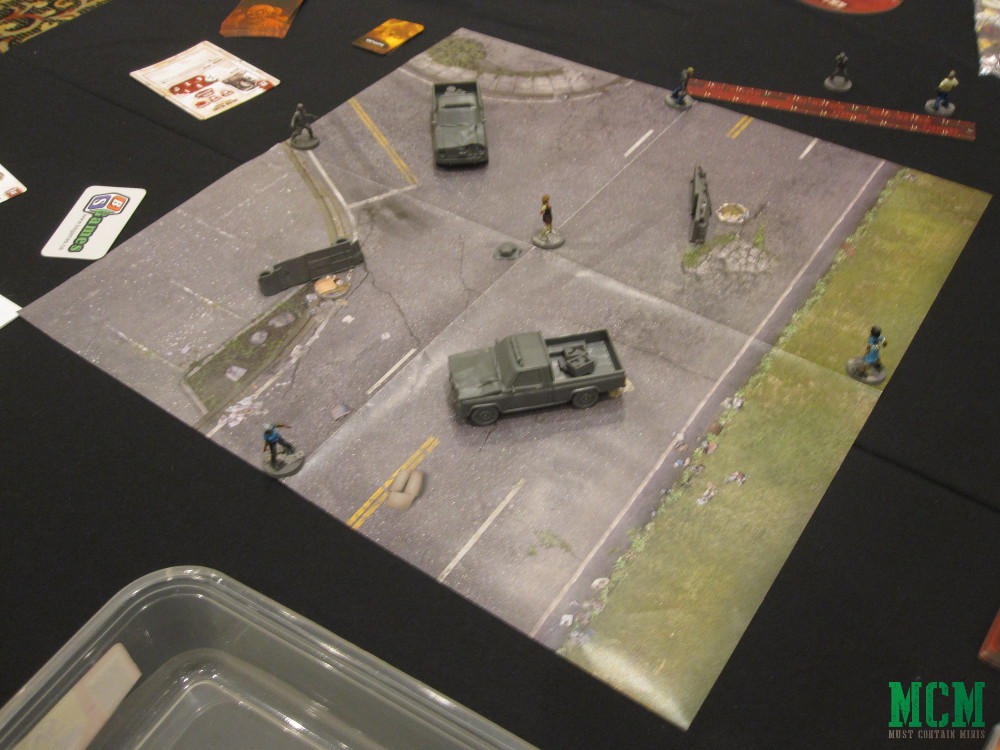 Or…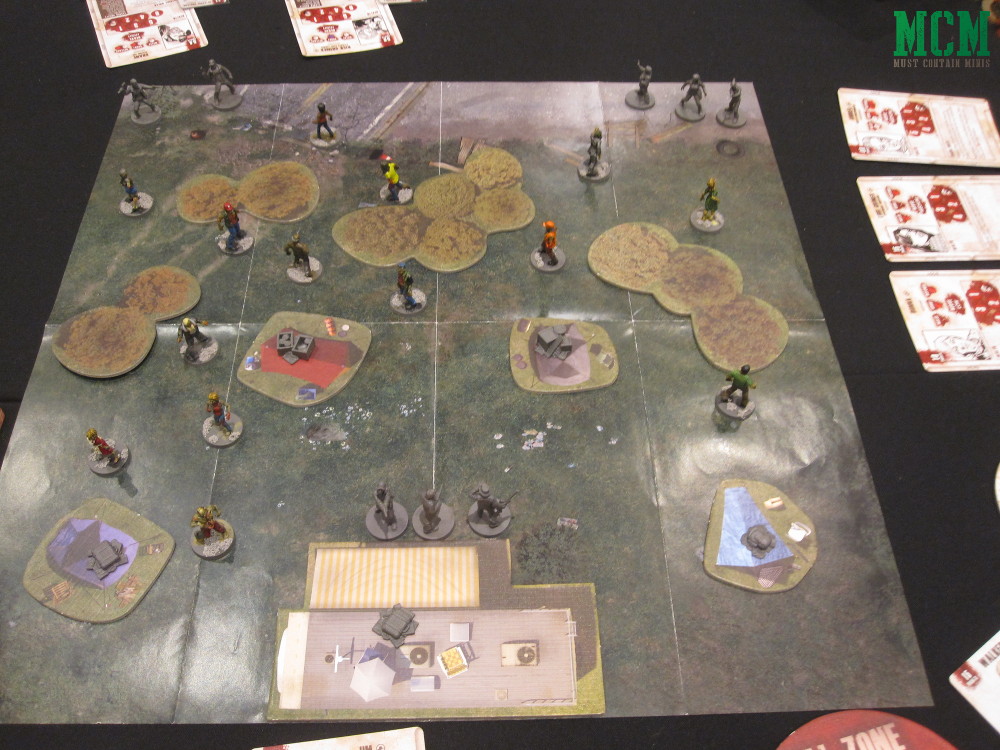 The Camper Scenario
I decided to give the second board a chance. My characters were Rick and Shane. Andrew (my GM) played the other characters and the Zombies for this demo game. That said, he did let me suggest the strategy that I wanted Andrea, Lori and Donna to take to get to the RV.
If you look at the picture above, Rick and Shane are in the top left corner. Andrea (armed with a gun), Lori (unarmed) and Donna (also unarmed) are on the top right. At the camper, we have three characters there to provide cover (Jim, Dale and Allen) to the others. I win the scenario if Lori and Donna make it to the camper alive.
Between us and the camper, stood many Zombies.
Starting the Game
Right off the top, I focused more on the Zombies than the characters I played. My goal, to clear out Zombies so Andrea could take Lori and Donna safely to the camper. Rick and Shane would be my killing machines to carve out that safe path.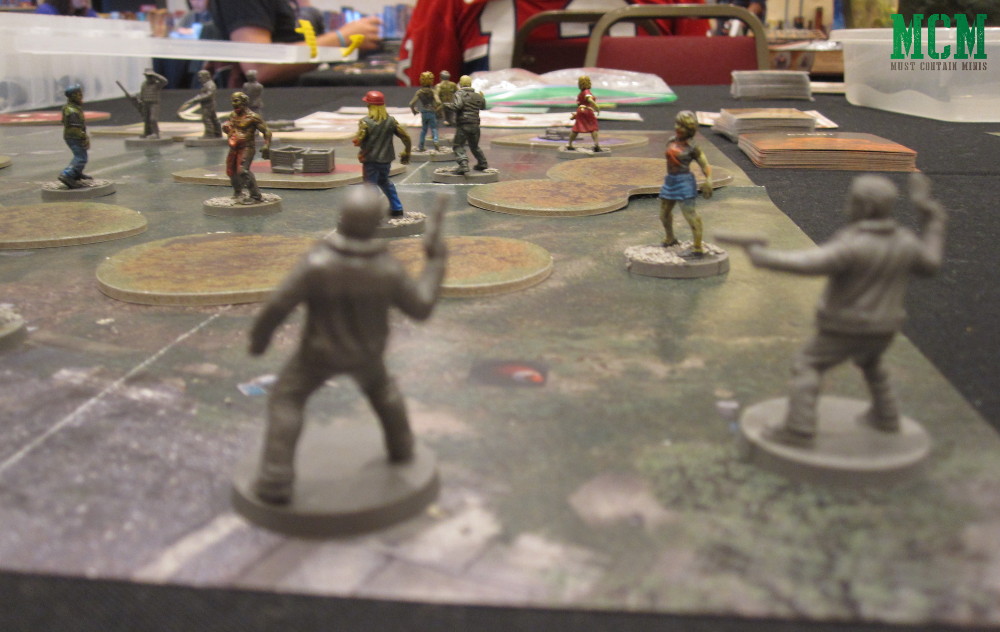 I immediately ran Rick into melee with the closest Zombie.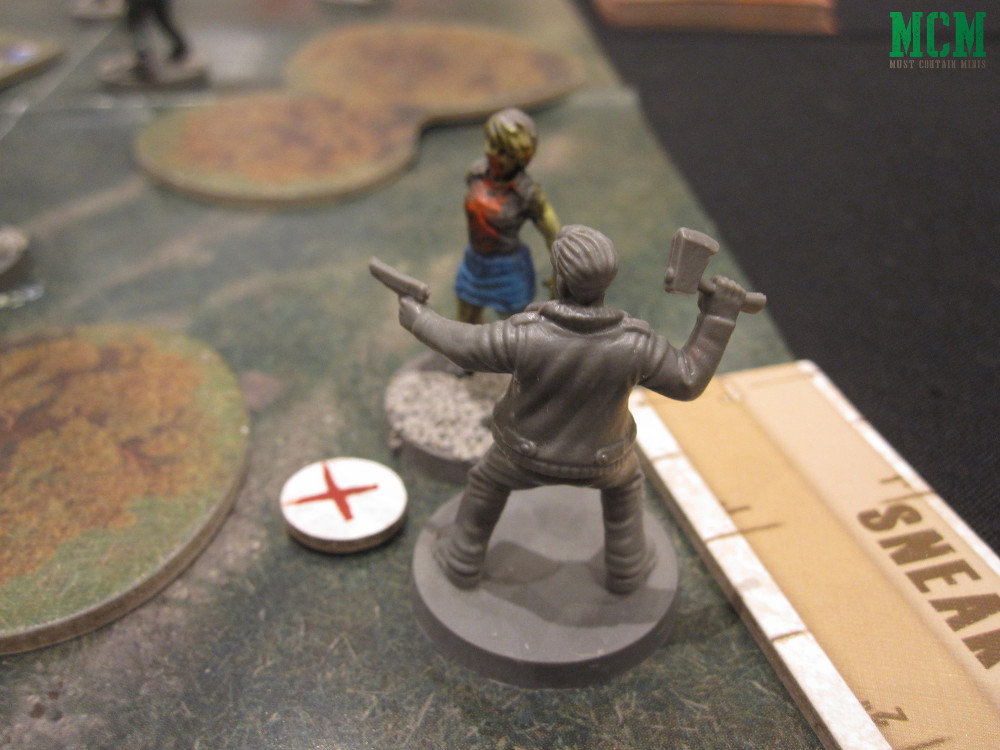 Meanwhile, Shane goes to the next closest Zombie but doesn't get the kill. It is actually looking a little iffy as he has a few more Zombies heading his way. Oh, oh.
Into the Action!
Andrea, on the other hand, moves in on a Zombie with Lori and takes it out immediately. The Women proved to be very successful in this demo game of The Walking Dead.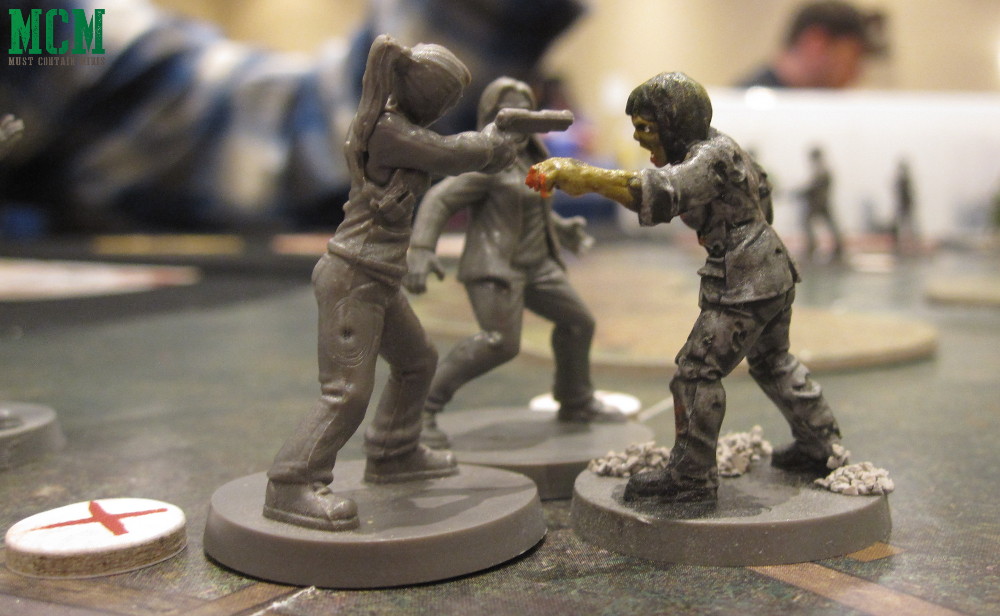 In fact, Andrea lines herself up to take a shot at another Zombie for later on.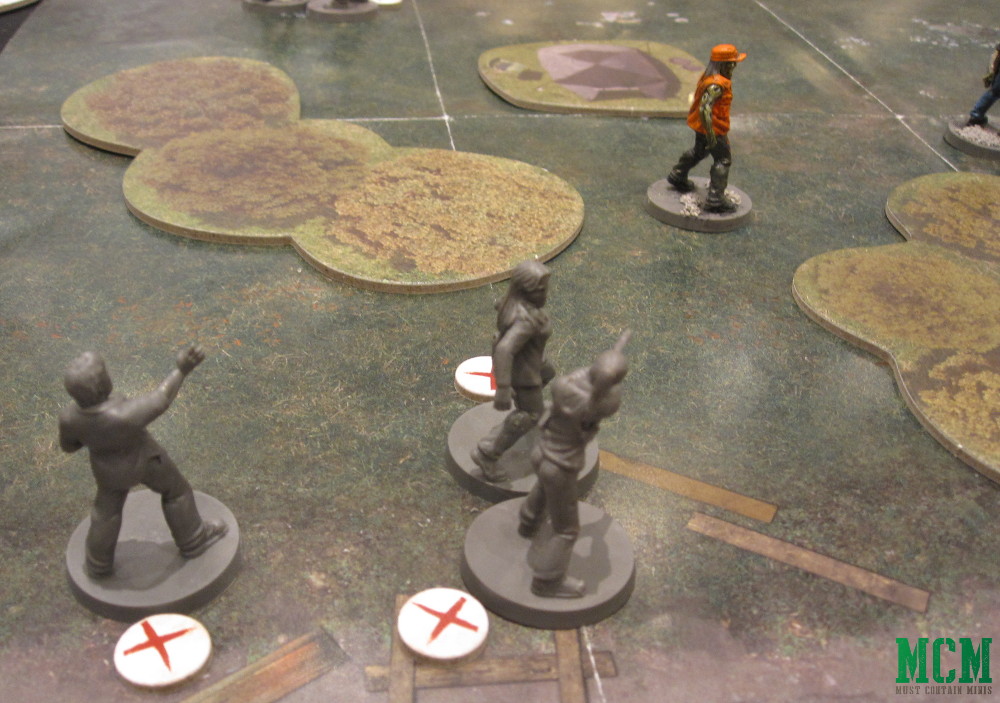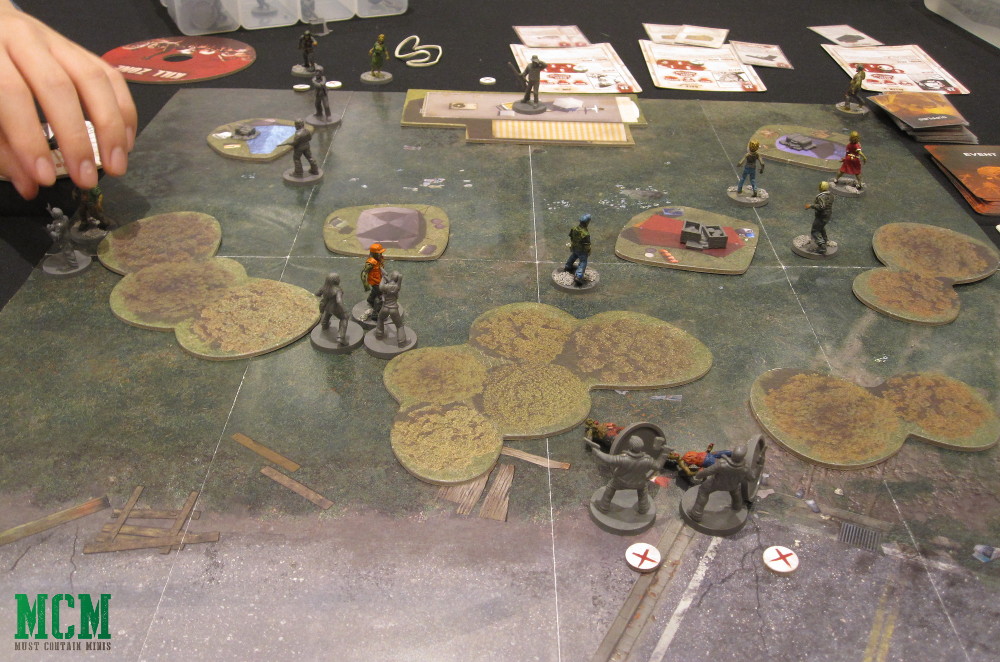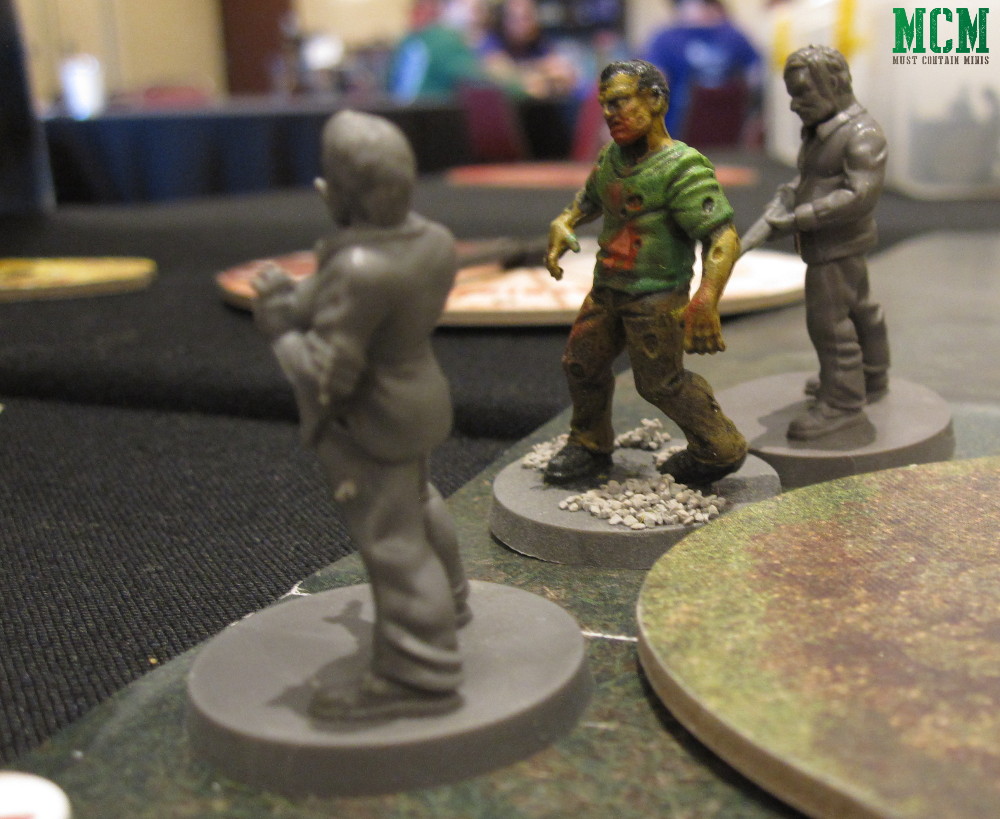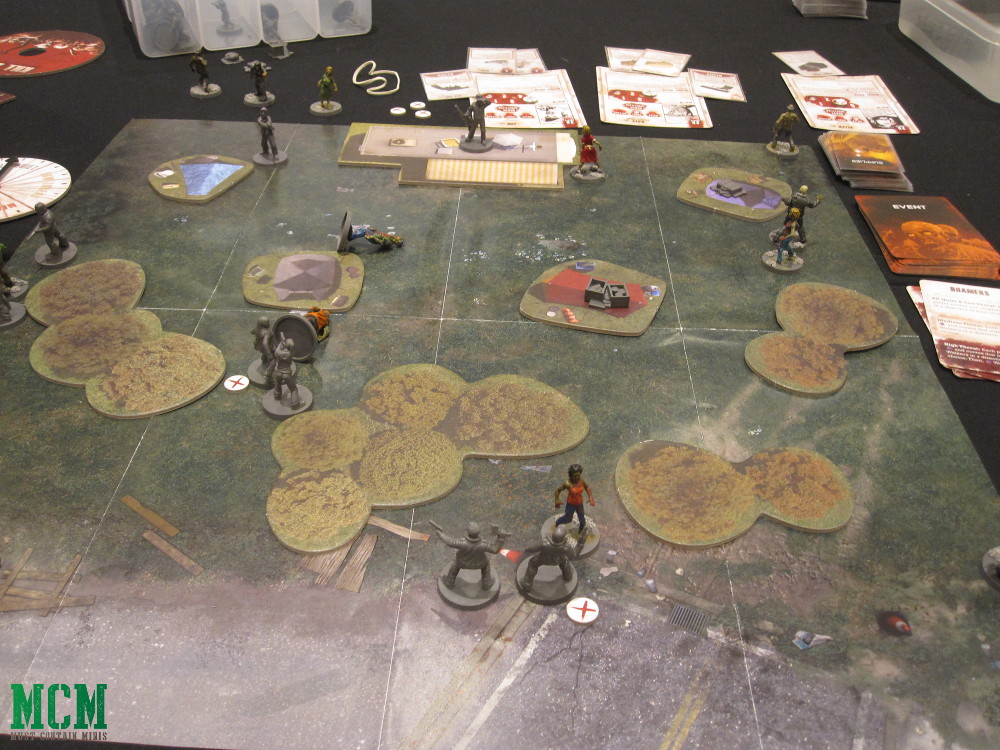 Victory!!!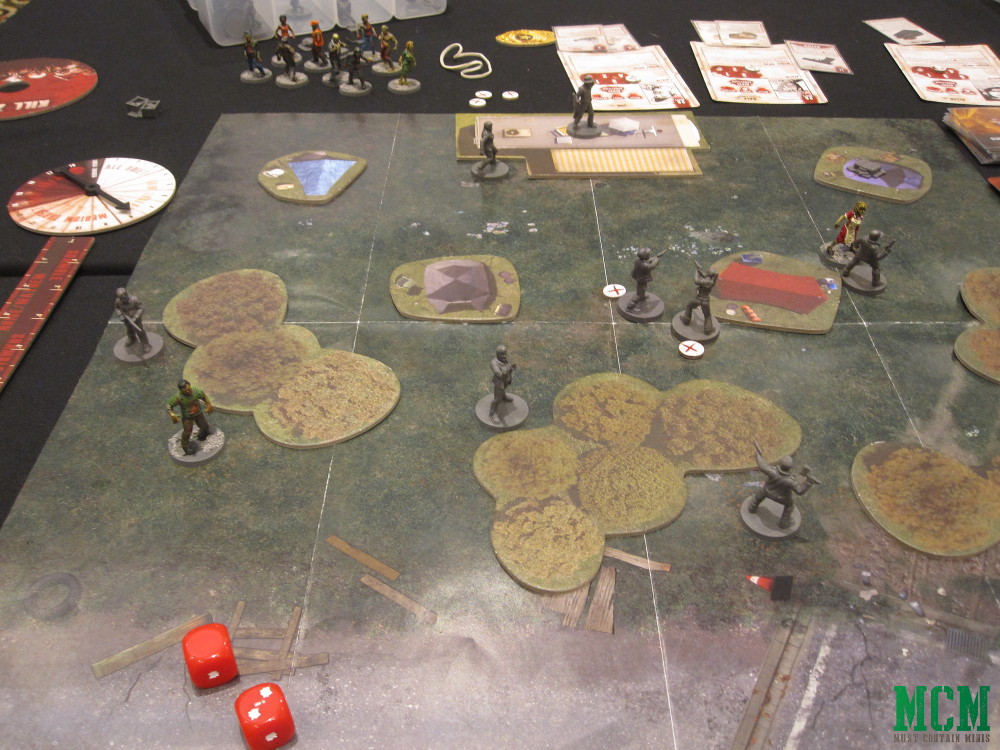 [amazon_link asins='B01LZ3WYJG,B075X3D635,B079ZD7L6C,B075PLHCWC' template='ProductCarousel' store='mustcontainmi-20′ marketplace='US' link_id='81b53f2f-cc5e-4636-9e5e-8bac22268144′]
First Impressions of The Walking Dead: All Out War Miniatures Game
Overall, I liked this game. That said, Andrew was a great host so that could be part of my judgement right there.
The game itself is very simple. There are four phases. Phase one is the Action phase where you can do two actions. You can move or shoot and perform those actions twice in a row if that is how you choose to run your actions. After that, you draw an event card for the Zombies. That card has different levels. Which level you use is determined by the noise wheel and how much noise your group has produced so far. The Zombies Move based on those cards. Once the Zombies move, you resolve melee combats. The turn the wraps up with the End Phase.
Predicting the Zombie movements is very easy and I found that you can lead them around the board if you take advantage of making noise to lure them away. The issue there is that as you make noise, the tougher the Zombie situation gets. If the Zombies surround your character, they get huge numbers of bonus dice for large mobs. Be very careful of them if you wish to go into melee with them.
One strange thing in the game is that the ranged weapons range is just 10″. If found this so strange, but dismiss this aspect as the game just being a "game." Players that wish for a more of a "simulation" type of feel might want to move on to trying out other rule sets.
Update – April 20, 2019 – I am told that the 10″ range is not for all weapons and on the revised some weapons (like the rifle) can shoot further. 
Wrapping it up…
Hopefully you enjoyed this Battle Report and First Impressions Article of The Leaving Dead: All Out War Miniatures Game by Mantic Games. Overall, I enjoyed the game and found it a simple, but fun game. It might feel a little too gamy for some people, but I liked it. If you want more images of this gaming session, I also have a showcase article of images that didn't make it into this report.
If you are interested, Mantic Games provides the Quick Start Rules on their website for free. that is a good way to test out (or learn about) the game and see if you like it without investing too much.
Special thanks goes out to Andrew for hosting this game and to SkyCon for sending me a Press Pass to their event. For those in the Hamilton, Toronto, Cambridge area (Canada, Ontario), Andrew is a member of a cool group that might interest you. That group is the Hamilton Tabletop Gaming Society. They meet monthly for games at a local venue and run conventions twice a year to help raise funds to pay for that venue. I have been to both their conventions (Broadsword – which is listed on my Ontario Convention Page) and their regular gaming nights. It is a good group of guys playing a large variety of miniatures games and a few board games too. If you are in the area, check them out!
Finally, If you are after an easy to learn Zombie Game that is a reasonable price, I don't you will go wrong with this product.
Until Next Time, Happy Gaming Everyone!!!