In my post, "Planning the Perfect Hobby Room," I discussed my planning process for converting our office into a Hobby and Blogging room. Planning the blogging part is easy. For that, I can just use the IKEA desk I already own along with a lamp and my computer. That's all I need for blogging. As for the area for Building, Painting and Photographing miniatures, I wanted something separate. By building a separate area, I don't need to remove all of my "Work In Progress" miniatures when I want to write or game.
As I discussed in the Planning Article, I decided to go with IKEA Furniture. The reason I chose IKEA is because it fit the time, budget and look that I desired for my space. I also wanted the furniture to be new with an aesthetic that fits more of a home office feel. Now, I am not too active on Pinterest, but I did start a board for inspiration on the new Hobby Room.
The Planned Furniture
After measuring the room, and using the IKEA Office Planner, I knew exactly what furniture I wanted to buy and had a room layout and price list to match. I then went to IKEA to see if the furniture would fit into my Miniature Hobby. My shopping list included…
Two BRIMNES Bookcases
A 150cm / 59″ LINNMON / ALEX Table
Some extra organizational pieces
Once I looked at the LINNMON / ALEX Table at IKEA, I knew it was not right for me. When I paint, I like to brace my arms right against the ledge of the desk for better control of my brush. The LINMMON Table Surface I wanted actually sits loose on an ALEX Drawer unit. If I lean against it, there is a chance that it might move on me. As a result of this discovery, I changed which desk I planned to buy on the spot.
The Purchased Furniture
After some deliberation, I decided to get the MALM Desk. This desk feels more sturdy to me than the LINNMON / ALEX unit and it is a single unit. As planned, I bought the two BRIMNES Bookcases. I also picked up some organizational items. I wanted to pickup two of the TERTIAL Worklamps, but the new models are rated for bulbs up to 13 Watts. That is not bad with today's LED bulbs, but I planned on using 15 Watt LEDs so I decided to go with a different solution for lighting. In retrospect, I am glad that I did not get them as I planned to have the desk pushed against a wall so I would not be able to use their swing arms to full advantage.
That said, I think those TERTIAL Worklamps look great and the price is certainly right.
As for colour, I went with all white for a clean and modern look. Now that I did that, I want to buy a table cover to protect my white surface.  🙂
The Build
I know building IKEA Furniture is not for everyone, but I found the build was fairly easy for me. It is recommended that you build the desk with a second person, but I built all of the furniture on my own without problems and am happy with the results.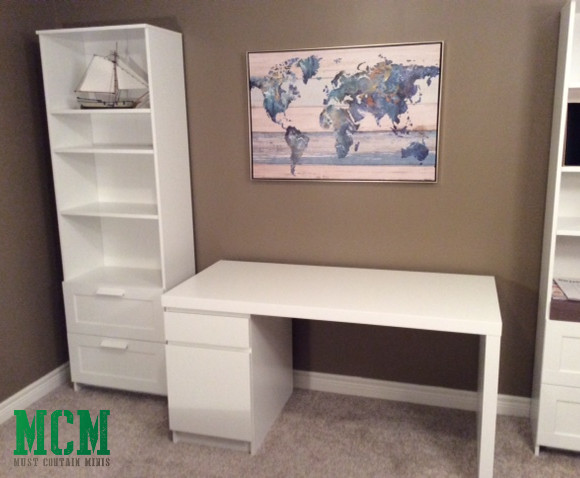 Wrapping it up…
Overall, I am very happy with my hobby room this far. I have some big plans for the desk. In my Pinterest and Google Research, I came across hobby desk organization systems by a couple of different companies. The nicest looking one by far was by HobbyZone. If you haven't checked out these guys yet, you will want to see what I do with this setup!
For those with sharp eyes, you may notice that the first thing that made it to the bookcase was my Sloop by Firelock Games. That is such a beautiful model!
How about you? Do you Use IKEA Furniture for your Game or Hobby Spaces?
Be sure to read our next related post discussing the HobbyZone Modular Workshop Station that we got to go on top of this IKEA desk.
Until next time, Happy Gaming Everyone!!!