When I first started Must Contain Minis, one of the posts that I wanted to write was how I transport my miniatures. Compared to other wargame enthusiasts, my approach may be somewhat unique, but it works well. I actually use metal tool boxes as my miniature transportation solution.
Background
Years ago, I magnetized my Warhammer Miniatures and carried them in cheap metal tool boxes that I bought from the hardware store. Using Rare earth magnets glued in the hallow parts of my Warhammer Miniatures, I could even store the minis upside down on the lid of the metal tool boxes. In concept, I really like this approach, but I used too strong of magnets. When I got the minis to the table, I found them repulsing each other and sometimes jumping in the air and slamming together. Having them slam together is something no painter wants to see!
At the time, I collected more than I played. As such, I was happy enough with my solution, but also made a mental note that rare earth magnets in your bases could lead to problems.
I then sold off my entire Warhammer collection and left the hobby for a while. Flames of War drew me back into large scale battles with miniatures. To start, I used a fishing tackle box as my travel solution. It worked okay for an unpainted army, but offered no great protection. I am told that I could have loaded the tackle box with foam, but instead I searched for a different solution that would also work on a budget.
The Solution
In talking to a Hobby Store Owner about my conundrum, he mentioned that some of the people magnetize their miniatures using business card magnets, and carry the miniatures in metal tool boxes.
Immediately I remembered my experience with transporting Warhammer miniatures in metal tool boxes and wondered how it would work with smaller figures and weaker magnets (magnetic business cards specifically). It turns out, it worked great and was extra good at protecting the delicate parts of my miniatures!!!
Many Flames of War players run into issues of their 50-caliber machine guns falling off their tanks due to the minis bouncing into foam. This is an issue I never faced using metal tool boxes (and I do love using universal carriers – which have many delicate pieces). Because the models are held at their bases and air all around them, I do not have to worry about them bouncing into the sides of the boxes and wrecking the small details of the models (flimsy guns, bayonets, etc.).
Below is a quick sample of the metal tool box solution with Frostgrave Miniatures.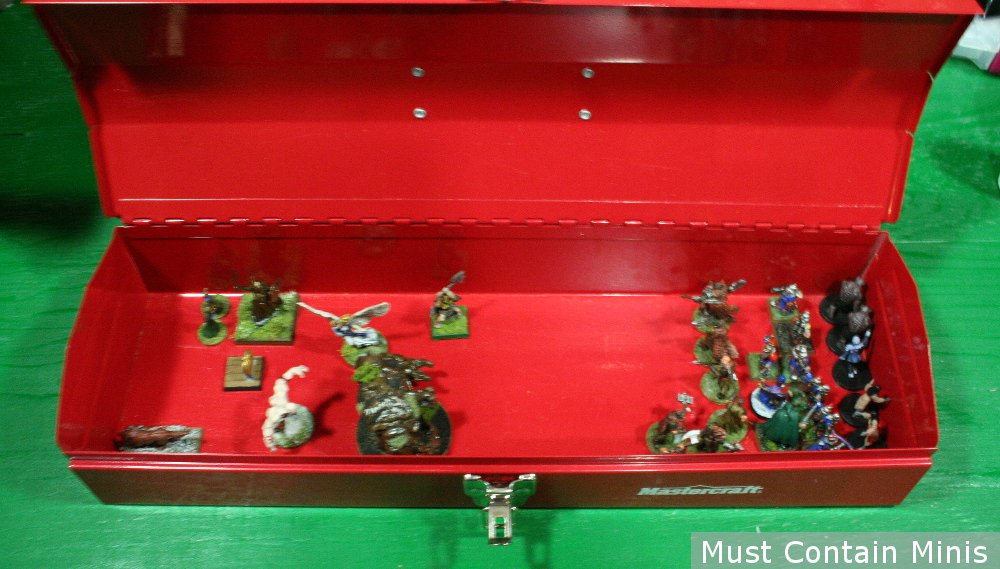 Using weaker magnets than my first time, I find that this solution works great for many games. I use this method for transporting my Frostgrave, USX: Modern Day Heroes, Bolt Action and Flames of War miniatures and it works great!
Magnetizing your Minis
Magnetizing your minis is a simple process. Originally, I used magnetic business cards from an Office Supply Store.  I have since found that magnetic picture backing from the Dollar Store works well enough (although the magnetic business cards are better).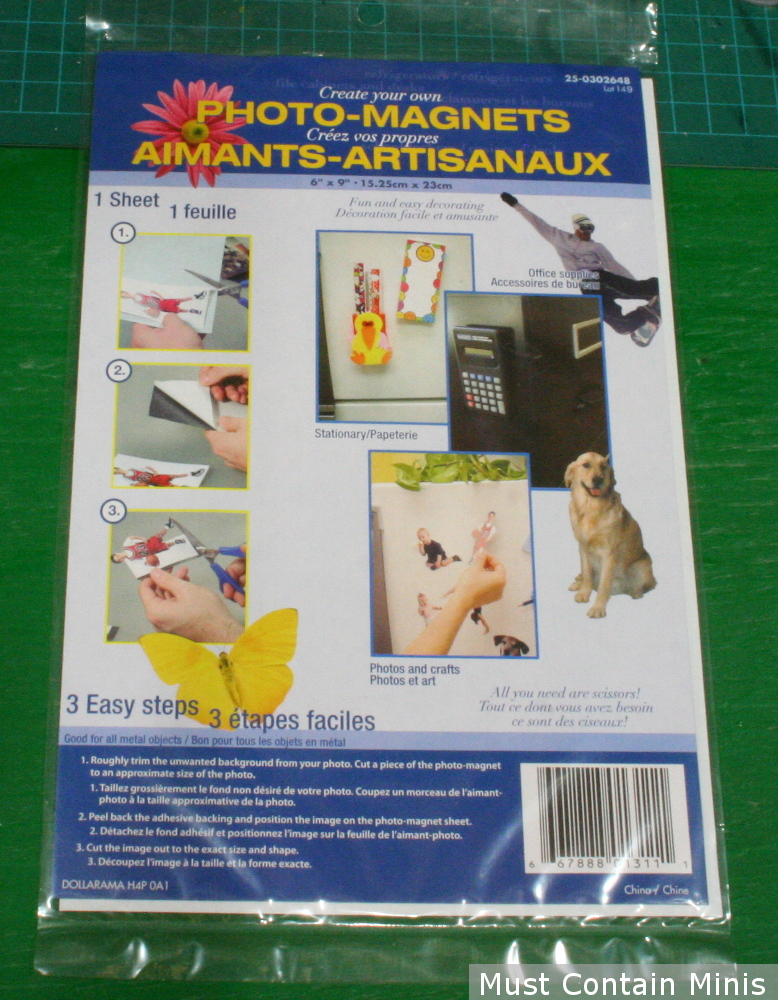 After opening the pack, I measure the minis and cut the magnets into roughly the right size. If I cut the pieces too large, I am not too worried as I trim them later.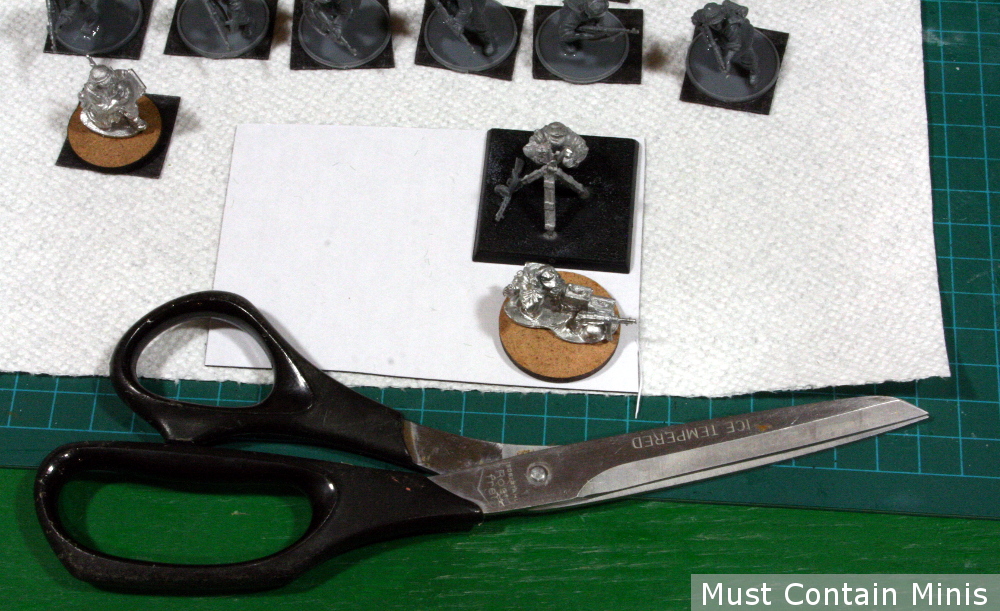 Once the sheet is cut to size, I remove the paper backing and stick the miniatures to the sheets. The stickiness on the magnets alone is not strong enough (even with the business card magnets). You need something stronger, so I use Gorilla Glue.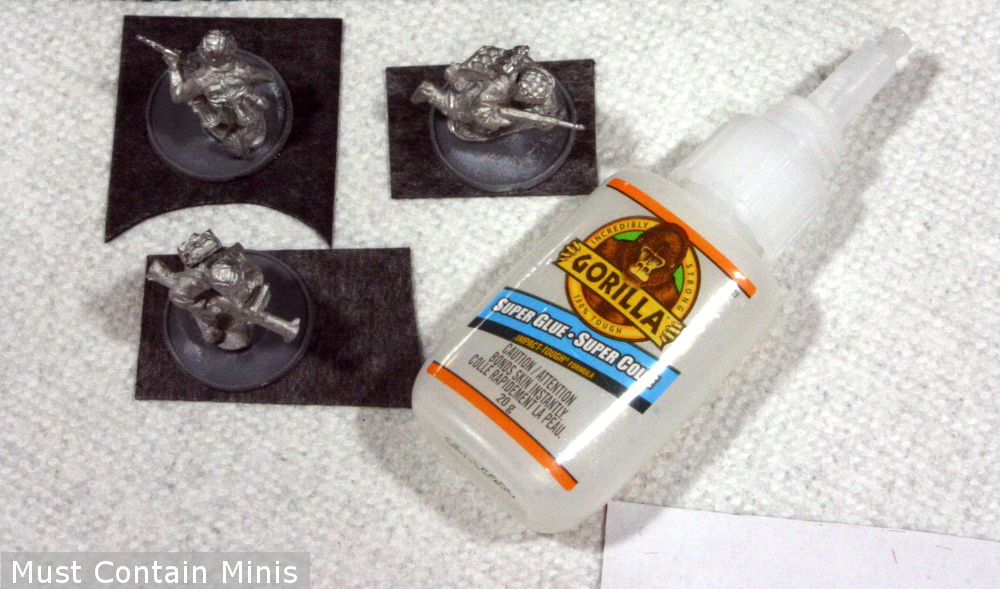 I even magnetize my vehicles.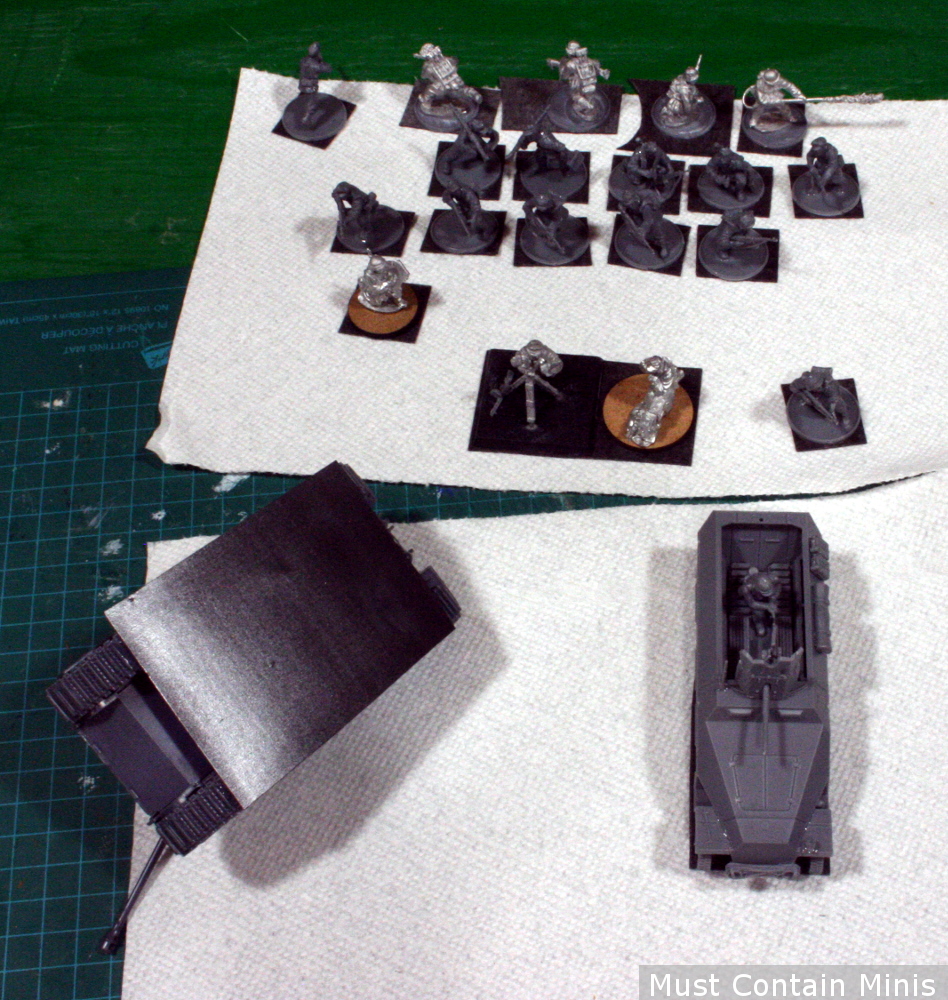 Once done with pasting the magnets onto the miniatures, I trim them with a blade.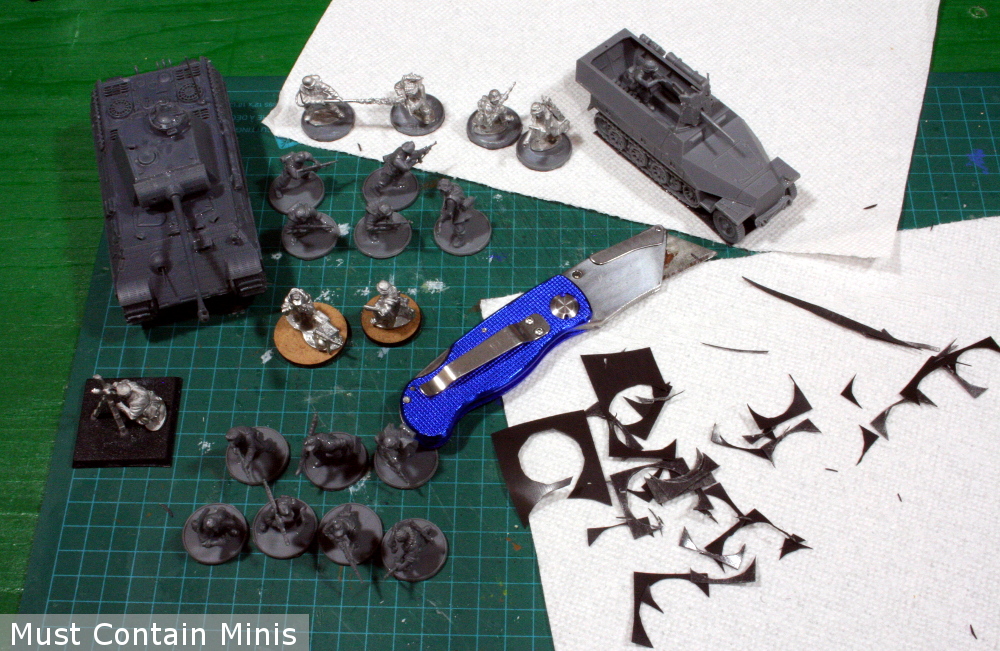 Once I am done, the magnets do not show.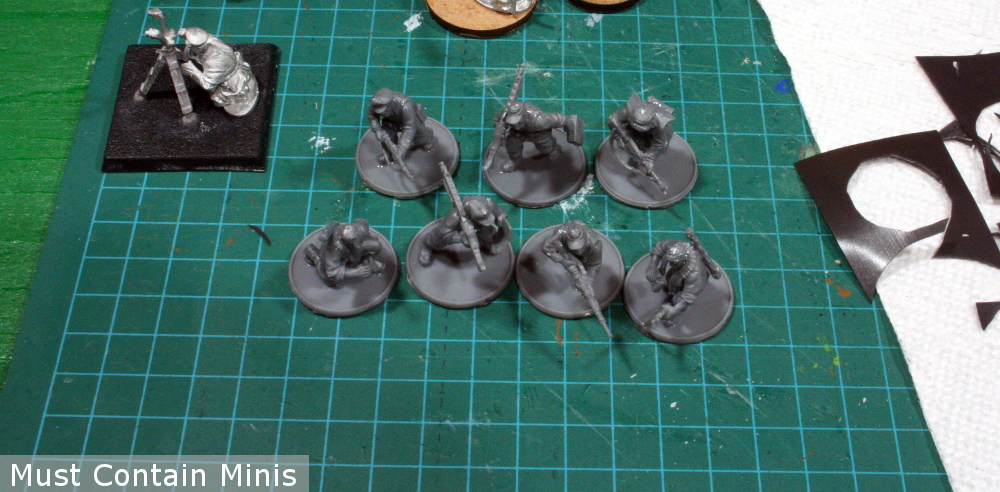 Testing the Strength of the Magnets
Although the magnets I use are not the strongest, they certainly work for my purposes. I find that metal miniatures can go sideways without falling off and the plastic ones can go fully upside down. While the magnets work well, they will not survive hard bumps. They will unattached if moved too quickly or with too much force. That means that if you follow this method, you need to be careful with how you load them in your car. I generally wedge them in a part of my car where I know they will not be subject to extra movement.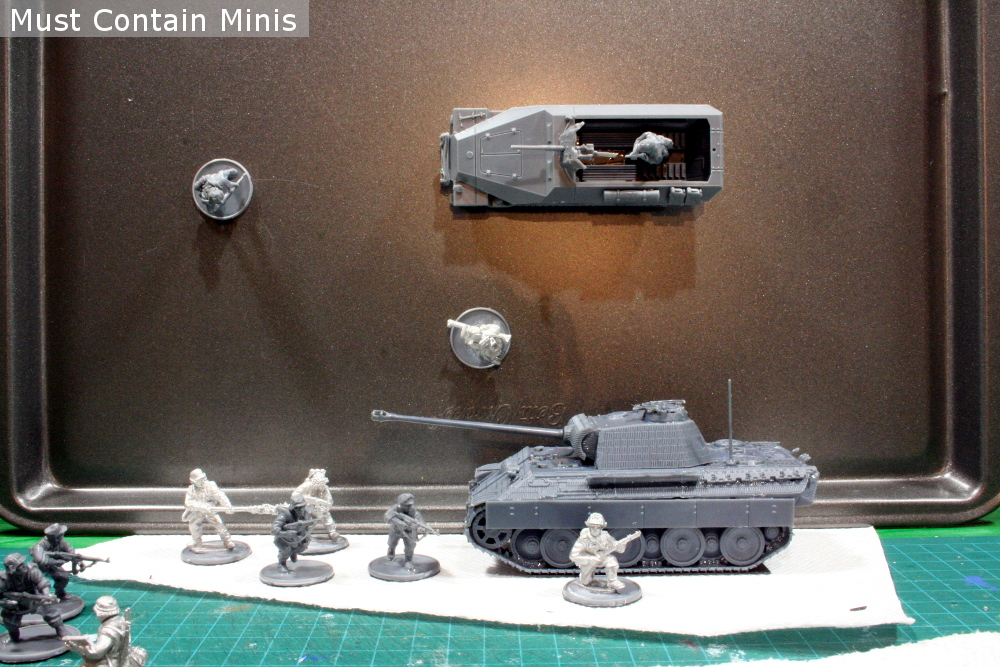 While the magnets are good enough to hold light metal infantry figures sideways, tossing the tool box loose in your trunk like you might with a foam bag is just asking for trouble. The minis will not survive the bumps and impacts of your box sliding around. Keep them as stationary as possible.
So far, this approach has worked well enough for me over the past several years, and remains my transportation method of choice for Bolt Action, Flames of War and Frostgrave.
As a quick note, I use the metal cookie sheets to transport my armies safely around the house and at tournaments. Because everything is magnetized, I don't have to worry about the minis sliding around (unless I personally take a fall or drop them). It is an extra level of convenience this method gives.
Pros
Affordable. It does not cost too much to transport your minis this way.
You can use a cookie sheet to move your minis around an event without fear of them sliding.
Delicate bits do not get damaged by foam as there nothing but air around them.
A fantastic option for plastic miniatures.
Works well enough for my purposes.
Cons
You have to magnetize every mini you own.
You need to keep a constant supply of magnets.
The case cannot take bumps or bruises. The minis can pop off and become unprotected if they take too hard of a bump.
Your minis will not survive a fall down a staircase using this method. You have to treat the case delicately compared to how you might treat a foam solution.
I get nervous when I use this method for metal miniatures. They are more prone to not holding when bumped around.
Wrapping it Up…
Hopefully you enjoyed this quick tutorial and review of how I transport my minis. Perhaps it might be right for you as well, perhaps not.
Until next time, Happy Gaming Everyone!!!
[amazon_link asins='B00DV1N44Y,B001IY82FM,B000WUOVGM,B000WUPAVM,B00167XE90,B01E7L1COA,B00006HN5Q,B0096GD54W' template='ProductCarousel' store='mustcontainmi-20′ marketplace='US' link_id='652035cd-6670-11e8-b091-a1047ed6d5cb']