Now here is something interesting. All the way from the UK, I received a Model Box to Unbox and Review. For those that don't know of Model Box, they are a company that runs a mystery miniatures subscription service. Every month, they send subscribers a box containing miniatures, paint, and related accessories. Their main mission is to introduce subscribers to new and exciting products through their boxes. That mission appeals to me.
In addition to running the subscription service, they also run monthly painting contests related to what comes in the box. Kind of cool for any painters out there!
Before going further, a "thank you" goes out to Model Box for sending us this box for review.
What's in the Box?
Every month, Model Box sends a different themed box to their subscribers. They sent me their May 2018 box entitled Myths & Legends.
So, what is in the box?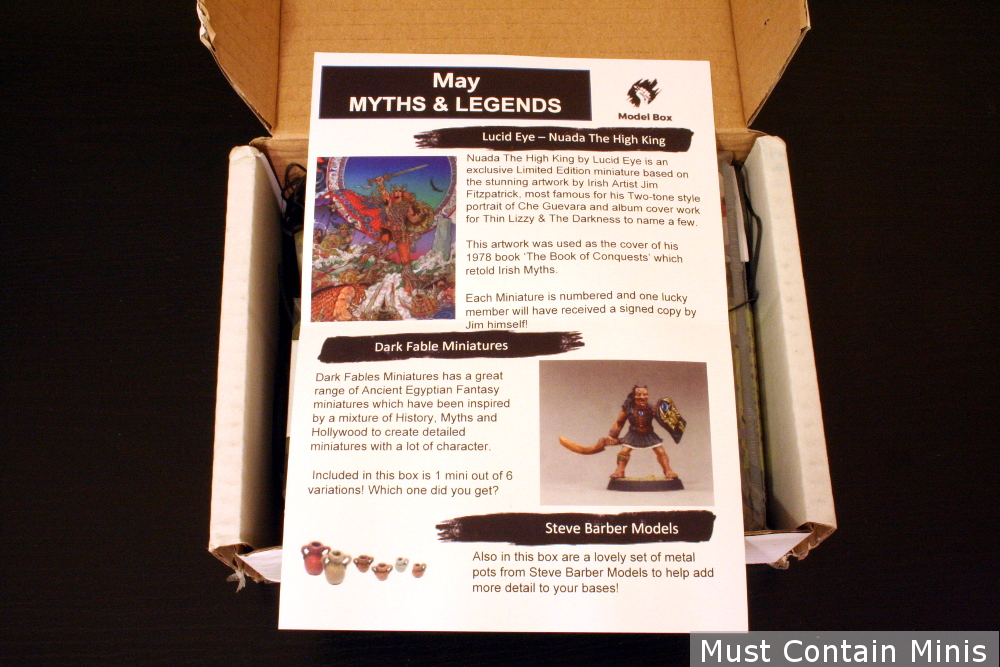 Flip the page over and they continue to show you exactly what is in the box.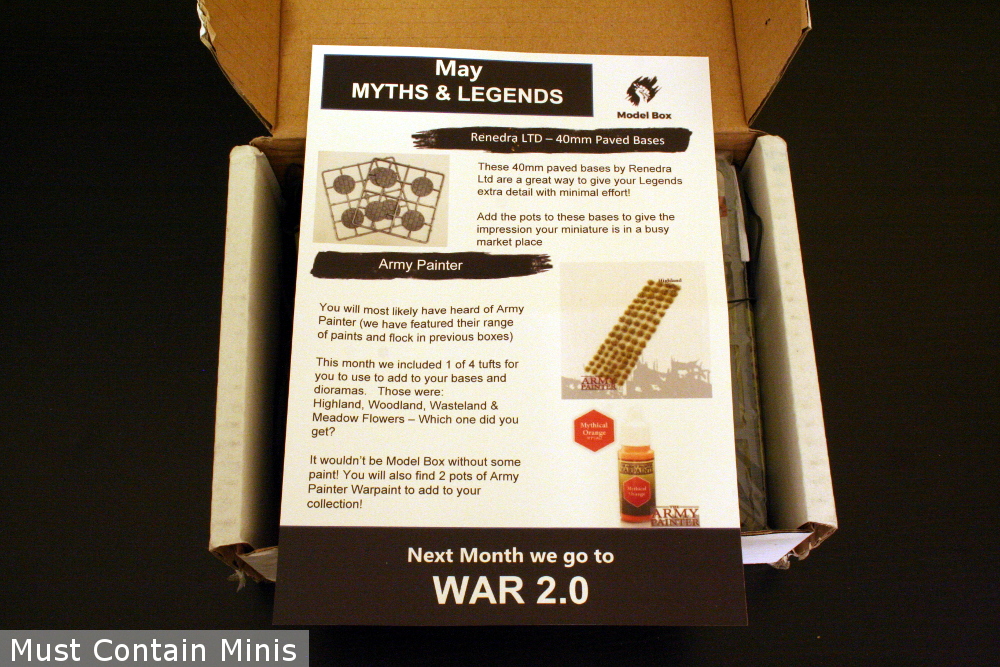 Right off the top, I would like to point out that Model Box has included products from five separate companies in a single box. For people that like to check out different companies, this is excellent. Also, check out that teaser at the bottom for next month… War 2.0. I am intrigued.
Now that we know what is in this box, let's take a look at the miniatures.
The Miniatures
This month's box comes with two miniatures. The Lucid Eye, Nuada the High King, Miniature is fairly sizable and looks fairly neat. Immediately, I started thinking of what game I could use him in. The obvious choice for me is Frostgrave.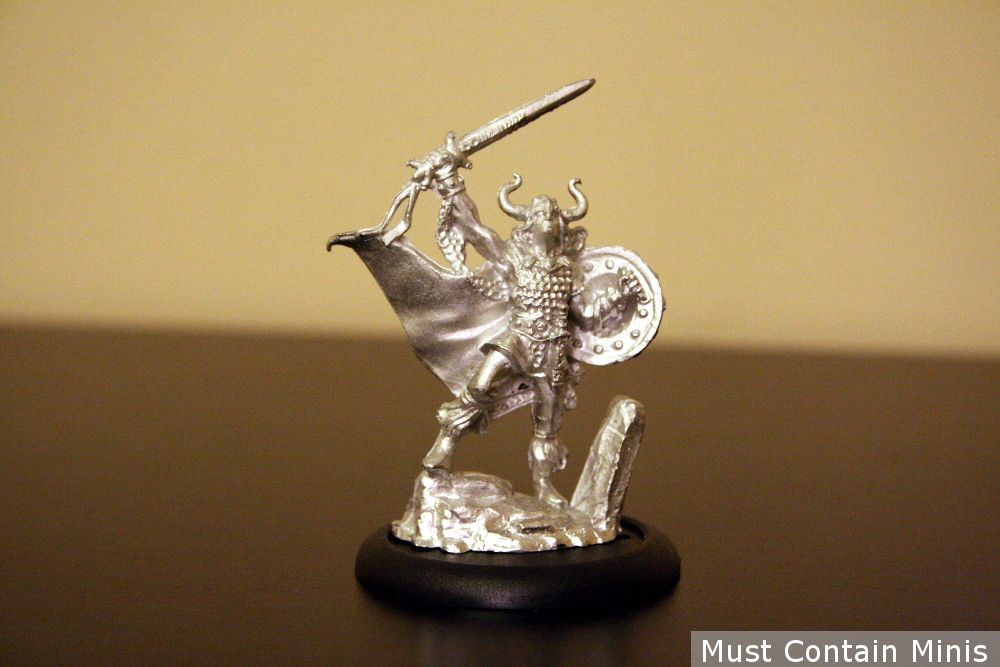 This is a limited run miniature, and I am going to give this miniature to Dave Lamers and see how he paints it up. The other miniature in the box is by Dark Fable Miniatures. Subscribers would receive one of the six different models for this item – so the one sent to me may very well be different from what others received. I received the Queen of the Black Coast. I immediately thought of Frostgrave: Ghost Archipelago when I received this miniature.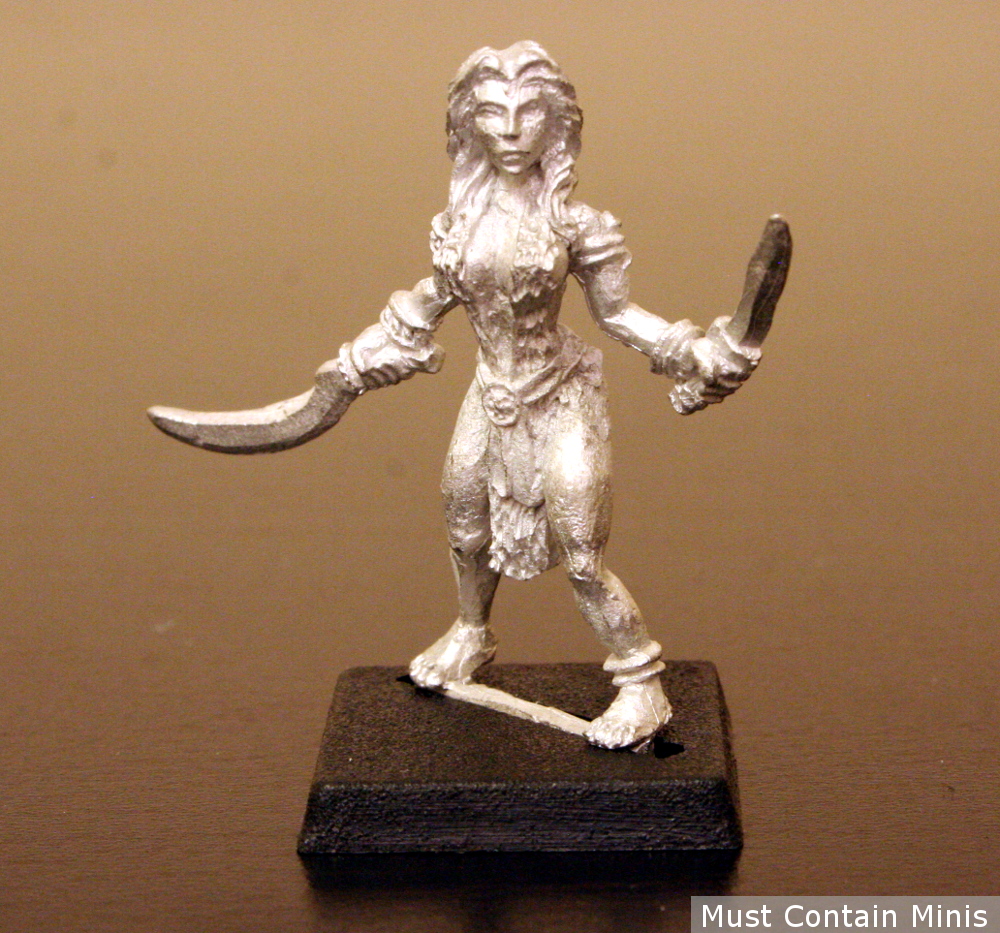 And the two miniatures together… As you can see, Nuada the High King is quite large and would make a nice project for someone that really enjoys painting.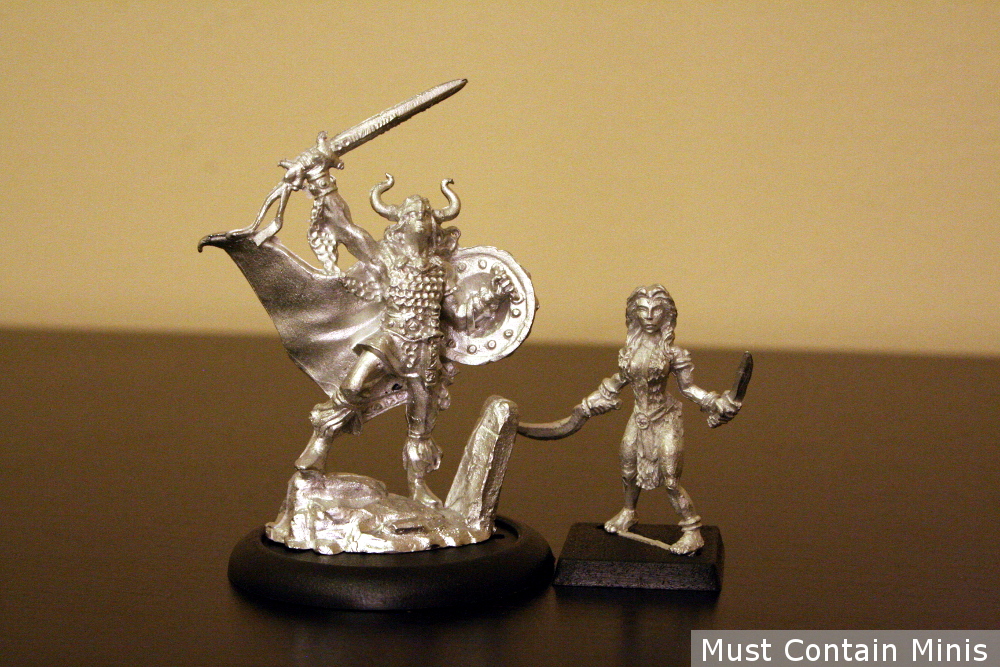 Aside from the miniatures, I also received a number of miniature accessories and paints.
What else is in the box?
The other contents of the box are listed in the earlier photos in this post, so I am just going to quickly post pictures of the items.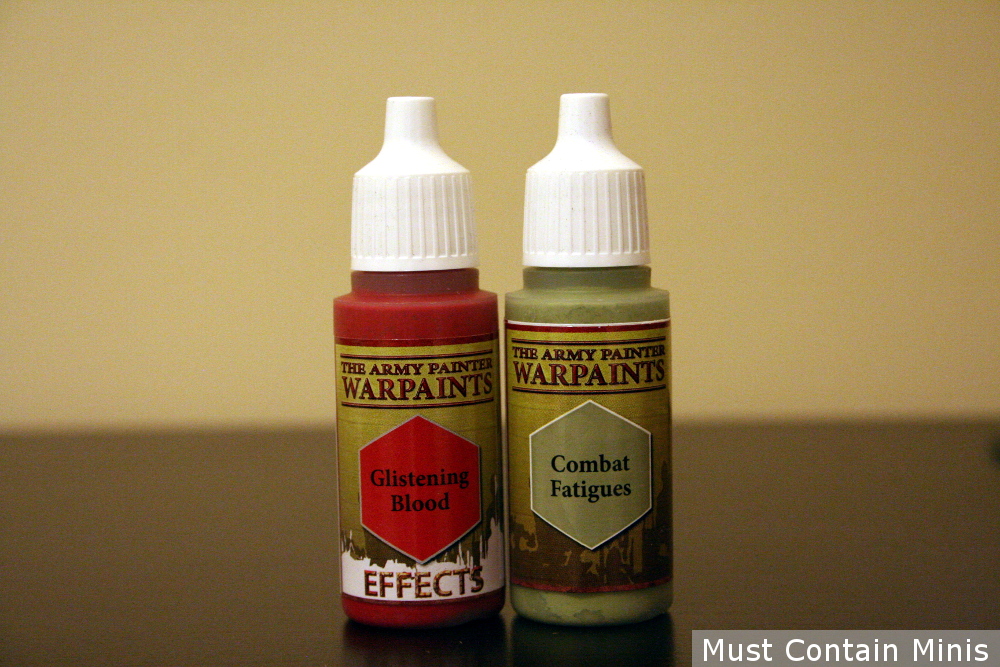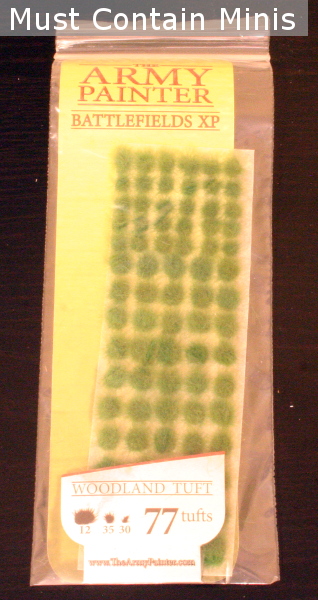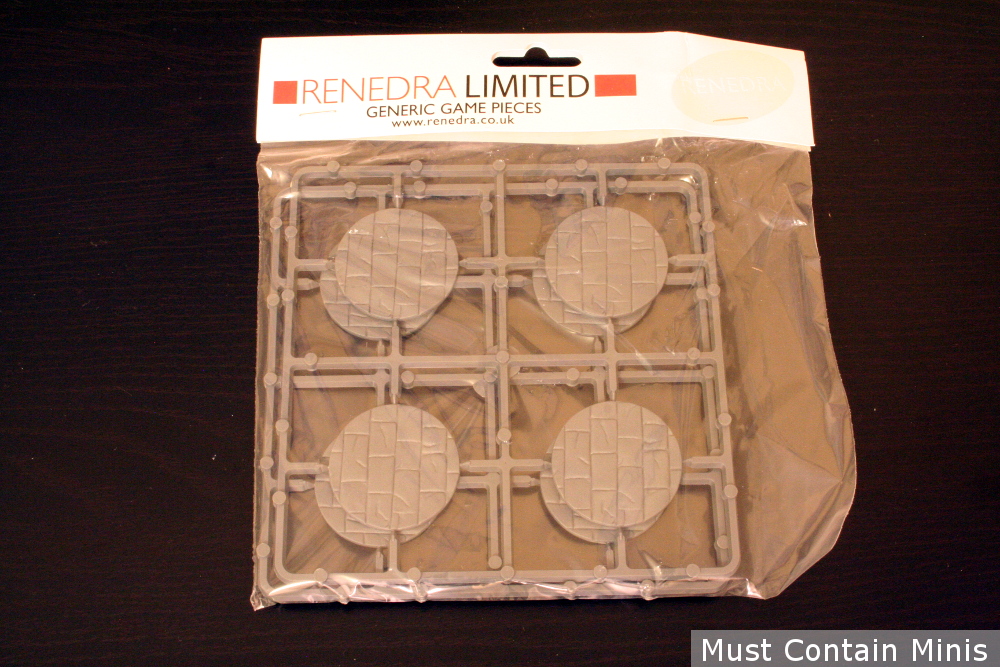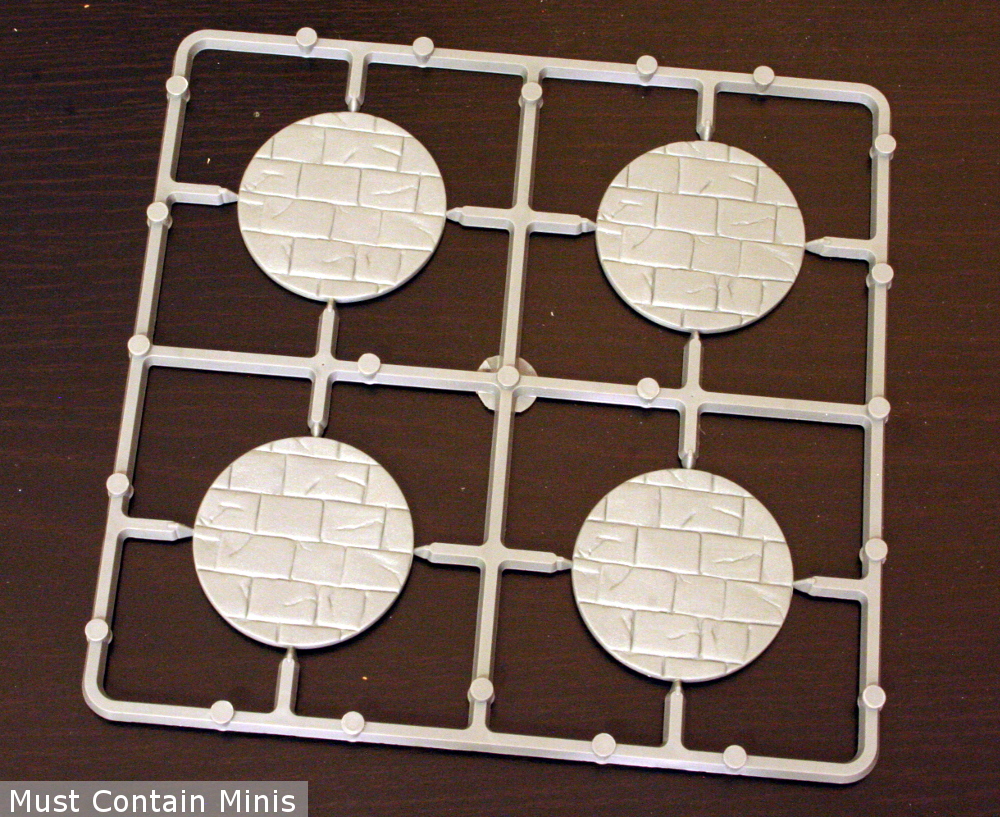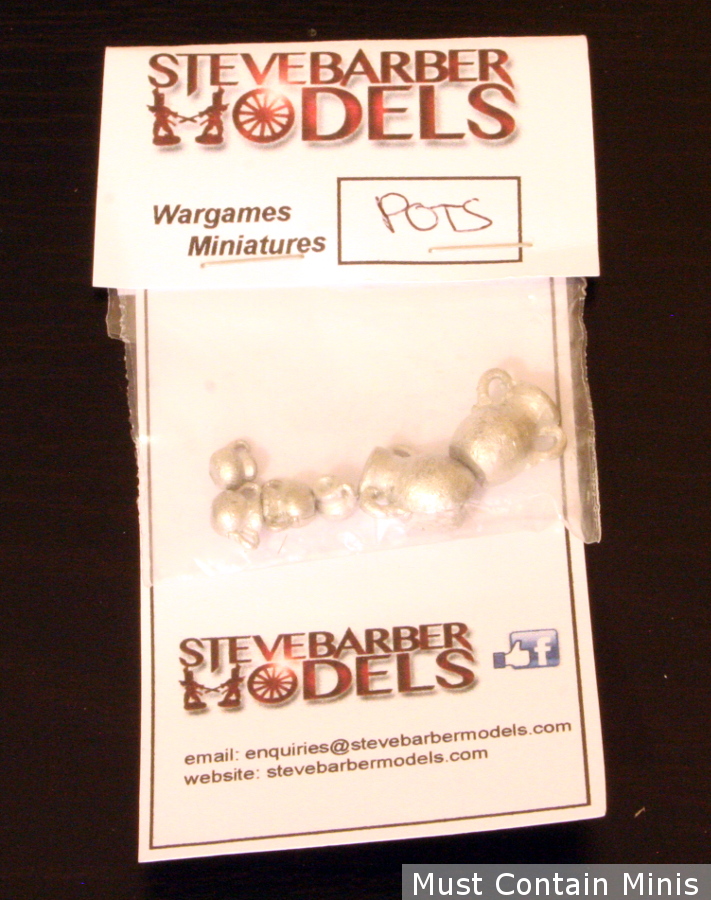 Finally, Model Box also included some candies for me to enjoy.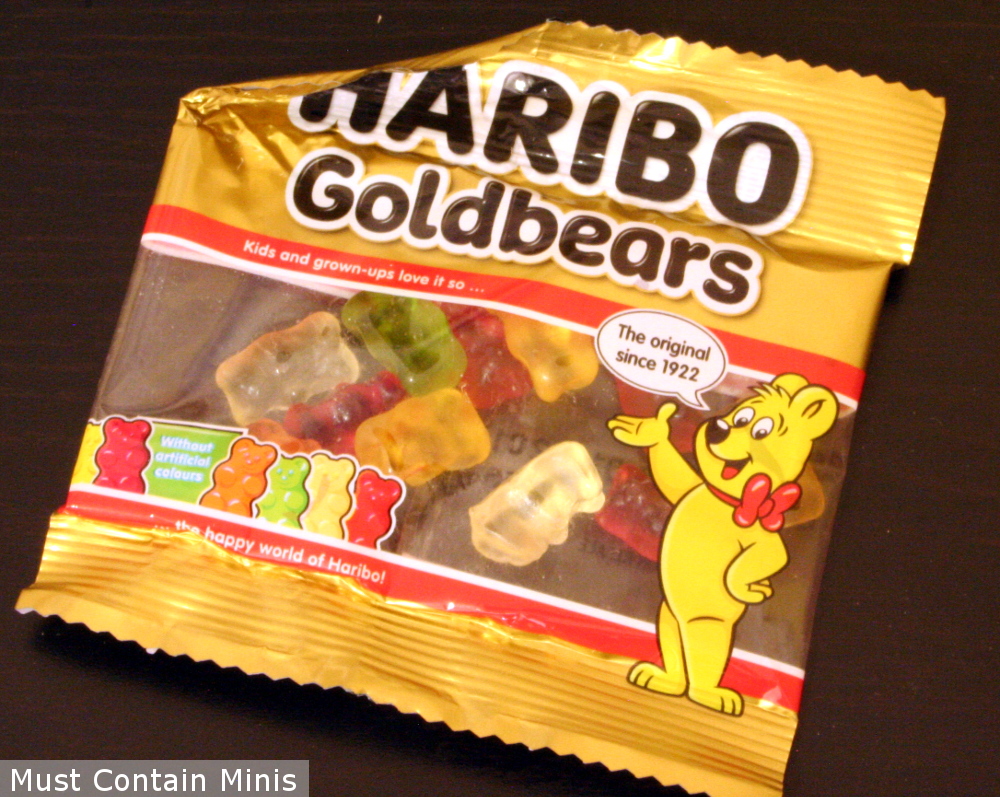 Thoughts on the Contents
Overall, I like the concept of a mystery miniatures box. It is a pretty cool feeling to open a box and see what is in there. It also falls in line with the objectives of Must Contain Minis in introducing people to alternative miniatures and games aside from just those by giant companies. The miniatures, this month, are perfectly acceptable for Frostgrave and other games, and I like all the accessories that came with them. Without Model Box, I likely would not have checked out Dark Fable Miniatures or Lucid Eye Publications. As such, they have achieved their mission of introducing people to new products with me.
As for Renedra bases, I love them as a product. They match up perfectly with the ones used for both Bolt Action and Frostgrave. That said, I am not sure what I am going to put on the 40mm bases Model Box sent me. I don't have many models that call for that size of base, yet they will go into my collection for "just in case."
The pots by Steve Barber Models are neat and the grass tufts by Army Painter will find a use for sure! Good basing materials help make miniatures look so much better! The paints will also make their way into the collection. There is no such thing as too many paints!
If you want to see Model Box's post about what was in May 2018's Model Box, check out their Blog.
Pricing…
As stated earlier, Model Box is not aiming to be a bargain bin product. That said, they always aim to make the MSRP of the included products over the £30 mark (which is higher than their subscription fee).
The subscriptions themselves vary in price depending on how long you subscribe. The price ranges from £21.99 to £23.99 per month. American and Canadian subscribers will have to pay £9.99 extra for international shipping.
Personally, I think a Model Box Subscription would make a great gift for any of your gaming friends (or spouses) that love miniatures from various companies.
If you want to give them a try, you can use the code 'yourmodelbox' for 10% off.
Who is this product for?
While there is value in this product, it is not aimed at the budget gamer. Every month the products are different, so if you are in it for cheap models to your favourite games, you will be disappointed. That said, if you like a surprises or mystery boxes and miniatures, this is right up your alley.
Of all the potential customers out there, I think this product is best for painters, miniature agnostic gamers and general collectors.
Painters are going to love this product because every month you get new miniatures to paint, some paints and some great materials to go with them. Best of all, the miniatures are from many different companies so you get to more variety in your work.
Likewise, general collectors may also enjoy that Model boxes at it provides them with samples of different ranges. These samples may help determine what they want to collect next.
The final category is the one that I fall into – miniature agnostic players. I play many miniatures games and, for most of them, I can use whatever models I own. This freedom means that people that fall into this category can usually find a use for whatever miniatures come their way – adding to the usefulness of the boxes.
Wrapping it up…
Personally, I like the concept of a monthly mystery miniatures box. It was a lot of fun opening up this surprise package to see what is in there. Pretty much everything in the Model Box is useful to me (although I will have to find a use for the 40mm bases yet), and I really like that they give you a sampling of many companies.
As stated earlier, I believe that this product is best suited for painters, miniature agnostic gamers and general collectors that like the idea of a mystery box subscription service for miniatures.
If you want to learn more about the product, check out Model Box's Website and Facebook Page. They also have a Facebook Group that might interest you.
Until next time, Happy Gaming Everyone!!!
A Quick Note
An interesting thing that I didn't mention earlier is that they have developed their own exclusive mascot miniatures. These mascots are currently published every 2 months and the next one will be in June's War 2.0 Box (subscribe by May 31st to get that one).
Finally, as a note of interest, while the company is called Model Box, their URL is actually http://yourmodelbox.com/. Modelbox.com is something else entirely. Just something to keep in mind if you want to check them out at a later time.
Disclaimer: Model Box sent us May's Myths & Legends Model Box for Review purposes.