Have an army you need to base quickly? Geek Gaming Scenics has a solution to get your bases game ready in seconds.
For years I mixed my own basing materials individually on each base, but recently I discovered an even faster way to base my miniatures with terrain to get the ready for the gaming table. Geek Gaming Scenics has pre-made basing material mixes called Base Ready. At first, I was skeptical, but after I gave it a try, I had to buy more!
Geek Gaming Scenics Review – Prep
To start, I bought two bags of Base Ready materials. One is their Mediterranean Soil mix, and the other is their Grimdark City Rubble mix. The bags are actually fairly sizable, so I was happy with what I got for my money.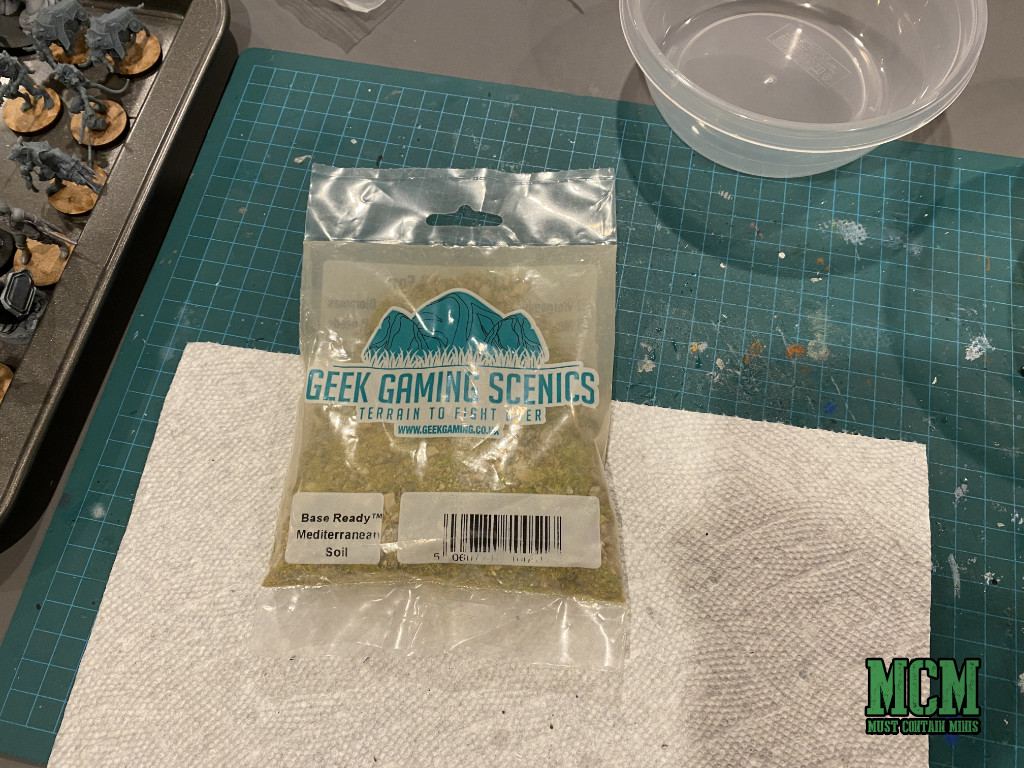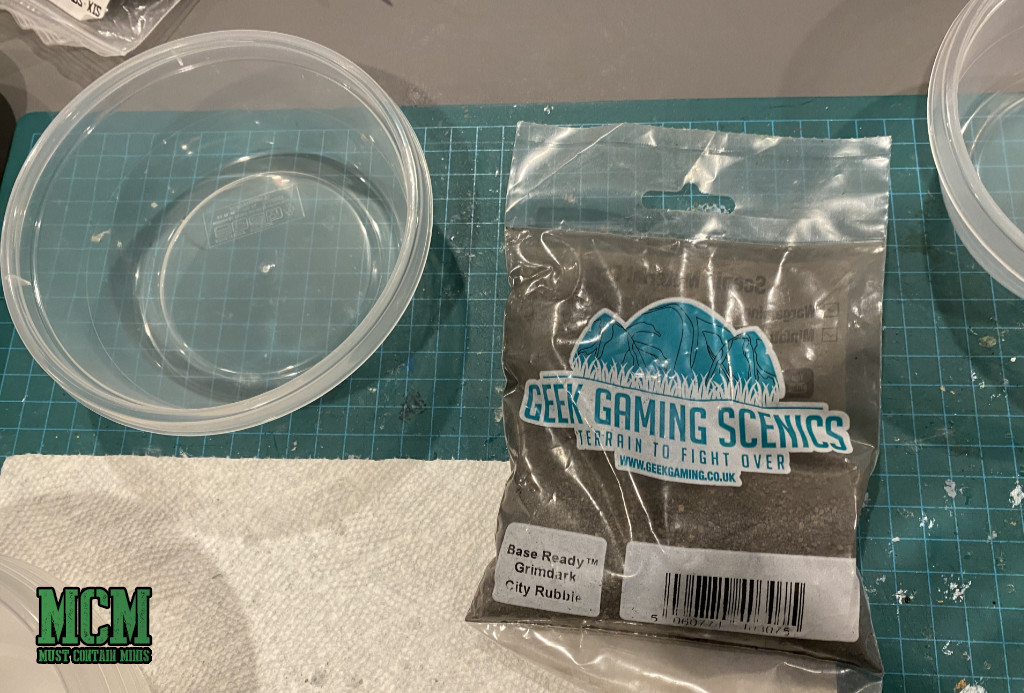 When I got these, I cut the bags open and transferred them into containers. The idea is that I would paint PVA glue onto the base and then dip them into the basing materials. This approach has worked very well.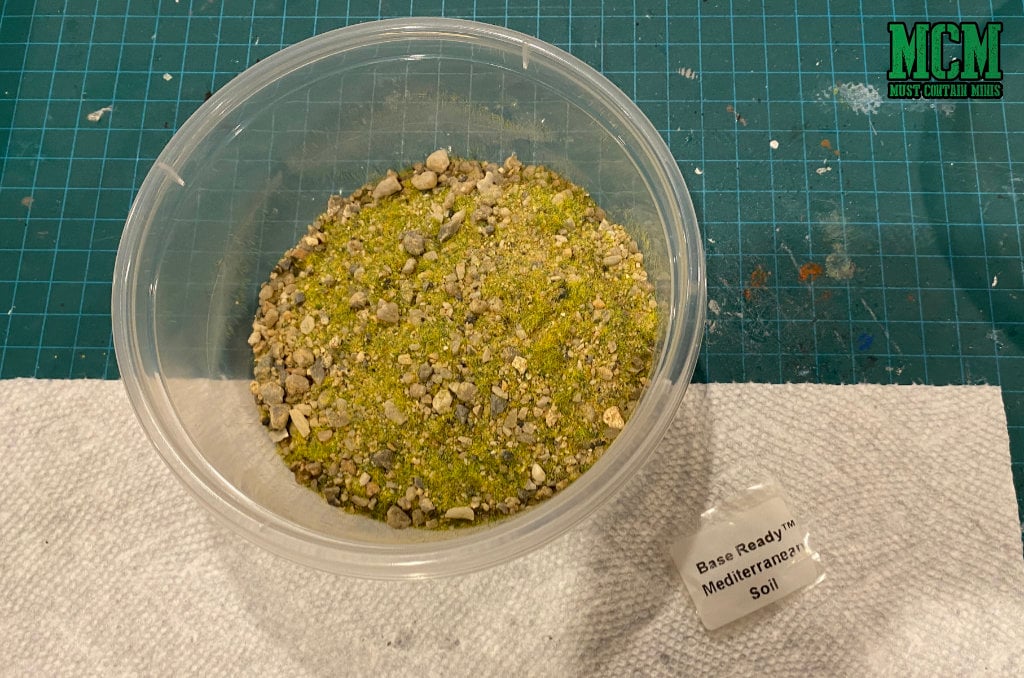 This is the Mediterranean bag dumped into a plastic container. I cut the name of the mix off the bag to tape onto the lid of my container. This way, I would know which mix is in each container.
After trying these two mixes, I liked them so much that I bought 8 more mixes plus an extra bag each of Mediterranean Soil and Grimdark City Rubble.

The picture above is the bulk of my static grass and basing material collection. The 10 containers on the right are my Geek Gaming Scenics mixes. On the Geek Gaming Scenics Base Ready Products Page, I see 34 different mixes listed. I own 8 of those and would have bought more, had my local online vendor had more at the time of my purchase.
Some of the ones that I wish I could have got include Fields of New Zealand, Taiga Hillside, Slate Chippings, Mars Earth, and Grimdark Tomb World. The ones I managed to get include Moorlands, Tugged Field, Patchy Plains, Desert Sand and Stone, Forest Path, and Arid Grasslands. I got more, but those are the ones I wanted to point out. They are all very handy and easy to use.
Geek Gaming Scenics Review – Use
Here we have some of my recent minis.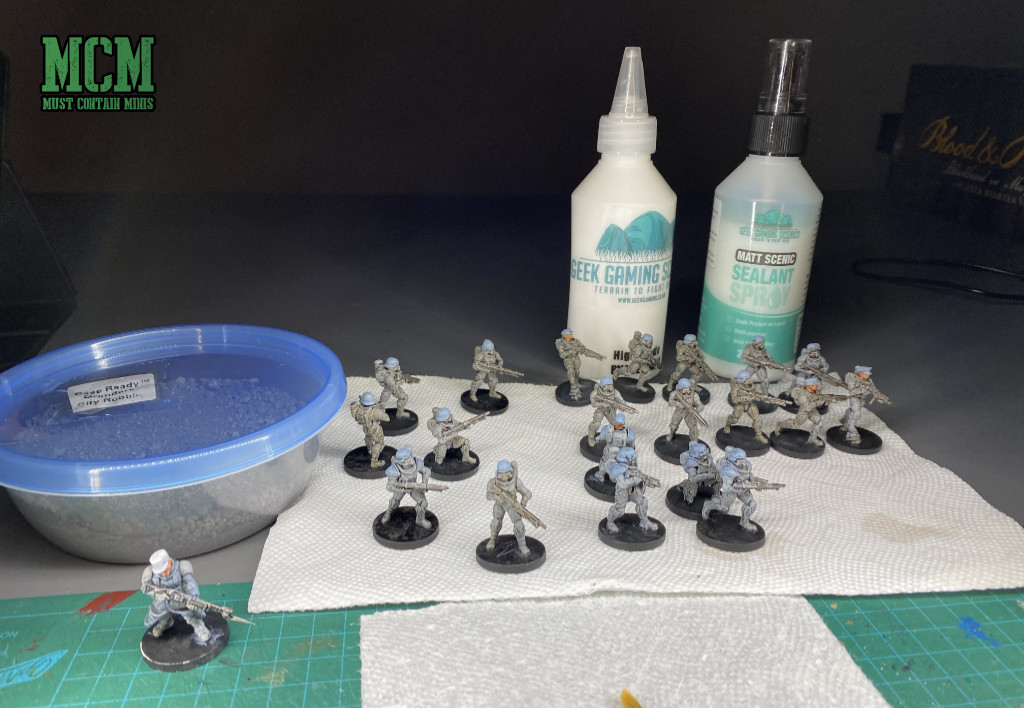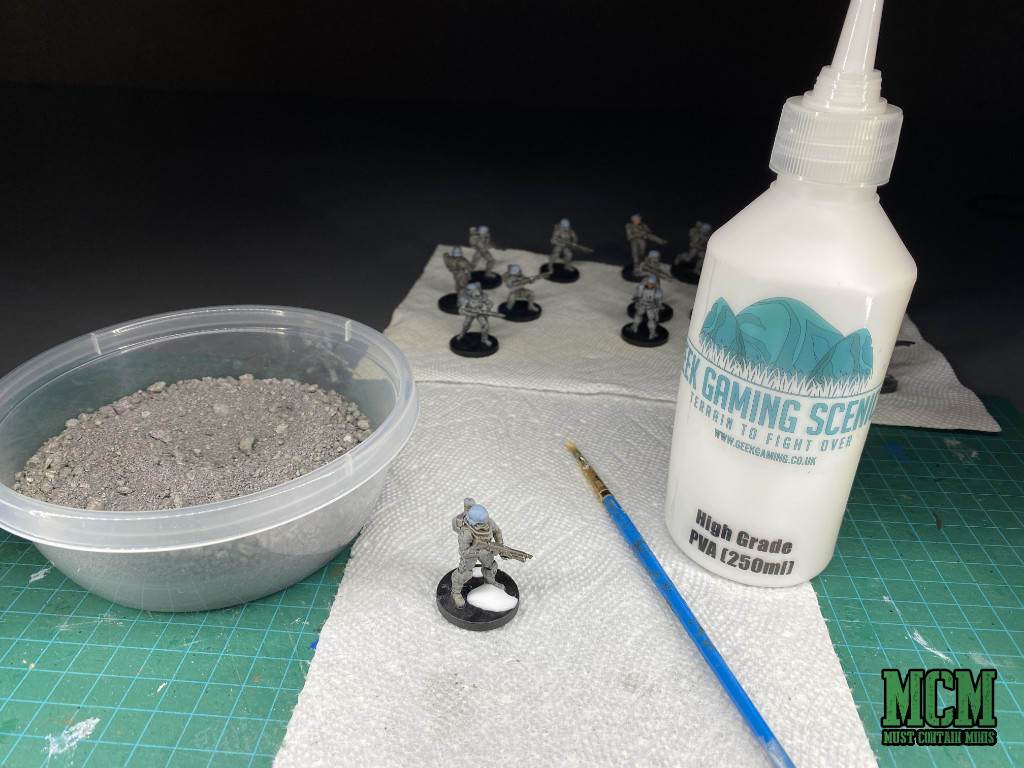 I paint the glue on, dip the mini in the container, and set it aside for the glue to dry. After that, I seal it with the Geek Gaming Matt Scenic Sealant Spray and call them done.

I reviewed these slick miniatures by Wargames Atlantic earlier and decided to finish painting them and add the basing materials. The basing materials end up looking better after you spray on the sealant, but I am going to experiment with some washes on these miniatures and the bases before I call it quits on them.
Since these minis are works in progress, let me show you some other minis that I already based with the Base Ready materials. Here they are from high above and below, closer up. As a note, in the image above, the sealant has already dried. In the image below, the sealant is drying. That is why there is a little bit of difference between the bases.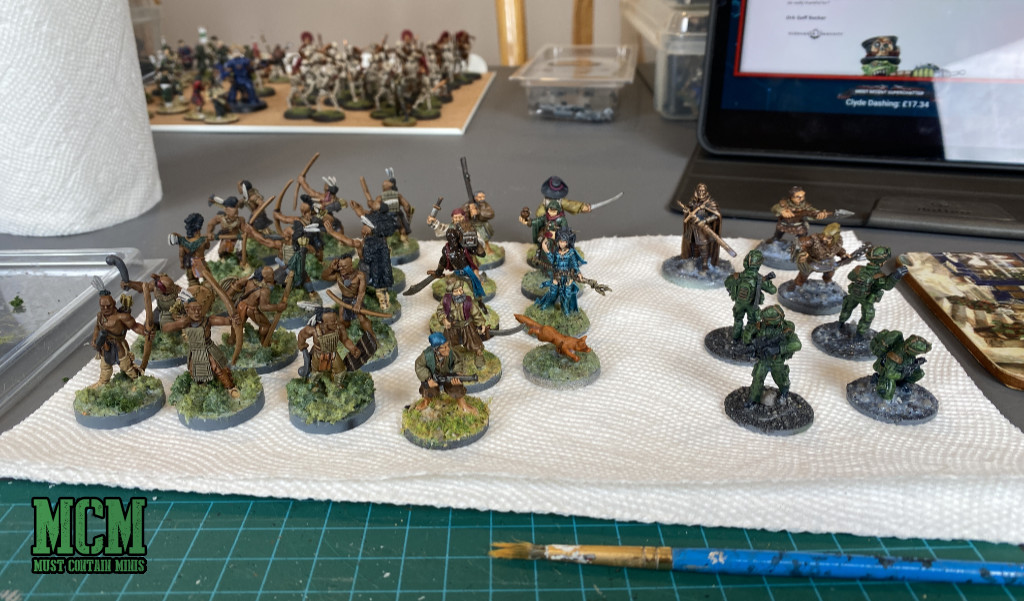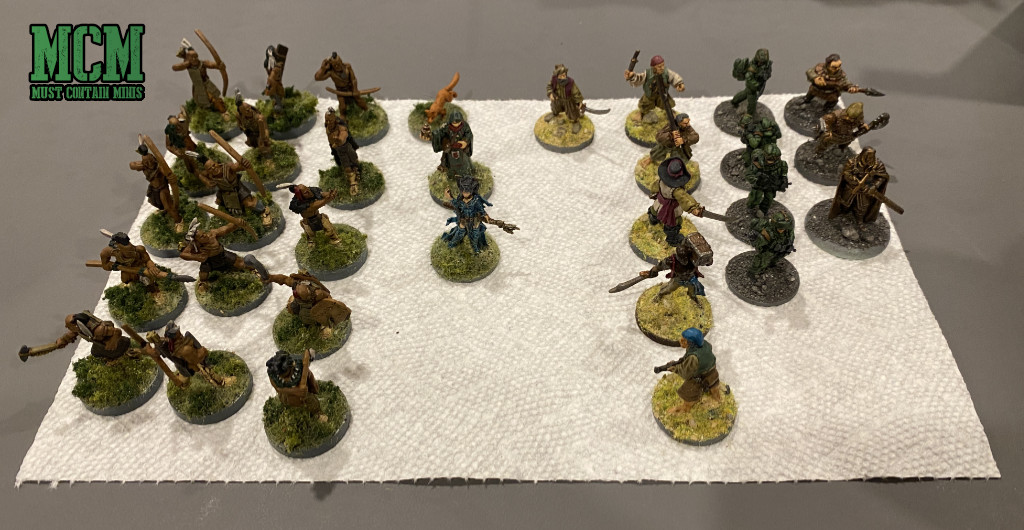 The miniatures on the left have the Scrublands mix. I did the pirates in the center with Mediterranean Soil. The minis on the right I did with Grimdark City Ruble. Although the Sealant is still drying in the first picture (it dries to be clear), you can see that these materials are much darker than they were on my Wargames Atlantic figures below.

The Geek Gaming Scenics Glue and Sealant are, in my opinion, optional, as you can just use normal PVA glue for the same job. To give a complete review, I felt the need to get and use their glue and sealant. Overall, I am just as happy with their glue and sealant as I am with their Base Ready materials – very happy!
Wrapping it up…
Overall, I really like the Base Ready Products of Geek Gaming Scenics. In fact, I went from buying 2 bags plus the adhesives to 12 bags for their Base Ready bags. It's good stuff. Give them a look. Basing with these materials is so much faster than approaches that I took in the past.
While this is a UK-based company, I was able to buy mine through Cardboard Dungeon Games in Canada. For those of you in the States, it looks like they have an American partner at Geek Gaming Scenics USA.