I don't know if you have heard of TTCombat, but this company specializes in making MDF Terrain at fantastic prices. On top of that, they have their own miniatures games too (like Carnevale and Rumbleslam), but in this post I review their Cargo Ship from the City Streets line of Tabletop Scenics.
Specifically, I review their Cargo Ship with the expansion to make it even longer. Without the expansion, this ship is a little over a-foot-and-a-half in length. With it, this ship comes out to roughly two-and-a-half feet of length. That's huge!!! You can also buy the contents of these two sets together in their  MSV Ironsides kit.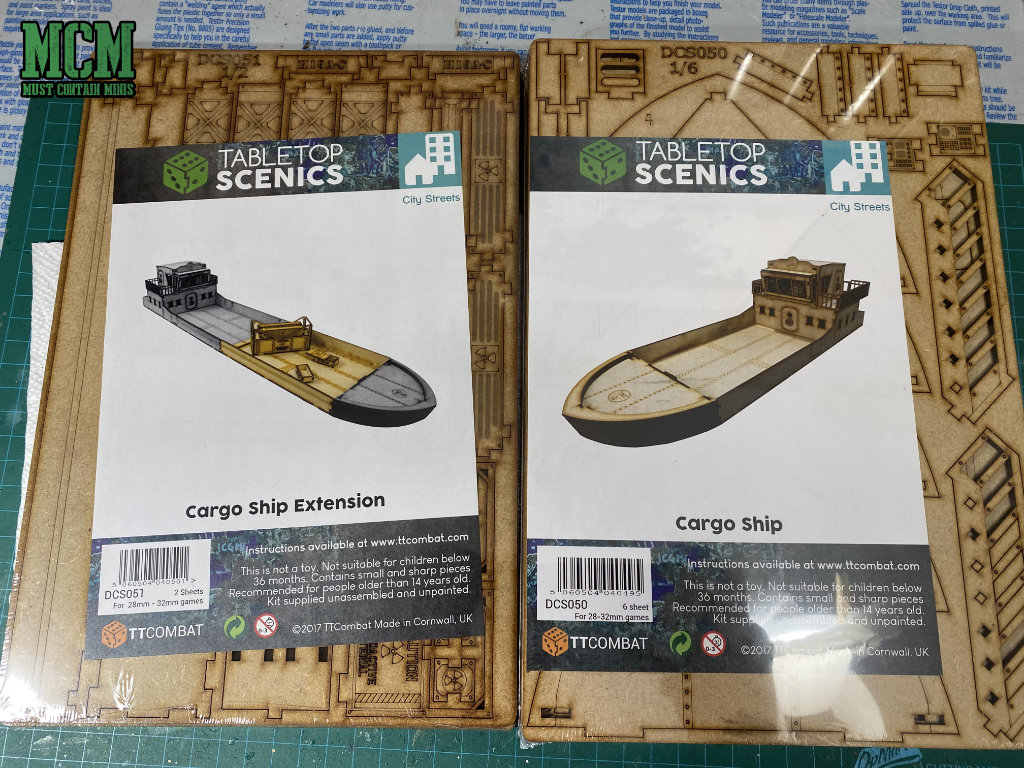 I bought these two MDF Terrain Kits through Cardboard Dungeon Games which offer amazing prices on TTCombat products in North America. Their prices are in Canadian Dollars, so American Dollars will go even further there. The Cargo Ship Kit there is just $21.95 CAD, which is roughly $16.50 USD with today's exchange rate. If you buy direct from TTCombat, MSV Ironsides (which is the full-sized extended ship) runs for roughly $35 USD after conversion. For that price, this kit is worth it!!!
Anyone looking for a value brand of MDF Terrain, be sure to check out TTCombat.
Let's take a closer look at the ship.
Building the TTCombat Cargo Ship
The thing about TTCombat is that they are affordable. This kit, like some of the other ones I built by this company, needs trimming and cleaning as you go to make all the pieces fit.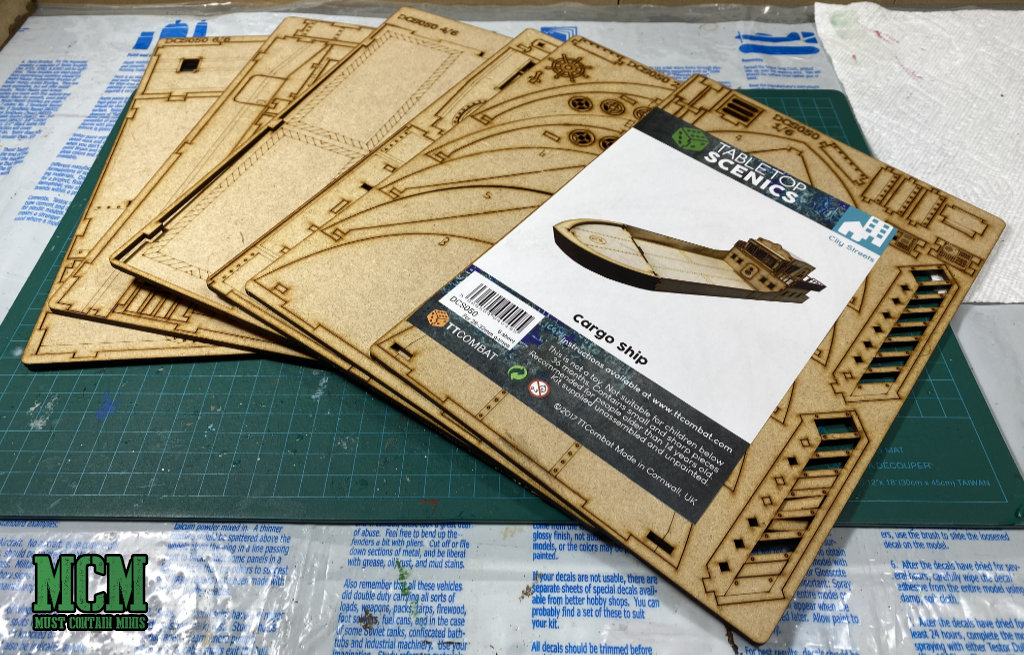 You can see in the image below that I used a file to help clean and fit the pieces together. Despite the need to trim a few of the pieces as I went along to make the model fit together, I have seen no equivalent model near the same price as this one. If you are looking to build a table full of terrain without breaking the bank, TTCombat is the first place I look.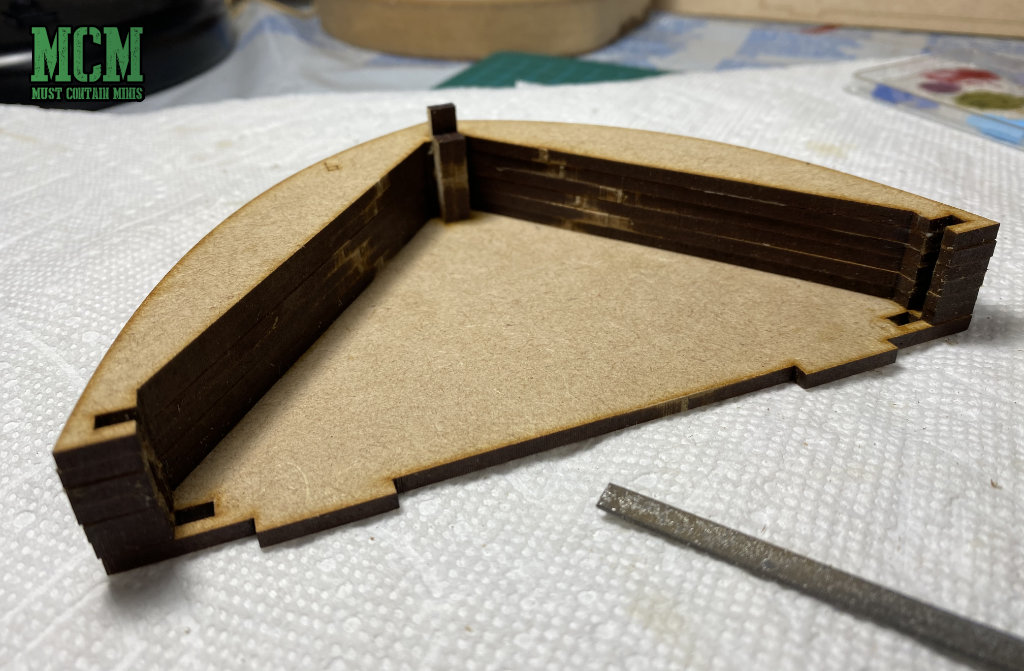 To hold MDF pieces together as the wood glue dries, I use elastic bands. Works great.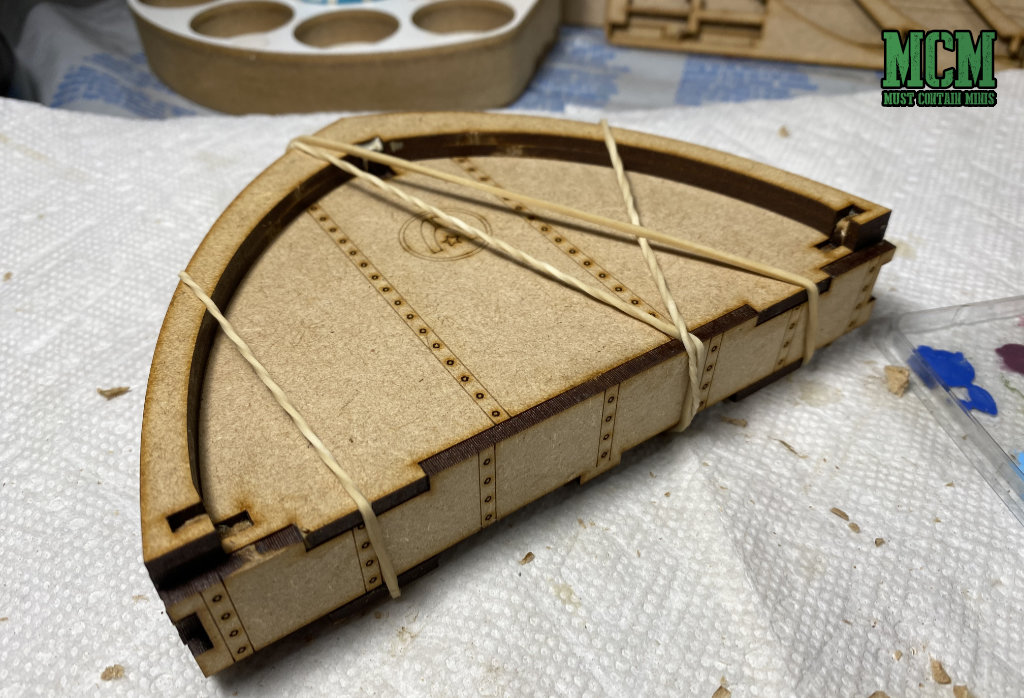 The instructions on how to build the kits are freely available on the product pages of the TTCombat website. I actually went there and looked at those directions before purchasing the ship to build. I wanted to make sure it would be a project that interested me.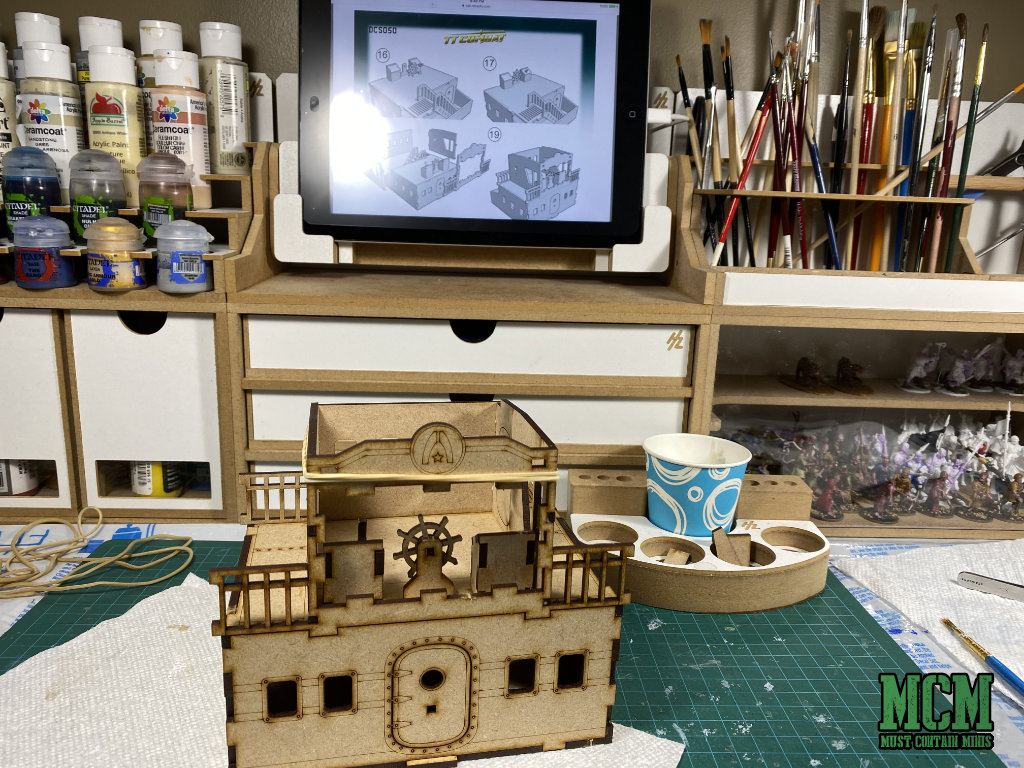 I just like to build things, and this kit gave me that satisfaction.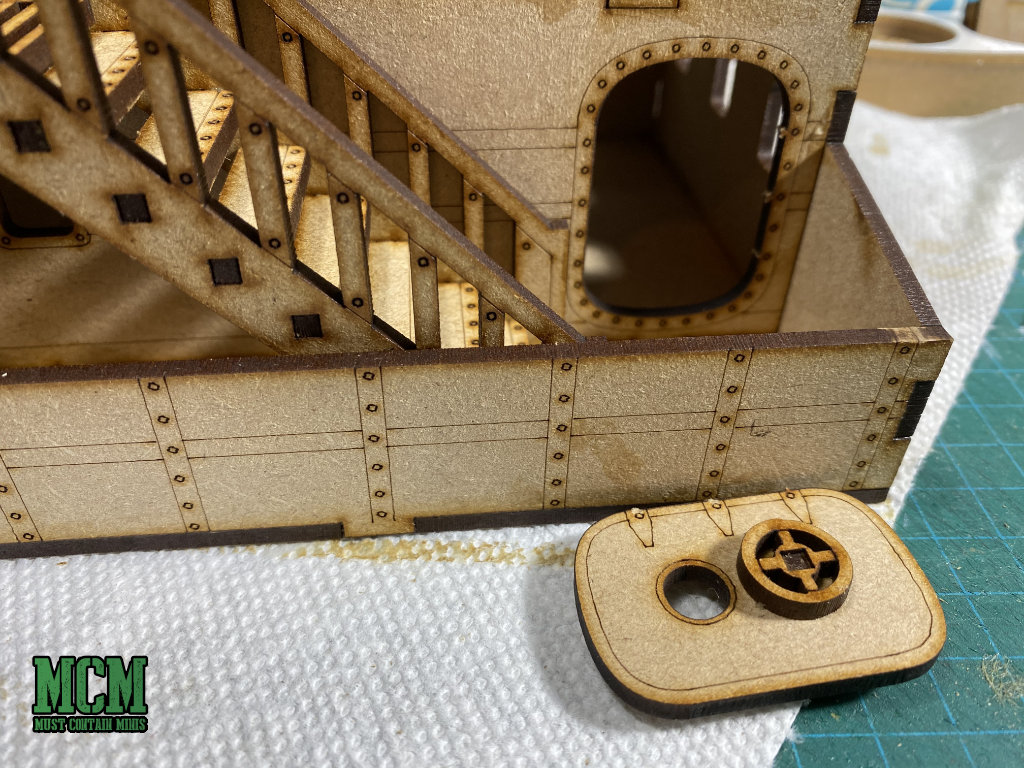 The doors can come off if you want. I took it off by accident. Didn't mean to do that, but some wood glue had it hanging back in place in no time.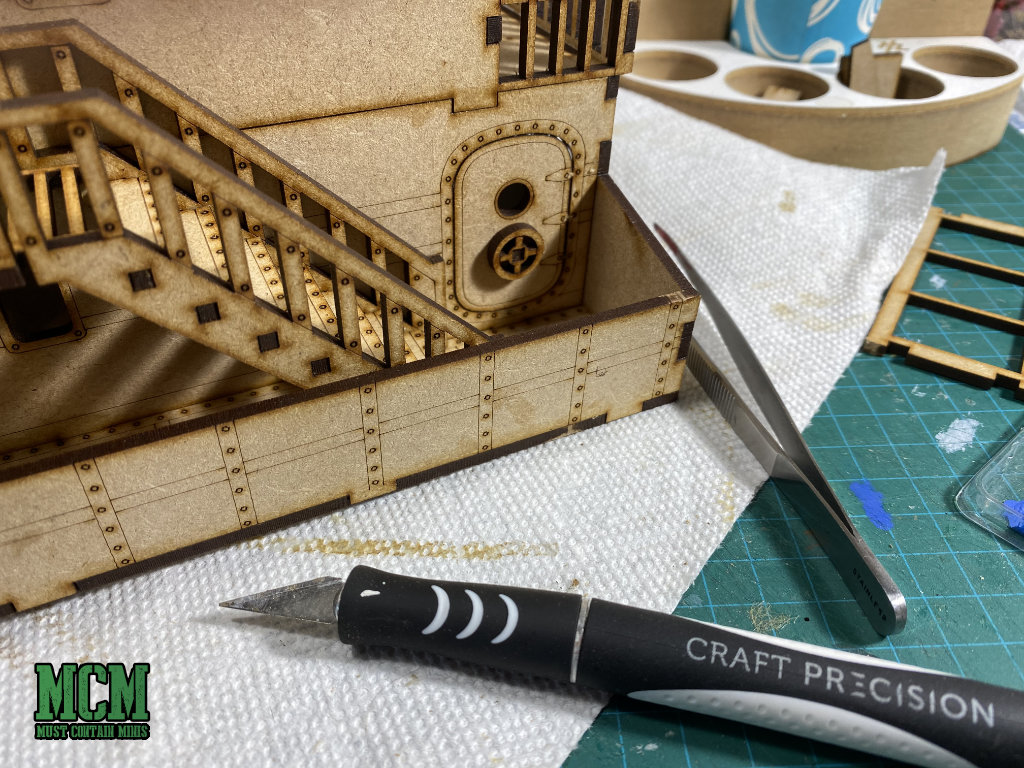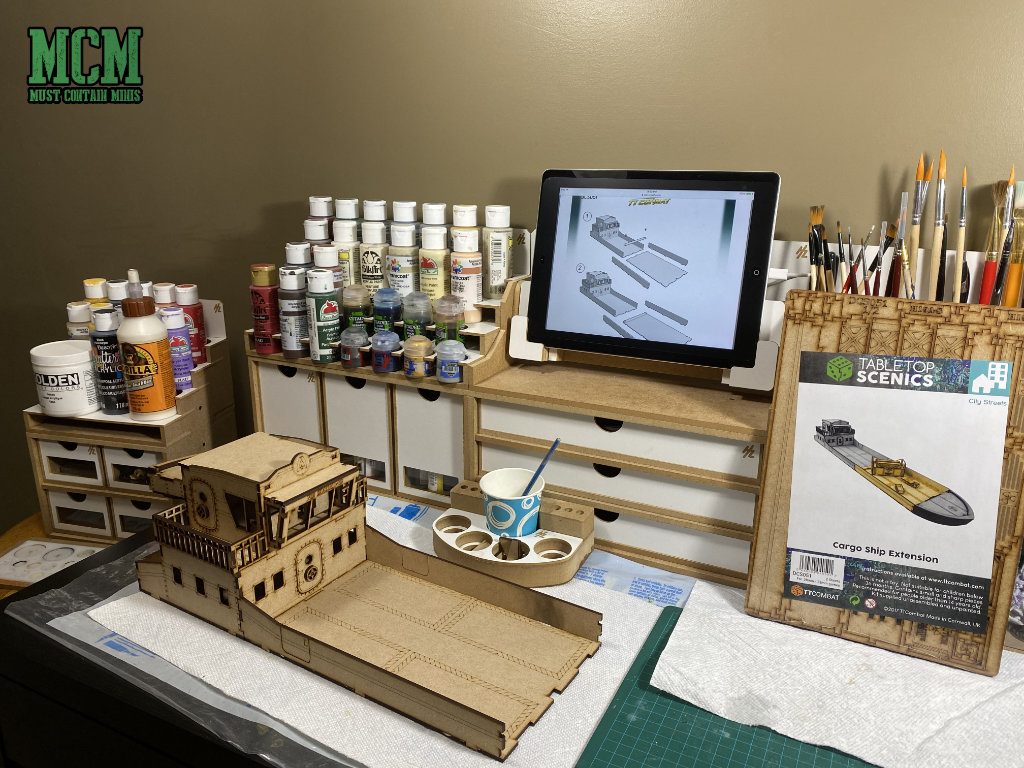 Here things are going well, and I was investigating the directions to the Cargo Ship Extension before I actually opened the package.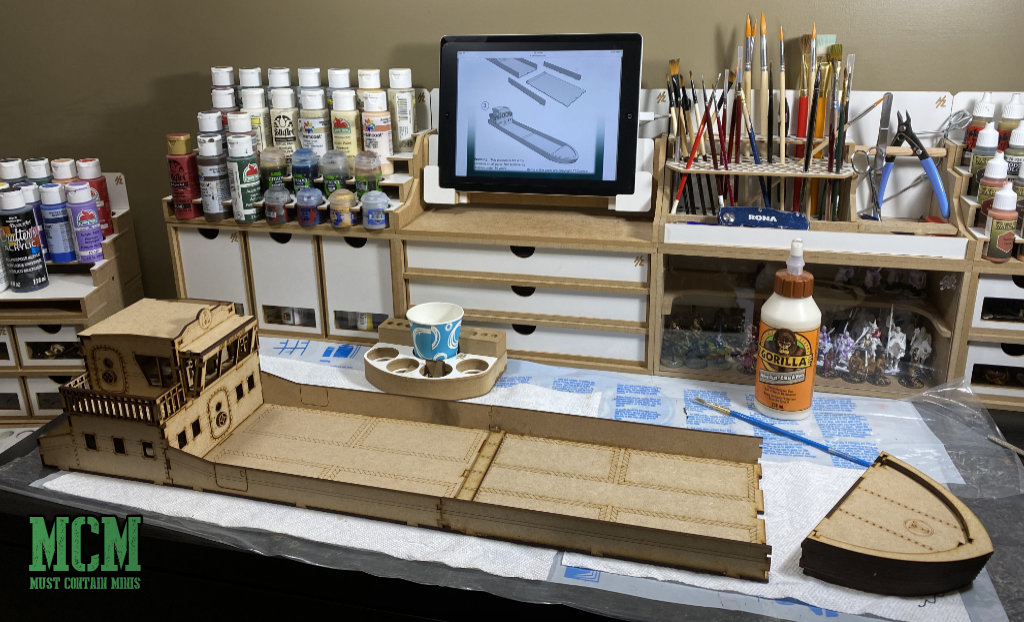 With the length of the full 2.5 foot kit, I was concerned that the center and nose staying together. I thought about reinforcing the connection points underneath, but after moving around the built ship for a few years, it never fell apart. I was gentle with it, and it did not snap apart as I moved it around the game table or placed it on the gaming shelves nearby.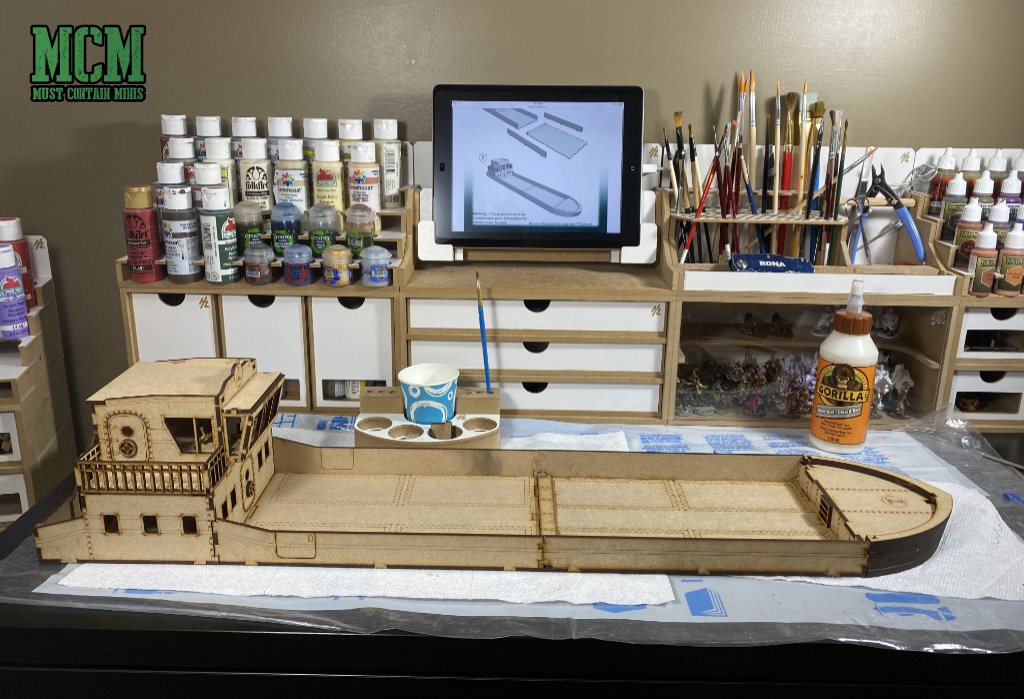 Scale Comparison of TTCombat Extended Length Cargo Ship to 28mm Warlord Games Bolt Action Miniatures
For scale comparison purposes, here the ship is with some 28mm Bolt Action Miniatures on it by Warlord Games. This ship is huge and intended to fit in with 28mm to 35mm miniatures!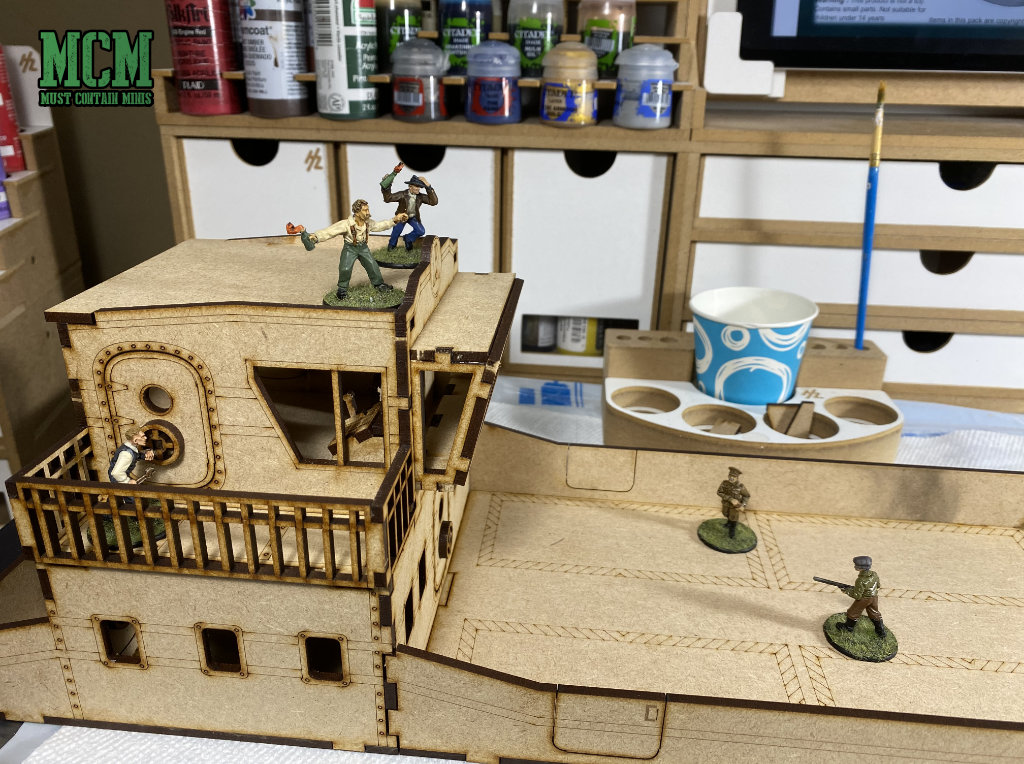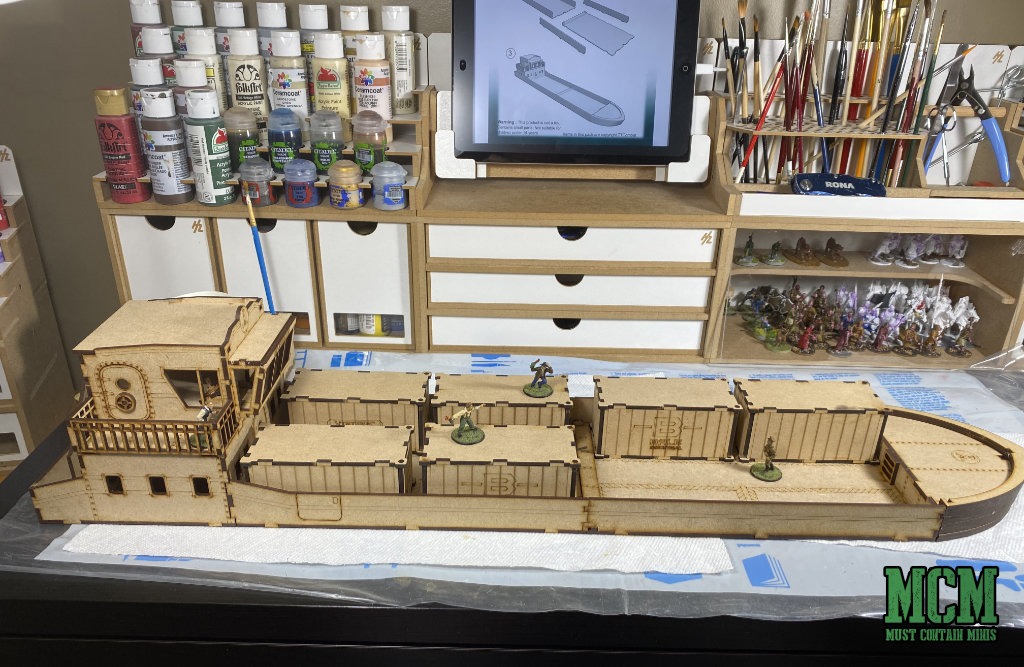 I don't paint all of my models, but I hit this one with a couple quick coats of grey primer.
The Finished Project
To finish off the project, I quickly spray painted it.


Now, let me show you this ship on a gaming mat by Cigar Box Battle.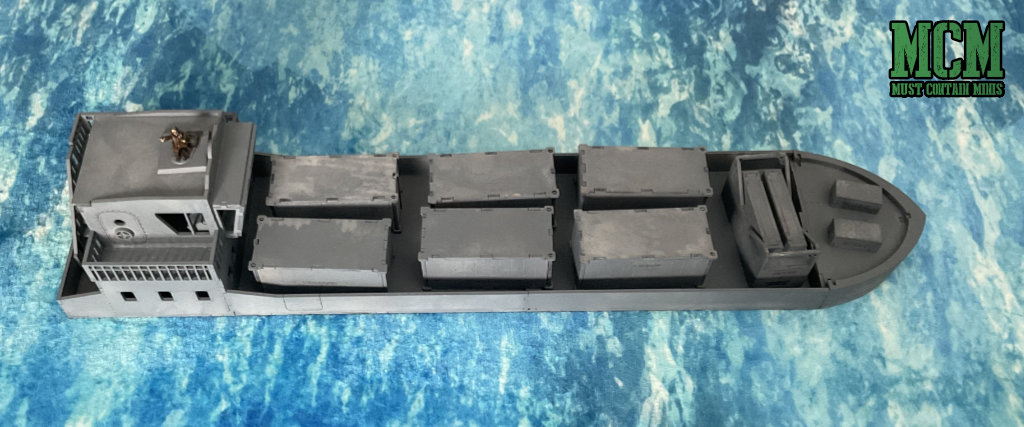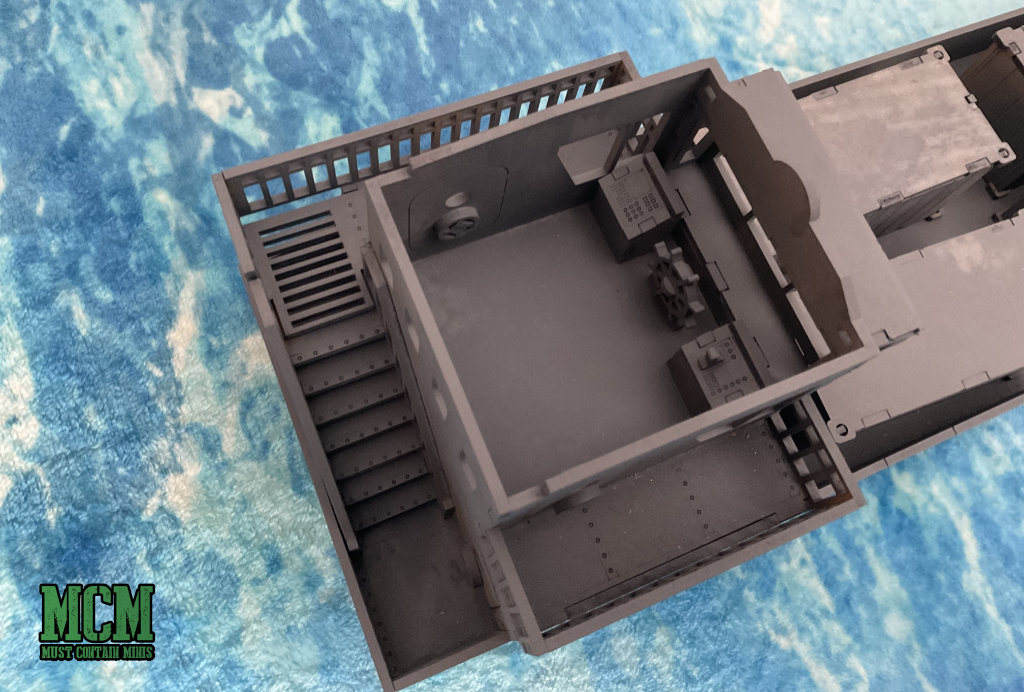 Related Posts and Videos
If you want to know more about this kit or MDF terrain, I have a few posts and videos to recommend to you. A little while back, I created a YouTube video about painting MDF terrain. This ship makes an appearance in that video.
The cargo containers that you see in the images earlier in the article, I reviewed separately from the ship as I bought them in sets of three earlier on. They also come in the MSV Ironsides kit if you want to get everything at once. With today's exchange rate, they cost under $3.50 USD a container. That's excellent. Another example of great value from TTCombat. Here is a video review of those containers.
There is a related written review of these containers as well.
I also have a work in progress article talking about spray painting these kits and more. The quick of it is that I sprayed it with grey primer and left it at that. I had intentions of painting it up more, but heard another project calling my name. As I stated earlier, it is the build that I like the most.
Wrapping it up…
When it comes to budget, TTCombat is the best company that I know of for MDF Kits. You can get big kits that look good on the tabletop from them at very affordable prices.
If you want to upgrade your table, take a look at this kit. Personally, I had a lot of fun building this kit, and that was enough for me. After holding on to it for a few years, I decided to let a new owner enjoy the ship.
So much terrain for such a small cost!
Until next time, Happy Gaming Everyone!!!