Some time ago, XOLK sent Must Contain Minis this Ruined Foundations MDF kit for review.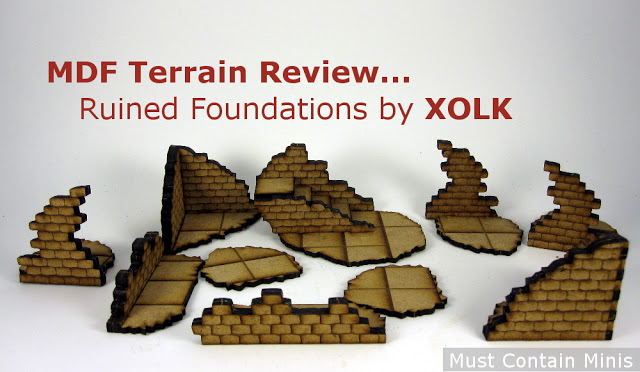 A Review of XOLK's Ruined Foundations.
I found the product straight forward to assemble and ran into no issues. I was able to put it together without instructions, but for those that have less experience with MDF Terrain, XOLK has absolutely awesome assembly guides on their website. For simplicity sake, I linked the guide for the Ruined Foundations… here.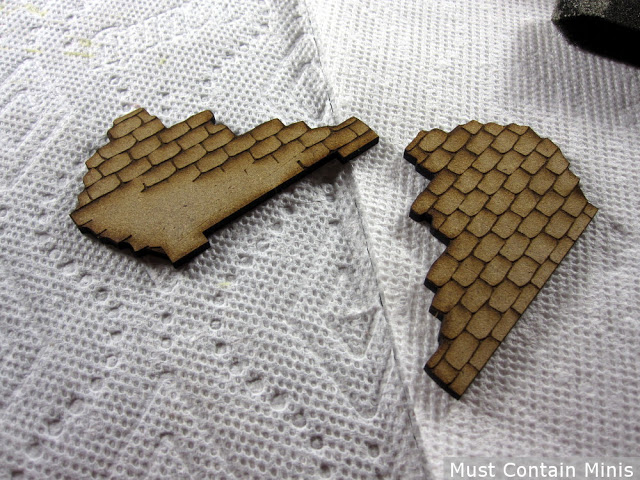 Right away I noticed that this model has a ton of details in the bricks. These two pieces are a part of the stairs.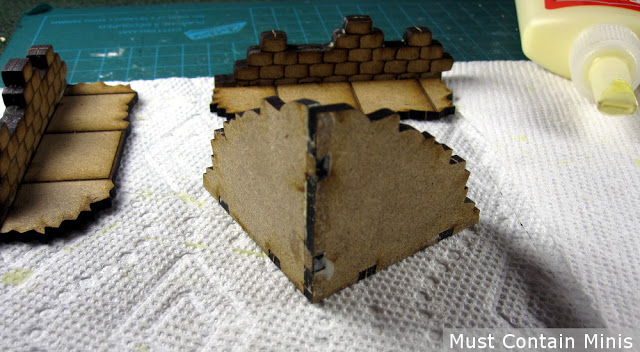 The pieces glue together easily and everything has a second side to glue on so you have texture on both the interior and exterior walls.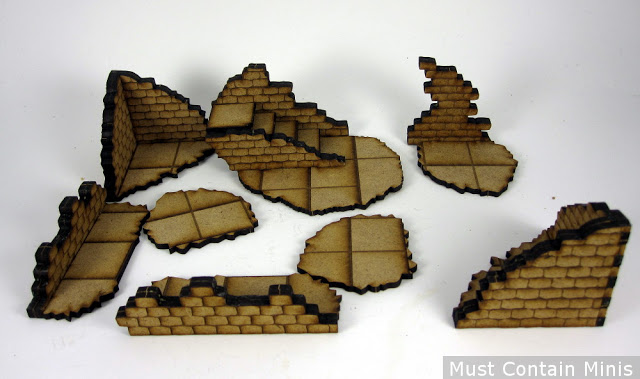 Above is a selection of the pieces assembled to create a ruined house. There are two pieces not displayed in this picture.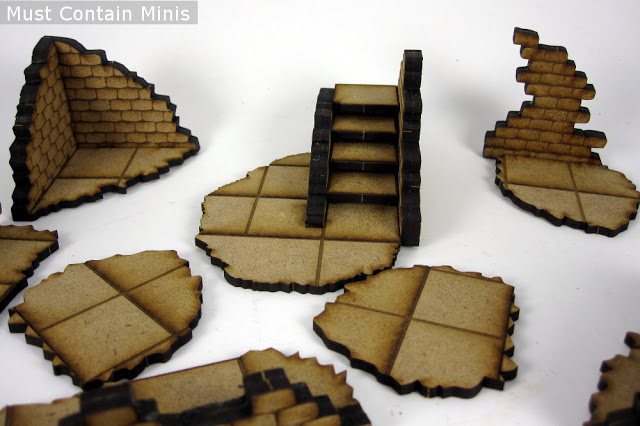 Another shot of the assembled product.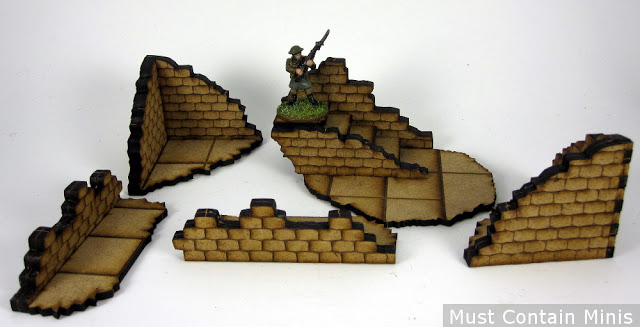 Here I have a 28mm WW2 British Soldier on the stairs to demonstrate the scale of the model.
Freshly assembled, this product looks good enough to go on the table, but I like to paint my terrain. Three colours is all I used for this one. Two shades of grey dry-brushed over a black base. The final models turned out looking really good.

Above are all of my painted piece's from XOLK's Ruined Foundation.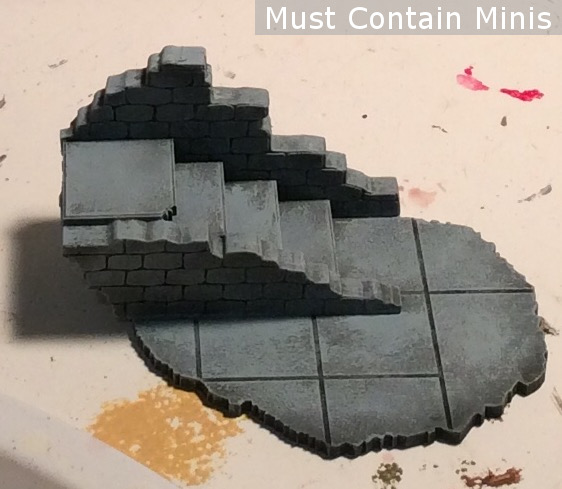 Take a closer look at those stairs. They turned out great with just some quick dry-brushing. They look even better on the table (as opposed to my work table with a single lamp).
The strength of this kit is its versatility. Since the Ruined building comes in several pieces, you can make it any size that you wish and change the layout on the fly. Genre wise, I feel this piece can fit nearly any setting from Fantasy and the Middle Ages to perhaps even Sci-Fi.
Below are some pictures of the Ruined Foundations in use for Frostgrave. These pictures are from my Battle Reports and there are links to those reports below.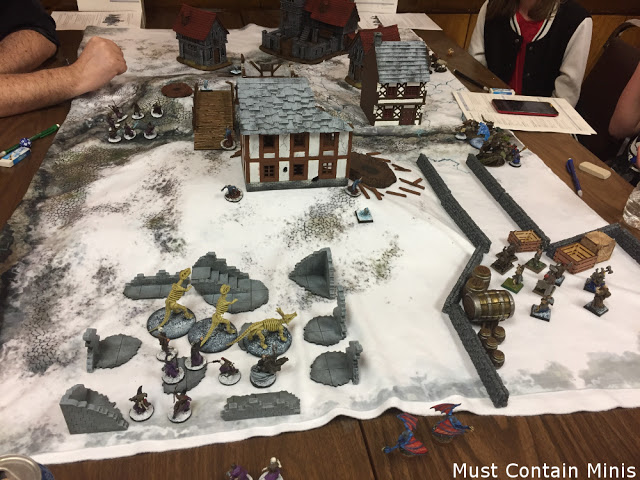 The above picture is from the game that I hosted at Broadsword 3. Here you can see that we used the Ruined Foundations as a starting base for the Necromancer. For more on this game, check out our Battle Report.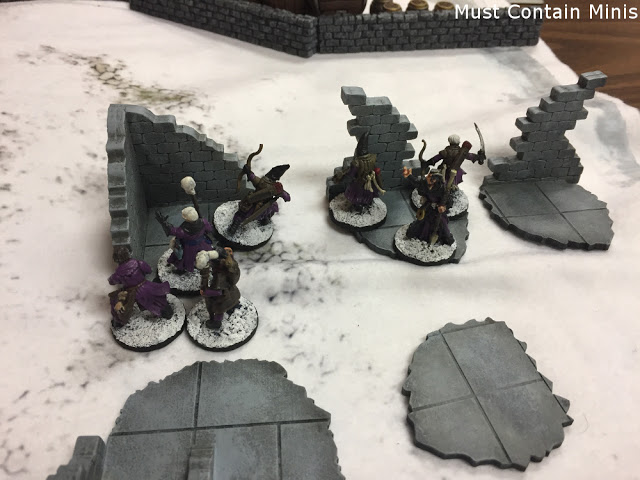 A close up of some of the Ruined Foundation pieces with miniatures on them.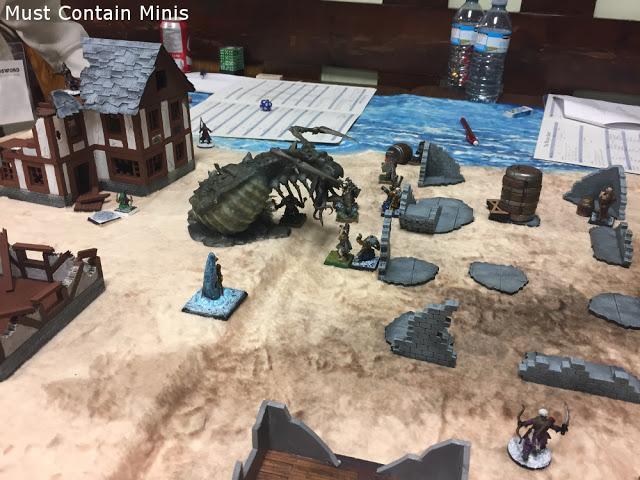 Above is a picture of the same structure in a game I hosted at Broadsword 4. This time, we used the structure as the starting base for the Dwarven Wizard. You can see that he has a large keg of beer on tap for his soldiers. To read more on this one, check out our Battle Report.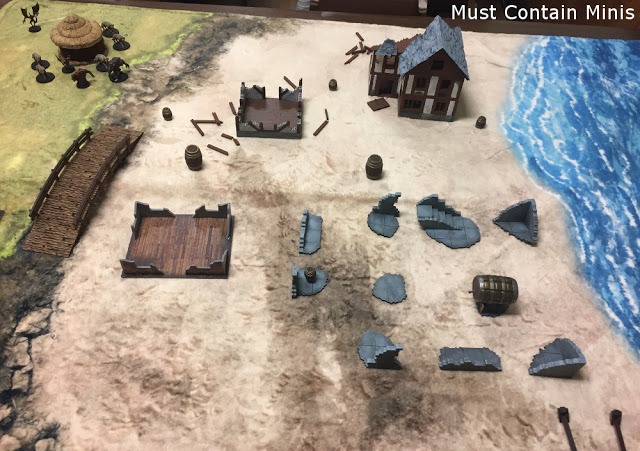 An overhead look at the terrain on the board. One of the strengths of the Ruined Foundations by XOLK is that you can place them to make whatever sized of structure you wish.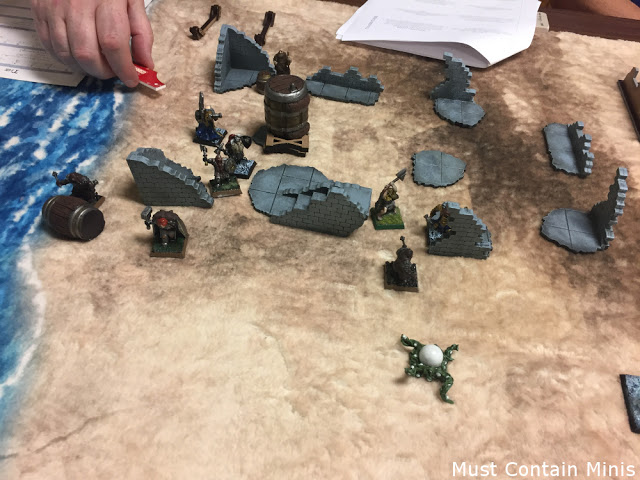 A closer look at the Ruined Foundations.

Update (October 29, 2017): XOLK got in touch with me after the review and stated that their technology has changed and as a result this product will see a price drop to $27.99 Canadian.


Overall, I am very pleased with this kit. That said, I do have one criticism about this piece and that is price. For some people, this will not be an issue, but I wanted to know why this kit (which contains 2 Sheets of MDF) is close in price to the 15th Century Dwelling (which has 4 MDF Sheets) and nearly four times the price of the Cottage in Ruins (which contains 2 MDF Sheets like the Ruined Foundations).
I reached out to XOLK and found out that the reason for the price difference is because the Ruined Foundations was XOLK's first kit and they put both more engineering in the design and more details in the brickwork versus their other kits. More details, means more time on the wood burner and therefore higher costs.
Right now, the Ruined Foundations go for roughly $40.99 Canadian. That is roughly $32 American with today's exchange rates. Despite the higher price, I find this piece the most versatile of the XOLK products I have reviewed so far simply because you can arrange the pieces as you wish on the gaming table.

Update (October 29, 2017): XOLK got in touch with me after the review and stated that their technology has changed and as a result this product will see a price drop to $27.99 Canadian.

To end, I would like to extend a huge thank you to XOLK for providing Must Contain Minis with this MDF kit for Review.
Until next time, Happy Gaming Everyone!!!
Disclosure: XOLK provided Must Contain Minis with a Ruined Foundations Model for Review Purposes.