Today I just want to quickly remind my readers that there is a big gaming convention coming up this weekend (October 28 and 29, 2017) in Kitchener (Ontario, Canada).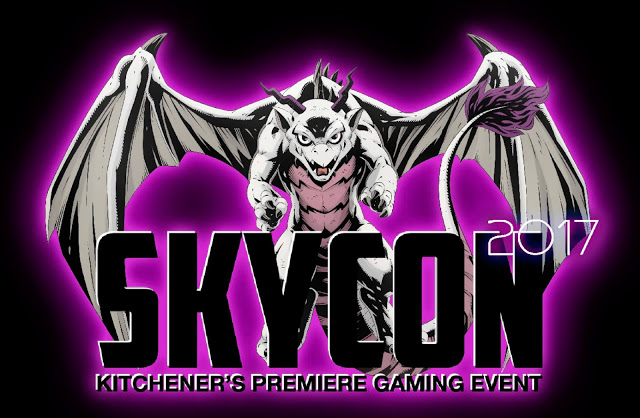 This is the most ambitious tabletop event that I know of in the Kitchener / Waterloo area and our gaming pal, Rob Morris of Ullr's Table, is the man behind the scenes. Right now he is very busy getting things ready for the convention and we at Must Contain Minis wish him all the best with this exciting event.
There are plenty of games and tournaments planned for this event. The Infinity Tournament is even hosted by Ash Barker of Guerilla Miniature Games. Other planned tournaments include X-Wing, Spartacus, Warmachine / Hordes and plenty of others. They also have a "Play to Win" library of board games. Play a board game at the convention and you are entered into a draw to take that game home with you. How cool is that?
Outside of Board Games and Miniatures Games, there are a ton of RPG sessions in the event listings. Just take a look at the schedule. If you are interested in trying out, or playing, some Pathfinder or D&D, this looks like your event. There is even a Cthulhu RPG on the menu.
Skycon also has four discussions including one by Ed Greenwood, the creator of the Forgotten Realms gaming world, as well as separate panel discussions for LARPs, Game Masters and Game Designers.
If you can make it, come on out and support this exciting local event. It is the most ambitious that I have seen for my city and I would really like to see it succeed.
For more information, check out their Facebook Page and Event Website.
Until next time, Happy Gaming Everyone!!!