This past week, I had the honour of conducting an email interview with Cory Ring and Chris Ward of Cigar Box Battle regarding their current Kickstarter Campaign and their company in general.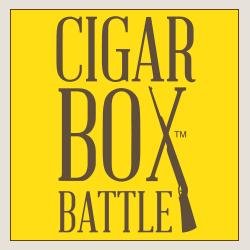 Now, this Kickstarter is one that I have been excited about for a while. I really enjoy using their mats and have wrote about the company in a number of articles in the past. My most recent articles about them include one about my
excitement for the Campaign
and an actual
Review of the Kickstarter Product
.
In this post, we step back from looking at the actual product and instead have a discussion with the people behind the company.
The Interview
How did your company start and how big is your company? How
long has your company been in business?
[Cory] We are a very small company. It's just
me, Chris and a few vendors that we work with. We both have full time jobs, and
families so CBB is a part-time hobby business. We started CBB as a way to fund
our own hobby three years ago and haven't looked back since! It's fun being
involved with the hobby on the business side and we've made a lot of friends
along the way.
Why the name Cigar Box Battle?
[Cory] In high school and college I
didn't have enough money to purchase "proper" storage for my miniatures. There
was a Cigar Shop near my house that would put their old boxes outside the shop
for anyone to take and I thought that they made great storage boxes for my
miniatures. I still have many of my miniatures in cigar boxes today! I started
a blog called "Cigar Box Heroes" to show pictures of my gaming projects and
Cigar Box Battle evolved from that blog.
How did you come up with the idea of plush Battle Mats?
[Cory] We
always liked the 3D effect of teddy bear fur, but we didn't like the thought of
trimming, combing and painting them, so you might say that Plush mats are our
simple answer to that. ! We try to keep things simple and keep the focus on the
games we play, and not spending valuable time building terrain boards and
shaving and painting teddy bear fur mats! We also released circular terrain
mats to fit our patio tables and the typical round tables you find at hotels
and conventions. We try to be innovative and help gamers find convenient gaming
terrain solutions.
I noticed that your Mats have numbers to them. How are those
numbers generated? Is there an interesting story there?
[Cory] No, I come from a
retail management & business background and we both like to keep things
neat and organized so we assign a SKU number to every product! Many of the mats
are categorized with like codes. An example of this are our licensed "Across A
Deadly Field" mats with codes #221, #222, #223, etc., but some are just random
codes assigned in the order that the mats were designed.
Your Mats are beautiful, who comes up with the designs? Is
there a process for designing the illustrations?
[Cory] Chris and I discuss all
designs based upon what we would like to game with and what we think others
might enjoy. Chris is the creative force behind CBB and is responsible for the
overall look and design of all of our mats.
Why did you go with illustrations on the maps rather than
photographs or photo-realistic images of the historical battlegrounds?
[Cory] We wanted something that would
stand out, be different and help us create our own iconic style and brand.
Chris is a talented designer that had a vision of what the mats should look
like and he just ran with it! We took a risk with our artistic style and we
knew that everybody wouldn't like it, but we felt that the designs were
colorful, bold and that miniature games would look great played on the mats. We
have had a lot of positive  customer feedback over the years and we feel
that we absolutely made the right call.
[Chris] We considered photo-realistic images (and a few of our designs ARE photo-realistic), but came to realize that we don't use photo-realistic miniatures. We use painted miniatures and so preferred a painted landscape. It fits with what we do in our hobby.
How do you select what Mats to make and what designs to
make?
[Cory] We design all mats based upon what we would want to game with, but we
also look at market trends and games that are popular. Gamers love playing new
periods and scales and we want to be able to cover all of their terrain mat
needs! We also look at future releases from companies that we partner with,
like Osprey and North Star.
Do you two play miniatures games? What games do you play the
most?
[Cory] We do! We play a lot rules, but I would say my "go to" favorite periods
and rules are: 15mm and 28mm  ACW (Johnny Reb), 28mm War of the Roses
(Tactica), 15mm SYW (homegrown), 28mm Boer War (Sword and the Flame), 28mm
Frostgrave, 15mm and 28mm Napoleoincs (Napoleon's Battles, General du Armee),
and 15mm Flames of War / TANKs. I also enjoy the occasional RPG or boardgame
(Axis and Allies, Warhammer Quest, Talisman, Blue Max, Space Hulk, X-Wing,
Avalon Hill, etc.
What are your personal favourite Mats of your line? Why?
[Cory] I
like the Nashville mat #123. We are based in Nashville of course so its like
our "trademark" mat, and I enjoy studying the Battle of Nashville and the ACW.
However, I also think that is artistically one of best looking 15mm mats, and
it's generic enough to use for many periods. In 28mm my favorite mat is Europe
1 (102B). It's just a great mat to quickly throw down, add some buildings and
tress and figures and start playing.
[Chris] My favorite mat: #240 Mixed Ground – it just makes a battlefield come to life!
What sort of other Mats do you hope to bring out as further
stretch goals? Are there any specific ones that you want to speak about?
[Cory] We
have three stretch goals released now and we have at least a couple more locked
and loaded to go! They will be sci-fi themed mats.
Thank you both very much for your time and answering my questions about your company and the Kickstarter Campaign.
Closing Thoughts
I would like to take a quick moment again to thank the guys from Cigar Box Battle for giving me the time to interview them for this article. I really enjoy their products and think that the mats help make excellent looking tables.
I was surprised to find out that they were around for just three years. I thought that they were around for longer. It is neat how they came up for their company name and I was expecting a bit of an interesting story about their numbering scheme for mats – but there was none.
I love that Cory started a Blog to show off his models and that the business evolved from there. Who knows, perhaps some cool product might come out from Must Contain Minis in the future. 🙂
For those that haven't checked out their Kickstarter, be sure to check it out. It is a great way to get two gaming surfaces for a discount off of their normal prices.
Until next time, Happy Gaming Everyone!!!