A while ago, Osprey Games sent Must Contain Minis an advanced copy of Ulterior Motives. For those that don't know, Ulterior Motives is a card based expansion for Frostgrave that adds extra player objectives.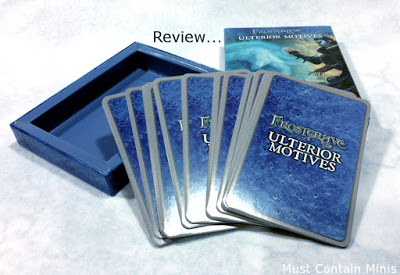 Must Contain Minis Reviews Frostgrave: Ulterior Motives.
As one can see, Ulterior motives comes in a nice little package. Compared to the books, it is actually quite small.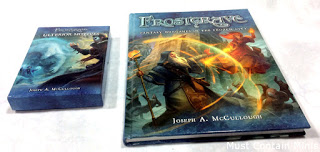 Ulterior Motives is quite a bit smaller than the books, but is a welcome addition to the Frostgrave lineup.
Pricewise, this is the most expensive expansion for Frostgrave to date. It comes in at $35 Canadian ($26 American) while the core rule book runs for $28.95 Canadian ($24.95 American). With that price difference, one has to wonder what comes in the box. The box comes with 40 objective cards to expand the game. Each card has plenty of text outlining new goals for players to achieve. Is it worth the $35? I think that is up to each individual player to figure out on their own – but I am a fan.
To use Ulterior Motives, each player draws a card and that card will describe what the player needs to do to gain extra treasure and/or experience (in addition to carrying treasures off the board). Below are two sample cards.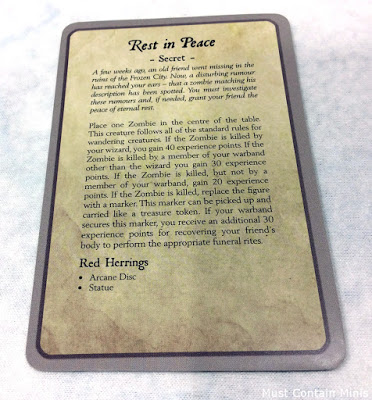 A "Secret" objective where the opponent does not know what you have to complete. Red Herrings are added as elements to keep your opponent guessing as to what are your true motives.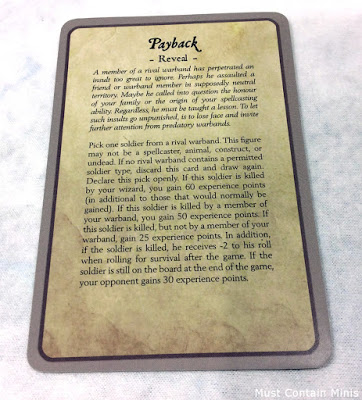 A "revealed" objective card where both players know what goal you are working towards.
As one can see, there is no artwork on these cards. Instead, there is a good amount of text geared towards the game. Some of the cards are revealed to the other players while some of them are kept secret.
The ones that are kept secret have something called "Red Herrings." These Red Herrings are objects placed on the table to help obscure what hidden mission a player is trying to accomplish. To use many of the cards in this product, one needs specific pieces of terrain. The items needed include: an Arcane Disc (flat stone about 2″ in diameter), a Gateway, a Pit, a Runic Stone (like a monolith or gravestone), a Sarcophagus, a Statue, a Trapdoor, and a Zombie


North Star Military Figures makes terrain specific to this expansion, but one could easily make their own objective markers or use proxy pieces from other companies.
Overall, I like this expansion. It adds an extra level of complexity and uncertainty to the game in that players are not trying to achieve the same objectives. In fact, I like the idea of separate objectives so much that I did a homemade version of Ulterior Motives for the Frostgrave demo games I ran at Hotlead and Broadsword.
Something I find interesting is that one of the instruction cards states that Ulterior Motives is just a starting point and it encourages players to create their own cards.

Quality wise, the product is excellent. It comes in a great little box and the cards look good. There have been a few complaints on the web that the boarders on the cards printed unevenly, and one can even see a sampling of that problem on the first sample card in this article, "Rest in Peace." To me, this issue is not a concern – but others hold a different opinion.


Who I would Recommend Ulterior Motives to…


I would recommend Ulterior Motives for anyone that has played Frostgrave for a while and wants to expand on the game. Ulterior Motives is the type of product that breathes new life into missions that one has already played. It takes Frostgrave and turns it into a game about more than just collecting treasure and carrying it off the map. Ulterior Motives could be used for the base game and most of the campaign books too, which makes it a highly useful expansion.
My feeling is that this product is right for Veteran and Experienced players. Beginners would likely enjoy it too, but I recommend that they work through some of the other Frostgrave campaigns before moving into this expansion.
Until next time, Happy Gaming Everyone!!!
[amazon_link asins='1472824008,1472805046,1472832671,1472824016,1472818504,1472814096,1472815777,1472815742,B06VYCV43X,B06WP9YP68′ template='ProductCarousel' store='mustcontainmi-20′ marketplace='US' link_id='59f0bcf4-6a05-11e8-aede-e999e466165d']
Discloser: Osprey Publishing provided Must Contain Minis with an Advanced Copy of Frostgrave: Ulterior Motives for Review Purposes.


Must Contain Minis is a participant in the Amazon Services LLC Associates Program, an affiliate advertising program designed to provide a means for sites to earn advertising fees by advertising and linking to Amazon.