Back when I got into Flames of War, I wanted to paint and play a British Army. Unfortunately, the British colours were not available at me FLGSs, so I bought and painted up a German Army instead. As a result, I have many unpainted Flames of War British models.
Recently, my friend Brenden asked me if he could borrow some of my models for use in a tournament. He then added an interesting proviso. He only wanted to borrow items that he could paint himself. The reason for this is so that his whole army would have a uniform look. He wanted to be a competitor for the Best Appearing Army at a big tournament.
Since I have plenty of unpainted British units, I was more than happy to help Brenden out. I checked my collection and loaned him four C15TA Armoured Trucks and a Common Wealth Rifle Platoon to use. Our arrangement was that Brenden could borrow the units for the tournament season and give them back when he was done. He would get to use my models and not have to purchase new units and I would get some of my models painted by a great painter. Win-Win.

A Column of C15TAs returning to their original owner.  🙂
Now here is something interesting about the Platoon that Brenden borrowed from me. He actually plays Germans. These British units were to represent Germans wearing enemy disguises similar to a Skorzeny Commando Group. Below are close up shots of the Trucks that came back home to Must Contain Minis.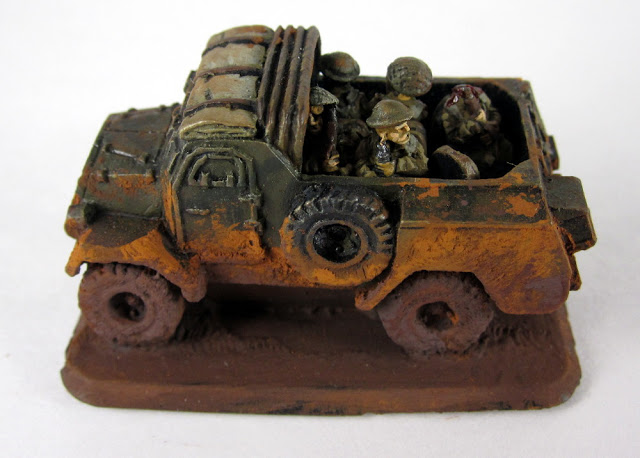 This one is my favourite of the bunch.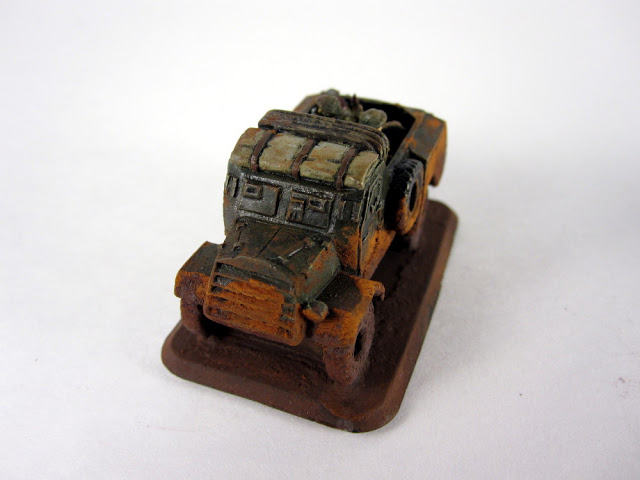 Great work all around.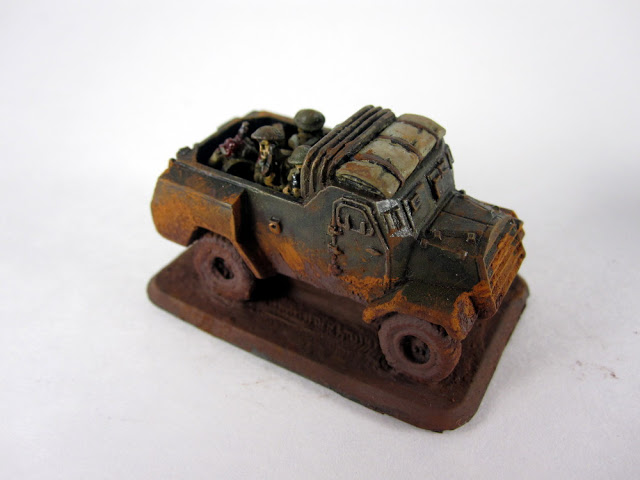 Lots of weathering. For my army, I wanted to use these as transports to a Canadian Pioneer Platoon so this is just perfect.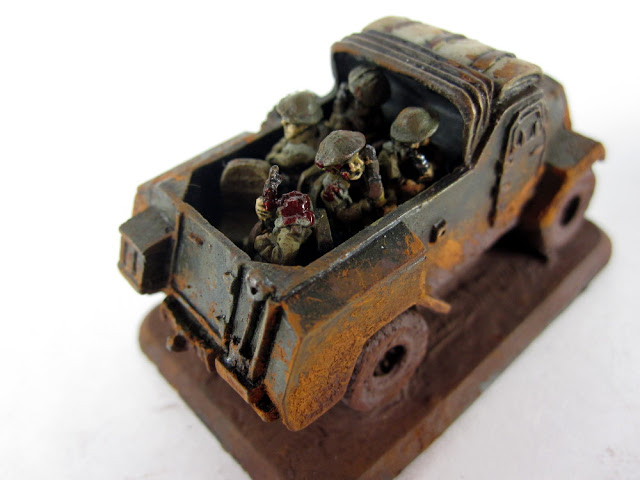 Check out the guy in the back. There was an issue with the model, so Brenden took the head off and applied blood effects. Guess that guy should have ducked.  🙂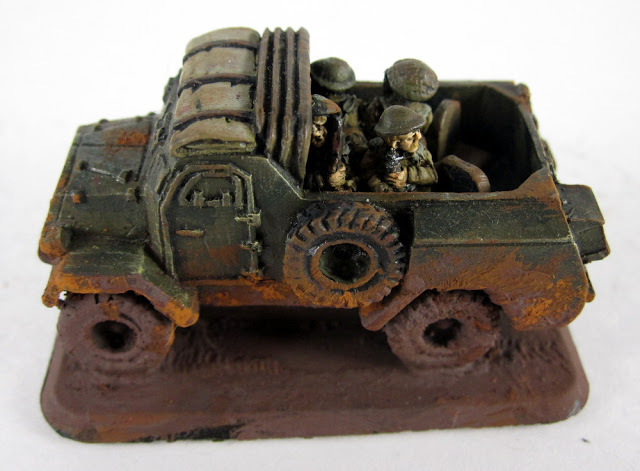 Another C15TA Armoured Truck.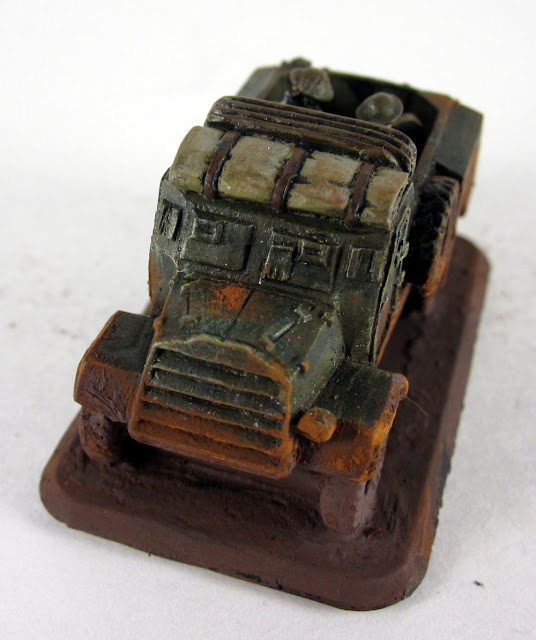 Love Brenden's work. He really paints well.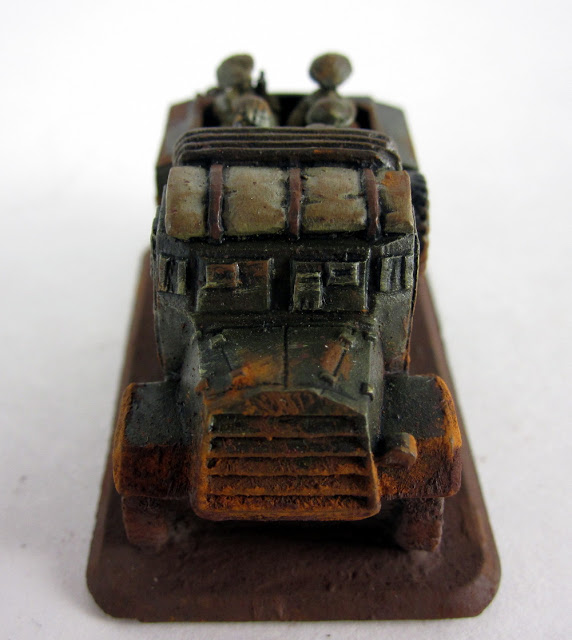 The third truck. It has 6 people in the back.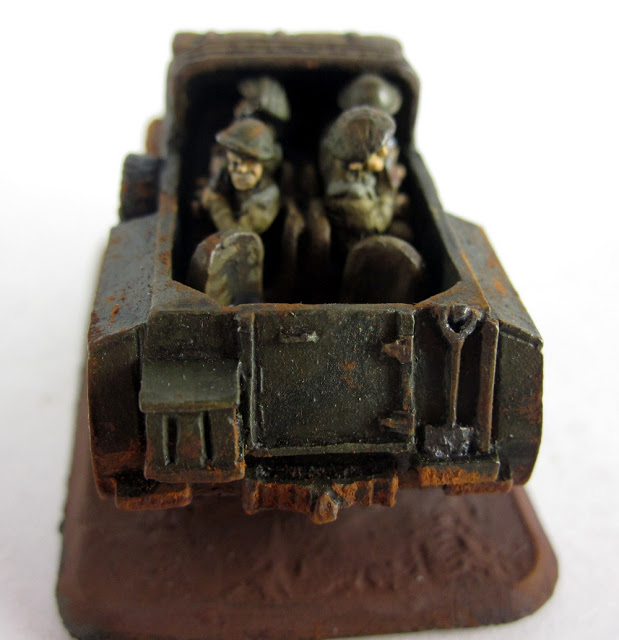 And the fourth truck. Here, I wanted to show the details on the rear of the vehicle.
Brenden certainly did a great job painting up these miniatures. He was so happy with how he painted the Common Wealth Rifle Platoon that I let him keep those figures.
One thing that Brenden did mention is that if he had more time for painting, he would have liked to reduce the weathering on the trucks a bit, add some flock and decals. Overall, I think they look pretty good as is though.
I am curious as to whether my readers would like to see more miniatures painted by Brenden. Perhaps I could do a photo-session with the Common Wealth Platoon that he painted. If you are interested in seeing that, please leave a comment below.
Until next time, Happy Gaming Everyone!!!
[amazon_link asins='B00BHF8DHE' template='ProductCarousel' store='mustcontainmi-20′ marketplace='US' link_id='ca573999-8326-11e8-898f-299a1e087b55′]