Today's Review is well overdue and one that I have been excited about doing for a while now. As many of my readers will know, I have interests in many games and like to share that excitement. Today's review piece is of 28mm Barrels and a 28mm Keg by Six Squared Studios.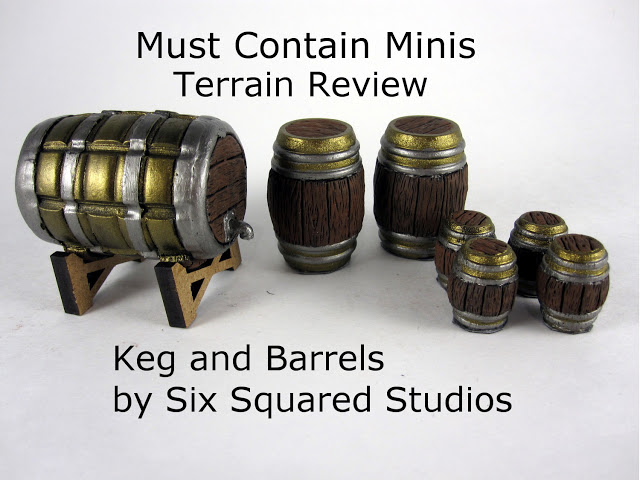 I bought these Barrels and Keg some time ago at Broadsword 2. I like them because they could be used in many settings from Fantasy to Modern times. Some people might even feel the urge to use them in a Sci-Fi game.
I planned to paint these items and review them in time for Oktoberfest, but life got in the way and they went on the back-burner for a little while. When I actually got around to painting them, it only took a couple of hours to complete (including drying time). The technique that I used was fairly simple. Prime them black and then dry-brush them up. I used no extra shading or highlighting techniques and I am pretty happy with how they turned out.
The Huge Keg itself looks excellent. This piece sells for $8.99 Canadian ($6.77 USD or 5.34 in British Pounds), and I was give the option of MDF legs or a Resin base with extra scenery to go under the terrain piece. I opted for the MDF legs.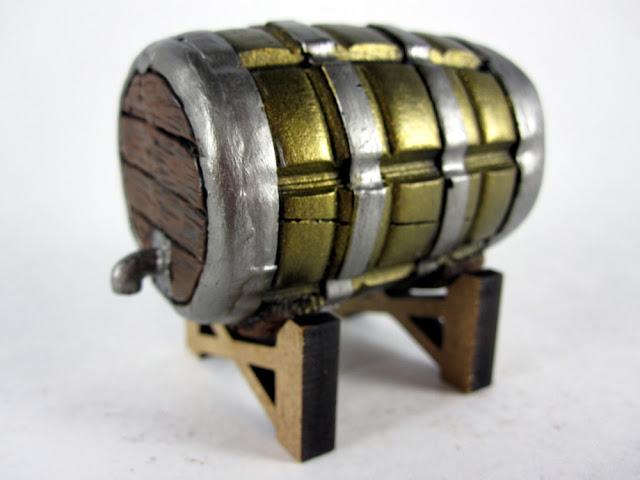 This is the Huge Keg by Six Squared Studios. I love the detail in the wood and the scratch along the side adds some character to the object as well. This object is scaled for 28mm games.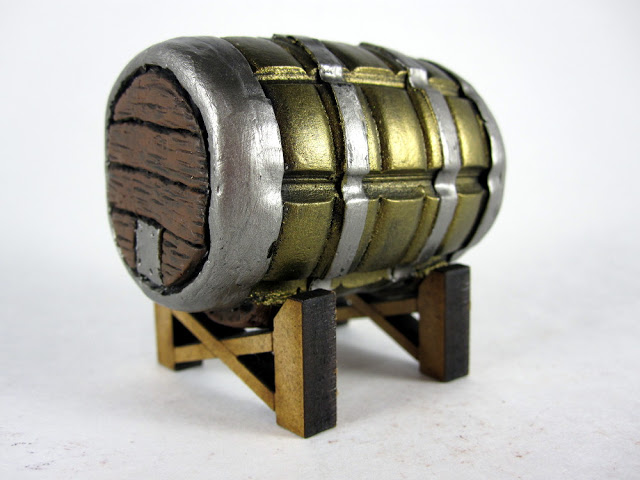 The Rear of the Keg.
The Barrels come in two sizes. The Large Barrels sell for $1.99 Canadian each and the Medium Barrels run $0.99 each. Considering what I have been seeing small terrain pieces like this selling for in my FLGSs, these items are all very competitively priced.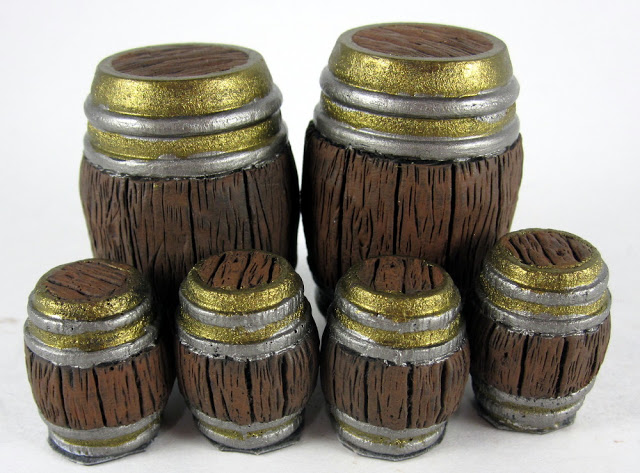 Large and Medium 28mm Barrels by Six Squared Studios.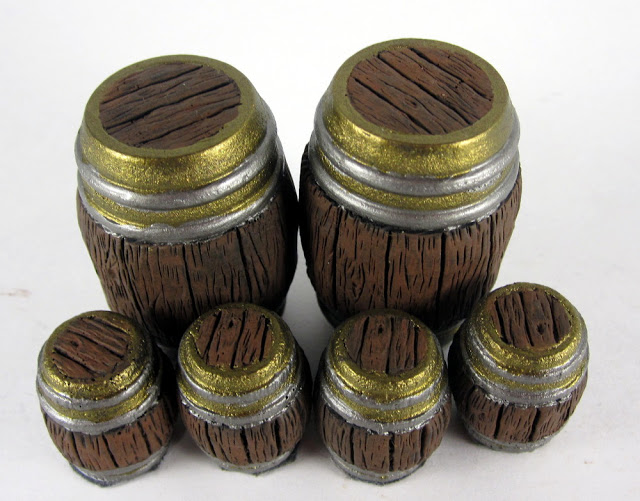 A higher angle of the same Barrels.
The total cost for this collection of Scatter Terrain is $16.93 Canadian. Not bad at all. These items should fit in perfectly with any Modern, Historical or Fantasy based Miniatures Game in 28mm. I could also envision them adding dimension to RPGs such as Dungeons and Dragons and Board Games like Zombicide or Dwarf King's Hold.
So how do these models size up against 28mm miniatures? Let's take a look. Below are a series of size comparison pictures featuring the terrain pieces and miniatures from different companies.
These are my Space Cultists. Right now they are in the process of being painted up for Rogue Stars as my Space Pirate Crew. Right now, they only have a base coat of paint.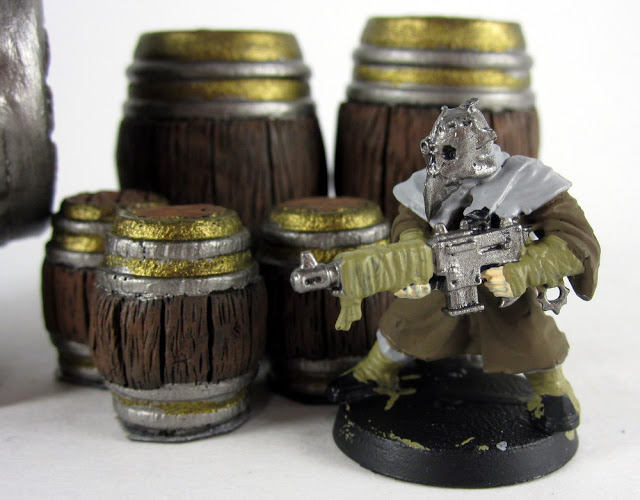 The Large Barrels are bigger than the figure and block line of site. The Medium Barrels tend to provide roughly half-cover.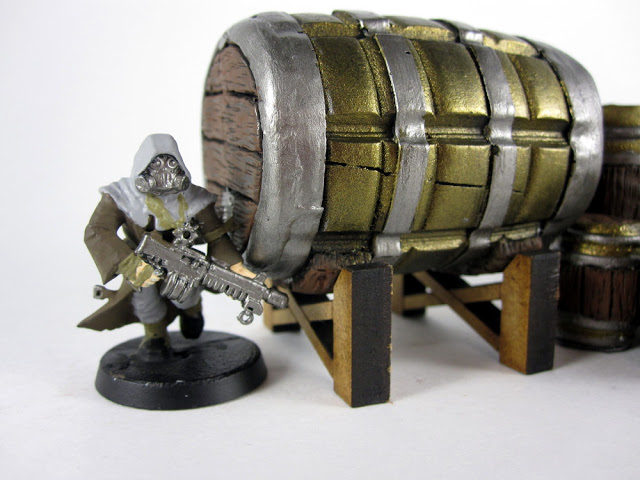 The Huge Keg lives up to its name. It is ginormous versus the 28mm Miniature.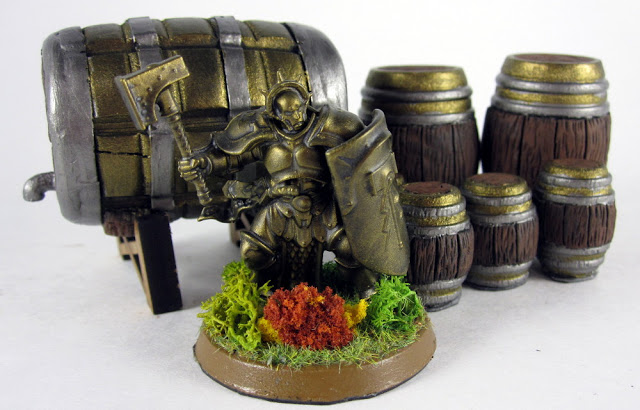 A Sig-Marine in front of the same collection.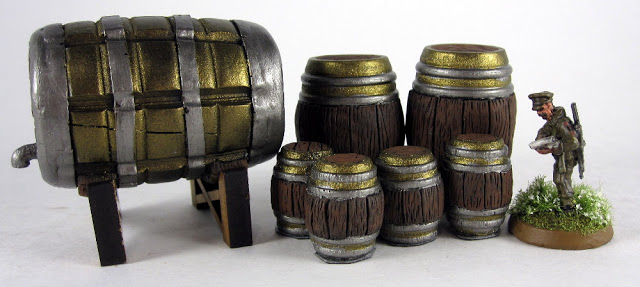 The Barrels and Keg with a British Officer from Warlord Games nearby.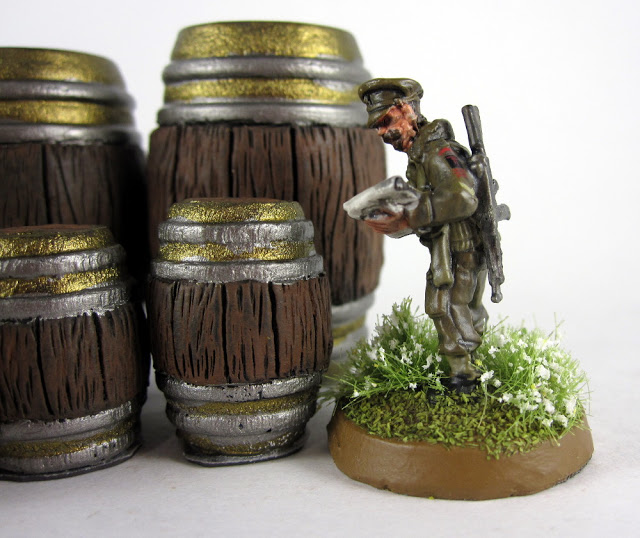 "How much alcohol did we manage to capture? I'd best take inventory."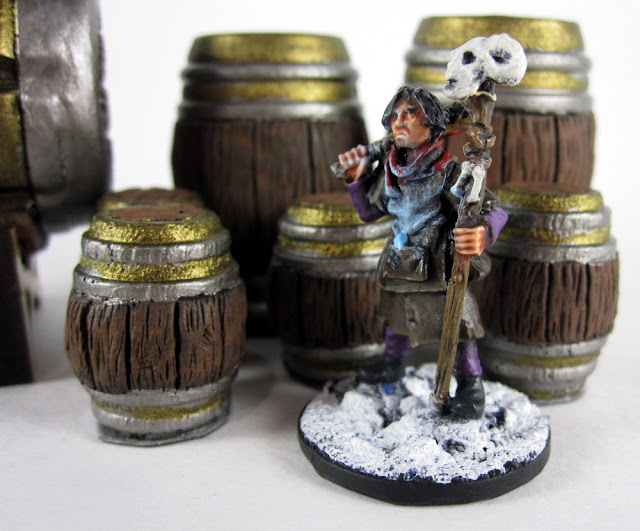 A close up with the Apprentice with a Barrel right beside him.
Overall, I am very happy with these pieces of scenery from Six Squared Studios. For a budget gamer, this items are great. They are affordable, paint up quickly and look great. For those that haven't checked out this company yet, I recommend that you take a look. I personally am really enjoying their products.
To my UK readers that wrote to me after my Sandbags Review about shipping costs, I will admit that I am not knowledgeable about the shipping rates. Because I buy my Six Squared Studios products at local conventions, I save on all of the shipping and handling fees. That said, I feel your pain about shipping charges. I happen to like many products from your side of the ocean and know all about how shipping can add an extra layer of expense to the Hobby. Do check them out though.
I hope that everyone enjoyed this review.
Until next time, Happy Gaming Everyone!!!